Choosing one of free WooCommerce WordPress themes for supporting your commercial website or blog can be bewildering. Therefore, we have exercised all our professional skills to distinguish bad and good offers in the modern WordPress marketplace and are going to share with you from good to the best ones only.
What does it take to have a reliable and fully competent WordPress template to make the most of your profile?
Probably tons of financial means, an experienced group of web designers and developers standing behind you to provide visual and functional excellence of your digital profile, etc., you may think.
Well, we have good news for you. A dependable website building template does not necessarily be expensive, neither it should force you to hire a group of digital specialists and coders to finalize the look and feel of your site and keep everything under control over the time.
There are several free WooCommerce WordPress themes out there which have long established themselves as productive and affordable sources of modern website creation and customization without much of turmoil around.
Hence, getting your commercial or any other website up and running without reducing your budget and without turning to the expert's assistance is possible with any of the offered free WooCommerce WordPress themes.
Best Free WooCommerce WordPress Themes 2023
Tap into boundless possibilities of eCommerce based digital environment with any of these simple to usage and free WooCommerce WordPress themes and ensure your place in local and international market to make that much wanted synergy between your business and its target audience.
The online presence of business in this era of technological evolution is not just limited to setting up a website. The demand of the consumers is a fully-fledged e-store that is responsive.
Hence, in such a scenario free WooCommerce WordPress themes offer the best resolution for setting up an online store.
This group of themes is coded and tested by professionals to offer you vibrant solutions for setting up an e-store.
WooCommerce compatibility is flawless and integration of other plugins and features related to the same is also feasible. Explore this exclusive read and get your hands at some of the finest niche-specific WooCommerce compatible themes.
Why large numbers of offline stores are resorting to free WooCommerce WordPress themes to create a website? Online stores and virtual shopping have become an inevitable part of the consumer lifestyle in the previous decade.
Such themes help in setting up a magnificent online presence for brands of all kinds irrespective of the industry. But, does it ensure the functionality of the online store?
Undoubtedly, the e-stores that you develop from reputed free WordPress themes shall keep your back in all conditions. To ensure that you do not fall into the trap of low-performing options, we have compiled a sorted collection in this read.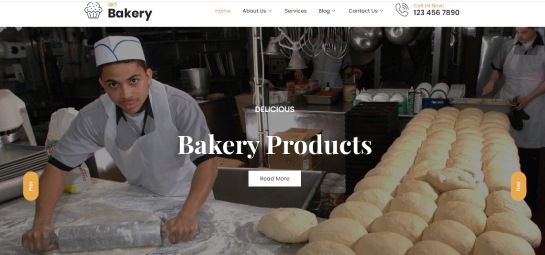 The first option in the collection of free WooCommerce WordPress themes is SKT Bakery Lite. This is a one of its kind responsive and elegant theme that ensures supreme performance for all your bakery related needs. If you own a cake shop, bakery, eatery, or similar outlet then this is perfect for you.
The best part is that the aesthetics and the components related to it in all manners are perfectly aligned. This alignment ensures that all the small and big aspects including the structure and layout perfectly match.
Moreover, it offers a five slide slider by default which can be used to add various offers, special products, and recognitions.
You can use fancy fonts and modify the other aspects as per the need. Lastly, all kinds of plugins are supported which ensures that setting up an online store will never be tough.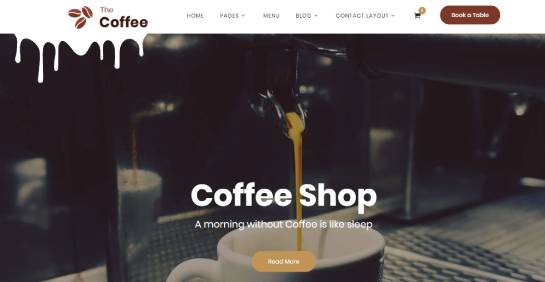 SKT Coffee is a stunning, responsive, and elegant option in the collection of free WooCommerce WordPress themes. The best part is that it has been designed to reflect the aura of coffee and café culture.
Hence, café, restaurants, hotels, and similar outlet based business can use this theme. It has been crafted with elegant graphics and a suitable design that can match a versatile niche. The attractive images used are copyright free and can be used directly on the main website.
It has been integrated with social icon packs which make representation easier and attractive with social handles. WooCommerce compatibility has been tested which ensures that you can reach potential customers with your products.
It has passed the Google mobile-friendly test and is integrated with customizer so making changes is easy.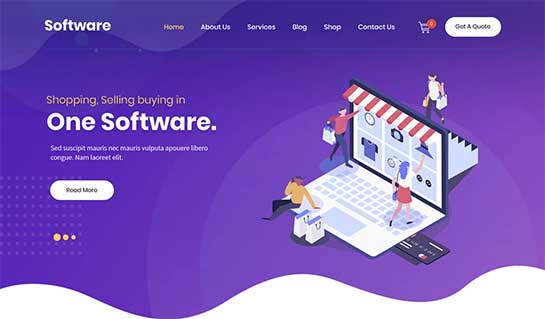 The application of software-as-a-service has been booming with the advancement of technology. Automation and Machine Learning have also opened doors of opportunities for the industries to tie-up with the IT sector.
In such an environment, SKT Software is one of the best options to help you create an elegant e-commerce based website. All kinds of software-related products or services of your firm can be easily highlighted here.
Creating a company profile and adding distinguished images of the recognitions is possible which helps in connecting with clients.
Modification in the template can be made up to a certain extent so that you can match your needs. WooCommerce compatibility ensures that all your products can be shipped across the globe.
Integrating a payment gateway for the same is also a hassle less process. Lastly, all other third-party plugins are supported to address other requirements.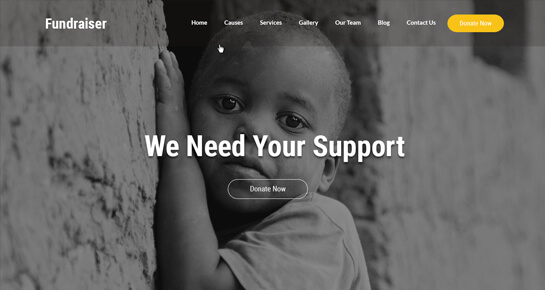 The need of the time for the NGO's and charity organization is to set an online presence with free WooCommerce WordPress themes.
This is because potential donors are now resorting to making online donations to support various causes across the world. SKT Fundraiser Lite will help you in setting up a community-based website that perfectly reflects all the activities executed.
It can also help in promoting the cause that your organization is working for. Photographs, videos, newspaper presence, awards, and other key achievements can be easily highlighted. It also ensures that all the prominent volunteers and donors can be featured.
With WooCommerce support, you can easily integrate multiple payment gateways for the convenience of the donor is possible. Setting up an e-store to sell merchandise for generating additional revenue can also be managed.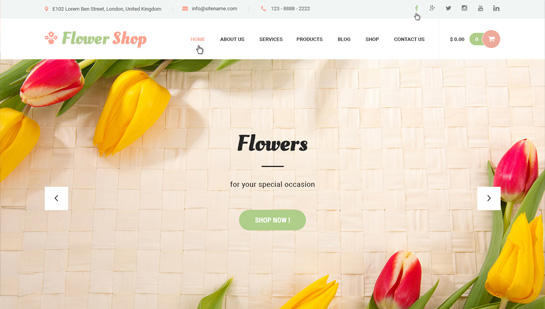 Flowe Shop Lite is one of the most phenomenal options in this compilation of free WooCommerce WordPress themes. It comes with a magnificent color combination of vibrant and soothing colors.
This can be exclusively used as it is by florists to set up an e-store and ship a variety of flowers to clients. Additionally, its functionality and framework enable creating other niche-based websites also.
All one has to do is make minor modifications and add the relative content. The ease of making changes and responsiveness across mobile-phones and other devices is flawless.
With WooCommerce support one can easily create an e-store that can list all the potential products along with the necessary description. Other third-party plugins are also compatible and social media handles can also be integrated.
The demand and availability of eBooks for all kinds of literature, notes, and reading materials are at their peak. This is because it is easy to carry, accessible, and affordable compared to conventional techniques.
Ele eBook Lite enables your organization to set up a distinct website that is enabled with WooCommerce for your collection of eBooks. You can easily add sections that distinguish each of the books according to their genres. Categories for educational based soft copies of books can also be created.
Standard pages are offered by default and necessary configuration in design can be made. To facilitate payments one can easily add the desired payment gateways. Third-party plugins can be added and compatibility of the site across various screen types is tested.
This is another exclusive inclusion in this collection of free WooCommerce WordPress themes. This theme helps you in setting up a WooCommerce-powered website for spas, salons, makeup agencies, and similar another niche.
The overall design is generic but soothing to suit the different kinds of needs of the owner and clients. You can even start a blog here without any additional requirements or plugins.
The homepage demo consists of various color schemes, elements, and fonts that can be used as per the overall aesthetics.
With an online store, you can easily feature the best of your beauty products and equipment. They can directly be explored by the potential customers and also purchased immediately.
Moreover, it has been optimized for best performance in SEO, and the integration of social media handles for proactive engagement is possible.
The number of people relying on search engines for finding the best food around them is increasing. Hence, for restaurants and hotels having a responsive, dynamic, and vibrant website is essential.
Ele Restaurant Lite contributes to setting up a thriving website for your restaurant, fast food, or hotel business. It has been exclusively coded and configured to meet the demands of this niche.
The pre-built template is perfect and with minor modifications will be ready to launch. Necessary information related to the peculiarity, heritage, and culture of your food can be added.
Through sliders, you can feature special offers, discounts, and recognitions. With WooCommerce support addressing online orders and selling eBooks or recipes is also possible.
You can easily add customer testimonials and also integrate Google Maps to pin the exact location of your business.
Earlier makeup was only limited to celebrities and professional photoshoots. But today for every essential occasion it is a must-have.
Hence, to address the growing concerns of the saloons and professional makeup artists, Ele Makeup Lite has been offered. This is a one of its kind option in this compilation of free WooCommerce WordPress themes.
You can create a stunning gallery that features your previous work and also include a client testimonial for the same. Adding a pricing table or a reservation calendar for appointments can also be made possible with external plugins.
WooCommerce is truly supported so that you can have an e-store that sells all your exclusive products to consumers across the world. Functionality has been tested and responsiveness across various devices is terrific.
This is a keen and specially developed theme that enables you to attract an audience from various domains. It can be used by butchers, restaurants, café owners, coffee houses, and businesses in similar niches.
The overall presentation and structure are perfect which ensure that information, product description, and pictures are all synchronized.
With WooCommerce support you have the freedom to make your special dishes available online for a local audience. Recipe books and secret spices can also be features online for selling to a larger audience base.
All third-party plugins are supported so that functionality wise it can be perfect. Responsiveness has been tested and integration of social media handles and Google Maps is also possible.
SKT Winery Lite is a one of its kind option and the last in this compilation of free WooCommerce WordPress themes. This is an exotic niche-based option that has been exclusively created for Wine yards and similar niches.
The functionalities offered are supreme just like the aesthetics of the pre-built template. Setting up an e-store for specialized products or raw materials is possible.
You can also add peculiar wine glasses to the store for the audience to purchase. Conveniently set up a payment method according to your clients and manage a detailed record of the same.
Modifications are easy and do not require technical skills. All the images available by default are copyright-free and hence are eligible for direct use. Use this one of its kind option to set up a dynamic online space for your business.
Ele Store Lite is the best free WordPress WooCommerce theme used for creating an online store.
With this theme your customers will get awesome online shopping experience as they won't need to go to the physical store to check the product details and demo. The theme is completely set up with the integration of the WooCommerce plugin.
Instantly you can sell any type of product such as furniture, tickets, music, jewelry, food, accessories, clothes and anything that you want. The theme is totally flexible that accepts are plugin in a quick way. even newsletter plugin can be integrated. It is also compatible with the WPML plugin.
SKT Luxury Watch center and online store selling companies and not only are welcome to check SKT Luxury to make sure this free template is everything they need to market their niche specific business without serious investments and heavy workload.
Strolling down to your office is not the only way people will find you or show an interest towards your offers and services.
Keeping your website accessible day and night with this responsive and cross mobile compatible, shortcodes based and customizable in terms of color and structure template is what will let you capitalize on your digital presence.
Most of the people are keeping pets at the home. Keeping pets at the home is a good idea, hobby, and passion because pets are known as life-changing friends that don't leave us when we feel alone.
They are called as best friends too. When people want a pet in their home then they look for pets by browsing pets stores on the internet.
By creating a website with WooCommerce free theme i.e. Ele Pet Lite, the people will be able to find your services related and you will be able to sell pets such as parrots, dog, cat, love birds, rabbits, etc. Even if you want to sell your pets product then it is also possible with this theme.
Free WooCommerce WordPress theme that is Ele Fashion Lite is all about shopping, fashion blog, model, photography, designer and online retailer businesses.
By using this theme for creating a website, you can add the content that suits your business. Ele Fashion Lite is a perfect template for creating fashion online store because the website will give a remarkable eCommerce experience.
The theme has the number of options like easy integration of SEO plugins, payment gateways, etc. It is also fully optimized that makes it responsive to every device and browser. The blog is also supported with this template. You have a right to choose the features you need.
By utilizing the features of WordPress free WooCommerce theme you can create a website or a blog that will look luscious and yummy the same as your chocolate dishes.
No need to know the technical stuff, no need to spend even a single dollar, no need to do efforts because you will get a readymade chocolate template along with that you will get integrated page builder by default.
You can check the features and lots of option by visiting the demo link. Multimedia content is compatible with the theme design. Along with the online store, you can also run a blog that will help you to explore your chocolate or cupcake recipes.
Flower Shop Lite is a one of its kind exclusive WooCommerce compatible theme in this collection. It is simple, dynamic, and filled with vibrant colors to do complete justice to the niche it intends to represent.
It is a multipurpose theme which means that all most all the industries can be conveniently featured. The overall design and aesthetics are kept to minimal with a major focus on white color.
This helps one in easily adding all the required details and modifying the template as required. Adding a logo and other registered trademarks of your firm in the template itself will be possible with it.
All kinds of modification and customization will be possible either through page builder or customizer where coding compatibility is not essential.
The published website will be in high-definition and completely responsive across all browsers, devices, and screens.
Google Fonts have been integrated by default that enables adding typography as demanded by the niche. Plugins of all kinds can be installed and used without worrying about impacting the overall performance.
You can conveniently set up, manage, and run an online store as WooCommerce compatibility has also been tested successfully.
Shipping your products across the world and swiftly accepting payments for the same is no more a challenging task.
SKT Winery Lite is an elegant, attractive, and fully responsive theme in this collection of the best free WooCommerce WordPress themes.
Basically, the template and other arrangements here are related to feature any small business or corporate relating to liquor manufacturing or stores.
But, it has the potential and all the necessary prerequisites to set up a website for all kinds of industry. It has a supreme modification and customization option that enables the personalization of each segment as a simple task.
One does not need to be an expert coder or a learner as anyone can set up, modify, and launch the website.
You are offered a premade homepage template that is HD-ready, retina-ready, and ready for translation. The design and graphics are of high quality with high definition projection across all kinds of screens and devices.
Necessary and sufficient space has been provided for adding the required content. With full WooCommerce compatibility adding your products to the online store and engaging customers with its description and features is possible.
All kinds of modifications in terms of online store layout and the aspects related to it will be possible. Relying on external plugins for adding missing or required functionality is not limited and can be executed freely.
This is an exclusive theme for hairstylists and saloons which have made it to this compilation of free WooCommerce WordPress themes.
CutsNStyle can be used by hairstylists, saloons, and bloggers in this niche for creating a terrific online presence.
All aspects of this theme starting from the templates, layout, pictures, structure, and other elements are perfectly aligned to meet the preliminary requirements.
All necessary elements for creating a stunning website have already been served and all you need to do is a little tweaking. All the images presented here are copyright-free so that they can be directly used across different sections.
Client testimonials and customer feedback can be conveniently highlighted on the landing page or on the inner pages.
A solid company profile that is credible and trustworthy can be featured for a better connection with potential leads. WooCommerce friendliness helps in developing and launching an online store without any complexities.
You can conveniently add various kinds of beauty and hair products to your portfolio for visibility to global clients. Integrating payment gateways and other necessary features through third-party plugins is possible.
As long as you continue to offer good products and services it will help you generate the maximum revenue out of it.
In this compilation of free WooCommerce WordPress themes, Ele Fashion Lite is a prominent option. The online eCommerce stores are helping cope up with the fashion industry that is constantly upgrading.
Ele Fashion Lite is one such option that helps you in setting up a dynamic online presence along with a spontaneous online store. The basic and prebuilt templates are completely responsive and exclusively dedicated to this niche.
This means that all you will have to do is a little modification and your website will be ready to publish. Moreover, adequate space has been provided across different sections for adding relevant information about clients, companies, and services.
Online shop development and management become swift with WooCommerce compatibility. You can add limitless products as required because there is no limitation of space.
Sorting out your e-shop into different segments according to gender and type of clothes can also be done. You can configure the checkout window with the most simple user interface so that the visitors do not face any problem.
Integrating payment gateways that are feasible to your audience is not a tough task and makes accepting payments easy.
So what are you waiting for? Furnish all the details, add your products, and get live with your collection of coolest clothes.
The next in this exclusive list of free WooCommerce WordPress themes is Butcher Lite. This theme can be used for meat shops, seafood shops, organic stores, agriculture business, dairy industry, etc.
Overall it has been optimized to serve all the essential prerequisites of the above-mentioned industries. When it comes to the aesthetics and design it has been kept minimal but yet elegant.
All the images here can be replaced with the high-definition images of your products that can help to showcase your expertise.
In all other aspects, the design is flexible and the responsiveness is fabulous across all devices, browsers, and screens.
You can easily develop and run an e-store by projecting all your best and in-demand products. This will help you in gaining global exposure for the kind of products that are your specialty.
All the details about the products along with their expiry of best before can be mentioned. Nutritional and calorific data of the food products can also be listed.
You can also add other features like galleries, schedule booking for visitors, and others through third-party plugins. Lastly, this is an exclusive option that already has everything that you require for a distinct and professional store.
Juice and Shakes Lite is a dynamic, vibrant, and responsive option in this collection of free WooCommerce WordPress themes.
This can be a perfect theme for representing a milkshake, smoothie, juice, and other similar business online. The theme has been developed with vibrant colors related to various fruits.
High-definition images are used in the default format which is copyright-free and can be directly used for your site. The template is exactly what you are looking for and will be ready to publish by making minor changes.
For customizing, setting up, and managing the site no specific coding language or skills are required.
A blog page option is also provided where you can add relevant articles relating to your products. This will help in enlightening the visitors about the advantages of consuming your products and also attract organic traffic.
The online store will help you fetch orders from around the world. You can also offer them the facility of customization so that exclusive products can be created for clients.
All necessary details like photographs and information about your offerings can be captured in the store. Payments can be accepted swiftly and the final checkout page can be configured to meet the demands of the audience.
The last in this read of free WooCommerce WordPress themes compilation is SKT Coffee. This theme can be used in coffee shops and industries that are involved in the processing & manufacturing of coffee.
The default template will immediately make the visitors fall in love with your website. For establishing brand credibility and reputation you can add all the details in the about us section.
All the other elements are crafted with perfection and in complete synchronization with the landing page design. This makes the coffee color the central attraction of your website.
With fabulous WooCommerce support running an online store for selling coffee and products related to it will be possible.
You can categorize all your products according to the demand of the visitors. Adding necessary information about the products along with the price is also manageable.
If required and possible you can also run a blog on the same website which will help in attracting organic visitors. Lastly, complete optimization in terms of search engines and performance has been provided in SKT Coffee.
IceCream Lite is the best free WooCommerce theme that targets an ice-cream parlor or a store that sells ice-cream, chocolates or any bakery items.
The theme is optimized with a top-quality feature that is ready that will reflect your thoughts into images in a strong way. Because of WooCommerce support, shopping cart is also supported.
Because the theme is optimized for SEO you will be able to boost your sales easily. With the icons and buttons, your customers will be able to navigate properly.
The blog content will be shareable to different social media channels such as Facebook, Instagram, Twitter, etc.
The layouts of the free WooCommerce theme will look perfect with every device and browser. Browsers like Edge, Opera, IE11, Chrome, etc all are compatible. The SKT Pottery Lite is coded with the template is a perfect choice to start your business online. Template is best for pottery supply shop, pottery event, pottery classes, ceramics stores, etc.
You will be able to sell some pottery products such as mugs, bowls, dishes, plates, paintings, etc. The theme is coded by the professional experts and with the updated technologies such as bottom to top button, proper use of sidebar, widgets, etc.
In one click, you can import the complete homepage demo content and start creating your own website.
What Restaurant Lite will require from you to achieve what you have planned with your virtual presence is a good dose of creativity. No financial means, no coding knowledge or seasoned web programmers are needed to put your website into action quickly.
Take the default template that is durable and firmly coded and modify it to deliver true value to your market base with colors and homepage content sections, nice looking homepage slider and its high quality images, commercial ready nature with WooCommerce compatibility and live customizer performance from behind the scenes.
Restaurant Lite is also optimized for working with menu and pricing table plugins for a complete and comprehensive presentation of your food and drink or other products with their relevant descriptions and prices.
SKT Biz is one more e commerce ready template that manages for excellence and precision in the virtual reality to grant you with measurable success.
This multipurpose and multiconcept template is elegant and businesslike in look and color palette making it a comfortable platform for a variety of small and big businesses, companies and organizations working on a limited budget.
The pat to digital success goes through unique yet convenient commercial platform you create for your shoppers as well as making it search engine friendly.
With SKT Biz both actions can be completed without any difficulty since the theme is admin friendly in management and customization on the one hand, and search engine optimized on the other.
The ever increasing necessity of to record quantifiable results and boosted sales makes going online and communicating to as many customers across the globe as possible.
SKT BlendIt can serve as a foundation to make your entrance into the digital spectrum smooth and pain free, as well as act as a bridge between your e commerce business and its users.
Use this one page structure web solution freely and customize it by the application of prebuilt customizer.
Wow your website guests with the best application of modern flat and material web design, arrange your store and product listings and categories, add page builder plugins to manage your website thoroughly, deploy call to actions in a reasonable way to "persuade" people to follow them.
Nowadays, the maximum number of commercial companies is getting their business online including the health and fitness industry too.
People nowadays focus on health alert. Hence they think twice and thrice before eating or drinking anything. Some customers searches for the daily exercise on the website or some searches for the diet products.
Whatever the need is, you need a website that would be able to sell lots of products and the services. Free WooCommerce store theme i.e.
Ele Fitness Lite is a platform that can be used for creating a website related to health and fitness background. You will be able to reach maximum audiences with this template.
Empower your site's visitors and online shoppers with the best client experience they deserve with the help of one of the best free WooCommerce WordPress themes called Gravida Lite.
Without a properly crafted and well organized commercial website, your business will be doomed. Making sure your physical and digital products and services are available to absolutely anyone interested in them around the clock is what you need to consider first and foremost.
Gravida Lite is a free tool to help you achieve this goal and keep the doors of your online storefront open for local and international clients as the theme is also multilingual and localization ready with relevant translation plugins compatibility.
Let's face the truth. People "google" before they give their preference to this or that business or company, read reviews before they buy something and even share their experience online once the commercial transaction is completed.
Therefore, guaranteeing your commercial website is "seen" in search engine inquiries as well as easy to reach for your potential and prospective clients is of utmost importance.
Interior Lite is one of such SEO friendly and SEO plugin compatible free WooCommerce WordPress themes to appear closer to consumers and online traders.
The overall neat and accurate layout of this template combine with fresh and modern design touches will do everything to make a good first impression.
Moreover, responsive coding in its turn will do a great job in transforming your site's content and serving it to the site's end users depending on the devices and smartphones they are using to access your site.
SKT Gym comes with high rich features such as retina-ready, SEO optimized, social media integration, social share icons compatible, multilingual, and translation ready.
The features are not just limited to these much it also supports some shortcodes, Google maps integration, sidebars and widgets to create a great user interface.
SKT Gym comes under the category of WooCommerce free themes that permit you to explore your gym related services and products widely with the help of eCommerce functionality support.
With the template, you can also create a blog to post health related articles. The theme is available for free so no need to invest money.
FAQ
Why use pre-designed templates?
The pre-designed templates are designed and developed by professionals. They help you get an edge over your competition in terms of design and aesthetics. Additionally, they also save a lot of time as all other aspects of the theme are in synchronization with the pre-designed templates.
Which Free WooCommerce WordPress theme is intended to be used for multipurpose sites?
Themes that are conveniently modifiable and meets the criteria of your ideal website should be used. Along with aesthetics if the multipurpose option suits the functionality requirements of your niche then it is suitable for use.
What are premium WooCommerce WordPress themes?
Premium themes offer tons of functionality and ease of operations that you find missing in free versions. They also offer dedicated support from the developers that enable you to resolve your queries.
If you have a long term vision for your website then premium themes should be considered for use.