IceCream Lite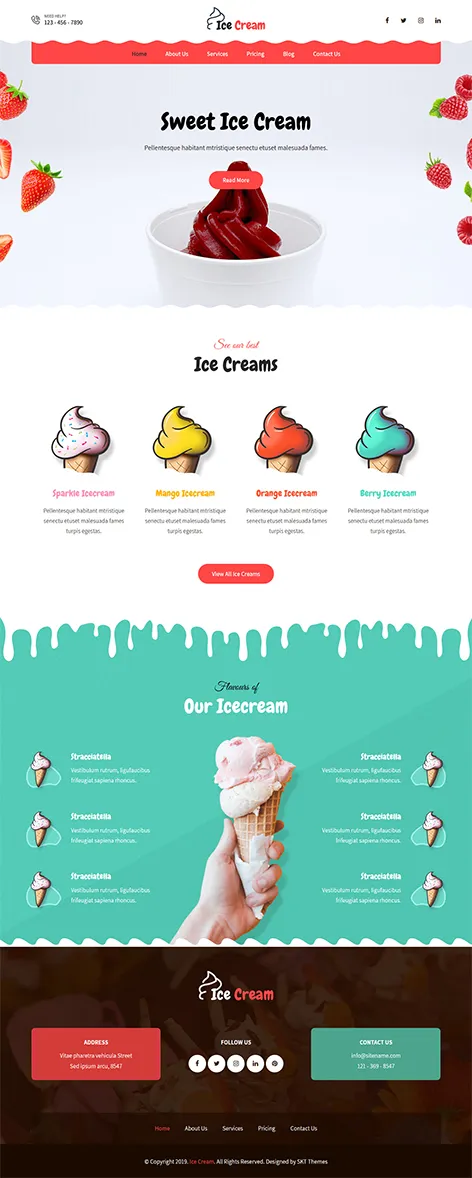 Free
Demo
360+ Themes for $69
Comparison
Free Theme
Less homepage sections
No inner pages
No Support
No Typography Options
No Icon Options
No Header Layouts
No footer Layouts
Less plugins compatible
Less updates
Less flexibility
More Time for Website Build
Features of Free IceCream WordPress Theme
Free icecream WordPress theme is a perfect solution for bakery related businesses.
It goes perfectly with the ice cream business, sweets shops, hotels, restaurants, etc.
One can create an awesome website with lots of features that will help to promote some special products.
Limitless opportunity is there to give a sharp look to your online business.
This theme is also suitable for juice and shake centers, sweet corners, coffee shops, and small cafes.
Your customers will be engaged with the slider and navigation button.
Plus one will be able to convert unknown customers to the potential by using a call to action features.
With limited customization, the website can look more astonishing.
Without writing any code the theme can be translation ready, social media linked, and browser compatible.
Anyways the theme also supports RTL languages.
Because web pages are SEO optimized, the website will get ranked on Google quickly.
Without any external efforts one can upload a logo as per their choice.
To generate some extra revenue the theme is compatible with the WooCommerce plugin.
The Ele Ice cream comes with lots of shortcodes.
Also, you have the support of the elementor page builder to get your website loaded faster.
All the pages will get viewed clearly in all operating systems.
Limited theme options are given for modifying the website content.
Custom Inner page Banner is not allowed to use.
One can change the complete color of a website homepage if they are a premium member.
The free icecream WordPress theme is fully responsive in nature.
Upto 4-page templates are allowed to access.
The code is written with the WordPress standards.
Hence, the theme is 100% multilingual because of3rd party plugin is supported to use.
The home page design can be used for an ice cream blog page.
700+ Google fonts are available with the awesome theme package.
Shortcodes are given for testimonial, contact us, contact form, widgets, etc.
We have used proper CSS3 so that your homepage will look clean and elegant.
With the online plugin, your website will be converted to a successful online store.
To make a website impressive and attractive one ca make use of Google Fonts.
Some limited number of widgets are supported for the blog posts, social media, footer, etc.
Professional support will be provided after purchasing the paid Ele Ice cream.
.psd file is included with the free package so that you can make changes that you want.
The homepage is created with the slider option that can have a navigation button to visit another page.
Color picker is compatible with this web template to choose a color.
Free icecream WordPress theme is completely bug-free, hassle-free, developer free, and free to use.
Everyone loves ice creams. If you visit any ice cream parlor you will expect to get cold, delicious and creamy ice cream with full of flavors. The shop owner gives their efforts to make these available for you so that you can enjoy the summer season without any disappointment. But what about their business? What about their profit? So we are here to help an ice cream owners to enhance their visibility in the online and offline market.
There is a huge competition in the ice cream industry. The demand for ice creams is for the whole year but especially the demand gets raised more in the summer season. Therefore you must think something new that your business will stand out in a unique way so that all people can identify your brand. You must think about some marketing strategies that are easy to implement but will give a high profit.
As an ice cream shop owner, you must surely be looking for some idea to brand yourself widely. To reach people around the world you must have some items that are delicious, overwhelming and good looking so that customers can get attracted to your special items. To showcase or highlight some of these items you will have to do photography and make a video that will appeal your point of view. Performing these tasks are not sufficient to make your brand unique. For unique brand awareness, you must have a website that will be a unique identity for your business. For helping you out we have come up with Ele Ice Cream.
Ele Ice Cream is the most delightful, deliciously, Good looking, and powerful freeice cream WordPress theme. The homepage design is created to show you how your small ice cream parlor can grow on the internet. More than 2 web templates are created with the proper use of resources. With love and care, we have constructed this theme that will stand visually strong. The theme is especially targeting small businesses like a sandwich shop, cake store, bakery products, muffins store, etc.
The theme is constructed in such a way that its design will increase your business visibility. With the impressive layouts of the homepage, increasing conversion rates are possible. The homepage has more than 5 sections that will allow you to enhance the website functionality by integrating some testimonials, team member details, contact form, Google Map, etc.
With freeice cream WordPress theme you can showcase some new flavored ice cream, you can offer some discounts or coupons at the starting so that every person should be able to taste a new flavor if they liked then you can sell it to your fixed price. Plugins can be used for creating coupons and discounts. You can build some public relations by giving permission to review your brand. Good public relations will help you in enhancing business as they can suggest their connections to visit your brand or new customers will be able to trust yours. You can spread awareness with social media features. Allow your customers to share their reviews and feedback with their connections.
One can run a simple ice cream website as a Zomato where customers will be able to visit your product and can shop for their choice. Payment can be taken online or you can provide cash on delivery option. The theme can pretend as a single page wordpress theme that will help you to sell some special products or services.
Also Included with Free IceCream WordPress Theme
Theme FilesTheme files are included in the zip you get when purchased
SupportYou can email us for support of this theme
Tags: ice cream store, ice cream shop, ice cream place, dairy queen, malt shop, pinkberry, glacier, baskin-robbins, glaciers, ice-cream man, ice-cream bar, ice-cream maker, confectionery, bakery, store, ice cream truck, fast-food restaurant, greasy spoon, hot-dog stand, canteen, diner, sandwich shop, dog wagon, canteen, diner, hamburger stand, eatery, bistro, saloon, soda fountain, lunch counter, restaurant, popsicle, ice field, creamery, gletscher, ice cream parlors, creamed, icebergs, ice cream parlors, creaminess, ice caps
Change Log
Updated September 2023
Working With Latest WordPress Version
Updated Google fonts