SKT Pottery Lite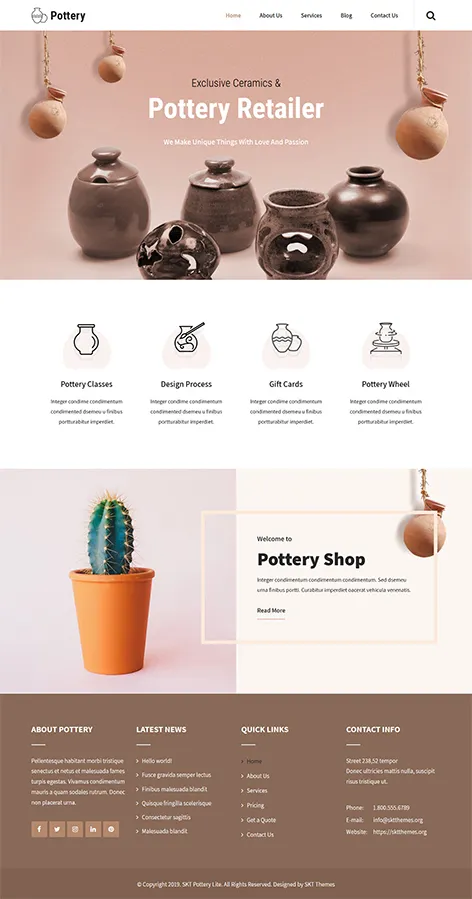 Free
Demo
360+ Themes for $69
Comparison
Free Theme
Less homepage sections
No inner pages
No Support
No Typography Options
No Icon Options
No Header Layouts
No footer Layouts
Less plugins compatible
Less updates
Less flexibility
More Time for Website Build
Features of Free Pottery WordPress Theme
SKT Pottery is a free pottery WordPress theme.
It has a flawless feature to choose it for a handmade or artistry shop and an individual potter.
Handmade shop owners can sell their signature products like a mug, bowls, dishes, plates, etc that are unique from all others.
The theme has full permission with a licensed certificate to be created for professional and personal use.
It is an excellent solution for pottery suppliers, pottery workshops, and more.
SKT pottery has very responsive web templates that will please your thoughts more attractively.
Customers will be able to view complete web pages on mobile phones, computers, and tablets.
The eye-catching layouts will assist you in advertising your items with a new look.
One can upload their data very quickly through the backend.
Dropdown menu, back to up button, widgets, and different styled layouts are acceptable.
High-quality images can be uploaded to the nice homepage layouts to give a great look.
Beautiful layouts are established with the help of an Elementor page builder.
Hence, SKT pottery is the best theme to start your business.
It will be an awesome start, to begin with, the website development.
You can access an eCommerce functionality by integrating the WooCommerce plugin.
Full access to change the footer content as per your need.
Many users can use the free pottery WordPress theme in different ways they can use it for blogging and for promoting any single product or service.
By default 1 header style has been given but can change it in a paid theme.
A strong theme option is given for content modification.
SKT pottery is the most demandable theme for craft websites.
The theme strikes its size as per the browser you are using.
You can explore your work and services around the globe.
By allowing global shipping you will be able to target the customers internationally.
Businesses can be extended internationally by creating an online store.
One can upload the pottery logo, business information, menu options, and different products to the website homepage.
One can also add some features to raise your website performance.
This will be more engaging and captivating.
The free pottery WordPress theme is built with the latest technology that will never raise a loading problem.
In short, the theme is error-free, developer-free, versatile, and most flexible.
A non-tech person can view and update the website without writing code.
Make use of shortcodes to extend the features and pages.
Shortcodes can be used to create different pages.
Free 1 year and free online documentation are available for premium customers.
One can manage different media by integrating them.
By default, various media are presented beautifully in the footer section.
The theme is completely set up by following the W3C standards.
Extend the pottery website feature by installing some pack of the plugin.
Plugins like social media sharing, social profile icons, spam protection, SEO plugins, widgets, and calendars will work awesome.
The theme is optimized with SEO and SMO features.
We have taken care of security issues and all are sorted out.
One can use a pottery website with multiple languages.
More than 70 languages can be translated with multilingual and translation plugins.
So, set up a theme in a one-click, click now on "free download option".
Does your interest belong to handmade products that look unique or different from others? Are you looking to give a tough competition to oppose one? Then you can do it by creating a website for a pottery business.
Pottery is one of the most trending business. In the previous age, people used to create pottery only with mud but now many people use ceramic powders and cement to show their creativity.
Hence the traditional business is now considered as the best growing digital business. The best example of a pottery business that is digitalized is amazon. You can find thousands of designs for pottery because of WooCommerce functionality.
Hence, most of the people are trying to convert their talent as a full-time business. By creating a website new business owners can explore their business services or products quickly. Hence, the website will be the only source for communicating with the clients.
This free pottery WordPress theme will allow you to get connected with people all over the world. Let us see how it is possible
We have created a perfect business theme and a power pack solution for a pottery business. The name of the theme is SKT Pottery. The theme is established by the SKT team members for pottery use. Therefore we call it SKT Pottery. We have taken care of the privacy, cost, security, and legal license.
So, we have the government-approved license to create a website for a customer or sell it to other companies. You will require zero cost for starting a new or well-set-up business as the theme is available for free cost.
You will be able to target the local as well as the global market. SKT themes will take hardly a few minutes to start a business. Yes, even a non-tech person can set up a theme very professionally just needs English language compatibility.
You can give your name to your business website. By default, one logo has been installed in the header and footer but one can modify it to your business name.
Thankfully we have done lots of research about the pottery business and invented a successful, powerful theme that will save you cost, time, knowledge just need experience to make your website possible.
Once you set up an online store with the free pottery WordPress theme you will be able to sell hand tools, work tables, clay, decorating tools, wheels, pug mills, business cards, etc with a specific price tag. Also, this website can be created for conducting classes, inviting groups, running campaigns, crafting products, and more.
You can create a successful website by considering some points.
Analyze the business scenario first.
Analyze the main problem in the pottery business.
Identify the best solution to provide to the users.
Also Included with free pottery WordPress theme
Theme FilesTheme files are included in the zip you get when purchased
SupportYou can email us for support of this theme
Tags: crockery, stoneware, art, earthenware, ceramic, terra cotta, clayware, ware, ceramic ware, terracotta, potteries, faience, sculpture, pot, clay, jug, dish, brick, mug, brickworks, brickyard, bag, container, pottery barn, jar factory, boatyard, cannery, tableware, vase, crock, snack, bowl, can, pot, ceramic materials, baked clay
Change Log
Updated November 2023
Working With Latest WordPress Version
Updated Google fonts for GDPR and Other Country Privacy
Updated to work with PHP 8+
Updated to work with at least one page builder (Elementor, Gutenberg or SKT Builder)
Compatible with popular plugins of SEO, contact form and WooCommerce
Updated performance to work with popular cache plugins and Cloudflare