Fundraiser Lite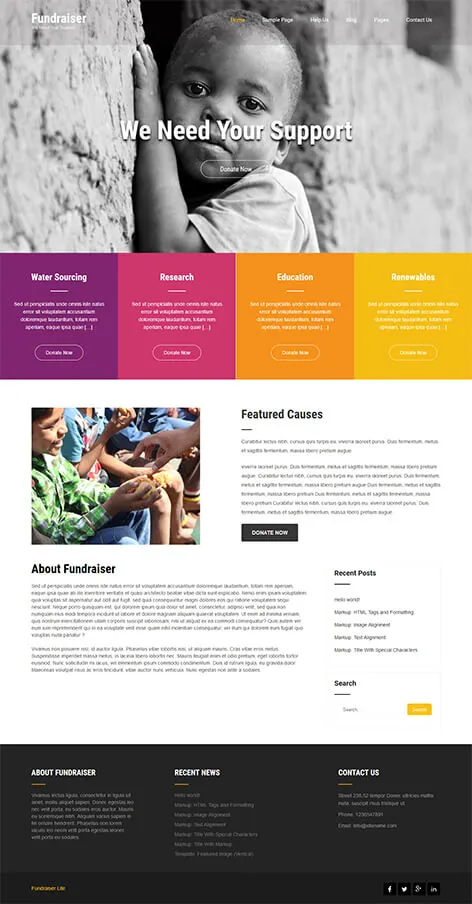 Free
Demo
360+ Themes for $69
Comparison
Free Theme
Less homepage sections
No inner pages
No Support
No Typography Options
No Icon Options
No Header Layouts
No footer Layouts
Less plugins compatible
Less updates
Less flexibility
More Time for Website Build
Free NGO WordPress theme
Free NGO WordPress theme is designed to be mobile friendly. One can view the contents of your website in device of any screen resolution.
Blog section is incorporated so that you can update blogs, posts, articles etc related to your organization. By this users will be engaged with your website for a long time.
It can be used to design websites like NGO's, fundraiser, crowdfunding and any other related websites.
Affable with AMP plugin so your NGO website can be viewed nicely in mobile or tablet without any hassle.
Default Comments template has been created with a nested commenting feature. As a result, visitors can comment if they want in your website.
Designed to be fully responsive, therefore, your website can be viewed in mobile, laptop, desktop or any other device as well.
You can also incorporate plugins like Facebook, Disqus and other social plugins. This will make your website more social.
You can represent your posts aesthetically with multimedia, video, banner or any other element. This will be more eye-catching for your customers.
Schema compatible and hence Google review as well as author profile bio also get listed on search results.
Designed to be translation ready with POT file inclusion. Your NGO website can be translated to any other language by using LOCO translate or PO Edit.
Free NGO WordPress theme is tested with various RTL languages like Arabic, Hebrew and others.
Easy to understand and get conversant with the free NGO theme. As it is designed by focusing mainly on user-friendly design.
You can represent your content in concoction with slideshow, gallery, images or videos. It will give a pleasant look to your visitors.
Simple and easy to use even for neophyte users who do not have handled websites or templates before.
Widget friendly design, you can encompass as many widgets as you want in various sections like header, footer or sidebar.
Affable with various multilingual plugins like WPML, qTranslate X and Polylang. So, you can design a comprehensive website by using this template.
Minimal design approach has been adopted to design the theme so that visitors can concentrate on images as well as text.
You can incorporate various widgets in sidebar and can design sidebar for different pages as well as posts.
Page builder plugins like Elementor, Divi, Visual composer and others are also compatible. You can use them on your website to add fancy content style in various pages.
There is an incarnation of various shortcodes and you can incorporate even more with the help of shortcode plugins. All are congenial with NGO theme.
Free NGO WordPress theme is presented in a clean look and feel so that images and text appear uncluttered.
First-time users can also use free NGO theme and it's like copy and paste from Word document.
Pages can also be used in order to showcase static content about your NGO, events and likewise.
Top header, sidebar and footer are widget friendly and can make use of CTA buttons or text.
Affable with various browsers like Chrome, Safari, Firefox and others. Your website can be viewed with ease in any browsers.
It is design based on flat and material design approach. In turn, you can have a website which is compatible with old and new browsers.
Codex theme review standards have been followed while designing NGO theme. Congenial with the latest version of WordPress and latest plugins as well.
Affable with WooCommerce plugin so you can accept the donation from people online. It will be hassle-free for you to manage any E-commerce transaction.
As it is designed to be compatible with cache plugins so you can make your NGO website faster. Cache plugins can be included in order to make the website faster.
Color scheme of the entire website can be changed with the help of color picker option.
Your website can be made more secure with the incorporation of security plugins which work well with this theme.
Customizer based and hence you can view the live changes before final implementation.
Coded with the latest technical languages like HTML and CSS3. Hence, your website will not be obsolete and its appearance will be contemporary.
Various layout options are made available in the pro version of NGO theme.
Compatible with contact form plugin so that it is easy for anyone to contact you.
Coding of NGO WordPress theme has been done based on SEO standards. It is congenial with various SEO plugins as well.
Incarnation of social media icons in the footer section made it more tempting. You can share your website content to various social media platforms.
Google mobile-friendly test passed and AMP plugin compatible as well.
Drop down menu has 5 levels of drop-down coded for ease of navigation use.
Professional appearance and hence it can be pushed for advertisement.
There are many organizations who are stepping forward to help poor and needy people. There are some government organizations and private organizations as well. NGO is the acronym for non-government organizations. It shows that kindness still exists in this narcissistic world. We have designed this splendid theme specifically for NGO's.
Although you can design any type of website by doing little customizations. As you are going to design NGO website so we have taken care of each and every aspect. It is available for free, but you are getting many features embedded which are prerequisite to design any modern website. Free NGO WordPress theme is an exemplar to design websites like NGO, fundraising, crowdfunding and any other related website.
It is designed with strenuous efforts of our expert designers and is reflected in the theme itself. Coded with HTML and CSS3, hence your NGO website can be presented with a modern and aesthetic look. SEO wise coding plays a crucial role. We can say it is an obligatory feature which any modern website must possess. By this only, you can upsurge traffic to your website.
It is one of the topnotch themes which is the best brew of features and pleasant look and feel. So, get designed your NGO website with this theme and help needy and poor people.
Also Included with free NGO WordPress theme
Theme FilesTheme files are included in the zip you get when purchased
SupportYou can email us for support of this theme
Tags: fundraising event, Bake Sale Fundraising Event, Afternoon Tea Time , Cooking Competition , Recipe Books , Board Game Night, Ice Cream Social, Movie Night, Scavenger Hunt, Talent Show, Tie-Dye Party, Yard Sale Fundraiser, Donate a Drink For A Cause, Art Show, Video Game Fundraising Event, Fashion Show , Film Fundraising, Art Auction, Creatively Construction, Costumed Race Fundraiser, Rollerblade fundraiser, Indoor Cycling, Peer-to-Peer Fundraiser, SPORTS FUNDRAISERS, Football Tournament, Basketball Tournament, Bowling Tournament, Local Olympics, Local Concert, Silent Auction Fundraiser Dinner Party, Summer Fundraising, Fall Fundraising, Winter Fundraising, Fundraising for Growth, Fundraising for Giving Tuesday, trusty, non profit organization, NGO, charity, donation
Change Log
Updated September 2023
Working With Latest WordPress Version
Updated Google fonts