In this digital era, catapulting your business portfolio isn't that difficult. Making your business more impressive and acceptable has gotten more comfortable with the help of well-polished business websites and digital marketing strategies. However, what poses the real challenge is to retain uniqueness amongst the crowd.
But as a small business owner, spending extra pennies for a custom-designed website might not make sense for you right at this point. Besides, going back and forth with a high-rated web designer can be a real headache for you at times. So what?
This is where WordPress can help. Most of you might be aware of the features of WordPress. But for the unversed, we are going to discuss one of the favorite areas of WordPress users, i.e., Premade WordPress Themes. Now, the question is, why premade? Yes, of course, there are some great free themes too.
But there are times when you might just want to have a bit more of a professional touch to your website than what a free theme offers. Also, the free ones often aren't updated and provide no installation assistance.
For this reason, the premade ones are the best. Here's a list of curated premade WordPress themes for your assistance. Do check it out.
It is a beauty WordPress theme with a default page builder, i.e., Elementor. It is one of the best web templates for makeup, beauty, and hairdresser. With this theme, you can be a clear winner in your beauty business.
Features:
Each section of this theme features the latest code.
The theme features are capable of making your website more powerful and professional.
The theme offers both light and dark versions.
It has more than five premade page templates to let you acquire more details about the Beauty theme.
Online documentation makes setting and running the theme very easy.
Besides black and white, it offers many-seeded color schemes that can change the color background of the Beauty theme.
It offers a PSD file after purchase to guide you in customization.
Some of the widgets are allowed for Twitter, Flickr, and Google map options.
It allows the MailChimp plugin for marketing your products and services.
It supports the Breadcrumbs plugin, one of the essential plugins to track user activity and return it to the previous page.
List of Top 10 Premade WordPress Themes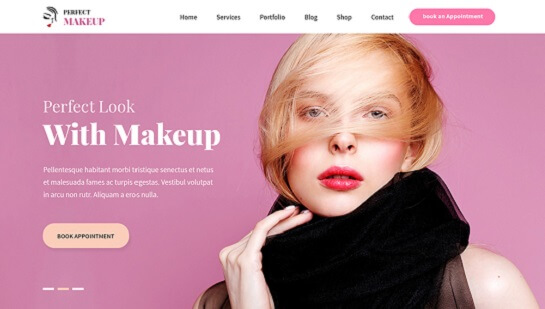 This Premade WordPress Themes is ideal for long-term business stability. Security is an important thing to consider while opting for any online business or other activities. And the Cyber Security theme offers you the same. It ensures that your content is safe and inaccessible to cyber hackers. Besides, it provides everything that you wish for. It is responsible, customizable, attractive, and SEO-friendly.
Features:
It has an elementor page builder that makes your customization process easy.
It offers you unique & attractive page layouts.
It helps you reach out to more users to guide them against hacking.
The theme offers strong sliding effects that accept texts, videos, audios, and more.
You can opt for full-screen or half-screen for the header slider as per your choice.
Navigating from one page to another is a breeze.
It offers a logo area for adding your business logo.
The theme includes essential services such as wireless network security, mobile app security, network security, PCI vulnerability scanning, etc.
It is flexible and supports a variety of businesses.
It is the perfect one to exhibit an online presence for liability insurance, security consultants, insurance specialists, security guards, etc.
It is enhanced with the jQuery option and supports high-quality videos and images.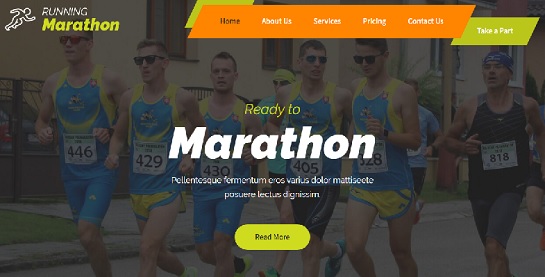 If you plan for a sports-related business or a fitness industry, the SKT Marathon is just the right one for you. It is specially designed for health coaches, sportspeople, athletes, and other healthy lifestyle people. It has got some special functions that will elevate your business to greater levels.
Features:
It is a multicolored theme.
It enables fitness coaches, athletes, or runners to create modern and realistic websites.
It is compatible with WordPress 5.0 and above versions.
You get modern and creative layouts with this theme.
It works perfectly with the event, calendar, and timetable plugins.
It also supports some third-party plugins like Contact Form 7, MailChimp, and essential grid.
It bears a genuine code allowing easy adjustments & is also upgraded with the most recent codes, i.e., HTML3 and CSS3.
It also offers custom-made widgets to create a contact form or subscription form.
There are free fonts and icons to entice customers.
It is a completely modified and upgraded version, including the header, footer, and copyright sections.
Ele Chocolate is one of the most tempting themes. As the name suggests, the theme is crafted to suit your chocolate business the most. It gives your business website an eye-catching outlook and perfectly matches the chocolaty flavor and mood to lift your business.
Features:
It bears custom-made dropdown menus to enhance your experience.
You can replace it as well as change the slider.
You can add animated blocks using shortcodes.
It has flip boxes for team members and a default team area.
It is compatible with the latest version of WordPress and coded with HTML5 & CSS3.
One can highlight his/her skills by creating a separate section for selling products.
The codes are effortless and help developers to promote the product in search engines quickly.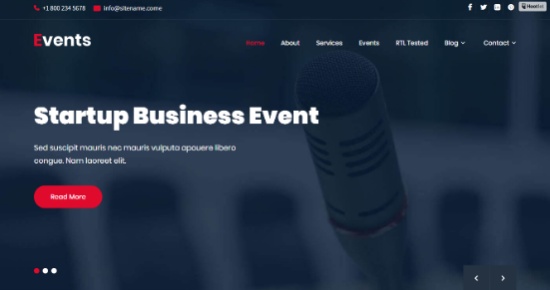 The Premade WordPress Themes is one of the most useful themes for announcing more significant events or occasions. Since digital invitations or posters have replaced the traditional cards or letters, this theme turns out to be a big player in the digital event management. With a custom-designed webpage or blog, you can target a wider audience, and SKT Events is the right choice to make your digital presence more appealing.
Features:
It caters to a wide range of events and is very responsive.
With an elegant design, it boosts up your event business and makes it more attention-seeking.
It has predefined sections that include a slideshow, events, schedule, video section, testimonial, speakers, latest news, and more.
It is backed by an elementor page builder to help you create pages effortlessly.
It also enables the integration of social network sharing.
It is simple, convenient, and easily understandable.
It offers some excellent plugins, and the installation is also super-easy.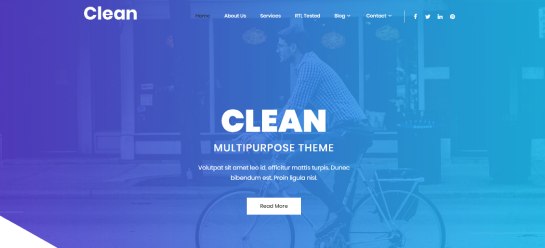 It is a multipurpose WordPress theme that is very clean and possesses a lot of white space to focus on the content more than the design. It offers several unique elements and is convenient to use.
Features
It offers color pickers to change the theme color.
The theme bears a built-in gallery, contact form, and various shortcodes.
With plugin compatibility, you can set up your content the way you want.
You can opt for WooCommerce for shopo, NextGen Gallery for portfolio, and other SEO plugins.
It offers more than 600 Google fonts integration along with Cyrillic and Latin based font support.
The theme has an inbuilt slider containing animation effects. Pause time and other features.
You can use a boxed layout wherever required and a complete layout structure for selected sections.
Beauty Cuts is a cutting-edge Premade WordPress Themes for hairstylists and hair salon business. Besides the skin, hair is the next essential element that adds to your beauty, and this theme is all about helping you achieve the most out of your business. The theme is a mingled thread of design, perfection as well as functionality.
Features:
It is a responsive theme, specially designed for hair salon and hairstyle.
It offers a page template that is ideal for local and straightforward websites with less footprint.
It is user-friendly. Even the first time, users can work well with it.
It ensures cross-browser compatibility.
It is HD-ready and retina-ready because of its high resolution.
It offers WooCommerce and other plugins for your ease and convenience.
Attractive mobile header options are also available with the Cyber Security theme.
It is of immense functionality and can be used for an individual as well as a company.
You can customize the coding files like CSS, JS, and PHP.
It offers several color options and over 700 fonts.
The SKT Guten Pro theme is mostly a Gutenberg editor that is a core aspect of WordPress. It leaves a strong imprint on your website publishing experience. It enables easy customization, offers impressive layouts, and triggers your 'feel good' factors.
Features:
It lets you install, import, and launch themes in seconds.
With SKT Guten Pro, you get an errorless and seamlessly running website.
Editors and themes can be used easily, even by a novice.
It contains all functional blocks that can be created without writing any code.
It provides a drag and drops feature that allows access to all blocks and components.
With the direct manipulation feature, you can edit the data directly without any problem or disturbance.
It lets you customize the pages without editing the code.
It provides multilingual support and changes the default language in a native one.
You get better visibility with its SEO compatibility.
It offers a Post Timeline block that is unique in itself.
It supports WPML plugins and files and various types of sliders.
This theme is custom-made to depict modern architectural designs, projects, and plans in a simplified way. It is a perfect combination of simplicity, elegance, and a well-defined structure.
Features:
It is a multipurpose theme and can be utilized for any business domain.
It offers color pickers to change the theme color.
It offers the latest design of an element or widget image box with a round shape applied to the service section.
Flipping between pages is easy and convenient.
It is easy to highlight the details of your team members here.
The header offers some advanced features.
The contact page lets you integrate with Google Maps. Thus, making it more helpful for customers.
There's a live customizer option to let you check the real-time changes.
This Premade WordPress Themes is an absolute delight for dentists or dental surgeons. Teethy offers you some great features to catapult your dentistry business and drive more patients to your dental clinic or chamber. At the same time, it helps patients to explore a range of dental care benefits.
Features:
It is very responsive and is compatible with all types of devices.
It has an elementor page builder.
You can find demo content with all themes.
Your website performance remains unaffected in whichever device you use, be it a mobile, a desktop, or a laptop.
This theme works well with all types of browsers.
It offers documentation and support for hassle-free installation.
You also get Google font integration.
You get custom widgets, responsive templates, and validation with the W3C standards.
If you upscaling your gym or fitness business is on your cards, this theme might serve you right. It has some excellent functions that would make your online presence as exciting and captivating as ever.
Features:
A range of font-based social icons is available to enhance your social media pages' style and appearance.
It possesses a unique collection of elements, and the columns make your page more stylish.
It offers a color picker component by which you can customize your website's look.
It also offers various free to use shortcodes.
It offers some great layout options.
The popularly used blocks, such as search and tabs, can be found in the same inserter interface.
The Premade WordPress Themes is the perfect destination for your beauty salon and spa business. It gives a fresh and soothing look to your business website or blog to suit your domain.
Features:
It offers a pictorial area to let you display your skills via images.
The theme comes with a contact form and a location map for easy access to a particular location.
In this theme, you get a Banner slider on the top to display your featured slides.
It offers a services section to showcase your popular services.
It is HTML & CSS3 coded.
It supports the latest version of WordPress.
It comes with some unique functions like shortcodes, page builders, Google Adsense, and other premium tools.
Impressive animation effects are on offer with this theme.
The theme supports all types of devices and browsers like IE, Firefox, Android Browser, Chrome, Safari, Opera, etc.
All in all, the premade themes are 100% affordable, flexible, easy to install and provide optimum security and code readability. And with these, you can be assured of getting those bonus points that would lead your business to success.