SKT Gutenberg Bundle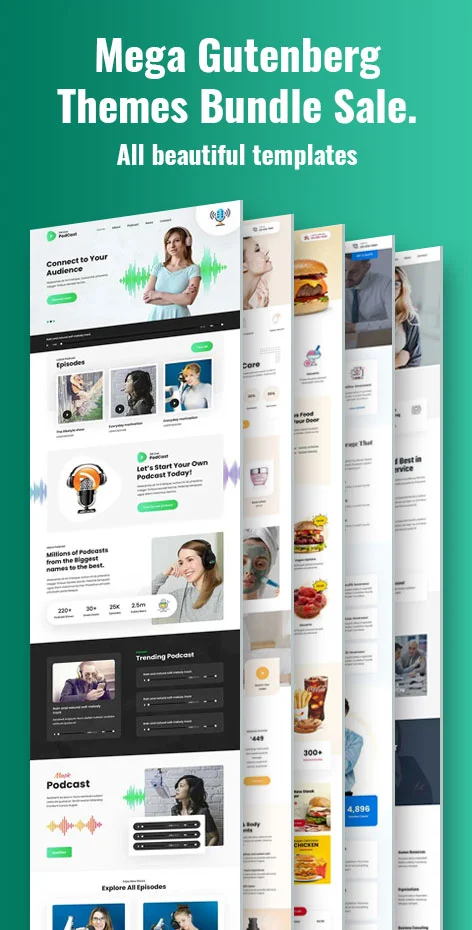 For

$50
Demo
360+ Themes for $69

Features of Gutenberg WordPress Theme (18 themes in 1)
SKT Guten Pro is developed with Gutenberg page editor as a Core WordPress Page Editor.
Users will prefer to use the Gutenberg WordPress theme because it was easy to use and easily available at affordable price.
You will have a chance to access all themes at a single price.
All themes follow the WordPress guideline and tested with all required WordPress plugins to get real hand experience.
Yoast SEO and other SEO Plugins supported.
All themes have demo content so that you can feel it real.
One can easily install, import and launch a theme in no time.
Your website will get started running in a smooth way without any error without any conflict.
High appealing post can be created without any efforts.
Possible to use an editor and a theme by every non-tech and tech person.
For an easy user experience, the one-click import option is given.
Each and every block are functional that can be created without writing any code.
You can make the use of some good layouts options that is available by default.
The most used blocks such as search and tabs will be available in the same inserter interface.
You can access all these blocks and components with the drag and drop feature.
Without any problem, one can edit the data directly on the page with a direct manipulation feature.
Without editing the code, you can easily customize the pages.
One can customize the website appearance with the color picker component.
Ample shortcodes are given for free to use.
This will make your website more powerful in fewer efforts.
The Gutenberg WordPress theme is multilingual support that will change the default language in a native one.
The theme is specially made SEO friendly so that your businesses will be visible in Google.
From the rich collection, you can choose a Font Based Social Icons to make your social media pages more stylish.
This theme comes with a unique collection of elements.
Therefore, with the help of columns, it is very easy to style.
You can add up to three column layouts along with the text, images, and heading.
With the SKT Guten Pro, you can create a number of full-width sections that can work without a no sidebar page.
Gutenberg Post Masonry block will make your blog post visible in a pleasant masonry grid layout.
You will be able to integrate Google Maps in any past or a blog.
With the help of the Post Carousel block you will be able to display the blog posts in carousel layouts.
With the Testimonial block, you can post your customer's review on the website. The different avatars can be given to them.
A huge Icon List will be given with the WordPress theme and files to make your boring content more attractive.
Easy to show the details about your team members.
Within the block, if you want to add white space then you can make use of a spacer.
Post Grid supports blocks, pages, posts, etc.
One can show the posts from a particular category.
The Header of an SKT Guten Pro has some advanced features like the design that can be changed with 4 different styles.
Post Timeline is a different block because you can show your blog posts as a timeline with the date of publishing.
This block is considered to be very special because it contains a unique template to represent your content.
Some main core features of a Gutenberg Editor are available with this theme.
WPML plugins and files are included to succeed in the multilingual features.
26+ shortcodes are there that are convenient to use by every person.
Various types of sliders are accepted to use in a theme such as Master slider, Crelly slider, Meta Slider, Smart slider, etc.
But Nivo Slider is set to be a default slider that will support the layers and multimedia content such as YouTube/Vimeo videos, images, etc.
4 different styles are there to create a stylish Footer Layout.
The theme is ready for working as an online store hence WooCommerce plugin is fully supported with it.
bbPress plugin is provided with the theme so that you can create an elegant interface.
bbPress is easy to use and specially invented to grow with your community.
Lots of widgets can be used to create a dynamic and functional content.
Easy to create and maintain the contact form with contact form 7 plugin.
The event calendar is plugin is suitable to use.
It is packed with lots of features such as extensible, day view, event search, save venues, Google map and more.
Nextgen Gallery plugin is compatible to use to integrate your high-quality images and photographs with the website blog.
4 different templates are given for styling the blog.
Shortcodes are given by default for Testimonial, Our team, Skill Bar, Posts, Gallery, Promotion Boxes, Social Icons, Dividers, etc.
HTML and CSS file is included so that you can create your own custom website.
The Gutenberg editor was recently upgraded to Version 7.2.0.
The theme supports the WordPress version 5.2.0 and its higher version.
The theme is tested with some tools upto WordPress version 5.3.2.
Total 47 different languages are supported some are Afrikaans, Albanian, Arabic, Catalan, Danish, Dutch, Dutch (Belgium), English (Australia), Chinese (China), Chinese (Taiwan), Croatian, Czech, English (Canada), English (New Zealand), etc.
For error fixes and enhancement you can connect directly to the forum support they will connect with your directly.
Get the Gutenberg WordPress theme today at $48 to set up a powerful website now.
Gutenberg Editor
In WordPress, Gutenberg is a React-driven SPA editing experience. The block editor that is Gutenberg was invented as a core WordPress. The block editor was initiated with version 5.0. The Gutenberg is leaving a strong impact on the complete publishing experience which includes the customization. In simple, Gutenberg is a block-based editor that makes you feel good while creating an impressive layout.
Even you can create rich pages and posts with them. The block is very flexible to use for example you can use some more plugins on it to enhance its features, you can create multimedia heavy layouts, the pages, and post created with Gutenberg editor will be viewable on every screen size and different devices. Finally, you can trust that will give you a look same as you were looking for a long time. With the classic editor, you can easily switch to the previous editor if it required in the future.
The main feature of a Gutenberg WordPress theme is a block. Now strong captivating content can be created with the latest tool that is block. With the help of this block, you will be able to insert, style the content with multimedia integration and can rearrange with less technical knowledge. The best feature is that you can add a block using some custom code so that you can focus more on content only.
The editor has made sure that even if you are not aware of technical stuff then also you can edit the pages very easily. For creating a beautiful website you just have to know about Gutenberg Editor. This editor is easily available in WordPress.org.
If you are looking to create a website then you must choose the Gutenberg WordPress theme because it is developed with the Gutenberg editor. Because of these editors, you will get lots of features in return. You will get complete documentation for setting up a website for your brand.
SKT Guten Pro is crafted professionally to provide you a simple and easy interface. You can give your website the same look as it contains in the demo template. This theme gave you a variety of options for example wide alignment, dark background, color palette, responsive embedded content and more.
With the Gutenberg WordPress theme, you can create a simple plus stylish website for your business. The website has minimal features that will look clean and trustworthy where you can make use of some impressive content and media.
You can create a stylish website with the new advanced features that will be breathtaking, astonishing and spectacular from every end. To make a website more functional you can make use of meta boxes, shortcodes, and custom post types. You can make the use of some best asset for creating better texts.
The Stages of Gutenberg
Gutenberg is intended with the three different stages.
The first aim was to introduce WordPress 5.0 version that will focus mainly on editing experience. The user feels good while editing the post and content. Plus they feel good while implementing the blocks.
Primarily the Gutenberg was developed that was focusing more on content. The main aim of a Gutenberg was to create content that will pretend the thoughts directly by creating visually appealing content.
Hence, the Gutenberg is a huge modification that takes place to make sure the functionalities such as meta box and shortcodes are working effectively and need less time to an executive.
Gutenberg has a bright future for WordPress theme and plugins developer that will have a core of toolset to be used.
Also Included with every Gutenberg WordPress theme
Theme Files Theme files are included in the zip you get when purchased
PSD Design Files Includes PSD format file so that in case you need any design changes first in order to modify the theme you can do so
Sample Content Homepage content gets loaded default and rest of the content pages can be easily set up using documentation
Support You will get login for our support forum and our email id and skype ID after purchase of a theme
Free Installation You will get free installation if you request us to install the theme on your server with demo content
Related Themes:
Tags: Tags: multipurpose, complete, easy, trendy, simple, core, editor
Change Log
Updated September 2023
Working With Latest WordPress Version
Updated Google fonts