Making any kind of governmental, municipality or community website is going to be fun yet productive with any of municipality WordPress themes we are going to discuss in this article.
City and town, city portal and town press, bathroom and city government, local community and election, city guide and tourism, community resource and utility contractor, political and legal department or institution, online town map or hall and any other niche specific website or portal can be easily created with these municipality WordPress themes.
Crowdfunding and other campaigns dedicated to raising the quality of the local people's lives can also be based on these wonderfully modern and durable website builders.
All it takes to craft and go online with a presentable and user friendly, logically structured and well formatted city portal or municipality website is to choose WordPress CMS among many other content management platforms.
Whether it's going to be local community or local government, city or country portal where citizens and tourists can find whatever they are looking for, WordPress thematic templates are always ready to walk you through the simplest paths of doing that quickly and affordably.
These municipality WordPress themes are tailored to go well with all the essential needs of modern municipality or city related websites and blogs where one can add the most required features and news like weather, agenda, upcoming events, meetings with the officials and much more.
They are also ready to be localized and translated into any language which means that no matter what locality you share and which municipality want to take online, you can do that with each of these municipality WordPress themes.
Finally, the flexibility and 100% customizability, user and admin friendliness, less learning curve and pocket friendly pricing of those website solutions are what make them the best choices both for startup and experienced website admins.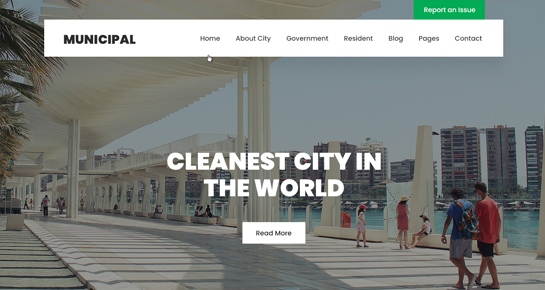 The staff of municipal have more expertise in municipal administration, city government, local authority, city administration, town council, etc but they lack technical expertise.
Thus they won't be able to create a website with the best design. This is the situation where municipality WordPress themes come in handy.
People who belong to the municipality-related organization and looking for a solution that can save their time from the start then SKT Municipality is catered for such organizations and business requirements.
The SKT Municipality is crafted by considering all important aspects that would be fit for firefighters, fire departments fit police, police-fire departments, bodyguard, policemen, prison, or a jail website as well as the same demo content can be imported and can be customized for creating non-profit organization's website.
The highlighted features of SKT Municipality are one-click installations, responsive and mobile friendly design, one click demo import, translation ready, customizer options, widget friendly, multilingual friendly, and so on.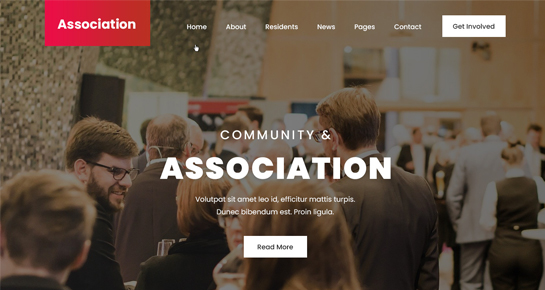 It's bad to not having an online presence for your business but it is an even more terrible situation if you have an unmanaged website.
So we are presenting SKT Association in front of you that is available at a low budget with all required features and functionalities. It is a feature-rich template that will save you time and money.
SKT Association can be used for city government, society, firemen, rescue, fire prevention programs, security, emergency supply services, etc plus it can be used to exhibit services of non-profit organizations.
It is 100% compliant with the latest WordPress version and provides a great option to exhibit services in a way you want. you can mess with Elementor page builder if you really want to experience more customizing options to edit the inner pages.
To concentrate more on audiences the template is fully supportive with the Contact form plugin and can be integrated directly from the WordPress dashboard.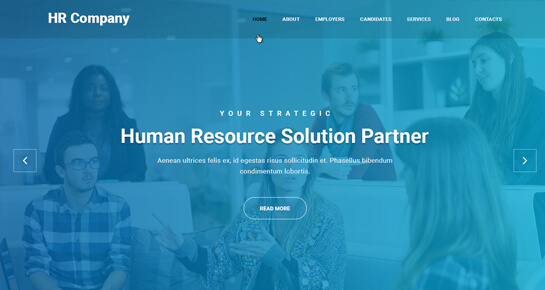 From inspiration to application, HR Management is one of the most suitable municipality WordPress themes to guide you through each and every single step of the website development and keep you motivated all the time.
The idea behind this unique yet fully understandable template is to make you the only master and designer of your site who will be capable of exercising all the creative solutions and filling the missing functional gaps with right customization options and plugin support.
Moreover, you can add different authors to control their departments or communities, as well as assign them relevant roles and privileges as HR Management is also multi author ready.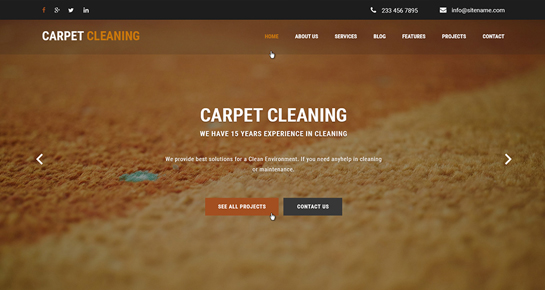 Water distribution, utility services, cleaning companies, both governmental and private, city and town council, municipality and municipal corporation, corporate town or other thematic website is destined to succeed with the help of Cleaning Company.
The pluses making this template one of the most demanded municipality WordPress themes are many.
It is as affordable and easy to use as it is durable and dependable in coding, which in its turn guarantees the flawless performance of the site and its proper presentation for search engine rankings.
Hence, the theme is not only well coded with HTML 5 and CSS 3, but is also wonderfully responsive and mobile optimized, as well as search engine and social media friendly, if paired with respective plugins for better results.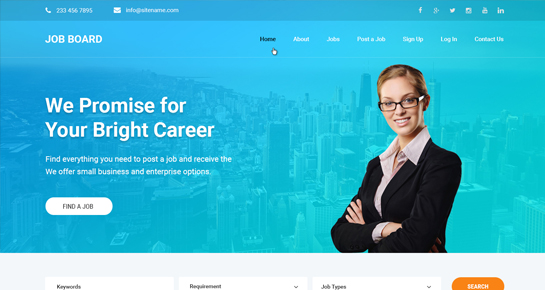 The uniqueness of SKT Job Portal lies in the fact that it can be adapted to any needs. Whether you need a small yet convenient community portal for daily website users or a well organized and all inclusive municipality website to be a reliable source of information for citizens and city guests, SKT Job Portal will adjust to your specific website plans.
Alternatively, you may start off with an ordinary or small scaled website but end up discovering that your site has expanded its user base and you would need to make the site more scalable in terms of user hosting and user satisfaction.
This is where the theme's customizability, shortcodes and plugin support come into the picture.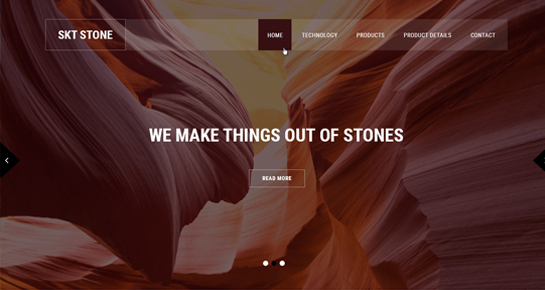 The next valuable and highly recommended website toolkit that incorporates all the first aid tools and elements, page and post controls, visual and textual areas for the website promotion is called SKT Stone.
The majority of municipal or local government websites will inevitably deal with custom website design or development in some way.
With SKT Stone, every single design and functional level is possible, given the versatile and customization ready nature of it. You can either change the initial behavior of the theme from the backend or make use of additional tools.
Otherwise stated, you can play with the default platform, remove whatever is useless for you or add whatever is missing from the general picture, add more functional capacities with plugins, mix colors and fonts, etc.
You will be amazed by the controllable nature of Local Business Pro whenever you need to add some more touches to finalize your next governmental or local digital project.
It comes with hundreds of management options and pre enabled controls, a wide range of fonts and icons you can choose from, color picker for setting up elegant and eye catchy colors symbolizing the city or its structure, etc.
Amazingly responsive in the way Local Business Pro supports your website whenever browsed by portable devices, it is also plugin compatible and e commerce ready for taking your site higher with new possibilities.
Donation is all about care and convenience when it comes to building any digital portal that can make people's lives more comfortable and enjoyable.
Hence, from charity, crowdfunding and donation campaigns and events to political reviews and news, governmental institutions and municipalities, any website can be built upon Donation easily.
Homepage section is already well structured and loaded so that you can start filling them with your own niche specific content.
Homepage full width slider is another important element to add a unique touch and elegance to the website with high quality city images and photos.
You can add and control, as well as change them as frequently as needed to keep the overall look and nature of your site dynamic and interesting for the website guests.