SKT BlendIt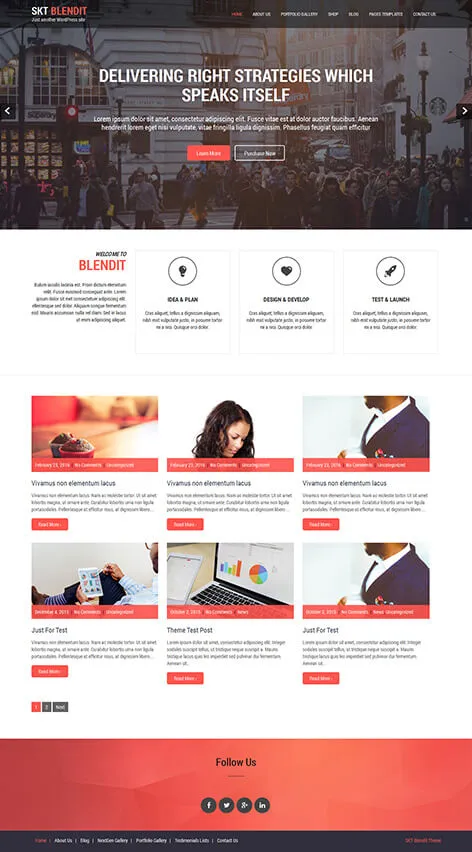 Free
Demo
360+ Themes for $69
Comparison
Free Theme
Less homepage sections
No inner pages
No Support
No Typography Options
No Icon Options
No Header Layouts
No footer Layouts
Less plugins compatible
Less updates
Less flexibility
More Time for Website Build
Features of free one page WordPress theme
SKT BlendIt is a free one page WordPress theme
One page and single page suitable for all types of landing pages
Can be used for personal and other commercial projects like product launch, app store etc
Suitable for people who just want a single page small website
Customizable using Customizer
Social media icons included
Easy to use and has a default slider
Simple boxes available on the homepage
Compatible with Elementor page builder
Page builder includes different and various icons list
27 different widgets included with page builder
Navigation easily managed using appearance>menus
One can use it as a multipage theme as well
Compatible with various plugins out of the box
WooCommerce compatible for ready to use shop
Gallery plugins like NextGen gallery, master slider compatible
Change hover and button colors as per logo style
Sidebar fully widget friendly
Footer widget friendly
Call to actions included
Flat and material designs used for cross browser compatibility
Coded with HTML5 and CSS3 as per latest modern techniques
BlendIt is a free one page WordPress theme which has been designed and developed to cater to landing pages or single page websites or app based websites which are also again single page.
Personal resume pages or portfolio pages are also single page and one page and hence this free one page WordPress theme can suit these kind of websites nicely.
It is nice looking and elegant in nature. Built upon material and flat design this is a nice way to have cross browser compatibility because gradients always don't look up good in iOS and other browsers like IE.
Also this theme even though free has been coded as per theme codex standards and has been theme checked pass.
Also it is fully responsive and Google mobile friendly thus it gives you a SEO boost. Also SEO meta tags and H1, h2 etc and SEO plugin compatibility with All in One SEO and WordPress SEO by Yoast is done for greater SEO results.
Social media is also integrated for good SMO as well.
Also it is to be noted that this theme is GPL licensed so that means it can be used for your client projects, commercial projects and as well as personal and non profit projects.
SKT Blendit is a free one page WordPress theme which uses Appearance>menu navigation to build up different pages in a single page style format.
Also since it has menu options it can also be used as a multi page website as well. Sidebar in inner pages is widget friendly.
Footer is widget friendly.
Various call to actions like email, phone number, social icons are used.
One can easily add ninja form plugin or contact form 7 plugin and add a contact form or booking form or appointment form into your website.
Also since this theme is compatible with Elementor page builder which is again free you can add upto 27 widgets ready to be used into your website without any hassle.
Thus giving you an awesome experience without any cost.
Button and link colors can be changed easily matching your logo you post and thus giving you a feel of complete website along with matching colors.
Copyright can also be changed which isn't possible with most free themes and thus even though this theme is free of cost but has features better and equivalent to premium ones.
Compatible with a lot of plugins like WooCommerce for eCommerce purposes as one can sell and have a nice simple shop with this theme.
This plugin works out of the box with this theme and is fully compatible.
One can also add portfolio plugin like NextGen gallery to add as many images and showcase galleries and albums as they like and want.
5 level deep drop down is supported with this theme.
All standard pages like 404, search, category, archives etc are present.
It is simple to add a header image and a background image to this theme.
Cool design which looks professional and easy to change images this theme comes with complete documentation.
If that wasn't enough you get limited support along with this theme via our team members.
The one page websites are known to be around for quite a long time, but it is only during the recent times, that there has been an increase in the people using the one-page websites.
Your site may be to promote their business, applications or portfolio, but it is where the one-page themes shine. The one page themes are great in the sense that they remove clutter and put the focus on your content by removing all the distractions.
A one page website works ideal for conveying the necessary information by engaging the audiences, and it is the successful owners of the one pages sites knows that it is the very best as it removes any unwanted clutter, leaving no room for rubbish.
Needless to say, the one page websites takes only a fraction of time and energy as compared to the other sites with multiple pages. Not only that, but the one-page websites can also be quickly updated plus they are also easy to maintain.
One such free one page WordPress theme is the SKT BlendIt theme. This free one page WordPress theme is made to be engaging as well as enticing. Being technologically competent, this free one page WordPress theme is said to be a fantastic platform with which modern and trendy websites can be created with ease and speed.
With this free one page WordPress theme, you will not be required to touch any line of code; as with a set of unique and beautiful page templates and layouts will be laid at your feet. This free one-page WordPress theme is entirely natural when it comes to creating a one-page website as it is embedded with a host of customization options.
Furthermore, this free one page WordPress theme comes integrated with a full-fledged WooCommerce plugin and with which you can power up your online store in no time at all. No matter what your website is, this theme can be set to match the tone of your online store with the products that you are planning to sell.
In fact, it is the one-page websites which are seen to take advantage of various effects like vertical as well as horizontal options and which can implement custom scrolling techniques. A one page website can often be an incredible piece of art by itself and can be used as a vessel for transmitting an interactive story that will leave quite an impression on the potential customers and this is due to the reason that they keeps the fluff out, focusing on the vital part of what you are trying to promote or sell.
More often than not, the one page websites can be found as an establishment of a single page with the required information and which leads to a call to action for either signing up or purchasing up or as required.
Go for this theme if you are planning to make a one page website as this theme will make your content shine and will leave quite an impression on your potential customers that they are never going to forget.
Kindly browse through our other free templates of WordPress with header and check them out for use in commercial and personal projects.
Also Included with free one page WordPress theme
Theme Files Theme files are included in the zip you get when purchased
SupportYou can email us for support of this theme
Tags: startup, business, new company, beginning, beginners, new comers, easy, initial, single page, starting, young company, young enterprise, firm, enterprise, new enterprise, new venture, firm, new company, new business, corporation, company, emerging company, new undertakings
Change Log
Updated October 2023
Working With Latest WordPress Version
Updated Google fonts