CutsNStyle Lite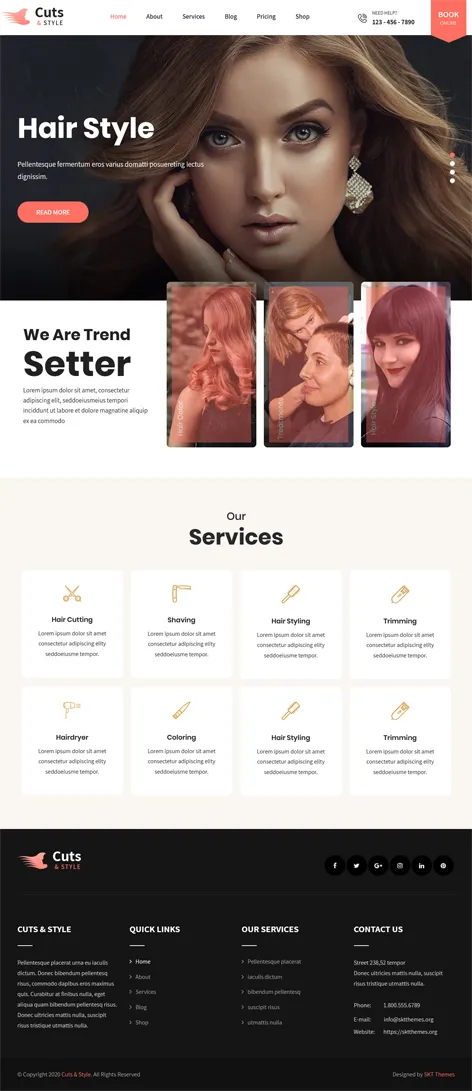 Free
Demo
360+ Themes for $69
Comparison
Free Theme
Less homepage sections
No inner pages
No Support
No Typography Options
No Icon Options
No Header Layouts
No footer Layouts
Less plugins compatible
Less updates
Less flexibility
More Time for Website Build
Features of free hair salon WordPress theme
Free Responsive Hair Salon WordPress theme looks good on all devices
Animated sections on the homepage that looks good
Compatible with SEO plugins
Compatible with contact form plugins for appointment bookings
Compatible with pricing table plugins for rate card
Just set up a homepage using the click of a few buttons
Easy to customize and check your customizations live with the use of Customizer
Default slider with 5 slides
Passes Google mobile friendly test
Compatible with WooCommerce for shop and Nextgen Gallery
Compatible with Contact form 7 for online bookings
Blog, Search and other pages present
Coded keeping in mind codex theme standards
Compatible with latest version of WordPress
Coded with HTML5 & CSS3
CutsNStyle Lite is a free responsive hair salon WordPress theme which caters to hair cutting salons, spas, massage parlours and similar businesses which need timing of the shop, customer reviews, slider for showcasing their work and gallery area.
We have taken care that their website needs get taken care of easily.
We have added a slider whereby one can add up to 5 slides showcasing what they are about.
They can also add several pages. Standard pages like blogs are also present if they want to showcase case studies or different haircuts they have done or feature some celebrity video from their shop or press releases.
All these can be done by the use of just a blog. Also, they can have social icons to send clients to their social networking site profiles for better customer engagement and interaction.
CutsNStyle Lite is a free responsive hair salon WordPress theme that caters to the primary needs of a local business.
It is built on top of Customizer and hence one can easily check the changes while they are being done.
Since built on top of the Customizer it does not lead to any conflicts as it is part of the WordPress admin core and hence no conflicts on the part of the admin.
Simple and easy to manage it does not require any prior coding experience and can be managed by novice users as well.
Full documentation is provided.
It is compatible with several plugins which include WooCommerce for opening of a shop or online store as well as contact form plugins for having appointments and bookings easily taken care of.
It is compatible with pricing tables for showcasing rate charts of the services as well as compatible with location and Google Maps among others.
One can consider this is a multipurpose template because it is compatible with several plugins and is colour scheme changeable and editable and hence can be used for any type of industry website.
The service industry is now growing at a fast rate. The older ways of promotion are quickly taken over by new and improved ways of promotion. The website has become the fastest way to connect to the new customers. It is proved that having an effective website can help you connect with customers in the geographical location easily. The scale of business does not matter and ever small and big business owners are now required to have an online presence.
The hair salon providers are also not untouched by the change. They are making constant efforts to create an impressive website that allows the visitors to know what they have to offer as services. The use of the free hair salon WordPress theme is suitable for the purpose as it is designed with much functionality which is required.
The theme is designed with the aim of having high responsiveness. It is tested for a 100% results to work on different small and large screen devices. It is also created with cross-browser compatibility. This means that the device might be using any browser and the website will load without any broken links or errors. This is a must in today's era when there are so many different browsers that are available and used by many visitors.
The free hair salon WordPress theme is highly compatible with the plug-ins. These plug-ins can be created by WordPress or any third-party. The main and very effective plug-in for the services is the map. The location pin can be added so that the customers can easily locate the place and analyze the distance from their place. This is important as for such a service personal interaction and visit is a must that can be made using the map and directions. The list does not end here there are pricing plug-ins, and rate card plug-ins which can also be as easily added. All these plug-ins take less than 3 minutes to download and install.
The free hair salon WordPress theme also has some inbuilt functionalities like an animated section on the home page and the layout for easy display of services. Hair salons, spas, parlours, or any other such service in the industry can use the theme to create a great website. This one comes with a blog page, a main page, and a search page. If the users wish they can create a very effective landing page as well.
Users can add a WooCommerce plug-in and start business transactions using the site. The management of appointments can be done using the calendar plug-in which shows the customers when the place is open and what all slots are available. This eases out the stress of the staff and creates a website that manages its own business.
The theme is compatible with the latest WordPress version and has all its coding in HTML5 And CSS3. The theme is created keeping the requirements of the non-technical users in mind. There is also an extensive documentation that is present with the theme that helps the users to create the website effectively.
Tags: exhibition, boutique, beauty, nail salon, hair studio, hair styler, studio, hair appointment, salon, barbering, beauty parlour, hairdresser, hair stylist, kissing bug, hairdressing, groomers, hair styling, barbershop quartet, hair cut, hair-cutting, beauty saloon, hair salons, barber surgeon, shaver, barber shops, hairstylist, cutting, cutter
Change Log
Updated December 2023
Working With Latest WordPress Version
Updated Google fonts for GDPR and Other Country Privacy
Updated to work with PHP 8+
Updated to work with at least one page builder (Elementor, Gutenberg or SKT Builder)
Compatible with popular plugins of SEO, contact form and WooCommerce
Updated performance to work with popular cache plugins and Cloudflare