Are you an adventure sports provider and want to attract tourists to your club? Is local marketing not getting you the desired results? Or do you crave to beat the competition and turn up as the most promising adventure sports provider in the town?
As you know online marketing has made it painless for businesses to promote their services online. This article will take you through 13 top adventure sports WordPress themes that can help you attract the attention of tourists.
But just like you need a good-to-read resume when applying for a job, you also need a great WordPress theme to attract the online audience's attention. A website with a mismatched layout, theme, colour combination, and fonts risks losing many prospective customers.
Using the below-mentioned adventure sports WordPress themes, you can ensure people stay longer on your website and even reserve their tickets. Let's delve into the themes that can make your adventure sports club website pleasing to the eyes and heart.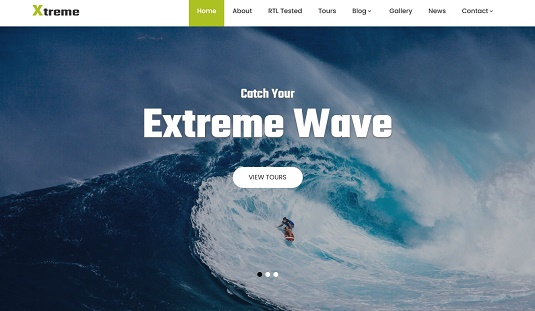 The GB Extreme theme is simple, mobile-responsive, and SEO-friendly. You can expect high-quality images loaded on the website without clichés. The theme lets iPad and iPhone users browse through your website seamlessly.
Most businesses are worried about their website ranking on search engines. Having a website theme that is SEO-friendly could make a lot of difference. For instance, with GB Extreme, you can expect the images of your sports club or activity to get the most views as the theme is search engine optioned.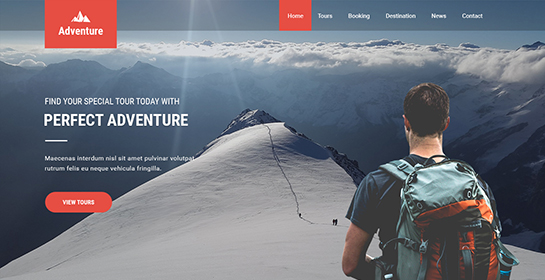 Next to our list is the Adventure theme, which lets you connect with a large audience online through more than 600 social platforms. Now, that is a whooping number. You might have heard of the most social platforms, Facebook, install, and Twitter, but 600 is a big number.
The number of social icons or platforms the theme claims to be compatible with is worth noting. Every adventure sports services provider wants to connect with many audiences and convert them into customers.
The social media platform is one of the successful methods to get the required exposure and attention of the online audience. Whether ice skating, rock climbing, or hiking, you can showcase your services by sharing clips and images on social media. You can even showcase how you ensure the safety of the participants and customers.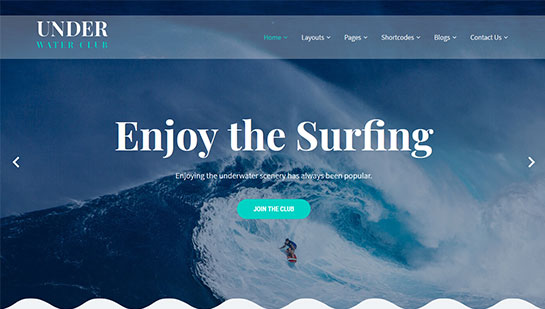 If you provide adventure sports activities under the water, like diving, snorkelling, and more, then Underwater Pro is one of the adventure sports WordPress themes you must try. What makes this theme special is its aqua colour theme.
When you put the theme live or even try its demo, you will be mesmerized by the ocean blue colour of it. You will feel as if you are under the water through your screen. The theme is developed using the latest languages, such as CSS3 and HTML5, which makes the website visually stunning.
For adventure sports clubs promoting businesses online becomes a tough task as there is little to talk about but a lot to show. As a sports club owner, you should pay attention to making the images or videos of the website pleasing and visually attractive.
Try the SKT Extreme WordPress theme if your business offers extreme adventures like bungee jumping, sky diving, paintballing, and more. The theme makes your website look professional and promising.
What is it like being in an adventure sports business? It takes a lot of risks, right? As you have to ensure the customers' safety and win their trust by providing thrilling and secure activities. While bungee jumping involves a lot of stress, excitement, and risk, you need a way to make your services look promising.
The best way to win the trust is to look professional online and showcase the close-up of safety gears you use on the sports site. You can even showcase certificates that make you eligible to provide sports activities to tourists and visitors.
Adventure sports businesses into trekking need a website layout that allows them to post high-quality images and videos of tourists having fun. SKT Trekking is an adventure sports WordPress theme that lets you win customers through its fully customizable feature.
Businesses in trekking can make the best use of their website by adding forums, contact pages, galleries, and testimonials of customers. Tourists planning a trekking trip might be interested in knowing the distance and adventure involved in the provided trekking activity.
With a customizable website, you can provide complete details on the distance to be covered while trekking and even about the trekking destination.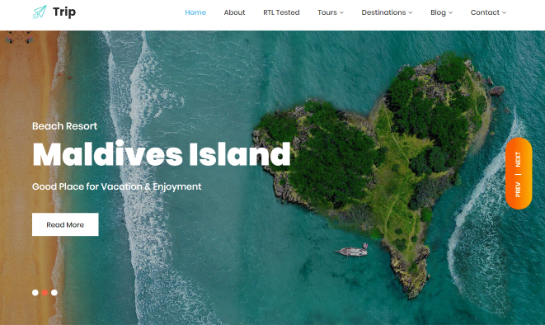 Most adventure sports businesses also offer tour and guide services to stay profitable throughout the year. The Trip is an adventurous sports WordPress theme that lets you beautifully showcase your services.
For businesses offering tour and guide services, it is imperative to highlight packages and destinations in a manner that attracts customers. It should have a call to action. Moreover, your website should allow users to book packages and schedule their trip even before flying to their vacation destination.
Water and amusement parks are great places for families to have fun together. Kids love to go to these places for rides and water activities. And for parents, there is no great pleasure than seeing kids joyful. Amusement park owners do their best to keep the crowd coming by promoting their services on social media platforms.
But they often need to update their website, which is not good. Not many businesses are aware that websites can help get valuable customers. A professional-looking website helps visitors decide to visit the place.
SKT Amusement Park is one of the adventurous sports WordPress themes that let you showcase the Amusement park's past and future events. With its beautiful and customizable layout, you can design a gallery and post pictures of the amusement park in the most attractive manner.
The most lucrative season for sports clubs and adventure sports activity providers is the months of summer vacations. This is when most families step outside the house to rejuvenate their bodies while indulging in exciting activities at summer camps.
The Summer Camp WordPress theme comes with the latest plugins, sliders, WPBakery page builder and more to make your summer camp look different and more thrilling than others. It also has a feature that lets visitors book their seats for the summer camp.
If you provide mountain biking services, you ought to have a website with beautiful colour combinations and a flexible layout. Mountain biking is the most adventurous activity. As mountain biking is done only on mountains, you may want to attract customers from the web to come to your destination and experience the thrill of mountain biking.
A mountain biking enthusiast might be interested in knowing which bike you provide for the sports activity. He may also be interested in knowing the distance you promise to cover through the bikes and how many professionals or guards will be there for their safety.
You can provide all this information through a dedicated WordPress theme to customize the website layout per your needs. For instance, show the bike gears and the number of people who have already enjoyed your mountain biking services. This can be done through a fully customizable website theme.
Sometimes, vacation is a time to learn something different, like martial arts, boxing, kickboxing, and more. Martial art, in particular, is good for self defence. If you provide a centre to help people learn or even practice martial art, you must find a way to make your services visible online.
Websites are a great way to inform online audiences about business services. But, to promote a business service like martial art coaching, you need to choose an SEO-friendly theme. The theme should also let you connect with the online audience through social networks. Martial Arts WordPress is lets you promote services online effortlessly.
Running and maintaining a website can be challenging. But, if you have a website theme that is easy to customize and free from coding, call yourself lucky. Businesses that promote running activities like marathons have a lot to focus on. They must find sponsors, attract participants, and execute the activity at the state and national levels.
SKT Marathon theme allows businesses to custom design the website layout to keep it attractive and mobile responsive. The theme uses WordPress 5.0 and automatically updates plugins. This ensures timely updates and smooth working of the website.
The Horse Riding WordPress theme by SKT is specially designed for businesses in the adventure sports niche who wants to upload videos. Horse riding is a sport that often requires an online marketing approach that thrills visitors and pushes them to try it. Videos are one of the best ways to keep visitors thrilled and connected.
The SKT Horse Riding theme is designed with the latest MySQL and PHP versions. The theme ensures fast loading of the website with videos and an image gallery.
When we think about golf clubs, two things come to mind – large landscapes and peace. Golf is a game that requires the utmost attention and patience. So, its website has to be calming and welcoming.
The SKT Gold Club WordPress theme is designed to allow visitors to book their tickets to play golf. The theme has features allowing golf club owners to make scheduled matches.
Conclusion:
Businesses in the adventure sports niche have a lot to focus on. For them running and maintaining a website could be time-consuming.
Thank god we have SKT themes that are easy to customize and are WordPress compatible. The SKT themes can help you design a website within a few minutes. So, try the themes today and get the most out of it.