If you are a start up and looking to establish an online presence, then it is essential that you choose a framework that's compatible with woo commerce. You can check out some of our top ranked WooCommerce WordPress themes; all of them have been designed by the expert and are all WooCommerce compatible.
Assuming that the sole objective of your business website is to get prospective leads to purchase your products and services, it is naturally important for your website to feature a payment gateway that makes it easy for customers to purchase your products online.
It makes sense to go in for WooCommerce WordPress themes since they are generally compatible with third party plugins which can help you provide your customers with advanced functionality.
With select plugins being installed on your website, you can offer your customers varied payment options, though the payment gateway and even set it up to accept digital wallet payments.
Additionally, you can also use select plugins to translate the contents of your website in other languages as this should help you reach out to more customers. Just check out some of our top themes and choose the one that makes the cut, for your WordPress website.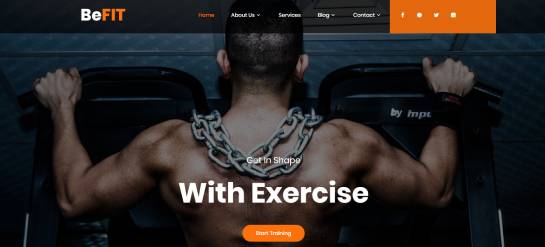 BeFit Pro is a clean WordPress WooCommerce theme that fully compatible with the WooCommerce functionality plus its customization option to personalize your website. It comes with so many options for customization. It is also compatible with widgets for creating an attractive homepage layout. With a simple elementor page builder, you can design a website as you want.
To create a stunning WordPress pages this template is supported with so many popular WordPress pages builder plugins like SKT page builder, WPBakery page builder, and more. Thus the template is by default set to developer and user friendly. Apart from this, the BeFit Pro comes with pre-made demo content for more than 4 web pages.
Auto Car comes with the tons of customization option that gives you an authority to create categories, different content, and layouts of different pages. The template is powered by elementor page build you can enhance the website functionality by adding some extra plugins to it.
All page builders will work seamlessly with this template. With drag and drop features you can create custom layouts and awesome user interface.
Thus you can design a custom website without adding code. This theme is useful for selling your automobiles, accessories, mobile phones, and more. It has some powerful features such as quick product search, shopping cart, product image zoom, wishlist, and more.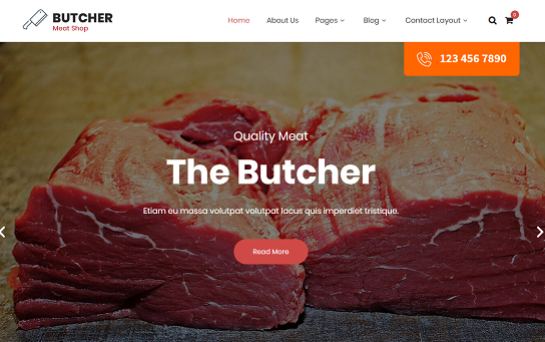 Butcher is a highly customizable WordPress WooCommerce theme for it has some different options for enhancing shopping experience such as product filter, front layouts, product columns that are adjustable.
With color scheme options and beautiful typography, one can change the look of a template. With a live customizer option, one can set all these options very easily. One can consider this template as a multipurpose due to its awesome flexible options and astonishing design.
All you have to just click on the download button to get complete demo content on your WordPress dashboard. Compatible with photo galleries, pricing tables, contact form, multiple header styles, and more.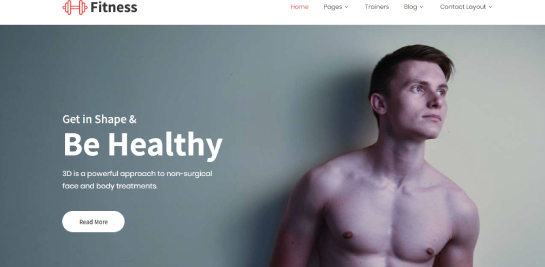 SKT Fitness Pro has very elegant homepage demo that comes with so many shortcodes and widgets that are customizable for creating a different layout. Also, it is compatible with custom logo, 80+ fonts, colors, social media icons, and more. These options can be utilized once you access live customizer.
It also comes with the support of mega menus, product search, demo content, and readymade layout. Each and everything can be customized with a live customizer option. Best for fitness and wellness center to offer some services and make their product available through the wider audience.
Retro is best suitable for hotels, real estate, restaurants, cafes, and other accommodation businesses. The business whose main focus is to make their content strong visually so that they can get more visitors coming to their business they can use this template.
It has a beautiful header that shows the main categories of your business. This header is visible on the homepage plus it will look similar to every bit of pages.
The product page can be created with a stunning image gallery option to add products as much as you want. It has the options that are actually needed for a restaurant kind of business.
Wine Pro is a flexible and multipurpose WordPress WooCommerce theme that can help you to create different types of wine websites. This template will suit for creating a website for wine shop, winery, and vineyard along with any other eCommerce store. With a long homepage layout concept, you can add as much as information you want to.
Users will find your page more informative. Thus in no time, they will arrive at your page without struggling for anything. Because of slider revolution plugin, you can edit the slideshow as you want. The most attractive demo page is created for contact us, about us, pages, blog, services, etc.
Diet and Nutrition is a flawless and most flexible WordPress theme that can be used for exploring your fitness services such as gym services, yoga services, healthy diet, and way of life, personal healthcare service, personal hygiene services, nutritionist products, and more.
It is a multipurpose theme that can be used by physiotherapists, nutritionists, fitness coach's gym coach, and other related health and fitness studio. other than this the template is cross-browser independent, multi-functional, dynamic in nature, robust, user friendly, and more.
The website created with this template will look awesome on all gadgets such as work stations, PC, television, tablets, and cell phones
Yoga Pro will work greater on every device and browser because the template is crafted with elementor page builder. Other page builders such as visual composer, beaver builder, Divi, and site origin will also work perfectly with it.
Any client will be able to use your website very easily plus they will be able to navigate each and every page successfully.
The template is best suitable for therapeutic business, health, drug, fitness center, gym studio, and more. The theme is best suitable with third-party plugins to increase the search engine rankings, eCommerce functionality, security, and visibility.
Thus the yoga pro is the best alternative for fitness centers as they can even sell products online.
CutsNStyle Pro is a spotless, creative, and advances WordPress WooCommerce theme suitable for beauty and saloon related business. The template is best responsive, translation ready feature, retina-ready, multifunctional, impressive content layout, and more.
It has an amazing layout by which you can appeal your thoughts with high-quality visual graphics and different types of content.
It has integrated with a call to action of the homepage to get customers connected with you without hassle. Your website will look astonishing on Google and it will help you to reach your goals and desired sales.
Anyone related to the fashion industry can create an eye-catching blog within a few minutes. It will accomplish every customization change that you want. Thus, it will boost your business by adapting each and every functionality.
Although the theme in question has been designed especially for Spa, health and wellness niche, it is a multi-purpose site and can be used for any business niche.
More importantly, it certainly stands out as a WooCommerce WordPress theme for the simple reason that it comes pre-loaded with widgets, and happens to be compatible with third party plugins as well. Essentially, with this theme, you can set up your own payment gateway, customize it and even set it up to accept multiple payments.
After all, you need to make it easier for your clients to shop at your website and with the easy layout, design aspect; they should be able to do just that.
It comes with 850+ fonts along with Google font as well as over 100+ short cods; and as the theme is completely customizable, you need not code anything at any point of time. It is also compatible with various page builders such as Divi, Visual composer, Elementor, and more.
But what makes this theme stand out is not its minimalistic design or that it comes with a reasonable price tag of $39 but the fact that it is quite easy to use.
As far as WooCommerce WordPress themes go, the organic WordPress theme ranks right near the top. The theme is perfect for being used for any business as it is a multi-purpose theme; it has been designed to garner attention and to that end, it does a good job of the same.
The theme comes with both parallax and infinite scrolling which should help keep the bounce rate down. Apart from this, it also comes with a neat design with drop down menu, built in pages, as well as default slider which can hold up to ten slides. You can use the same to feature high res images of your products and services.
Apart from this, it also comes with both parallax and infinite scroll which should help you enhance user experience and provide you with better rankings, as a result.
The theme is fully customizable and moreover, is compatible with woo commerce as well as third party plugins. You can use the same to set up an integrated payment gateway for your customers and use a few others to improve the functionality of your website. Billed at $39, this site is definitely worth the price
While this theme does rank well when it comes to HR management WordPress theme, it has been specifically designed for a professional business website. But that being said, it is a multi-purpose theme and as such, it can be used for any business or HR related website.
Setting it up is easy and should not take more than few minutes at most, moreover, this theme comes with free installation as well.
And as an added bonus, it also comes with a dynamic template that allows you to change any feature of the website, from the layout structure, fonts, banners, header, footer to even the background images; it is completely customizable and 100% responsive as well.
If that's not enough, the theme in question is compatible with third party plugins and multiple browsers. You should be able to provide your users with advanced functionality irrespective of what device they use to access your website as the overall design is completely scalable.
And of course, it is woo commerce compatible and you should be able to set up an integrated payment gateway with multi-payment options with ease. It comes with a price tag of $39 and bundled along with it, is round the clock support, for a year.
The theme is a multi-purpose one and can be used for any industry and more importantly, it stands out as one of the most dynamic of all WooCommerce WordPress themes. Both the footer and header can be customized and you can add as many widgets as you need to the footer.
This should help you add more functionality to your website; additionally, you can also use the sidebar for the same purpose. It is a HTML5 and CSS3 based framework and as such, it should help your website stand out for all the right reasons.
It is woo commerce compatible and you should be able to use third party plugins with this theme without a hassle.
So whether you are setting up a business website or a delivery portal, this theme should be perfect as it comes loaded with all the tools you need to set up a payment gateway. And with the right plugin, you should also be able to track all your orders and your customers should be able to do the same.
And the fact that this theme is resilient and 100% dynamic while being easy to use should help you provide your visitors with enhanced user experience which should result in better rankings. The theme comes with a price tag of $48 only and comes with round the clock support for an entire year.
The eye care WordPress theme, despite its moniker is a multi-purpose theme that can be used for any industry/ business niche. It comes with a simple layout and is designed in such a way that your visitor's attention is immediately drawn to the 'call to action'.
This theme stands out when it comes to WooCommerce WordPress theme for the simple reason that it is Gutenberg compatible and you can use the same when developing posts for your website.
It should help make your posts more attractive and to that end, the theme also comes with parallax and infinite scrolling which should help keep the bounce rates all the way down.
It is compatible with most browsers and third party plugins which essentially means that you can use the same to set up a payment gateway, optimize better for SEO, track your incoming traffic and even install a plugin that does detailed analysis.
All of this should help you improve your website's performance. Currently pegged at $48, the theme stands out on its own, from its design to its layout. It is certainly outstanding, in every sense of the word.
This theme was specifically designed for restaurants, eateries and other associated industries. The fact that it is a multi-purpose theme makes it a lot easier to use this theme for other businesses/ niche with a few changes.
For starters, the theme comes with a drop down menu which you can use to showcase recipes and even use the sliders and galleries for displaying high res images of your food. According to a recent study, it seems that people in general are more affected by videos and high resolution images than just content.
That's why it is important for you to use the CMS and upload a few high resolution images to the slider. Moreover the design is beautiful, with a classic layout structure that lets your uses to access the information they need in a short while. You can install various widgets and plugins to improve the functionality of your website.
It comes with a price tag of $48 which is a reasonable rate and comes with one year full support.
These are some of the top WordPress themes; it is important that you test each one out with a beta test so that you can see firsthand whether the chosen theme would be a good fit for your website or not. It is always a good idea to check out your competition so that you would have a better idea of whether the theme is a good fit or not.