WordPress themes are the perfect way to create a website to reach out to an audience without a hiccup. Digital presence has become a quintessential need for the modern-day world.
It will help you stand out from your competition. Everything will be online, so you won't have to carry a physical portfolio to acquire clients and potential customers.
To make it easy for you to choose among the wedding invitation WordPress themes, we're presenting a list of themes that would suit you in your endeavor. Some of these themes are also for wedding photographers and moviemakers, who are an essential part of every wedding.
Without any further delay, let's dig in!
Best Wedding Invitation WordPress Themes for Event & Wedding Moments
The WordPress template is best suited for people who will tie the knot. Those who want their romantic journeys to be out in the world could use the theme as a personal blog. They share their incredible moments, adventures, and the little things that make their marriage a success through the theme.
All the pages leverage on Elementor page builder, making it easier for a couple to announce the special moments of their togetherness with a customizer. From the wedding date to the birth of their child, they can put anything they want as an announcement.
The theme also makes it possible to invite friends and family due to its developer-friendly feature. As ultra-smooth and comfortable as the theme is, its flexibility knows no bounds. With periodic updates, make the most of one of the incredible wedding invitation WordPress themes.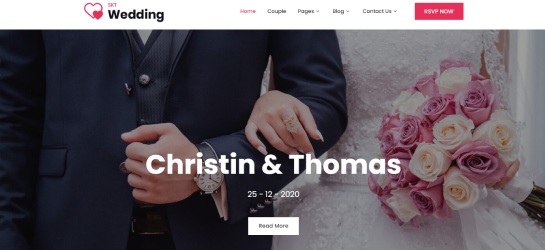 Do you always choose to have something based on its elegance? If that's the case, you'll love Nuptials, an ultra-responsive and elegant WordPress theme specifically designed for the modern-day couple.
It offers incredible flexibility, colorful design, attractively modern, and ease of usage. You can leverage the flexibility to build any kind of website that's on your mind. From the invitation to set up the wedding date, Nuptials might be precisely what you need.
One of the most favored wedding invitation WordPress themes, Nuptials comes with tons of extensively user-friendly features.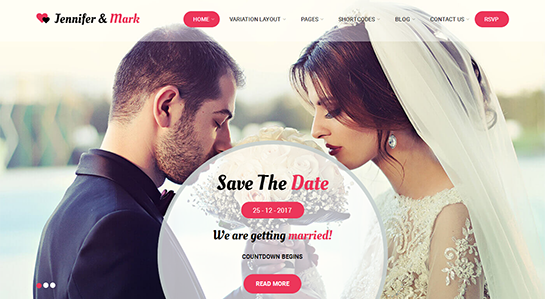 The name is quite self-explanatory; however, you'll be guided on how the Wedding Rituals theme can help you during your marriage. The theme supports all screens, from tablets to laptops to smartphones, in high resolution.
With tons of gallery plugins, you can use them as an IT website, an elegant, or even a nextgen gallery. In addition to this, you'll get 2-3 default galleries alongside a filterable one with slideshows.
One of the essential features of the Wedding Rituals theme is that the theme is translation-ready. It also shares compatibility with Loco translate and POT files.
If you're running a wedding agency, Wedding Rituals should be a part of your business as it's WooCommerce compatible, which also suggests you can sell your services and merchandise while offering event management.
You also have a province for using over 600 social plugins alongside a robust blog layout to procure interactive comments from your write-ups. Wedding Rituals is one of the modern-day aesthetically pleasing wedding invitation WordPress themes in existence as of now!
This WooCommerce compatible WordPress theme comes with a bundle of beautiful hues that change periodically. It's extensively responsive and works great across different devices and screen sizes.
It offers multilingual support and is compatible with several major WordPress plugins such as qTranslate X. The theme is well-suited for being a portfolio WordPress theme that has been coded explicitly in a way that even works for people who are running corporate or business websites.
The headers on the theme offer exponential editing alongside Google Maps or even custom codes. You can also put a video or even a slider to add to any section of the inner page.
The most important thing about the theme, or what makes it unique, is its SEO and SMO-friendly. What's more? You can use this theme for curating any website of your choice.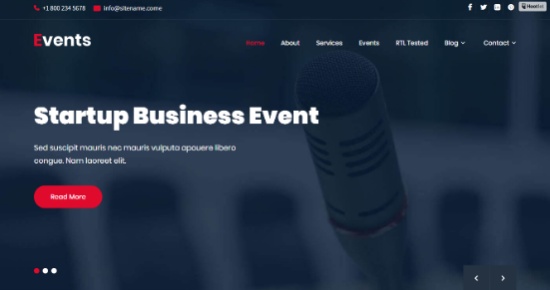 SKT Events, also known as multiple events WordPress theme, is a multipurpose theme that anyone can leverage to make a simple yet elegant website. This theme is perfect for wedding planners and those who want a website dedicated to their relationship or marriage.
You can manage several events from a single console. You can easily create a multi-page website for blogging or a single-page website to connect with more people.
The clean design will quickly reflect the ideation and goal you conceived to get user attention as a perfect theme to enhance your business.
You can find some of the predefined sections in the theme, such as events, slideshow, video section, schedule, event expertise, latest reports/news, and testimonials from customers, among several other questions.
It supports the WordPress element builder to help you create aesthetically pleasing pages with minimal effort. Alongside the WooCommerce plugin, you'll find SEO plugins to make your business Google Search Engine friendly.
SKT Events allows you to add a contact form, Google Maps, audio, and videos, and you can also add YouTube videos to make your website have pertinent information for your site viewers.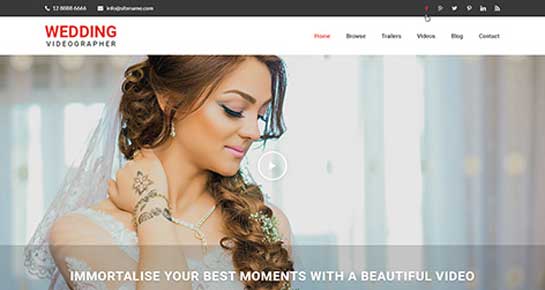 By the looks of it, Wedding Videographer is yet another theme specially built keeping wedding agencies in mind. Moreover, the theme satisfied the requirements and the everyday needs of wedding videographers who work in wedding agencies or independently.
You can feature all the videos you've ever shot to showcase the portfolio directly to your viewers. In addition to showing the bytes of your videos, you can also bring testimonials to your website, alongside packages, sections, and features.
The theme offers streamlined compatibility with numerous sliders and comes with an in-built slider. The in-built slider alone features over 12 skins alongside multiple presets.
You can avail detailed documentation, which is simple, easy, and allows you to manage, segregate, and maintain the cutting-edge WordPress theme. Wedding Videographer theme offers an inner page banner area that's dynamic and quickly loads images, videos, maps, self-curated form, and slider.
The theme doesn't only come with support for Elementor but also Beaver Builder, visual composer, and live composer and offers streamlined compatibility with the origin page builder.
It comes with remarkable scalability, flexibility, and an end-to-end solution for websites.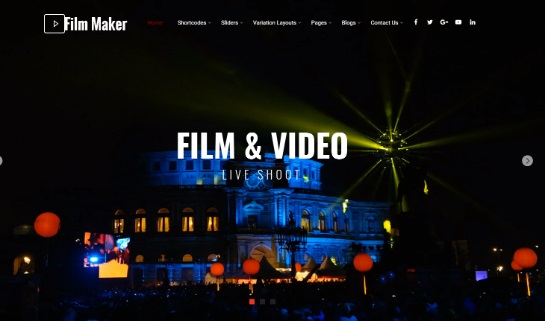 The Filmmaker WordPress theme from SKT is the perfect choice for professionals engrossed in wedding shoots, outdoor media, modeling portfolios, movies, TV, and an online store dedicated to selling and renting them.
If you're into films and want to make a career by showing your love for motion pictures, you can become a cinema reviewer using this theme. The multipurpose theme offers a ready-to-import template plugin called Elementor.
You have the freedom to choose from over 63 different design templates to make a home page and other inner pages. Moreover, you can create a business, blog, personal, or eCommerce website. The WordPress theme is flexible, fast, simple, and exponentially customizable.
It is WooCommerce-ready. At the time of writing, currently, the theme has an active installation of over a thousand.
The most highlighted feature of SKT Filmmaker is that the theme is compliant with the standard set by WordPress, it's retina-ready, and the installation is free. You can upload the logo of your choice for your business to entice your viewers and keep them hooked.
Banquet Hall Pro is one of the popular wedding invitation WordPress themes that's perfect for weddings, marriages, conferences, events, campaigns, conferences, music bands, commemorations, parties, encounters, and even carnivals.
So, if you're running an event agency, this WordPress theme can help you scale the business tenfold. As a unique multipurpose template, Banquet Hall Pro comes with an Elementor template plugin with over 63+ design templates to be used in different ways as per your needs.
The theme is fast, simple, fully compatible, and offers excellent flexibility. As it offers integration with WooCommerce, you can showcase your products and services to procure more business.
The 'pro' in SKT Videography Pro suggests that you'll avail yourself of tons of features if you get your hands on the theme. Wedding videographers and moviemakers extensively use the Videography Pro among all the wedding invitation WordPress themes.
Even the ones who want to get famous on TikTok leverage this WordPress theme to have their portfolio ready for their potential customers. The theme comes with a gorgeous header that will entice your visitors in one shot.
Also, the header comes bundled with a Nivo slider that allows you to feature a call-to-action button alongside valuable content and text.
It supports several popular plugins making the theme accessible to almost everyone.
This uniquely designed theme fully supports Elementor and WooCommerce. The theme is not one of the traditional wedding invitation WordPress themes. However, most videographers and photographers who have extensive portfolios are seen using this theme for their websites.
You won't have to depend on YouTube or anyone anymore to get the most out of a robust website made from this WordPress theme.
Dating is the first stage of getting married. The WordPress theme is exponentially responsive and is known to pass the mobile-friendly test set by Google for its search engine.
Once you build the website using this theme, your users will see the active members in the sidebar sort of widget like a Facebook messenger on the web.
You can even add blogs and several layout pages with a theme powered by several widgets. If you're looking forward to building a community where people of different ages can find the love of their lives, this theme is perfect for your goal.