Powerful and feature – packed image gallery WordPress plugins are assembled here
They are suitable for photographers, designers, artists, freelancers, photo enthusiasts, photo lovers and other image – related website owners to make their virtual presence more image – centric and attractive.
Professional imagery is one of the important parts of your website to take care of. And this refers not only to portfolio or photography websites but also others as well since people are prone to making snap judgments based on the visual design and images of your website.
WordPress content management system comes with lots of relevant Photo and image gallery WordPress plugins to ultimately boost the presence of your images and their categorization in different parts, galleries and albums, enhance the web user's visual experience, enhance people engagement into the target website and help create image – based and attractive branding online.
In case you want to enhance the look and feel of your image and photo web materials, as well as contribute to the overall attention – grabbing visualization of your website, you are in the right place. Let's kick off with the best and easy to use image gallery WordPress plugins processed and launched with ultimate sophistication and client – centric approach.
One of the most user-friendly, intuitive, and responsive gallery plugins on the market is Modula. Thanks to its easy-to-use interface, users have no trouble mastering it from day one. Start creating professional-looking image galleries and portfolios and customize them according to your vision. Our community grows by the day, with thousands of active users and a lot of amazing feedback.
This plugin is ready to tackle every single one of your requirements – it is highly customizable, without a single line of code needed! It offers tons of features that you can play around with.
You get to choose from over 40 image hover effects, a lightbox gallery powered by FancyBox, image loaded effects, speed up and video extensions, migration tools – you can even password protect your galleries. Get started with this amazing tool and create stunning galleries to display on your website.
Photo Gallery by 10Web:
Responsive and mobile – friendly, Photo Gallery by 10Web comes bundled with unlimited gallery and album options for your web images and photos to be sorted out and presented in an accurate way.
This template is totally free of any charges and will let your arm your images with aesthetic appeal in a matter of minutes.
Functionally advanced and enviably flexible in usage, Photo Gallery by 10Web knows no boundaries when it comes to customization controls and cross mobile and browser compatibility.
Add image galleries and albums to posts and pages or widgets, add as many images as you want and give their descriptions, choose the best view for your galleries such as thumbnail gallery view, slideshow, compact album view and much more available in commercial version of this plugin.
Envira Gallery:
Meet Envira Gallery as one of the highest – ranked, wonderfully smart and professionally processed image gallery WordPress plugins installed and checked by more than 70,000 times.
Based on drag and drop working functionality, this plugin has already captured the attention of professionals and average users of WordPress – based platforms aiming at playing with their web images and making them more presentable and awe – inspiring.
Ready to load galleries quickly, Envira Gallery celebrates totally responsive design as well. It means that this plugin knows the best way of taking your galleries and images and showcasing them across different platforms and when viewed on portable devices.
Customize the appearance of the visual part of your website easily and save tons of time while doing that. Envira Gallery is available both in free and pro versions.
Related Post:How to Optimize Large Number or Bulk Amount of Images in WordPress Website
NextGen Gallery:

One of the simplest yet popular ways to create wonderful image galleries for a WordPress – powered website of any kind comes ready as NextGen Gallery. This plugin professionally makes tricky and bewildering things quite simple and easy, so that you don't need hours to spend on learning how to deal with this product.
Millions of active users have already tried their luck with this template and never regretted for that. Affordable for anyone with shallow WordPress experience, this responsive and nicely – organized template is wonderful for seasoned experts and photographers as well.
Available in free, plus and pro versions, NextGen Gallery offers optimal customization tools at your disposal to import meta data, add, delete and rearrange your images, edit thumbnails, create and group galleries into albums and much more
Foo Gallery:
Another image and gallery management system designed and developed specifically for WordPress users is Foo Gallery. This plugin also shares the best qualities and characteristic features which describe only the best image gallery WordPress plugins accessible in the current repository of WordPress.
Intuitive and intelligent, user and client – optimized, this exclusively good and wonderfully lightweight plugin enables the usage of premium – quality thumbnails so that they will never appear distorted or blurred. Retina – ready and video – optimized as well, Foo Gallery has already lived on over 80,000 websites and blogs.
Get started with building creative and original image and video galleries with Foo Gallery and spend nothing for that since the plugin available in free version for you.
Image Gallery by Robo:
Authored by Chris Balderlmar, WP Canvas can also be an optimal and affordable contribution for your image and gallery – rich websites. Elastic and zealous, user and customer – friendly, this premium – quality WordPress tool has been created in order to extend the usage of WordPress – based galleries.
Image Gallery by Robo Responsive Photo Gallery plugin makes it possible to professionally showcase masonry, carousel and slider galleries for the impeccable look and usability of your WordPress – optimized website. More size and display, as well as additional caption options will be at your leisure to manipulate with when your website is supported by WP Canvas.
You can even control the popup size for a given image when your website user clicks on it.
Portfolio Gallery By A WP Life: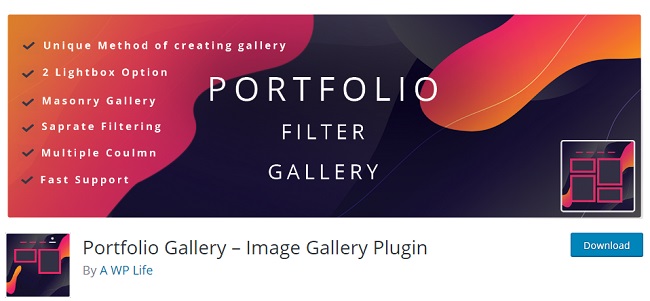 Portfolio Gallery By A WP Life is a responsive and mobile friendly gallery management system included in our list of image gallery WordPress plugins. Add professional – looking galleries to your website with this award – winning plugin that preaches sophistication and error – free precision when cooperating with any WordPress website.
Powered by a bootstrap framework, Portfolio Gallery By A WP Life is highly optimized for responsive and cross mobile – compatible performance. The theme's arsenal is rich with useful elements and controls.
Hence the user of this plugin is lucky enough to have a wide array of customization and management options to make the most out of this product. Thus anyone is free to utilize multiple gallery options and shortcodes on different pages and posts, exercise fade animation effects and choose the most convenient variant among 2 design layouts.
Two types of color scheme, as well as hover color opacity effect are also available with this powerful plugin controlled by handy admin dashboard.