Chocolate Lite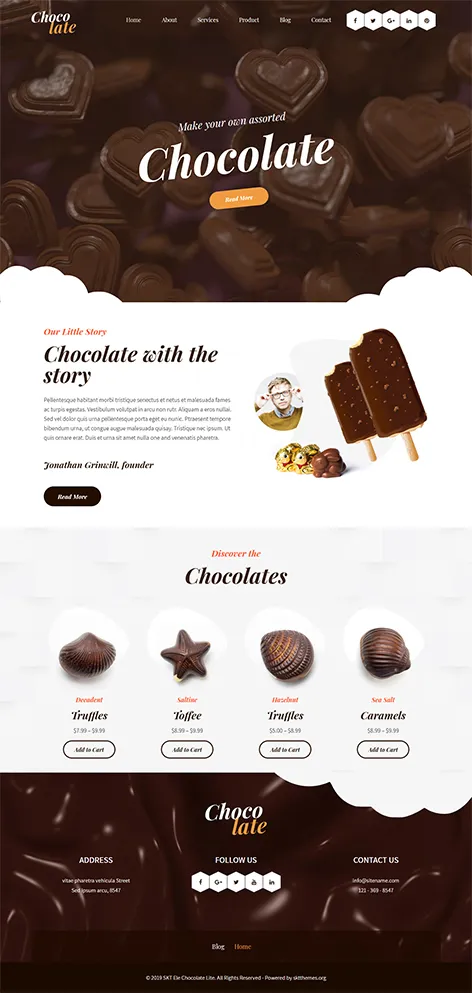 Free
Demo
360+ Themes for $69
Comparison
Free Theme
Less homepage sections
No inner pages
No Support
No Typography Options
No Icon Options
No Header Layouts
No footer Layouts
Less plugins compatible
Less updates
Less flexibility
More Time for Website Build
Features of Free Chocolate WordPress Theme
The free chocolate WordPress theme is retina ready optimized that will highly benefit the chocolate business.
Ele Chocolate is good for a chocolate souvenir, food club, bakery shop, candy store, chocolate firm, etc.
Eventually, the theme is the best to suit for chocolate business and bakery shops.
The theme also can be utilized for chocolate blogs or food blogs.
With some easy enough tools, one can create an amazing user interface.
All viewers will be able to access the website in their preferable devices without touching a line of code.
The free chocolate WordPress theme is so flexible and easy customizable.
All sections are created in such a way that it looks colorful.
Multi functionality feature will let you extend the website with lots of plugins.
More use of images will make your website more visually strong and polished.
Ele Chocolate is crafted with the elementor page builder so it will work faster than another business theme.
Without paying money to the development and designing services you can get the complete chocolate homepage with the design for free.
For an easy customization process, limited documentation is provided to you.
For any technical doubts, you can contact the customer support team by sending us an email or through forum support.
1-year free support is given for a premium member only.
The free chocolate WordPress theme is created with the w3 standards that will help your website to get high rank on search engines.
The theme is compatible with the latest version of WordPress.
Plus compatible with lots of plugins just like contact form 7 and security plugins.
Different widgets are supported to the different sections if sidebars.
The website will get surely listed in Google, Yahoo or Bing.
Shortcodes are designed for enhancing website functionality in a smooth way.
Very dark desaturated orange color is used as a background that will appear like a chocolate color.
You can access the Facebook icons that have a hexagonal shape.
Facebook, Twitter, Google+, LinkedIn and Pinterest are supported by the website.
The demo logo is provided you can change it to your business brand.
Upto 4 menu options can be added.
The website can be created as a one-page website.
The homepage header is given with the slider option.
It can be a simple banner or combination of multi images.
The header will be dynamic in nature by adding link to it.
Each section of a homepage is created with a unique look.
We have followed a dark and light background option for appealing your thoughts with images and plain text.
Download the theme now and get all the ready-made features at your fingertips.
Food is considered as a mystical thing. Food is the only resource for developing and maintaining human health. Food is the most essential need to live and survive for a long time. In the same way, chocolates bring us tremendous satisfaction and happiness. Some researches have proved that if you want to feel happy eats chocolate and If you want to celebrate some special moments then eat and offer some more chocolates to your love ones. Ultimately chocolates brings a smile on every human faces.
A home-based business is something that every homemaker dreams for it. With home-based business, homemaker or a housewife can take one step forward for creating their own identity. Especially women prefer some areas that are totally home based such as food blogs fashion blogs and of course chocolates. In today's world, there are many women who already taken one step forward for establishing successfully home-based chocolates and cakes.
Chocolate business is the best home-based business. Some of the successful people also left their job only for their passion for chocolates and baking. You will get lots of examples in Google. Some peoples are just creating their career by visiting different places in the world and writing a blog on chocolates, dishes and different varieties of food. Most of the people travel the world just to taste different cuisine and their traditional dishes. Therefore it is assumed that most of the business related to the food sector is very beneficial.
So we are here to present something special in front of you. Free chocolate WordPress theme is not just for home-based business but also for restaurant, cafes, and for various food businesses. This theme will represent your services in a decent way. People from all around the world can feel pleasure after visiting your website. The images and pictures used on the website will appear marvelous.
If you have a theme that can be customized by your end then why to invest money on hiring website developer or designer? Yes, it is true you will never need an extra resource and extra money to invest in useless things just you need to be a premium member to access the complete functionality. The Ele Chocolate is created in such a way that you will get a perfect and ready-made solution for representing your website effectively. If you still have some doubts and dont know how to create a website and promote your services widely then we team of SKT THEMES suggest you set your website by taking the benefits of a free chocolate WordPress theme.
The features provided by this theme are very important for getting an online presence. The features like visual effects, multi-color option, color picker option, fonts option, more than 3 homepage design, etc. If you utilize complete features of a theme that you will be successful in presenting your online with a strong presence. However, you can show a strong online presence for cafes, cake shops, bakery shops, bakery houses, chocolate shops, chocolate houses, choco firms, production rooms, muffin stores, etc.
The Ele Chocolate is supported with the eCommerce functionality. To enhance the online presence WooCommerce plugin is compatible with it. International shipping can be done without any problem. Your website will look the same as shown on the demo page. Just you will have to create your own content.
You can showcase your chocolate collection or any other work collection in the gallery area. Gallery page can be created for enhancing the functionality of gallery, NextGenGallery plugin is compatible to use.
Also Included with Free Chocolate WordPress Theme
Theme FilesTheme files are included in the zip you get when purchased
SupportYou can email us for support of this theme
Tags: cocoa, fudge, candy bar, coffee, candy, hot chocolate, dessert, drinking chocolate, drinking, chocolate candy, confection, bronze, cinnamon, enjoyment, choco, sweet, pleasure, cacao, chocolaty, dark, chocolate covered, smasher, chestnut, chocolate, chocolate-chip, copper, chockie, chocker, food, sprinkles, oreo, sugary food, sweet, candy, borbon, hershey, chocolatey, russet, hazel, buff, ice cream store, ice cream shop, ice cream place, dairy queen, malt shop, pinkberry, glacier, baskin-robbins, glaciers, ice-cream man, ice-cream bar, ice-cream maker, confectionery, bakery, store, ice cream truck, fast-food restaurant, greasy spoon, hot-dog stand, canteen, diner, sandwich shop, dog wagon, canteen, diner, hamburger stand, eatery, bistro, saloon, soda fountain, lunch counter, restaurant, popsicle, ice field, creamery, gletscher, ice cream parlors, creamed, icebergs, ice cream parlors, creaminess, ice caps
Change Log
Updated December 2023
Working With Latest WordPress Version
Updated Google fonts for GDPR and Other Country Privacy
Updated to work with PHP 8+
Updated to work with at least one page builder (Elementor, Gutenberg or SKT Builder)
Compatible with popular plugins of SEO, contact form and WooCommerce
Updated performance to work with popular cache plugins and Cloudflare