Food truck WordPress themes for food truck and food delivery related businesses, including cafes and restaurants, eateries and breweries, snacks on wheels, bed and breakfast services, burger and barbeque, hot dog and waffle houses, food truck, delivery, catering and other services online.
Food business is one of the most profitable ones with great perspectives and never runs dry. And this statement is not surprising.
Food is among the most consumable items in the world. Apart from that, business, where the export is one of the working ways, cannot help but generate profit.
As for the food truck or snack on wheels business, it is a novelty in a culinary and food industry that is developing in leaps and bounds.
And if you are fond of cooking or experimenting with meals, have an exceptional talent for decorating food turning them into a work of art, you should probably try to open your "movable" bar or eatery to serve them.
It will be cheaper and easier than wasting all your money for opening a restaurant or café.
All in all, it's a format of inexpensive but decent and cozy food based initiative that is quite capable of competing with stationary food centers and cafes.
Now, if you have already made the first step and opened up your food truck business, we are happy to walk you through the most useful and productive food truck WordPress themes for showcasing your services online and attracting new clients.
Those restaurant and food truck WordPress themes are brilliant for relevant food delivery, truck and catering services in your locality or outside of it, restaurants and pubs, bars and pizzerias, as well as personal culinary blog and websites.
With those templates you are not going to put all your financial means into work since they are all affordable and pocket friendly yet powerful and functionally saturated.
Best Food Truck WordPress Themes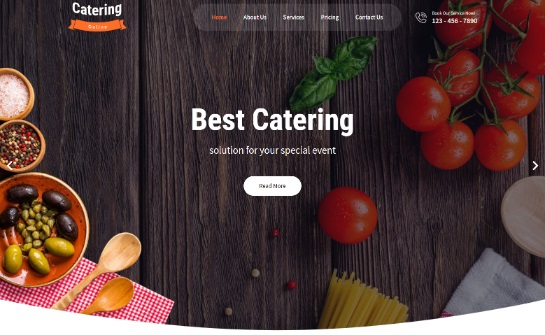 If you are looking for a template that could help you in building an online presence so that your customers can book your food trucks for food events then Catering is there for you.
It is a very easy-to-use restaurant and food truck WordPress themes that will highlight your business on the search engines.
For every restaurant template, location is much more important so that your customers can find you and your business location easily.
Considering this fact the template is integrated with the Google Map to guide your customers with the accurate location.
It comes with some more stunning features that will help you in managing your online business very easily. The task of website customization will be easier with drag and drop functionality.
However, the Catering theme works best with WooCommerce plugin so you can easily sell any type of services or products effectively.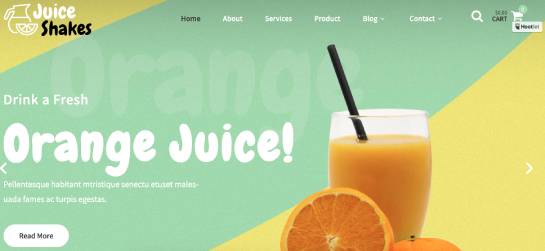 Juices and Shakes are more compatible with Elementor page builder, WPBakery page builder, Beaver Builder, and some more WordPress page builder plugins.
The theme is also compatible with booking functionality so that your customers just need to click on the book button to order some items from your food truck.
Because the hero element of your entire website is a header section you can promote your business's offers and discounts to get more customers. WooCommerce plugin will be easily integrated into your website to sell services and products.
However, the template is properly optimized for good performance and speed. With few clicks, your customers will be able to order food items.
Whereas with few scrolling efforts your visitors will be able to find the location, timing, and operating hours of your business, menu items, contact details, and much more.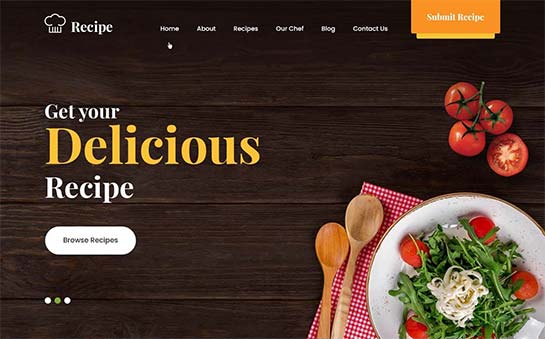 Online presence is much important for every food truck business so that your customers can get connected to you in the easiest way.
To boost your online presence Recipe is here to serve your needs. This template is so fast and well optimized for page loading speed and SEO.
The recipe theme can be used to create a website for restaurants, fast food, cafe, blog, food truck, bars, taverns, etc. The recipe is crafted so beautifully with different layouts for blogs and pages.
However, the template is compatible with some drag and drop page builders such as elementor, Beaver, WPBakery, and many more.
These all page builders will give you countless possibilities for creating your dream website. One of the top features that could be included with the template is an awesome cost calculator which will help your customers to calculate total the amount they will have to pay you.
However, with a few third-party and free plugins, you will be able to create web forms to take user input.
If you are planning to increase the visibility of your business on the online platform then Ele Chocolate is the best option for you. Ele Chocolate is the multipurpose template that comes with the demo content to help you in kick-starting your project.
You can also use this template to improve the performance of your website. However, all popular drag and drop page builder comes in handy to help you in the customization process.
The reviews and feedback from customers are very important to get credibility. Because Ele Chocolate is compatible with testimonial plugins you can showcase your customer's reviews and feedback beautifully on the website.
Appointment plugins work great with this plugin. It also gives your customer a convenient method to book any of your services easily. Finally, you can say that Ele Chocolate Lite is the most versatile and multi-niche theme.
Another beautiful and yummy-looking WordPress theme is Ele IceCream. It is a responsive template that has a modern design. This template provides you a unique method to reserve or book the table.
The template gives you a good opportunity to make your online presence more alluring and attractive. Because it is very important to have social media presence for every business, Ele IceCream makes sure that your visitors are able to get in touch with you on social media too.
Ele IceCream is well structured so that every section looks outstanding on various screens and devices.
However, you are provided with a one-click import option to import the demo content without struggling. Without breaking anything you will be able to change the sliders, headers, color scheme, font options, and much more.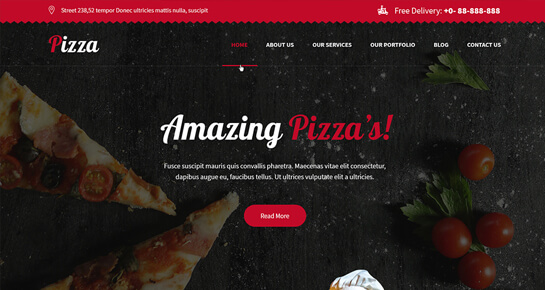 By default, some top features are included with the Pizza theme such as drag and drop page builder, revolution slider, custom sidebars, one-click demo installer, custom widgets, etc.
With SEO in mind, the pizza theme is created from the scratch. It follows all SEO practices and all WordPress coding standards so that you can excel in search engine result pages.
To get more traffic to your website it is very important to responsive design that looks great on every device and browser. Does not matter which type of devices you use, your online presence will look great.
The template is ready to achieve all eCommerce functionality as the WooCommerce plugin was good on a template. The slider revolution and other slider plugins also work great with the template which will help you to attract maximum visitors and divert them to the targeted page.
SKT Cafe Pro is worth buying WordPress theme that can be used for building any type of website for your restaurant, food truck, cafe, bar, etc. It is a responsive theme that comes with some inbuilt features which will be useful for your food truck websites.
Basically, you can utilize all the features of SKT Cafe Pro to create one page or multi-page website. It comes with some most powerful features to establish event websites without any extra effort.
However, SKT Cafe Pro is also popular with the WooCommerce plugin to help you to sell services and products in a unique way.
You can also change the color, fonts, and images of a template. You can also change the appearance of a header in replacing the image slider with Google Maps, videos, text, etc. To start creating a website immediately you can import the dummy content and start customizing.
The Coffee Shop is a multipurpose and multi-niche food truck WordPress themes. The demo content of this theme is 100% customizable with your preferable page builder. However, the Coffee Shop theme works greater with the Elementor page builder.
The editing process will be code-less as you will be provided with lots of features that help you to create a website without writing a line of code.
The template comes with some outstanding features such as MailChimp, slider revolution, parallax effects, RTL support, responsive layout, and much more. However, the layout looks amazing on different devices.
The template is retina image ready which means you can add high-quality images on your website. The theme actually focuses more on images so that your website could look more mouth-watering.
Ele Restaurant is the best option for creating a modern and delicious-looking website. With the availability of so many tools, you can create a powerful and outstanding first impression in front of your visitors.
In food truck WordPress themes, you will find some strong functionality and features for example you will find shortcodes for adding functionality without writing code.
1-year customer support so that you could find help in need, third party plugin compatible so that you can establish new functionality with few clicks, one-click demo import option to help you with quick website support and more.
The best thing is the template is optimized for SEO and good loading speed. so in few minutes get ready to spread your business all over the world.
Tea Shop is the most charming and ready to use a WordPress template. This theme is well suitable for creating a website for street-vendors, food truckers, tea-shop, coffee-shop, restaurants, cafes, and more. With the slickest design, you can impress your audiences and get attracted to your business.
It has plenty of whitespaces where you can add more information on your business. Google map can be integrated in the website to help your customers in finding location of your food truck.
To make customization process more easier you can utilize the features of drag and drop page builders. Mega menu option is also provided to make navigation more simple. Now you can easily show the opening hours of your business in header or footer section.
Take your food delivery and catering business to a notch higher with Bakers and showcase the variety of your services, truck availabilities and more.
With simple yet attractive layout, this template shares the most convenient platform for tweaking to the theme's core and remodeling the overall look and feel of your site.
From color and font combinations to image and gallery management, shortcodes control and plugin support, you have everything at your disposal.
As one of the modern and fully fledged food truck WordPress themes for the universal usage, Bakers is also stunningly responsive providing the accurate disposition of your web content across the avalanche of platforms and devices.
Restro is the next highly applicable marketing and advertising tool when it comes to food related businesses and undertakings.
Hence, anything catering to food truck business, its consulting and organizing, seminars and training, sale and service provision, food truck events and catering, can be easily arranged through Restro.
Projected and framed for stability and excellent performance, Restro acknowledges no boundaries when it comes to responsiveness and mobile friendliness.
Well constructed for the smart content categorization, it shares home, about us, menu blog, our services, pricing and other relevant areas for presenting your food truck business in detail.
This well documented and fully supported website template comes with clear coding that is responsible for the mistake free operation of your site at all time.
With Bistro as one of the results driven food truck WordPress themes you are the architect and builder of your business profile to seize maximum exposure in the digital platform.
Showcase all the advantages of your pizzeria or eatery, schedule evenings and events, offer services and truck catering, shows how your business works and run a daily blog without sweating hard.
The default version of the theme grants you with a compact looking appearance that can be enhanced by your own color palette and touches, font choices and styling.
The talented authors of Perfect Pizza have applied the best digital practices and coding controls in order to make this template look and function its absolute best.
Bed and Breakfast is one of the latest food truck WordPress themes of SKT production that will enable you to create the website of a lifetime.
From bed and breakfast, resort and hotel, café and restaurant to food delivery and order, truck and catering businesses, absolutely any kind of food specific business can be established online with less hassle around.
Comprise all your services and offers in one place and serve them in nice looking format. You can select the best images of your portfolio and display them via the homepage slider that is controllable.
With Bed and Breakfast you can also bring the booking functionality to your site via the relevant booking plugins.
With SKT Food you can give rise to your website under an hour. With simple and quick installation and activation, SKT Food is also wonderfully enjoyable in further customization and restyling with color and font, shortcodes and image plays, sections and areas arrangements, footer and header areas and more.
Admin panel of the theme is an excellent platform to manage, add and delete posts, change the appearance, add and activate plugins, manage users and their roles, as well as manage any stored or additional tools.
The developers of the theme have also taken every care to guarantee the stability and accuracy of your web content when viewed on different devices, as well as when crawled by search engines.
Visually classy and fabulous, We Bake is what you might need to start your online career as a food truck company manager, culinary blogger, restaurant owner or food photographer.
Hundreds of clients have already had a positive experience working with We Bake and prove it to be a 100% responsive and mobile compatible, smoothly navigable with dropdown levels, easy to control and maintain.
With We Bake you don't need to be a genius about HTML or another programming since all the hard work is already done by the theme developers. You can even add certain functionality to the default template without touching its codes and relying on compatible plugins.
Like any other business website, your food truck website matters a lot. Gone are the days when the oriented menu was the face of the business, the internet has changed the way the services connect with the customers.
The first impression which is likely to be made is with the use of an effective website.
When people look at the truck they become curious and instead of making an instant halt by your truck they are more likely to quickly look for the website.
Thus, if you wish to make an impression and ensure that they make a halt by the truck use Food Truck WordPress Themes which comes with all the suitable features for the website.
Now the major question arises what all features should the website has? This is simply answered with the list of features that a food truck website must have
Responsiveness: There is no running away from this feature and the Food Truck WordPress Themes must be selected based on responsiveness first.

There should be no one who has made a search and is not shown your business on the list. The smartphone users are growing in number hence all website should now target their attention. This is done only when the website is created with high-responsiveness.

General overview: Along with all the special effects that you wish to add the website should have a simple introduction to the food truck?

Do not just rely on the name of the business to make an impact. Give a description which will be appreciated by the viewers add details what is special about your food and why one should visit you here so that the viewers are intrigued to know more.

Location: Now this is tricky for a food truck business as they are mobile and general change directions. But this information is still a must for people to be able to locate you.

Providing direction of every part of the town is not possible hence Google map location is highly helpful.

It is best advised that a photograph for the identification of the truck is made available for the people who are visiting for the first time. They should able to locate it immediately on the street once they are there.

Menu: The main business is the food you serve on the truck. Promote your unique selling point here and let the people know what they can expect once they are there.

Create the menu in an interesting way by adding images and description of the food where ever necessary. The most common mistake that people make is the use of scanned menu on the website.

This should be avoided at all cost and a digital menu should be placed there instead. Add everything and all specials there are, the space on the online platform has no limit.
You know this already that running a food truck is not an easy task and thus when it comes to support and help the website is a great source for you. Use it to your advantage by picking all the right features.