This article will review the very best trail tested and free WordPress plugins for ecommerce.
WooCommerce, just like WordPress, is an amazingly versatile and feature rich system ready to provide you with a wealth of selective options, add ons and extensions to boost your site's performance and revenue, sales and leads.
Thus, if you are fond of WooCommerce and its commercial potential, we invite you to check the list of the best WooCommerce plugins to considerably benefit from in your online trading and shopping activities and not only.
The Internet trading or e commerce activities are developing rapidly all over the world because of the fact that a huge number of people have access to broadband Internet and use it for their commercial and shopping needs.
And while there are thousands of advantages to utilized digital platform for commercial needs, there are also dozens of challenges waiting for you along the way.
WordPress community and its developers have acknowledged the exact spectrum of such challenges and have launched practical plugins, tools and extensions to be a huge help to you in this relation.
One of such reliable WooCommerce tools is WooCommerce custom built to connect your WordPress based website with a flexible commercial platform to showcase your merchandise or online store in the most accurate and easy to browse fashion.
Moreover, there is no limit to what you can achieve with this system since it comes with different WooCommerce plugins and add ons to control and manage every single part of your commercial presence.
From creating wishlists for your customers to presenting your store with multilingual content and product categories, editing buttons and styles, colors and the overall appearance of your online storefront, displaying exact pricing of your merchandise with VAT included for the clients from different localities, the advantages of WooCommerce plugins are endless.
Image sliders are a great way to make your store look more professional and to also showcase to potential customers the products that you are selling in your store. Unfortunately, image sliders are not included by default with WooCommerce. My honest recommendation would be to switch out a home page setup banner and replace it with a dynamic image slider:
The Meta slider is perfect for this. All you'll need to do is go into the plug-in page and your admin dashboard upload the images you want for your slider set the measurements and then generate your slider.
You'll then be given a short code which you can add to any page on your website like your homepage and then your image slider will appear there.
This is a quick and easy plug-in to install. Usually when you have an item on sale in a WooCommerce store will have a little sail badge that will appear next to your item.
And while this is nice – the Germanized for WooCommerce is better. It replaces the text on the badge with the save X dollars or of course and whatever currency your store is set to.
It's a lot more exciting for the customer to see that the saving $10 on item that normally cost $20 then to just see a generic sale badge.
The Product Import Export Plugin for WooCommerce by WebToffee helps you to easily import and export products and all its related data to and from a WooCommerce store. The plugin is a time-saver when it comes to adding/updating products into a WooCommerce store.
For importing, the plugin takes a CSV file as an input when importing products in a WooCommerce store. This makes it really convenient for uploading products in bulk, import products with images, etc.
When it comes to exporting, the plugin exports products in CSV and XML format. The export of the product will take only a click of a button. The plugin also gives you to export a customized list of products as well.
The free version of the plugin only supports WooCommerce simple products only. However, the premium product import-export plugin supports all the product types to be imported and exported.
I am based in UK and here in the UK we have our own currency the British pound and as someone who's based outside of the United States, I can tell you, it can be a little bit frustrating sometimes to always see items priced in United States dollars.
Luckily, there is a solution to this and that is the WordPress Currency Switcher. What this plug-in does, is it lets you add a shortcode to your product pages.
It will then let customers switch currencies in real time, so that they see how much it will actually cost them.
Unfortunately, the free version of this plugin only lets you switch between two currencies. For most online sellers who are just starting out, they'll more than likely be testing Facebook ads on the United States and maybe another country like the United Kingdom. For that reason, only having two currencies won't be a problem for them.
Stripe is an amazing free WooCommerce plugins that lets you accept credit card payments directly within your store, without having to go through a third party site like PayPal.
By having the option to key people within your store URL you will usually increase your sales conversions, which means that you will make more money. While this plug-in is free, there are still transaction fees no matter how you slice or dice it. If you're accepting credit card payments, then you're going to have transaction fees.
Stripe's fees are extremely reasonable. They will charge you 2.9 percent plus a 30-cent transaction fee. Stripe will transfer the money into your bank account once every seven days, so if you are dropshipping then you should be prepared to have something to manage your cash flow in the meantime such as a credit card.
The one other thing to keep in mind when you're using stripe is that you will need an SSL certificate to accept credit card payments within your store your URL. This is not unique to Stripe.
If there is any website out there that wants to accept credit card payments, then they are going to need to have an SSL certificate and this is an additional cost to getting your website domain name and your web site hosting. So if it's very important for you to keep your costs as low as possible then stick to accepting payments with PayPal.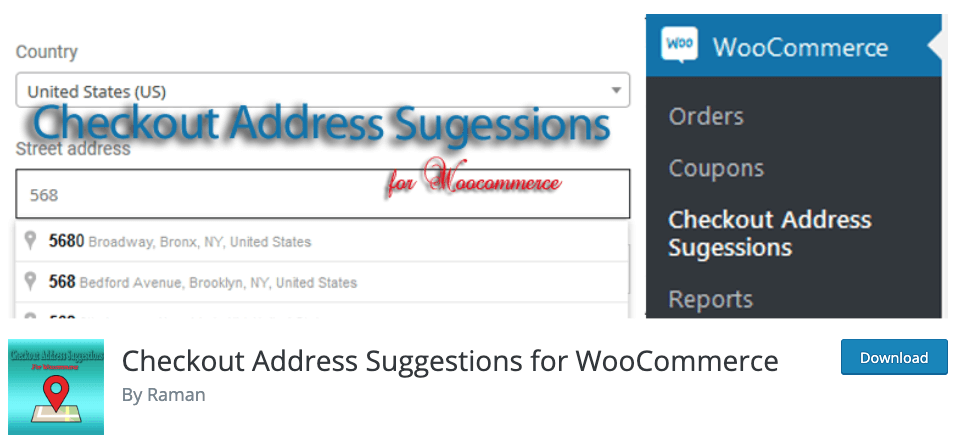 When you install this plugin, as the customers are typing in their address details in the checkout page, it uses Google Places to suggest potential addresses. If the customer selects an option, it will then auto complete their address form for them.
There are two great benefits to using this plugin. Firstly, it reduces typing errors, which reduces the chances of the items being sent to the wrong address. Secondly, it reduces cart abandonment rate, since you're speeding up the checkout process. This is why large retailer sites, like Amazon, have all incorporated this plugin.
Normally when a customer purchases an item from you using your WooCommerce store, WooCommerce will send them to the cart page and then from there they can then go to the checkout page. This is good for large retailer sites like Amazon that are expecting the customers to order lots of different items.
However, the reality is for many WooCommerce stores, especially dropshipping stores, they'll usually only be expecting the customer to be purchasing one item at a time. Because of this, sending them to the cart page just adds an additional step to the checkout process, which will decrease sales conversions.
The WooCommerce Direct Checkout adds additional options to your WordPress dashboard that changes where the "Add to Cart" button sends your customer. Instead of sending them to your cart page, it will send them directly to the checkout page.
It also has an additional bonus feature of letting you add a "Continue Shopping" button to your product page. This will add the item to the cart and send the customer back to your store, so that they can keep browsing items.
This plugin lets you add additional options to your checkout page such as letting you add text fields and a calendar date selection to your checkout page.
This won't be relevant to all WooCommerce stores out there, but there are some people that will find this plug-in very useful. For instance I'm one of those busy, or arguably lazy entrepreneurs that doesn't have time to cook and therefore purchases pre-packaged dinners.
Because of the fact that they come in an icebox, I need to make sure that I'm at home at the right time, so that I can then go and refrigerate them. For businesses like this, adding a calendar date selection is invaluable
This quick and easy plugin lets you add two types of pricing deals to your store. It lets you add the so-called BOGO deals, as in buy 1 get 1 deals, which is a great trick to get customers to purchase more.
So for example, this could be a buy one get one free type of deal, or it could be a buy one get one 50% off type of deal. It also lets you add special discounts for people that order items in bulk or that spend a certain amount.
For example, you can add a pricing deal where if the customer spends say a hundred dollars that will get a $10 discount. I think that BOGO deals, where a customer gets an item at a reduced rate are especially powerful, especially for AliExpress dropshippers.
In fact this upsell technique is something that large retailers like McDonald's use for massive profits. It's something that I discussed in my previous blogpost on the 7 psychological tricks to make you purchase more.
Email marketing is one of the most powerful methods that you can use to get existing customers to come back and get more sales. For most businesses, about 50% of their sales are going to come from existing customers, so you cannot afford to ignore them. Email marketing is very powerful.
Luckily MailChimp, an email service provider has made this super easy with their free WooCommerce plugin. This plug-in will automatically add a "Subscribe Check" box at the end of the checkout page. If the user leaves the tick, then they will be added to your MailChimp newsletter series.
As long as you have under 2000 email subscribers and send less than 12,000 emails a month, then it is free to send emails with MailChimp.
One of must have WooCommerce plugins you should try to contribute to your WordPress site and its future results is called WooCommerce Stripe Payment Gateway. Allowing your potential buyers to make instant payments with their favorite payment options is what you should consider first of all.
This plugin perfectly solves this question by supporting the most frequently used payment gateways and systems including Visa, MasterCard, Alipay, Americal Express, Apple Pay both for mobile and desktop and many others.
This plugin is also convenient in terms of finance since it is available for free and there are no setup or monthly costs. Only after receiving payments you will be charged.
Streamline your commercial website management process with and make money from selling your physical and digital products, services, membership or subscription plans or whatever it is more effectively with Fancy Product Designer.
This plugin enables you to personalize and brand every single offer or product, sale or purchase the way you need or the way you think attention grabbing for the online shoppers.
Design each product page and include all the needed information with details, description and more. This plugin also supports the creative ideas of your customers letting them make certain customization controls over your offers.
One of the most popular and high ranked WooCommerce plugins you can have access to is called YITH WooCommerce Wishlist.
This plugin can provide you with one of the best ways to improve conversion rates of your commercial digital presence. Enable your website guests or storefront visitors to save certain products and items to their wishlists for buying them later or letting their friends and relatives know about their wishes and preferences.
You can check 2 live demos of the plugin as well as read its full documentation to make sure you have found the right tool for your site's sales purposes.
Integrating WooCommerce and WPML into your site can result in a fully multilingual online practice both for you and for your international clientbase.
Making your store and its components available in different languages is what mostly needed if you want to record more sales and improve upon client integrity.
Translate each and every single product or category, group or whatever it is in your store, send emails to your clients and website admins in the specific language they master. You can also run all in one e commerce store and present it in multiple currencies.
Social media platforms are too popular and user centric to neglect. Therefore we cannot help but integrate Social share, social login and social comments plugin called Super Socializer in our list of the best WooCommerce plugins.
It is one of the simplest ways to socialize your e commerce based website and enable your customers to use their social accounts instead of signing up a new user account.
On the whole, this plugin supports over 100 social media networks and offer social media follow icons, as well as counts shares for Facebook, Twitter, LinkedIn, Pinterest and other popular networks.
Super Socializer is also readily responsive with mobile optimized sharing interface and lets you enable and disable the sharing of certain pages, posts and more.
Another must have plugins for all kinds of traders and vendors to organize the sale of digital and physical merchandise, services or whatever it is is called WooCommerce PDF Invoices and Packing Slips.
This plugin considerably simplifies all the hustle around the required documentation while enabling you to send Invoices and Packing slips to your clients via WooCommerce emails.
Generally, once you have this plugin added to your WordPress website, it will automatically attach Invoices to all the emails containing confirmation notice for your customers. You are free to use either the default template or create and use your own one.
Finally, you can find Booster for WooCommerce in the WordPress repository of plugins and integrate a practical bunch of the most frequently used and the most convenient features you might ever need in your e commerce activities.
From price converter to multiply prices by set value to the possibility of adding dozens of currencies, exchanging currency rates and adding discount to all the available products, the benefits of Booster for WooCommerce are really valuable.