Startting a food delivery business requires a lot of things and there are several steps to follow. Out of those steps we will be helping you with only the online presence or the website part of it.
The rest steps needs to be taken care of by the business owner.
Important Steps to Starting a Food Delivery Business
1. Business plan: To start any food delivery service you got to have the plan. Whether you want to target raw food or fresh vegetables or cooked food delivery that needs to be decided as well. Based on that target market, financial projections, sustainibility and competition needs to be assessed.
2. Legal compliance: Compliance of variety of sorts with food and drug regulatory bodies need to be done and implemented because food is sensitive and health permits and licensing is important.
3. Transportation: Transportation is the key to supplies. Supplying these items from one part of the country to another and in whether cold storage trucks or open trucks or rail lines is the key. One needs to have an extensive planning of transportation methods in order to reduce losses due to expiry of food and wastage as well.
4. Online presence and order management: can be taken care of using good starter websites and templates and plugins in order to have a great digital online website for orders and bookings and delivery schedule too.
There are other several steps like marketing online, promotion offline and both online, logistics, packaging, pricing as per package deliver time, work and weight, quality control and quality checks, safety measures to keep food safe and healthy.
Lastly any business needs expansion, growth and sustanability. These all factors also need to be checked before one enters the business and also while doing business. After all this is a competitive industry and a great online presence using these food delivery websites will definitely boost your business.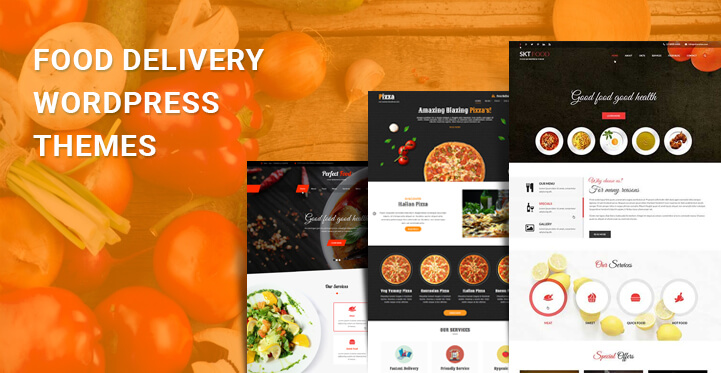 A useful assemblage of food delivery WordPress themes for food and lunchtime delivery services, restaurants and bars, stores and eateries, as well as other food and drink delivery related websites and blogs.
In the current business based world, where a consumer is a top priority, everything can be ordered online without leaving your comfort zone or driving outside.
Moreover, you don't need to spend time on food preparation, you can just order a ready made food and enjoy it with family or friends whenever and wherever you want.
Well, if you are planning to establish a food delivery business in your locality, it can become a highly profitable undertaking for you, since it has many perspectives to sustainable results and revenues.
Food belongs to those products which are always highly demanded. People consume tons of food under any circumstances, despite the crisis, financial situation or any other turmoil.
Hence, all you need is a well prepared presentation of your business to gain popularity and ease the process of food and drink ordering online.
In this relation, we have selected the best of the food delivery WordPress themes available in the WordPress repository which are well thought out for food delivery businesses and restaurants, cafes, pizzerias and other food related centers which have delivery services.
With each of the below specified food delivery WordPress themes, you don't need to have strong developing skills or to understand all the nuances that go into your site's operation.
All of them are surprisingly smooth and easy in usage while providing you with a comfortable working area to finalize the default template the way you prefer.
Food Delivery WordPress Themes for Online Food Ordering & Delivery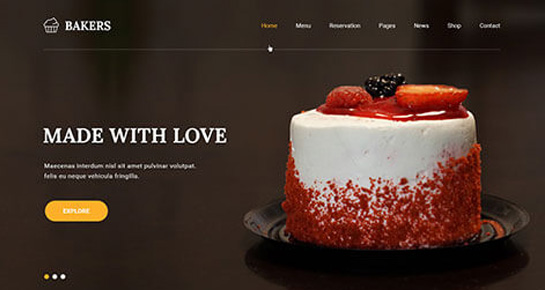 The best food delivery WordPress theme is Bakers which will help you to computerize the delivery and streamline the food ordering.
Having a user-friendly website is very much important as your website visitor can belong to the technical field or maybe not. So every aspect of your website should be easier to understand.
Using this template you can follow the same strategy that GrubHub, Uber Eats, Dominos, etc uses. Because of its responsive design, you will be able to create a professional-looking website.
This template is suitable for companies to order food, individuals, and beverage delivery. You don't need to hire a professional developer to create a user-friendly and professional website.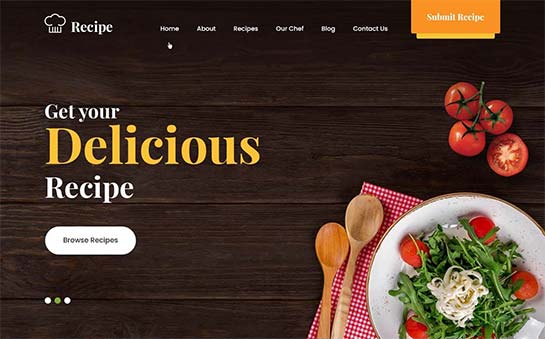 The Recipe will help you to take your food business to the next level. While getting into the field of food delivery it is important to advertise your company as much as possible.
Thus, the Recipe is a well-developed template that comes with some astonishing features that basically help you to promote or market your services all over the world.
With this template, you can sell digital food products such as recipes, food app, books, etc. as well as you can sell physical food products like pizza, samosa, tea, coffee, etc.
People can learn about the services you are offering on social media too. Not just that, but also your customers would be able to pay online with secured payment gateway integration.
Using Recipe, you can craft the exact template as per the look and feel you are looking for.
Bistro comes with a pack of features and functions which help you to take your offline business online within no time.
It has a predefined demo and accessibility to Elementor page builder that allows you to customize your complete website as per your preferences.
While working with Bistro you will find that how fine and simple is its customization process. You will also notice that you did not need to hire a developer or designer to establish a fully functional website.
The bistro is cross-browser compatible, mobile-ready, responsive, retina screen ready, SEO optimized, fast loading, and multilingual ready that helps you to target visitors globally.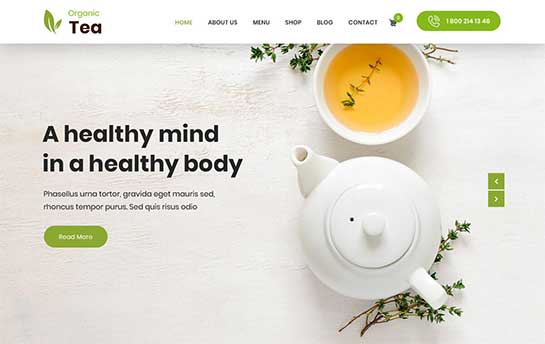 When it comes to the fast food and food delivery business then Tea Shop is the best alternative option for you all.
Using this template you can run a sushi place, bakery, cafeterias, coffee shop, herbal product store, and much more. You can even use this template to start food blogging.
If you like the demo, then you can set up the same looking website in just a few clicks. A one-click import option is provided that will load the complete content of your website and will import faster.
By utilizing its premium features you will able to create impressive online food delivery or ordering experience.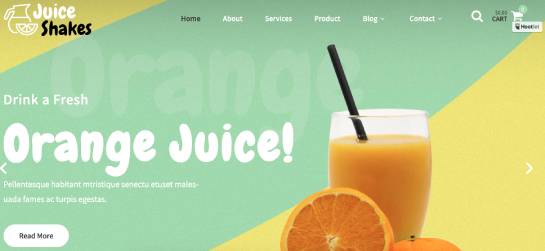 Juices and Shakes is 100% responsive and user-friendly so that any type of person including children can order the food quickly without taking the help of elders.
It comes with some ready-made landing pages so that anyone can create a professional-looking website very quickly. The design goes perfectly for organic food stores, juices centers, food delivery services, butcher shops, fish suppliers, and many others.
This template supports WooCommerce ready features thus you can start performing powerful delivery, sales, and takeaway services. The main features of Juices and Shakes are SEO optimization, one-click demo import, cross-browser compatibility, top payment gateway support, and more.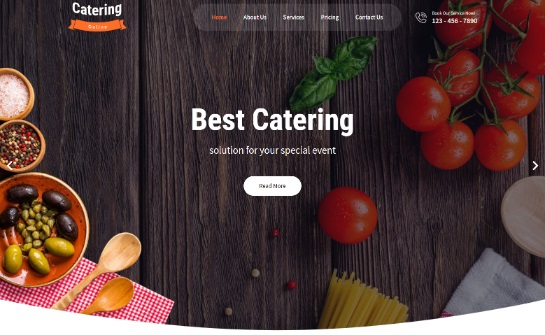 Catering is the best combination of coupon code system, online reservation system, home delivery system. With Catering, you can build top-class online restaurants for your business.
The Catering comes with the support of the WooCommerce plugin where you can display your latest food products and make them a sale. You can add prices based on the clients you are targeting. Yes, you can target international clients too.
Along with this, the template comes with the support of Yoast SEO, revolution slider, WP Super Cache, blog pages, demo content, and many more.
You can add more than 2 slider images to the header section along with one call to action button. One can edit the inner pages with a preferable page builder plugin.
Ele IceCream is a colorful food delivery WordPress theme dedicated to WooCommerce food delivery. This theme will work perfectly for eStore. It has a fresh and responsive design that follows the latest trends.
Ele IceCream comes with WooCommerce integration and provides complete support to contact form 7, page builder plugin, one-click demo import option, easy installation, comprehensive documentation, and free updates.
Very easily you can manage orders and reach a wider audience. In short, you will be able to ship the items to multiple delivery zones. To apply the changes you can access the dashboard.
Ele Chocolate is an impressive-looking theme that has a premade template. The demo is created in such a way that it can be used to target the younger generation or kids.
Ele Chocolate is more focused on helping visitors to find the product they are searching for. You can add a searching feature to the website.
The blog and the pages are having different layouts that you can choose to get a unique look to your website. Thus you can customize the header, footer, call to action, product list, payment gateways, and much more.
Using this template you can sell different foods such as pizzeria, burgers, wafers, cakes, pastries, juices, pickles, bakeries, and much more.
If you want to make some difference in the food industry then it is important to have a stunning looking website with the best animations that will surprise people at one glance.
With SKT Cafe Pro you can effortlessly achieve your goal. As it has ready-made elements and layouts you will be able to target maximum audiences. This template works best for bakeries, Pizzerias, restaurants, bistros, artisan bakeries, burger shops, sushi bars, and pubs.
You can access the live preview option to change the changes made in real-time. It comes with the supports of blog layouts, portfolio, animations, various footer, and header.
It also supports some extra functionality i.e. third-party plugins that help you to create a contact form, notifications popup, plus supports the integration of Google Maps, Yoast SEO, email marketing campaign, and so on.
If you are looking for a food delivery WordPress theme that comes with vibrant colors and a tasty design then Bed and Breakfast are just for you. You can consider this template has one of the most well-known template that helps you to build a food delivery website.
You can use this template to create a pastry shop, bakery, confectionary store, cafe, or any accommodation related website. The template supports appointment booking functionality plus supports hotel reservation plugin.
The theme can be integrated with the calendar plugin so that your visitors can check the booking dates and times.
Give your restaurant or eatery a new voice with SKT Food and sell your products online or organize their deliver. It is one of the dynamically worked out and visually drool inducing food delivery WordPress themes to attract your web visitors attention and incite their appetite.
As a result of the professionals' work and efforts, SKT Food shares the best responsive and SEO practices, making it available for your customers on the go to find your website through search engines and order a food via their mobiles or tablets.
It is also entirely manageable from the backend with lots of controls and settings, elements and customizations, preloaded shortcodes, page layouts, plugin support and much more.
Perfect Pizza is the next fresh and nice looking template rolled up with unique design touches and color palette, which, however, can be modified at any time to meet your color or design preferences.
Tested on different mobile and device screens for its legible look and retina readiness, Perfect Pizza is fully responsive and adjustable to result in an exact resizing of your site in case of mobile or another portable device access.
With convenient areas and zones, widget friendly parts and customizable appearance, Perfect Pizza is also user centric with full documentation and professional support to keep your website energized and updated all the time.
From menu choices to footer and header variations, from the pre enabled shortcodes and social icons packs to SEO friendliness, Perfect Pizza celebrates it all.
Coffee Shop is also deservedly included in our collection of the top quality drink and food delivery WordPress themes to render your delivery services or market your products online.
Blisteringly smart and artificially intelligent, this top rated website building ecosystem shares easy to use framework and handy toolbox with default elements for more productive work from the back part of the theme.
Based on the cross mobile and device compliance coding and powered by HTML5 and CSS3, this template includes homepage slider with 10 slides possibility, as well as pause time, animation and other controls for the most attention generating display of your appetizing food and products, SEO plugins support for better SEO results, plugin compatibility for various purposes, etc.
The basic criteria of a really good restaurant or food delivery services are efficiency, freshness and high quality of products, tasty and well prepared dishes, and finally, properly organized delivery on time.
However, if your site lacks any functionality or takes too long to browse the image of this or that product, chances are high that your potential costumer will simply leave your website and will try some other online delivery service.
In this relation, Ele Restaurant has been made supremely convenient and functionally almighty to guarantee smooth navigation and fast loading, proper exposure and loading of large scale images across all modern browsers and devices, etc.
Simply add your web content, categorize it accordingly to be easy to access and run your online store with the help of WooCommerce or some other commercial plugin.
Restro is an extremely valuable sample among the best food delivery WordPress themes to be used for online food and drink ordering, table reservations and more.
Whether you want to advertise your unique restaurant and its delicious menu items, or want to organize a food delivery via your website, you have all the tools at your disposal to realize your plans online.
With Restro, you can use either the preloaded sections and areas, or add your own ones to make the right content segmentation and categorization for easier web access and online orders.
From home, about us, our menu, blog and contact us sections to gallery area for exclusive images and photos, Restro generates it all.
Finally, here is We Bake for all types of bakeries and pastries, candy shops and cafes, restaurants and pizzerias, private food stores and factories to professionally market their products and services, as well as find new clients, customers and business opportunities.
All in all, the simplicity and easy to use structure of this responsive and shortcodes based template will let you quickly master the technique of building and managing a revenue leading food centric website.
Responsiveness and mobile friendliness for your customers on the go, plugin compatibility for contact forms, galleries and albums, SEO and SMO integration and more are wrapped up in this perfect template.
If you are planning to start a food delivery business in your local area, then you need to know that the competition is going to be intense and that you would need to focus on more than the traditional marketing channels.
Sure, you can count on word of mouth but at the end of the day, customers would prefer to order their favorite snacks and food items from the comfort of their own homes and that's why it is important that you check out the various food delivery WordPress themes, we have collated for you.
These food delivery WordPress themes have been designed for food delivery niche and come coded with the requisite features that should enable your business to stand out for the right reasons. Here are a few reasons as to why you may want to go ahead with these themes as opposed to choosing one at random.
Choosing the right theme: It goes without saying that with the right theme, you should be able to optimize your business. For example a food delivery theme should come loaded with sliders that you can use to present the various features of your website along with a menu that should enable users to choose the items they need, and place the order with a single click
Online tracking: When it comes to food delivery, it goes without saying that you need to ensure that your users can track the current status of their order and you can even integrate Google maps so that they can track their order in real time as it is being delivered. Similarly, you can use the feature to track your staff as they deliver the order and streamline your business to improve your efficiency.
Checkout: It is important that your users find it easy to check out with their orders and can use your checkout feature to pay for the same. You need to ensure that the theme you have selected is woo commerce compatible and that it accepts multiple forms of payments including digital wallets. This should help improve user experience and should in turn, make you much more popular and even help give a boost to your SERPS.
Customization: This goes without saying, that apart from making sure that you have a responsive design in place, you need to ensure that customers can navigate the site easily and more importantly, that you can customize it as you see fit. Keep in mind that not all the themes allow for customization so that's something you may want to check out before installing a particular theme for your website.
With these tips, you can see why it's important to have the right theme in place as they can make all the difference between success and failure. Make a point of checking out a theme thoroughly, and as long as it allows for complete customization, you should be fine.
And remember that you are entering the service industry so you will need to tweak your website often to ensure that you stay ahead of the rest of the competition.
Food Delivery WordPress themes FAQs
1. Do you provide phone or live support?
Yes, we do provide Phone as well as live support. If you have any queries regarding the themes listed in sktthemes.org you can get connected to the support team via live chat option, WhatsApp, online forum, mentioned email address, or via phone number.
The best thing is that customer support is free for 1 year from the date of purchase.
2. Can I still get support if I canceled my membership?
As mentioned that the support is free for our premium customers that too for 1 year from the purchasing date. In case your premium membership is expired you need to renew the period to get free support.
This means you can't get free support if you have canceled your order/membership.
3. Why can't I access the support forum?
You might have forgotten your password to your actual account. Or simple you can make permission from admin
4. Do the themes work with WordPress Multisite?
By the super admin, on multiple websites, the WordPress themes can be installed.
On individual websites, the only super admin can enable them to use.
Afterward, admins can select which WordPress themes they actually want to activate.
Food delivery WordPress theme are created to use on various WordPress websites or unlimited domains. That means by purchasing a single theme you can create countless websites for a number of purposes.
5. Do you include Photoshop PSDs with Food Delivery WordPress themes?
Yes, PSDs is included with all food delivery WordPress themes mentioned. You can ask for PSD files. Along with this file, the JavaScript, HTML, and CSS files are also included.