Starting your restaurant-oriented business can be challenging while driving more traffic to your selling website if you don't have the right theme. Running your restaurant website can be a bit difficult if your website is not very responsive.
Thus, you need to pick a theme that gives your business a very charming appearance while enhancing your website's functionality.
Here we are going to discuss the best restaurant WordPress themes that can give your restaurant business a very superior performance so that you can manage your sales in the best way while handling your customers. Have a look:
To give your restaurant business a very user-interactive makeover, a restaurant-based theme always works with efficiency. The themes mentioned above are created to give your specific business a perfect appearance.
Pick one that suits the type of your business. All the themes are created to become very responsive, which makes them the best restaurant WordPress themes.
Best restaurant WordPress themes with online ordering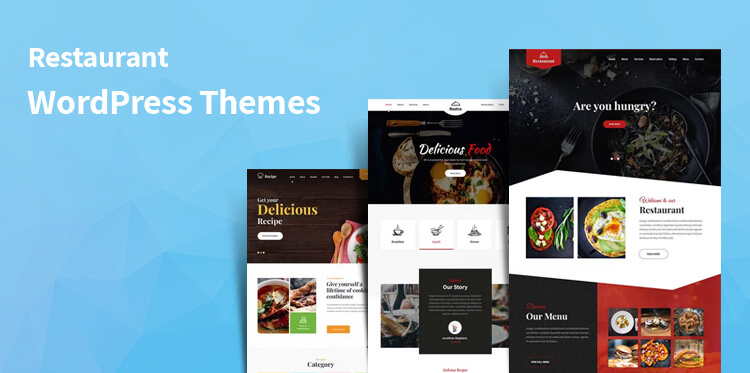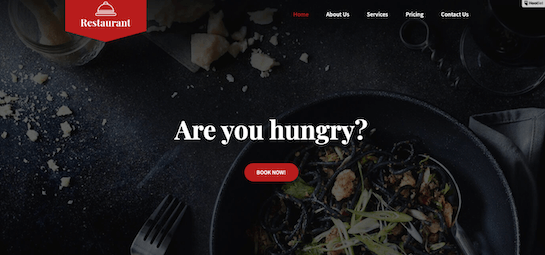 To give your restaurant business an exquisite charm and a very user-interactive look, Ele Restaurant performs as the best restaurant WordPress themes.
It comes with the multi-page layout creating option. This theme is created with the Elementor page builder. Also, you can easily change the settings, width, and height here.
It also lets you change the margin, padding, and column slider sizes. The page builder is brilliant in making your website fast and well-functioning. You can also style the website as per the color combinations you want.
Moreover, it comes with a one-click installation opportunity so that you can start editing the website. Here are the features it offers:
Easy to create a fully-functional website within few minutes
The theme comes with a wide banner image with the dynamic link
The header in the home page area can have 4 options
It comes with animated CSS3, which makes the website more attractive
The Restro is undoubtedly the best option if you are looking for a very intuitive choice for your restaurant-based WordPress theme. The Restro theme comes with a very responsive one and looks good on all kinds of websites.
It is developed using the Elementor page builder. The About us area is for the history and the setup for the team members and founders. The gallery area is brilliant for displaying the food and delicacies.
The menu area is nicely-created to showcase your menu with multiple categorizations. It comes with social media integration with the font support with which you can use 360+ icons. Here are the features it offers:
It is integrated with 650+ Google fonts
There are 100+ shortcodes available to set up the website properly
It includes blog are for promotions
Goes compatible with the latest WordPress version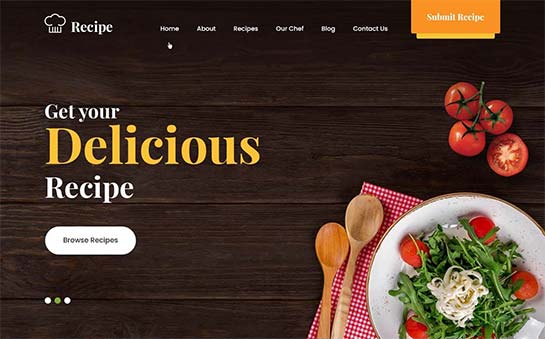 The Recipe is very intuitive as the best restaurant WordPress themes. This multipurpose theme can be used for any of your food, recipe, chef restaurant, and online food order delivery sites.
This plugin goes compatible with WP Ultimate Recipe, Meal Planner, Recipe box, etc. This animated homepage comes on the recipe WordPress theme for a good demo. It is cross-browser compatible.
Also, it goes very well with the cross devices like Firefox, phablet, mobile, etc. It includes Google fonts-based templates with more than 800+ fonts. Here are the features it includes:
It is multilingual plugin friendly with the WPML, qTranslate X, and Polylang
It comes with step-by-step documents.
External shortcodes can be added with plugins.
It is SEO-friendly and works great with SEO plugins.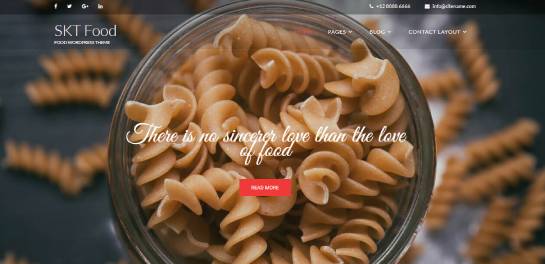 While you want to have a very intuitive theme for your food-oriented page, the SKT Food comes as a very great one. It is coded with the Elementor Page Builder.
The recipe section comes with enough space where you can add multiple recipes. This restaurant theme is very responsive and mobile-friendly. It is very cross-browser compatible.
It is very fast loading; hence it is lightweight. The best feature about these is it includes the in-built contact form and goes compatible with the contact form 7 and ninja forms. It is WooCommerce compatible. Here is what feature it offers:
It is tested with 5 level deep dropdowns.
This theme comes with the page layouts along with sidebar control.
There is a separate sidebar for the blogs and pages.
Coded with HTML5 and CSS3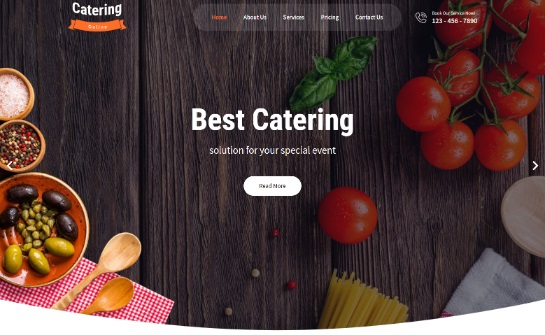 Are you looking for a WordPress theme that can give your catering business a very good conversion rate?
Then Catering is the right option to look for.
This Food and recipes WordPress theme is coded with the Elementor page builder. It is very responsive and mobile-friendly, which can rightly please your visitors.
It goes cross-browser compatible. There are color pickers in this theme that quickly change the colors on the site. It includes the in-built contact form and goes compatible with contact form 7 and ninja forms. Here are the features it includes:
It comes with SEO-friendly coding and is checked with the codex.
It includes animation control and pause control from the available slider.
There are several numbers of blog layouts.
Coded with HTML5 and CSS3
Bistro is an excellent option if you are looking for a theme for a variety of your restaurant websites. It can be used as a multipurpose one for food-related business.
It includes a CSS3 Animation based template, which looks very nice. There are dynamic images and text-changing features.
It also includes a color-changing template with a color picker that can be chosen from any of the sections. This theme is Gutenberg and page builder compatible, which lets you add more intriguing content.
Here are some of the features which are worth mentioning about it:
100% responsive with a variety of screen resolutions
Cross-device compatible with tablet, mobile, HD screens, desktop, etc.
In-built shortcodes with more than 100+ fancy content set up
It comes with a sidebar layout for the pages.
Are you looking for the best restaurant WordPress themes for your coffee shop? Then SKT Cafe Pro is the right choice for you. The theme is the best suite if you are planning to design a cafe or restaurant.
It comes with free installation after a one-time purchase. It is easy to use for multiple industries for designing the website as it has the appearance for various industries. It comes with clear documentation, which makes it great for anyone.
Standard pages like 404, search, archives, categories are designed to standardize the website. Here are the features it offers:
Coding is based on a WordPress codex theme.
The header section is designed with four different layout variations.
It comes with the SEO standard, which goes with all the SEO plugins.
Designed congenial with the WordPress plugin.
Bed and breakfast is a multilingual-ready WordPress theme that goes compatible with WPML, qTranslate X, and Polylang. This comes with 4 types of header and footer layout.
Moreover, you can easily choose the sitewide layout as the way you want. The theme is immensely responsive and 100% mobile-friendly. Also, it is Google mobile-friendly that can rightly boost your ranking.
It is solely a customizer based which makes it future-ready. Also, it comes as translation ready and includes a POT file that is compatible with the Loco translate and PO editor. Here is what it provides:
Bookings are easy to do with compatible plugins
It is WooCommerce standard-based
It comes with typography choices with 800+ google fonts
Includes sidebar layout
Are you thinking of giving your bar-related website a gorgeous look? Then this one is simply the best restaurant WordPress themes. It comes with the homepage section, which is loaded with pages to access the various shortcodes.
The header comes with 4 types of layouts which lets anyone select any type of header as per their choice. Each of the elements is linked with the color picker; thus, you can change it easily.
It comes with several page layout options so that you can have the sidebars of your choice. Here are the features:
Lots of typography options with more than 800 google fonts
It comes as a full site layout of boxed and full width.
Translation ready with POT file inclusion
SEO friendly template
Give your Pizza Business an excellent user-experience. This pizza ordering WordPress theme comes with 15+ homepage sections that are easy to modify and customize.
It comes with CSS3 animations provided on the homepage area, which makes the site very attractive. While customizing, you can preview the changes. The color picker also comes with the theme.
There are Google fonts included with more than 800 typography choices. It is mobile responsive and user-friendly. Here is what it offers:
A speedy performance with fewer scripts
It comes with multi-industry domains for the other types of websites.
The inner banner area can have video, slides, HTML, etc.
There are page layout options provides for the pages to have customized sidebars.
For your bakery website, this WordPress theme can be the best suit. This bakery WordPress theme is responsive and lets you add your website to any screen resolution devices. Free installation is provided in case you are facing any trouble.
It includes one year of support which comes when you purchase the date. Complete documentation is provided with the theme. There are a wide variety of shortcodes that works very well with the baker theme.
Various page layout options incorporate appropriately with the sidebar variations. Here are the features:
Easy to design layout with the four layout variations
Easy to change colors for any of the elements in the theme with the color picker option
The coding is done as per the codex review theme standard.
SMO plugin is affable.
Pick a chocolaty theme for your chocolate website. This one is just the best restaurant WordPress theme for your chocolate business website. It is created with the Elementor page builder, which adds multiple functionalities to the website.
There are custom-made dropdown menus that improve the user experience. It includes a custom-made logo to create a unique identity. It rightly integrates with Google maps to offer proper geo information.
It is easy to insert custom contacts to make the business more functional. There are threaded comments which are going to behave as the most useful conversation system.
With the shortcodes, you can insert multimedia content.
Optimized with SEO standards to go comfortable with the Google search engine standard
Works perfectly with any of the hosting configurations
It goes integrated with the latest WordPress version.
The Ele IceCream is the brilliant one for your ice cream-related business website. You can easily create an online ice cream store with this. There are limitless options where you can establish a high-quality WordPress website.
Along with the Elementor page builder, you can create a unique shopping cart. The theme is highly responsive, which makes it go easy with any device and browser. The theme comes with 900+ Google fonts which are free to use.
You can select the theme to enhance the accessibility and readability of your website. Here is what it offers:
The theme goes compatible with the old WordPress versions.
Easy to create different layout styles while adding other columns
It comes with HTML and CSS file that helps you to have nice animation effects.
Codes are optimized for all browsers.
Give your wine business a very intuitive appearance with this theme. It comes with a fully multipurpose and color-changing theme. It is coded with the codex and theme review standards.
Moreover, it goes compatible with the theme review stands. You can give your shop more functionality as it is compatible with the WooCommerece. There are a variety of shortcodes that are included in the theme.
It comes with very SEO-friendly coding. The font-based icons are included with the required social media links. The theme is multilingual ready and goes compatible with the qTranslate X plugin. Here are the features it offers:
Translation ready for its presence into the POT file
It comes with 8+ page blog templates
Includes default slider and a contact form
It also comes with a default gallery
To give your juice shop much growth in a very organized way, you can opt for this plugin. This juice bar theme is much useful for restaurant owners. The theme comes with unlimited access to a variety of fonts and color options.
Along with the GNU GPL license, you can get 1-year free support along with a 1-year theme update. It is cross-browser compatible.
The theme is dependent on the 5.5+ WordPress version. Major files like PHP, CSS work appropriately on it. Here are the features:
The theme is adjusted with the full-screen banner image
The banner image is easy to replace with the slider images
The footer section comes with the social media buttons
Copyright option is given in the foot bar area
Give your coffee shop website a well functional look with this responsive WordPress compatible theme. It is Google mobile-friendly. The theme goes brilliantly compatible with cross-browser and cross-devices.
Also, it is compatible with a variety of sliders. There are changeable sliders that come with the default 10 slides and animation for the pause time.
The theme is color-changing. It comes with 100+ shortcodes. It comes with the built gallery for the showcasing. Here are the features it offers:
Compatible with the SEO plugins
It goes integrated with 580+ icon packs.
Easy to integrate with the easy color and font change
Compatible with the pricing list