If you are a social worker then your life is challenging. You are really doing excellent work for the society.
If you are extremely passionate about spreading your social activism in the world, then the sure short cut to build your online presence is using social Activism WordPress themes.
With this, you will get a chance to showcase and promote your NGO's, charitable trust, senior homes, etc on the internet. This is not just to make your identity, but it also helps you to build an online global community for raising your funds and helping more and more people.
In this article, we have listed top activism themes that you can use to build a professional charity, NGO related websites.
The given list of themes includes all the features that work best in making your presence biggest. All included themes are easy to customize, clean, and well-documented, so won't get trouble while creating and launching your website.
When you build your website by choosing activism themes, it will take only a few days to give a huge startup online. Moreover, the themes are SEO optimized and SMO friendly, so you can robust link building to your website with ease. Now, let us find out the best themes!
Best Environmental & Activism WordPress Themes for 2020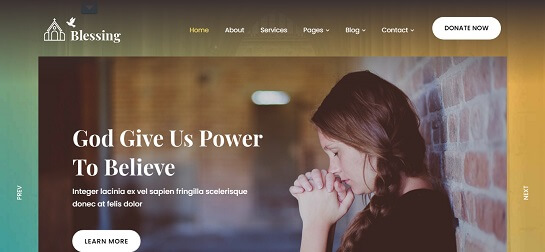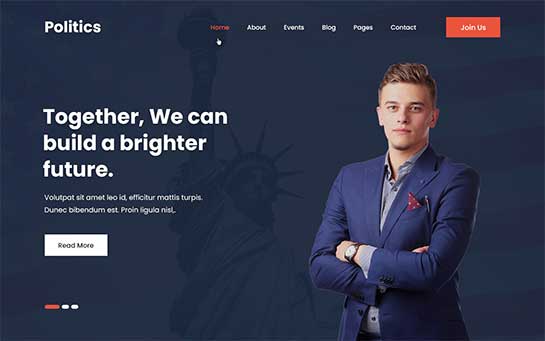 Activism Pro is well-suited Activism WordPress themes for your NGO's, donation, social groups, and law-related websites. This is 100% GPL theme comes with an integrated and large number of widgets that give your website an eye-catching appearance.
This theme includes the dummy images and content which highly customised according to your website content the template used in this are inherent ended with some styling so you can craft and build it with most powerful page Builders.
With the template, you can easily cover the topics such as social work, environmental, Human Rights, Wildlife Protection, Organisations and many more.
The plus point is the theme includes Mega menu that helps your readers to identify your content. Moreover, the theme supports the bottom of the third-party plugins also the Google map used in this are highly customisable which work amazing.
Key Features:
This will give your website a professional look.
Retina ready and HD ready theme.
Cross-checked with Browsers and mobiles for easy access.
You can choose the perfect section of the themes with elements.
Includes drag-drop feature fo the r flexible oriented website.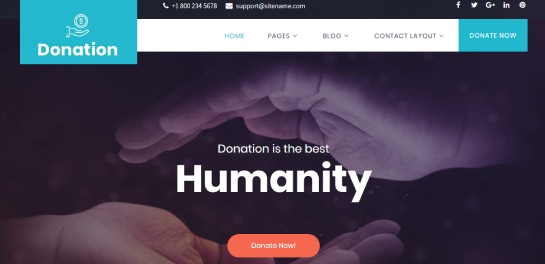 Donation is our top picked Activism WordPress themes you should try for building an online presence with your charitable trust, NGO's, donation, and associations.
It is easy to manage and the understandable theme, which does not require to hire external people to do settings for you. This theme has been created to facilitate the donation and Charity houses or you can say that non-profit organization in an easy way.
You can check and get online whatever they want. It is primarily helpful websites for all the organisation who want to run their Association independently. Moreover, the theme is highly compatible with the donation plugin, so you can receive multiple donations from different countries easily.
Key Features:
Contain defaulter slider with external plugins.
Include 100 plus shortcodes with fancy type content.
Homepage sections are easy to customise so you can adjust it accordingly.
Include WooCommerce plugin for your eCommerce business.
Tested responsive layouts for browsers and mobile.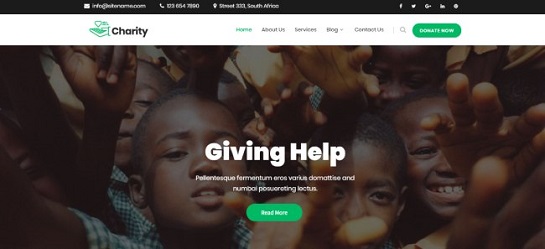 SKT charity pro is yet another best social Activism WordPress themes for your charity website. This theme is the multipurpose theme you can use for your donation, NGO and another related website this theme will multilingual ready and easily configured with the use of translation plugin.
It is also a theme that supports different devices and browser compatibility. The theme is easy to load, simple to use and compatible with major SEO plugin so you can easily get your online presence on a huge level.
Moreover, it is consistent with the nation plugins and compatible with short quotes so you will get trouble while setting up the theme.
Key Features:
Coded with SKT elementor page builder.
You can replace the slider with slider plugins if needed.
Include 8 plus page templates.
Easy to load and fully widgets friendly theme.
Tested theme with the latest WordPress standards.
Include a powerful call to action buttons with social media on the footer.
If your business is about fundraisers coma charities churches and poor people, SKT Trust Pro is the well-suited theme you should pick. The theme is highly integrated with donation plugins and build up with elementor page builder.
It is a multipurpose theme that you can use for your business purposes. The ultimate goal of this theme is to deliver the trust on your customers and this is why it is compatible with latest WordPress version and backwards.
Better compatible this address to Nation raised and latest design templates that are easy to navigate by the users with this view our user will enjoy the amazing experience of involving in your business.
Key Features:
Include POT files with WPML plugin.
Its portfolio section will help you to showcase your services.
Include 580 + font-icons.
Integrated with social media icons that help you to reach more audience.
Include top header section for phone and footer as contact information.
If your business is about giving protection to the animals and pets then this theme is going to be very neat for taking your genuine cause online.
If you provide shelter for pets or whatever the grooming session related to animal health and consulting for save or rescue animals, this theme has the number of features with woocommerce supportive plugin too.
This WordPress theme is already SEO optimized that take your business online with complete trustworthiness and authorities. Moreover, it is fully documented and integrated the theme with multiple plugins that support the website easily.
If you're looking for the theme which gives easy navigation to our customers along with the fantastic logo and colour options then it has fantastic features to customize.
Key Features:
Include inbuilt discounts and coupons for the special customers.
You have an option to alter the logo colour size background etc.
Get the strongest admin panel and redesign the booking form.
Your website will work in a pleasing way.
Easy to handle and fast to load.
It is a responsive powerful and compatible + affordable theme for all those who are looking for setting up the business related to funeral, fundraiser, charity etc.
It is a premium theme where are you will get complete access to the features along with retina ready and parallax video background this is easy to set up and includes woocommerce Store that will help you to build and create an upcoming event easily.
The theme is highly customizable and gives you a number of features such as Revolution slider, supportive bloggers and video sections, and many more.
The same is highly suitable for the person who is willing to help and addressing the People's recharge and Customs. This will help you to get a lot of advantages from it and you will get a very good looking website with a professional appearance.
Key Features:
You will get advance price table lists.
The theme is HTML and CSS coded.
This has advanced features that can easily browse.
Include clean typography.
Integrated with business tools.
Support standard pages and four different header styles.
Religious activism WordPress themes is best for dost people who Wanted to make a cool website related to Charity, social activism and church. This theme option will also allow you to alter the font style colour and link throughout the website according to your requirement.
With this, you'll also get a feature to get the local listing of churches nearby. Moreover, you will get a fancy gallery to showcase your speeches, testimonials pictures, and videos etc.
With this theme, you will also receive the best feature that has resources action that comes handy for the churches include Youtube and Vimeo videos on your site. If you want a piece of mind and looking for creating a website regarding the religious prayers and the charitable trust school, try it.
Key Features:
Easy to set up and use.
You will get a blog section for sharing the news.
Include Contact section with Google Map.
No knowledge of coding required.
effective customisable theme.
If you're looking for a theme which supports your donation, Charity houses, and fund causes then don't look further than Fundraiser.
It is a complete manual and documented theme with providing complete setup of the website design the plus point is it includes standard pages so you can easily try your business and get a website a professional look. You can also add additional shortcodes of own.
Moreover, the plugins like analytics, gallery and maps are also friendly with this themr, so you won't get any trouble regarding its performance.
Key Features:
Tested theme with multiple Browsers and entirely responsive.
Include RTL languages like Arabic and Hebrew.
Include social sharing plugins.
Include the inbuilt homepage section.
Made with codex review standards.
If you are a person who is supporting the wild animals for your protection and increasing their security then it is important to have an online presence of your business to convert more people in your genuine cause. The theme is very easy to handle and one can easily set up the website without the intervention of the third party.
This is a multipurpose template that you can use for your multi-purpose businesses by just editing in the colours, fonts, and technical Supports.
Additional, the theme support number of plugins such as the gallery, appointment forms, forums, and slider to increase the functionality of the website. the theme only perfect, when it offers speed and this is exactly what it is giving to you.
Key Features:
Offer 24/7 customer support with complete security plugins.
Include more than 800 Plus Google fonts.
The theme is coded with SEO optimization.
Include woocommerce plugin.
Includes standard pages like search, archive and sitemap.
Free installation of the theme also provided.
If you are a person who is looking for a theme for supporting the environment and go green, go ecofriendly then Ele nature is the best theme well-suited for your business. The steam is created under the elementor page builder that provide a number of changes and modifications.
If you want to feel like a natural and organic in your website that will give you the professional and supporting themes with a professional look so go with it.
It mainly focuses on the environment Save The World by growing both plants and becoming eco-friendly with everything in this you will get a lot of options to share the blogs and pictures to motivate the youth.
The portfolio feature will also help to get arise your business in different forms and reflect your working experience as well.
Key Features:
This supports most important plugins like next Gen gallery, contact form, and many more.
You have one year of customer support for solutions.
Life customisation is easy to handle.
Technical support is available.
Include 950 Plus Google phones and multiple sidebars with transaction portal.
If you are looking for a theme that supports your scriptural business then Holy Chruch is the best way to get it. It includes layout choices and multiple inner header area with a page builder that can help you to create your own layout.
Furthermore, it is a multilingual compatible theme which helps you to get a range of customers from different areas. This is material designed and Flat styled detailed theme with the easy navigation menu.
Key Features:
Includes audio player.
A simple and effective way of adding the professional look to your spiritual business.
Inner pages included.
Free installation with demo details.
Colour changing the theme.
Google tested a mobile-friendly theme.