Are you someone who is looking for a Charity WordPress themes for your charitable trust? If Yes, then continue reading this post.
With the increase in internet and technology, there is a drastic change in the ways people donate. Nowadays, there a range of web sites and applications are present, which increasing globally and people are using such channels to help nonprofit organisations.
Therefore, it is recommended for every charitable trust to choose the best charity theme that provides your website with a great way to interact with the potential people who wants to help the needy community.
In this post, we will speak about the most charitable organisation related themes that not Just provide you complete donations system to your website.
But these also can help you to rank easy on the search pages for The E-Commerce and other online payment integration.
Don't know how to choose a charitable theme?
Themes are highly important when it comes to hosting a charity event or creating a website that supports many causes.
So if you do not know how to choose a theme, then the first thing you need to think what type of Charity house you are supporting and then prepare a list of things you need in the website such as payment options, attractive features, e-Commerce channels and many more features. With this, you can find out the best theme for your website.
Make sure to choose the theme, which you can keep consistency for a long time and with the best objective you can build your brand Charity house online.
For your ease, we have listed down the best charity WordPress themes that you can easily customise and use for your website. Let us find out the best one for your non-profit organisation.
Best Charity WordPress Themes 2023
To showcase your charity work in a more professional way we brought a GB Charity. It is actually based on a new block editor i.e. Gutenberg. This simplifies the process of content arrangement.
GB Charity is the perfect option for you if you are looking for a template to get an online presence for donation, charity, fundraising events, or running any campaigns. to design a website in just a few clicks offers plenty of features.
The codes have been used very carefully with all the latest WordPress standards. To all cross browsers and layouts, the theme is adjustable and allows the browser to load all your content quickly. To use your service website as a store you can integrate the WooCommerce plugin too.
Promising features:
Responsive design.
Multilingual in nature.
Supports top third party WordPress plugins.
.MO and .PO file is available for easy theme translation and more.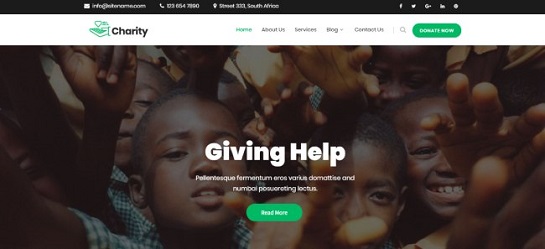 SKT Charity Pro is a theme who love to giving help to the impoverished community, so they can also earn a better life to live. This isn't ok Charity WordPress themes that sounds and looks professional as well as emotionally at the same time.
This theme is integrated with 580 plus Icons pack and loaded with default slider that you can change in time. This is coded with elementor page builder which is significantly compatible and integrated with donation plugins.
Further, the theme is translation ready and easily customise theme that also comes up with standard pages like 404, blog, category, archive and many more.
The charity Pro is a theme where you can find everything in detail, which makes the theme very responsive, flexible and customisable.
You have an option to choose from different layouts as well as this theme consistent with the pre-built form of the gallery that makes it more convicted and powerful to rank on the search pages. If you just need a better recognization, then this theme is one of the best to get easy results.
Promising Features:
Highly responsible Charitable Trust theme
It is a multipurpose theme for corporate business and industries
Include a call to action buttons like address, social media and phone number.
Highly compatible with shortcodes plugin and widgets.
SKT Trust Pro one of the Multipurpose Charity WordPress themes with header and footer. It is social media integrated theme which comes up with font based icons and similarly integrated with shortcodes plugin as well.
More than that this theme is based on multi concepts that can be used by any industry. With this nonprofit theme, you can build your charitable trust and fundraising websites for NGOs and INGO.
This is a fantastic theme that comes up with lots of customization options including typography, colour, and header and footer.
This also includes the skill bars, which are good to show the donation raised and you can use this website with ease. There is no need to put extra efforts, you'll need to edit the content according to your NGO.
Promising Features:
Include a call to actions everywhere
Give you 100% cross-browser and cross-device compatible theme.
It is widget-friendly and coded with HTML5 and css3.
Portfolio plugin is compatible.
Inbuilt several pages like contact form, buttons, team members, and more.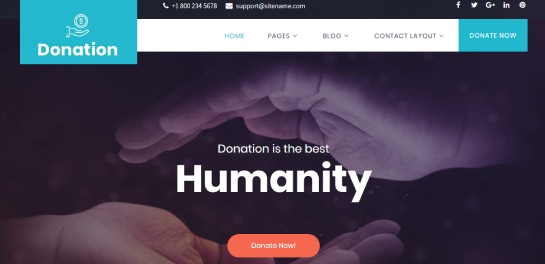 Donation is top trusted template belongs to multipurpose Charity WordPress themes that comes up with a nice homepage without any problem.
It includes best colour combinations and also a unique set of images in the background, which is suitable for websites like donation, fundraiser, associations, Charitable Trust, charitable houses, and many more.
Moreover, it includes Google fonts which have more than 800 to create a website more functional and attractive.
On the other hand, this theme is highly SEO and SMO friendly that meet up with all the guidelines and plugins to support and rank your website on search pages.
More than that, it is a theme which created just for facilitated the nice survey of humanity to the people. It is highly compatible and revenue collected theme. Also, it is simple and easy to understand theme by anyone. Try it!
Promising Features:
It has more than one colour schemes.
A complete website with plugins and pages.
Documentation Ready theme with step-by-step guidance.
Include multiple layout options.
Friendly with woocommerce plugin and donation plugins.
Free installation theme with various features.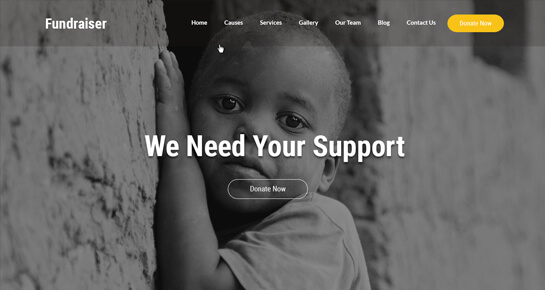 The fundraiser is a flexible, fast speed, and well optimised Multipurpose Charity WordPress themes. It is extremely lightweight and best for everyone who would like to create a website in just a couple of hours.
The fundraiser is extremely responsive for all the devices that make it easy for you to get an easy response and complete support from the people. In this, you will find inner pages big four different layouts which also consists of sidebar variations.
Along with that, it is available with woocommerce plugin, so you can design your website for complete Charity House.
The theme also includes standard pages and one-year customer support that make it easier for you to use this whether you are a beginner to create a website.
It has powerful theme options and features that not give you the best place to support your people who are connected with you. But also it is designed to keeping you in the top with the changes in market conditions as well as Google Algorithms.
Promising Features:
RTL language tested theme.
Customise option is available with real-time changes.
SEO optimised and social media-friendly theme.
Include standard pages and plugins like a gallery, slideshow, contact form and many additional functions.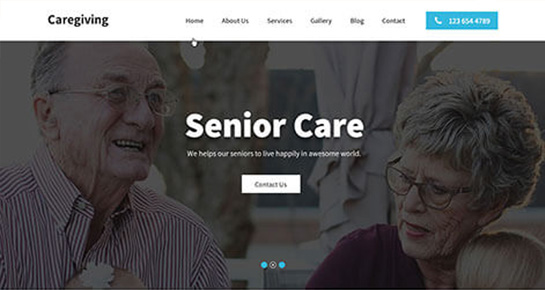 Caregiving is a modern, human-kind, and senior care theme designed to support old age homes, Charity, Medical, orphanages, and another related website.
This is the best theme which comes up with an emotional design template that gives good Vibes. It is easy to use and a proficient theme that delivers various stories to the people.
It includes page builders like elementor, visual composer and live composer. Moreover, it includes the shortcodes with that you won't find any issue while creating a website.
This will give you a flat structure website, which is responsive for every browser and the devices. The senior care WordPress theme is compatible with the membership plugin as well so that your website can be available on different channels.
Promising Features:
Integrated with Google fonts and wpml plugin.
Commenting feature is also available.
Incorporated with social media buttons, various pages, and forums.
The homepage section involved various content into the pages.
Activism Pro is an outstanding Charity WordPress theme for your website. if your cause is related to protest, helping the poor community, wildlife prevention, veteran rights, human rights, and many more then this will help you to Shine on the Google pages easily.
This template will go to perfect to create a professional yet a fantastic website which can interact with the audience easily.
In this one can replace dummy images with the original images of the content so you will get great pleasure of social integration button. You can connect with millions of people easily, this also includes customisable shortcodes.
Promising Features:
Header and footer are available with different customisable options.
Increase the functionality of the website.
Mega Menu is supportable and provides easy access to the website.
Multiple portfolio and pages can be created.
If your website is about religions then you should pick out the religious Charity WordPress theme.
It is integrated with social media platform for promotions this is easy to set-up simple documentation for faster and great results. The theme comes up with standard slider with animation that takes easy control on speed and post time.
Also, it is coded with HTML5 and css3 so you can enjoy the best results. It also comes up with the video section so you can showcase your events and other channels easily on the website.
This theme is super effective and customise design themes for you. You just try this and see the results!
Promoting Features:
Include 24/7 customer support for 1 year.
Easy navigation menu with different options.
one can change the font style, link colour and size of the website.
Integrated with 600 + Google Font with and 12 animation effects
If you believe in God and love Humanities and this is an easy website which you can use for easy setting of the website.
It includes various actions and with the help of a section, you can create outstanding outcomes to the website that react faster loading results on browsers and devices.
Moreover, it includes layout choices from which you need to select the best one which comes up with your inner pages.
On the other hand, it includes step-by-step guidance on setting up the website for you won't find in indeed of Technical person to do all the things for you.
It is the material design and Flat style theme which compatible with various plugins such as analytics, listing, membership, and many more. It is one of the best time you should not miss.
Promising Features:
Include 5 level dropdowns Menu
RTL compliant theme supports different languages.
Free installation theme is available.
100% responsive and mobile-friendly theme.
Include by default slider for better user-experience.
If you have a team of recycling products and saving environment then it is extraordinary and fantastic features holder Charity WordPress theme which beautiful design new website for the business purpose.
It Includes full demo for creating the website, so you won't find any need of the technical person.
When you are on this theme, you can manage and replace a custom sidebar on your website easily. on the other hand, the progress bar is compatible with latest WordPress version. it comprises the volunteer section, footer section with various buttons and navigation panels.
Further, it includes different styles for a blog, you can post your blog according to your choice. The Nivo slider is best for beautifying the visual experience of users.
Promising Features:
It is integrated with custom widgets for various content and ideas.
There is no need for coding knowledge.
Extremely good and translation ready theme.
Include 20+ widgets and supportive plugins.
Countdown plugin is also in-built for date and time.
SKT Funereal pro is also one of the best and advanced elementor page builder plugin theme, which is responsive and come up with handy features.
This most awaited theme with premium plugins and now it is an opportunity to go and use the standard, advanced and responsive theme for your multi-purpose businesses.
When you are building or customising the theme, make sure to use shortcodes according to your choice. The best of this, you do not any third person to do all the things for you.
It is the customer-friendly and supportive theme, you can also ask the customer support any time for any questions. Many business tools are integrated with the theme and now it is up to you to get this action supportive and fantastic colour theme for your business.
Promising Features:
Easy to use templates and compatible with the latest WordPress version.
Can create a good looking website.
100% supportive call to action buttons.
Guaranteed services and well optimised theme for your customers.