Donating to a charity is a noble cause, which many people would like to be a part of, but running your charitable foundation is difficult. You have to ensure that enough people attend your events and make donations.
Most importantly, you need to find a way to gain donations online. Once you can find such a solution, people throughout the world will be able to donate to your cause.
The most obvious solution is creating your website and getting your name out there on the internet. When you are in the initial stages of web development, you will have to choose a content management system.
WordPress is one of the most used CMS worldwide. So, if you go with WordPress, then you have made a safe choice.
The plugins and themes can make your website powerful. Some of the themes have been designed by keeping charitable organizations in mind.
If you select such themes, then you will not have to work hard designing your website. Here are some of the best charity hope WordPress themes.
SKT GB Charity is an NGO WordPress theme that makes your life easy if you want to set up a website for a nonprofit organization.
Developing a website with this theme can help you collect donations, organize fundraisers, and create awareness. This template is optimized, which is why you can expect your website to run fast and it is optimized to be used by any device.
This theme is coded by following all the WordPress standards, so you will not face any issues while you are setting up the site.
This theme will help you communicate with people who believe in the same cause as you. That's why there is plenty of space for text and images. Use it to communicate your message properly.
The SKT Trust Pro is one of the best charity hope WordPress themes out there. You can describe your cause and the percentage of funding which has been completed.
It is a goal-oriented theme, this is great if your charity is focused on raising funds for charitable projects, now and then.
You can describe your mission with different text and graphic elements. This theme gives you a lot of space to describe what your charity is about.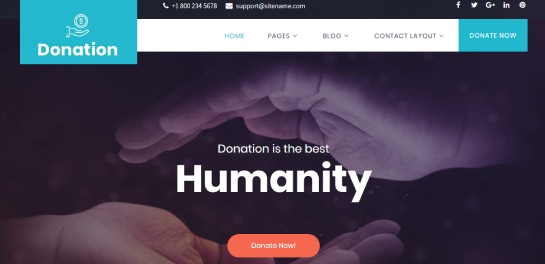 The donation theme has simple colors and space for pictures because images get stuck with people. Someone may decide to join your cause because of the images they see.
Other than that, you can also describe your recent projects and their impact. Donors deserve to know how their donations were used by your charitable organization.
This theme is also video friendly. Videos can appeal to human emotions and make them take action. Which in this case, will mean that many people will be donating to your cause.
It is important to give a voice to those who donate to your cause. This theme has a dedicated section for the same purpose. You can use this to your advantage.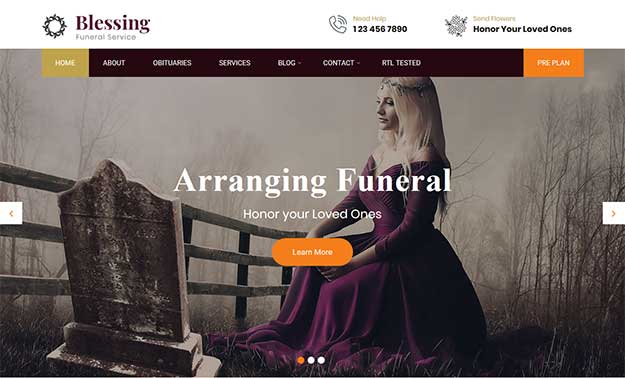 This theme is useful for companies that provide funeral services. However, its peaceful background images make it a good choice for charities too.
Charitable organizations need to stay active on social media too. If you have a social media network, you can add the links and connect them with the logos of the social media sites in the footer.
People who are serious about your work should be able to see real-time updates of your charity. This is only possible through social media. So, add the social icons widget.
If you are hosting a fundraiser dinner and have different prices for different tables, then you can make use of the pricing plan section.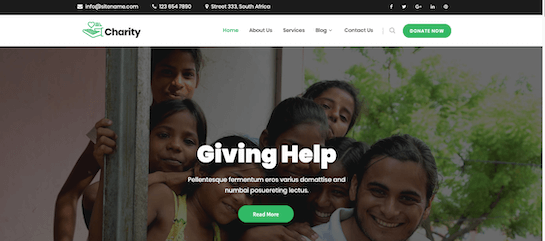 SKT Charity Pro is specifically designed for a charity that deals with large categories of projects. You can list out all the categories in which your charity deals.
Visitors can browse these categories and your projects. The theme has a really simple white background which lets the message speak louder, instead of flashy colors.
You need to proudly display your achievements, even if they are just numbers. They will go to build the legitimacy of your charity.
Every charity has events coming up, this theme gives you a separate section where you can highlight the upcoming events.
There is a chance for a site visitor to convert into someone who is attending the event hosted by your charity. This feature makes it better than other charity hope WordPress themes.
Your charity may have different categories of projects, and the vibrant colors of this theme can highlight those categories.
This theme has space for a huge cover picture, use one which depicts everything about your charity, its reason for existence, who you serve, and the need for donation.
While all causes are important, you can feature some causes which need immediate donations. This feature makes this one of the most unique charity hope WordPress themes. If you are not getting enough funds for one project, you can simply feature it.
The holy church theme is designed to be used by a church. However, most of what churches do can also be considered charity. They give to the poor, host events, and try to help others as much as possible.
This is why you can convert this theme into one which is right for your charitable foundation. All you have to do is change the text and images. Then, your site will be ready to go!
This theme is suited for NGOs that provide support for the elderly and old age homes. Sadly, after a certain age, some children leave their parents at such old age homes.
These old-age homes need funding to provide great senior care. If you run an old age home, then you know that you can need a doctor, psychologist, nurses, and other staff for their care.
However, not all old age homes or NGOs are appropriately funded, which leads to a decline in care. With a proper website in place, it should be easy for you to gain funding.
It will also help raise awareness and the elderly will know that there are places where they can go.
If you are fighting for a cause that you believe in and want to create a website for the same, then this theme is the right choice.
The color combination is easy on the eyes and there is plenty of space to add images that explain your cause. You can explain what your campaign is about and get donations.
These two features can be useful for NGOs. You can also display how many donations you have received and how far you are from the target.
This theme is great for any religious organization. Many site elements used by religious organizations can also be used by NGOs.
You can add stories that motivate people to join your organization or provide aid by other means. It is important to highlight the team members that provide service for the cause. This theme makes all that possible!
SKT Association is a theme used by civil organizations, neighborhood associations, and other non-profit organizations.
The backend of this theme is extremely easy to use and you can make any changes easily. You can describe the mission statement of your organization and highlight information about upcoming events.
This theme is neatly designed for municipal corporations. However, it can be tailored to meet the needs of your charitable organization. You can describe the services that your NGO provides. If a visitor finds a cause valuable, they may think about donating. However, it takes some more convincing.
That's where the number comes in, now you can quantitively explain the change that your NGO has brought to the world. If anyone has provided you with positive feedback, you can add that to the website. All this will motivate the visitor to contribute to your NGO.
Sadly, the world is not very kind to animals. There are a lot of animals out there that need your help. People can adopt these animals as pets or contribute funds so that the shelter can take better care of them. If your NGO is centered around animal welfare, this is the perfect theme to choose!
Evoke empathy in the minds of the visitors by choosing the right set of images. This site has a lot of space for high-resolution images that can make a difference. You can add images from your shelter so that people will know how you take care of the animals.
This theme has an entire section where you can discuss the mission statement of your NGO. It helps people know what your organization is about and whether they can connect with the mission statement or not.
Your NGO is making a difference and every small win needs to be shared. Share the recent updates in the news and articles section. Other than that, you can also add the number of animals your organization has been able to rescue and care for.