Humanity is said to be one of the biggest religion and relation in the entire world.
This bond has also contributed a lot for the developments that have been taking place since long time.
Many of the fund raising companies and organizations have also evolved to support towards the growth with the help of charity and donations that is gained from the masses and is brought into use for the support and development of people and the society.
There are many people in this world who are deprived of living a good life, good education and employment.
The donations that are received with the help of such companies proves beneficial and of great support for the underprivileged who can head towards fulfilling their dreams through these initiatives taken.
There is still a huge amount of population that needs a serious attention and there are various of issues that can not be ignored.
Such organizations play a vital role in eradicating these issues through the charity and donations that are received through various programs and lend the hand towards making the society developed and issue free.
It is essential for such charity and fund raising organizations to increase their reach and keep on continuing their good work for the needy.
As the world has transformed to a digital environment, there are now many of the possible and easy ways to reach out to masses and spread a word of appreciable work.
Making a website is something that can help in achieving all the motives and can turn out to be a wide medium for charity collections.
Developing such websites is now an easy task when you have a relevant theme to start with.
Donation WordPress themes are the appropriate match for making charity and fund raising websites to move forward with a noble cause.
Some of the premium Donation WordPress themes can be selected from the below wide range.
SKT Trust is a very peaceful and calm, divine and self-contained type of Donation WordPress themes that is designed to contribute for the initiatives of charitable trusts, donation and fund raising organizations.
This theme consists of all the features that can be very well used for making a charity website and it offers a very soothing experience with the guarantee of best quality output hence the name trust follows.
It can perform to its best at any browser and device being compatible to them and has easy to manage and operate theme options panel.
Being a widget friendly theme it contains sidebar and footer as well. It is a multipurpose theme with numerous of options to list as many causes you need for donation.
It is armed with a section that allows for adding sections to show the list of donors and you can also add the columns for making a similar type of section. It also shows about how much donation is raised through the addition of skill bars.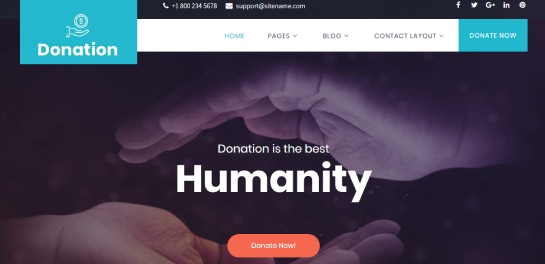 Donation is the WordPress template of Donation for building a perfect charity website just like its name. This is a kind of theme that can serve to the fullest when it comes for a charity website as it consists all the solutions of your requirements.
This theme has pre-installed templates that makes the website making efforts easier.
You can change the color as per the significance and motive of your organization with this full color changing theme that comes loaded with many shortcodes and plugins and has various of sections, header and footer options to make you create an engaging website.
You can make a website in multiple options as this theme is multilingual supportive and is retina and HD ready.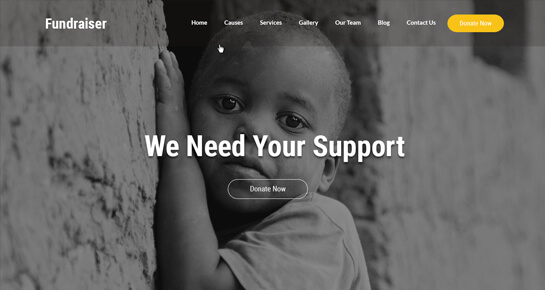 Fundraiser is an ethical and generous type of Donation WordPress themes with ample choices of gallery and portfolios to showcase your works and activities of charity organization at a broader level.
You can alter the backgrounds and sections and images in this theme with whats stands best to reflect your organization.
There are even several of features to delight you more with this theme for making a desired website such as customizer that helps you to make modifications as per your own choice.
It is a simple to use theme with dual screen option available to outshine even more with regards to the visual and textual experience creating more impact.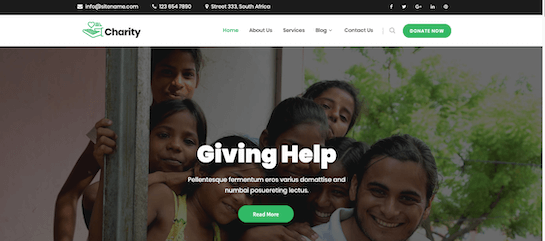 SKT Charity Pro is a very virtuous and upright decent kind of Donation WordPress themes for producing a high quality and unmatched websites with multi-functionality.
It is loaded up with a default slider that can be brought for the use of putting animations to describe your motto even more vividly and seek successful support.
Providing more than 8+ page templates this theme allows for making a very serene charity website. It is a pleasant theme which is faster in loading and is compatible with SEO and all major SEO plugins.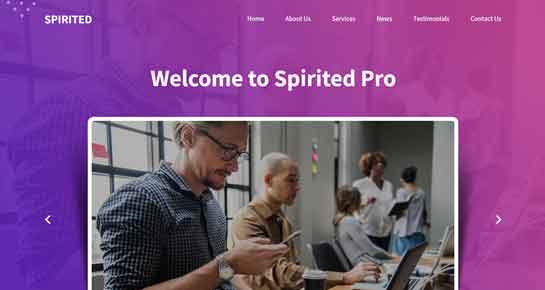 Spirited Pro is a Donation WordPress template that is well carved out with a focus to perform well on larger as well as small mobile devices, tablets and desktops.
It is a best theme for developing a donation, charity or a fund raising organization website that has passed the tests of being Google mobile friendly and the tests for page speed tests.
It can be used to spread a word of help and donations in many languages being a multilingual theme that is tested and made compatible with qTranslateX for multiple languages. It can perform well with the latest version of WordPress and has codes of HTML5 and CSS3.
You can make a very beautifully designed and equally appealing charity website for raising funds and bringing out for more donations to successfully achieve the motto of contributing towards development.
Religious is a template of WordPress for Donation, depicting its nature of being spiritual and simple which is suitable for any of the charity or fund raising organization to create its website.
It has the sections of news, events and blogs to showcase for the new and upcoming activities and making masses aware to come forward and lend a hand of support.
With easy color changing options and multiple of shortcodes compatibility along with plugins, this theme can prove in making such a website that would serve as a messenger for bringing out more people engagement and dedication for worthy and peaceful causes.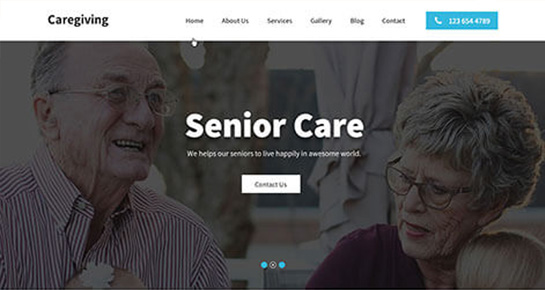 Caregiving is a type of Donation WordPress template which is itself expressive to make itself comfortable for creating a charity and donation purpose website.
Keeping the cause and its importance in mind, this theme has been developed with very simplistic colors that can be altered as per the varying purposes.
It also has the charm of helping you create website in different languages to seek help and support from various other parts of the globe and is compatible to several shortcodes as well.
It has an elegant styling though which narrates the whole story of this theme and has many plugins to develop the website you ever wished for.
If you are running a charity organization then you should know that setting up an online website can actually go a long way to helping your organization get much more in terms of actual donations.
An online website can help you get across the message more effectively than the usual traditional methods; that's why, you should check out some of our donation WordPress themes as they are designed specifically for charity organizations and NGOs.
In case you were wondering whether to go through the process and hassle of setting up on online website, you may want to check out below.
More reach: It makes sense to opt for a WordPress platform since its open resource and free to use; moreover it comes loaded with various themes that you can use for your charity organization.
With an online presence, you can run multiple campaigns, and even use social media, directing visitors to your website and thereby give a boost to your traffic.
Functionality: You can choose from among the many donation WordPress themes to set up your website; just make sure that it comes with advanced functionality, and that you are able to customize the layout, footer, header of your website.
You would want your website to look professional and one of the ways to make that happen is to research some of the designs of other charity organization websites, and select the one to co-opt on your own.
But make sure that the website you finally set up, is responsive and that users can navigate the same with ease.
Add-ons: With the right theme, you should be able to add pages with ease; most of the premium themes come with built in templates and page builders that you can use.
More importantly, you need to ensure that any theme you use offers you with SSL encryption for the website as a whole and comes woo commerce compatible.
This is to provide users with security and more importantly, offer them a way to donate funds to your charity seamlessly.
Donate now and sponsor: You can use one of the many donation pugins freely available on your WordPress site; these plugins come with a 'donate now' and even 'sponsor event' button that makes them highly visible to online users.
Furthermore, you can adjust the color, placement of these buttons and even the message itself which makes them all the more effective.
With these buttons being displayed prominently on your website, you should be able to land more donations and even get others to sponsor whole events.
These are some of the reasons as to why you should use WordPress as a platform to set up a website for your charity organization. More importantly, with the right tools you should be able to get your message across to others more effectively.
But make sure that you list out all the pertinent information regarding the charity, what it is for and how the funds will be utilized since users would want to review the same before donating to your charity.