Christian WordPress themes have been designed and developed to serve christians who offer prayers, religious events and churches as well as donation websites and others.
Christian WordPress themes round up presents the best of the christian templates which can be modified easily and can be used for this purpose.
Some of the common features of these Christian WordPress themes are
Fonts management is very easy as Google fonts are integrated into each of these templates as well as font colors are also managed easily and RTL management and special characters management is given due to cyrillic and latin sub sets advantage
Colors can be easily managed for any of these prayers christian WordPress templates and hence suitable colors for each of these elements can be done
Translation of the theme can be done easily and hence translated theme can be used for any language or country. Also multilingual possibility is also given so that these templates can be used for any country
Gallery and Slider feature are given and tested with several other gallery and slider plugins as well
WooCommerce is given for online shopping and contact form is given for appointment and booking. Contact form plugins of various nature have been tested and so is the WooCommerce working. Also bbpress for forum support is also given
Page and blog templates are given so that one can easily have any type of pages and blog posts
Social icons are given which are font based and have been nicely integrated hence more than 600 icons are available and one can use them for not just social networking purposes but also as independent icons for the entire site
Fast loading and SEO friendly christian WordPress themes hence these templates load faster to not irritate the visitor and are fully SEO friendly to gain more rankings from Google
Responsive nature means that these templates are compatible with all kinds of devices as well as all types of hand held devices and browsers and Google mobile friendly as well
List of Christian WordPress Themes for Your Church (2022)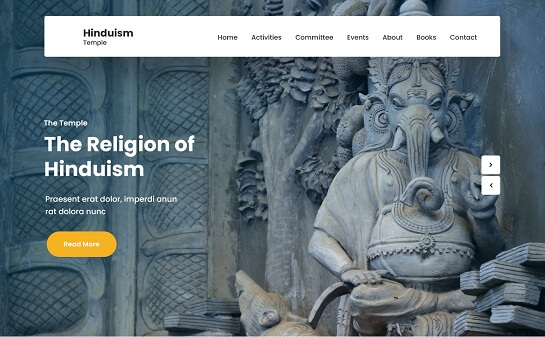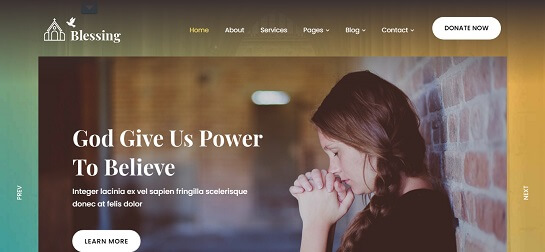 Holy Church is the stylish Christian WordPress themes which arrives with the number of inbuild sections where you can add different type of content such as video, audio, animation, and slider images even you can add PDF format content to it.
You can reorganize the Holy Church as you want. The holy church can be used to create a website for temples and mosques.
The Holy Church has a beautiful landing page with a full-screen banner image or you can add video also. You can integrate calendar plugin, booking plugin, social media plugin, blog, etc. to the website without any problem.
Religious satisfies the needs of a church. It offers podcasting player which can be used to have prayers, church rules, church donations, online shop for selling items of the church, events calendar, video gallery etc.
It is similar to Charity Pro however the above is the better one among them.
SKT Christmas is the simple yet cultured WordPress themes for church and prayers. This template suits well for some of the unique organizations such as non-profit, NGO, religious, and so on.
You will find that its demo pages give us the feel of the Christmas celebration. Thus you can use this template to showcase more details of a place where they need to gather and collect memories for life while celebrating the festivals.
Using this template, you will be able to grab more user attention, thus you will be able to reach groups of customers. You can customize the template to make it look classic or modern. you can check its features to know which functionality you can add.
The highlighted features of this template are different header and footer styles, Gutenberg optimized, different layouts for posts and pages, prebuild demo, one-click import option, multilingual and more.
The Fundraiser is one of the topmost demandable Christian WordPress themes because it is established by SKT Themes. This theme will allow you to set different layouts, 4 different header styles, page template, mobile responsive and more.
You can appeal your thought very strongly in from of your audience to raise the fund for needy one. The powerful tools like video, audio embed, event management plugin, booking plugin all are supportable.
Shortcodes are also available for Google maps, teams, pages, etc. With more than 800 Google fonts you can highlight the most important text to get attention quickly.
A donation form is integrated by default so that you can accept the donation from various people.
SKT Charity Pro is a nice charitable organization template designed to satisfy the category of christian WordPress themes.
It has paypal donation plugin compatibility, nice overall design and call to actions like call us and location area for easy approach to the trust.
Also the trust owners can have donations list, donors list, team members and management, testimonials, events listing and events calendar among other important items related to any non profit charitable trust.
Any WordPress template is always dynamic and one that has 24 demos within itself and is a biggest theme can be used as any category site with loads of features like header and footer variations, page builder compatibility.
Lots of shortcodes in built and several page and post variations as well as built on Customizer so that edits can be watched live from backend as you get them done.
SKT Trust is yet another charitable trust based template and fits the category of Christian WordPress themes. It has been coded to have a nice full wide slider and other events and works that the trust does and asking people to donate.
Also skill bar for all the donations and their targets can be shown. Causes can be shown nicely on this template. Upcoming events, and team members can be showcased nicely.
Simple is very simple to manage via backend and hence the name has been adopted with very simple and easy tools given in the backend for any charity staff to quickly turn this template into one of your choices.
Can get it working for any type of website be it charity or causes or donation or fundraising activity.
Kraft is a true gem of corporate designs. It has all the features as explained above and below for the salient common features but its look and feel are very good and can be used for any type of websites like charity and christian.
Simple yet with fancy animations on the homepage although it is a one page template but can be used for multiple pages site as well with inner pages templates and blog templates easily managed.
You can have subscribers, donations, events calendar etc. Full wide slider means that one gets the message clearly on the top itself and hence can be used effectively for donation websites.
Nice and visual approach. Although is used for more photography websites but can be used for a charity website as well with its charm and transparent look and feel and of course colors can be changed from black to something else.
Has been the perfect theme for years and has loads of features and regarded as one of the best templates by us before perfect was built. Has more or less similar features to perfect but does not have the additional demos as perfect has.
Natural and white look and feel and does a great job for any type of organization which needs a clean look and feel and hence this template has been listed here which has lots of features for your website and can do good work.
Naturo is minimal type of look and feel template good and suitable for any christian website which needs the minimalistic look and feel and only wants to convey messages from their pictures and info.
Fundraisers and causes as well as donations are common in politics as well as in charities and hence why should the template which can be used for political activity be modified and use for a noble cause.
Hence this template is listed as it has all the tools needed for any christian website and hence fits the christian WordPress themes category.
Benefits of using Christian WordPress themes
Online promotions get even easier with the use of these Christian WordPress themes. Online medium brings the world closer and this is a perfect way in the form of website to bring the world closer and promote yourself to the world
Online donations can be raised very easily because online donation can be placed from any part of the world at the ease of the user and hence leads to more donations and better management
Cheaper management as staff needs to only learn how to manage a CMS based website which can be managed by even novice staff without prior usage knowledge
Easy to update as the updated can be done real time and copy and paste from word document into blog posts can be done
Nice layout hence more visitors get attracted to the website and give better donations
Worldwide approach as worldwide your reach can be spread with the help of search engine marketing and social media using this website as a medium
Online selling tools like WooCommerce are given for selling of items and church goods as well as raising donations online
Emailing is easy and one can have subscribers management as well via the website
Audio and Video management and posting from the website becomes more easier rather than having things managed separately
Events management can be done very easily with the help of events calendar and events listing compatible plugins
RSS Newsfeed and Blog posts can mean that news posts and news publishing becomes super easy