Kraft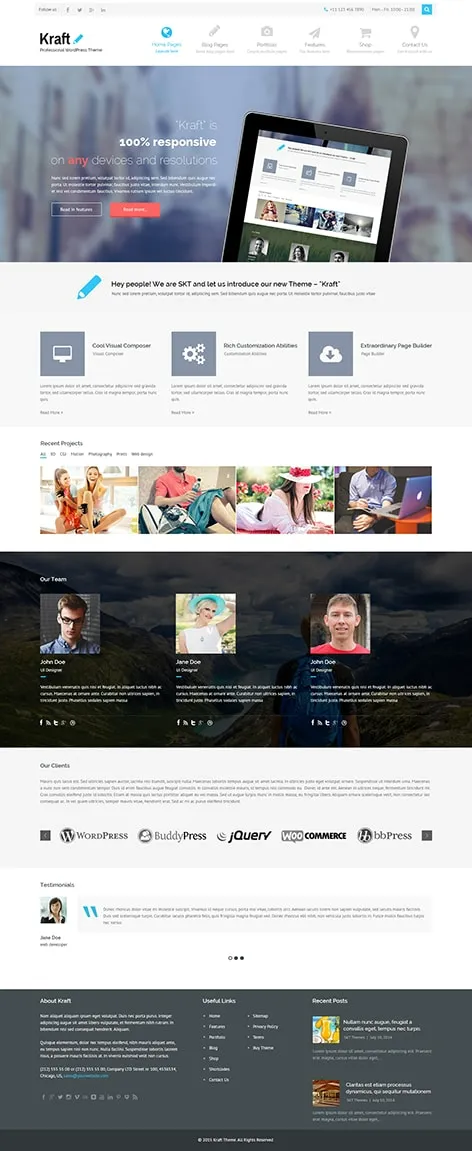 For

$39
Demo
360+ Themes for $69

Features Premium WordPress theme
Multipurpose Responsive premium WordPress theme
Animated columns for easy content handling and one can even choose the animation needed for a particular section
This one of the premium WordPress themes is Google mobile friendly
Default slider with 12 animation effects and pause time handling
Default slider can be replaced with any other slider of your choice
Color changing premium WordPress theme with ability to change to any color using color picker
Comes with complete documentation and manual and step by step documentation for easy set up of the homepage and other pages
Integrated with 500+ font awesome icons so that one can have any type of social media icon as well as have icons throughout the website or just like given in menu or navigation
Comes with a FAQ section for adding faqs for your client product or services
Our premium WordPress theme comes pre-built with homepage which can be easily managed using sections
Social media integration is done as well as SEO friendly coding is done with use of metas
Built in contact form for easy use as well as other built in features like 100+ shortcodes are given
Kraft Premium WordPress Theme is translation ready as well as multilingual ready
It is also compatible with a lot of plugins like WooCommerce for shop as well as other plugins like contact form, slider and gallery plugins among others
Blog to add your posts, articles, news and or press releases
Page templates as well as blog templates are given for ease of use
100+ shortcodes as well as 600+ google fonts to choose from
Cyrillic and latin sub sets are given for special characters as well as RTL testing has been done
Compatible with latest version of WordPress
Coded with HTML5 & CSS3
Kraft is a multipurpose premium WordPress theme designed and developed by us for use by any business.
Our theme has color picker and hence colors, background, image and text can be changed very easily. This theme hence can be used for any business.
So may the business be either an NGO, or corporate company or health or restaurant or a doctor's clinic one can use this theme for just any purpose.
Our multipurpose premium WordPress theme comes with several features which make it real easy for anyone to modify it for their own purpose.
Easily to use the slider along with pause timer, animation timing, 12 animation effects to choose from.
Nowadays almost all visitors to a site have a smart phone. You never know when the customer visits the site using his tablet or mobile phone.
Hence we have a responsive premium WordPress theme which serves this need as well and this theme is also Google mobile friendly.
Responsive Slider, testimonials section, unlimited skins using color picker, Google fonts which can add spice to the way your fonts appear on the site, as well as shortcodes for handling the theme properly and easily.
Forgot to mention theme is also integrated with Font Awesome icons which enable you to use 500+ icons using this theme.
Built in contact form makes it easier for someone with no html knowledge to use the theme easily. However for pro users one has the option to disable the contact form and use his own form.
What more the premium WordPress theme comes with our standard free installation service.
Also Included with every Premium WordPress theme
Theme Files Theme files are included in the zip you get when purchased
PSD Design Files Includes all the pages in PSD format so that in case you need any design changes first in order to modify the theme you can do so
Sample Content Homepage content gets loaded default and rest of the content pages can be easily set up using documentation
Support You will get login for our support forum and our email id and skype ID after purchase of a theme
Free Installation You will get free installation if you request us to install the theme on your server with demo content
More info about Premium WordPress Theme
WordPress as an open–source and self–hosted personal publishing platform has been successfully installed and used by thousands of active users across the globe for the last decade. And this phenomenon has its sufficient justification. Premium WordPress themes and templates were initially blogging systems therefore they included lots of posts and category features. They were as simple and lightweight in usage as they are powerful and all-inclusive in nature. It means that you will have all the potential to get involved in the processes of your website creation right from the start and manage to deliver it to its logical final conclusion.
Furthermore some of them are relatively cost-effective, yet share premium status and respective qualities. They are also easy to control and maintain, since the majority of them are resourceful and propose pretty intuitive interfaces for the website admin to take the roles of the website designer and developer whenever required. Hence you're insured against unforeseen expenses and extra costs in relation to the maintenance and configuration of your web pages to stand out.
Modern and elegant, creatively stylized and animated, visually interactive and motivational, Kraft theme is considered to be one of the most dependable premium WordPress theme available across different relevant marketplaces. It acts as a best practice for a wide range of topics, from personal to corporate, be it photography, art, health and gym, construction and architecture, IT or marketing, music and dance, consulting or service provision, online store and shop or whatever it is.
Rather than starting everything from scratch. Installing this theme will dictate the overall exceptional layout and powerful functionality of your future website. However you can adjust and amend them to reach out all your strategic, business and marketing goals within the shortest period of time.
With unlimited operational possibilities and functional controls across this premium WordPress theme anyone can consider how he wants to manage and configure the content based on this theme. Whatever kind of auxiliary plugins he may employ as well as how he wishes to display all the target content can be achieved easily. All this will let you establish and manage a web presence that is totally original and unique both in conceptual and design aspect.
Multipurpose and multi concept, Kraft theme is also customization-ready and management-friendly. From layout design styles and suggestions to packaging up the website with the required functionality everything is at your disposal to make the most of your challenging online profile. No matter what objectives are specified by you, that are going to be reached, be sure your premium – quality website based on Kraft will be your great assistant all the way.
The professionals and WordPress experts authoring this template have exerted maximum efforts to reduce the concerns of its future user to the minimum. Thus, the pliable, robust, safe and secure performance of the premium WordPress theme is guaranteed even for all those website admins with no prior WordPress and coding experience.
Use nice-looking and fluid animated columns available to bring your content of any nature or description to life, and make any section of the theme animated and lively. This will give your website more entertaining and trendy look, so that it won't escape from the website visitor's attention.
This amazingly suitable and comprehensive, seriously worked-out and inherently complete premium WordPress theme generates full-width homepage slider with 12 controllable effects to easily add slideshow functionality to your site. So, you can choose the best and the most beautiful images of your personal or business initiative and let it span the whole width of the homepage. This is a truly effective method of grabbing the attention of your website viewers when they visually scan your website presence.
Other valuable preloaded features and options of this top-rated website creation and management tool include different shortcodes for the website content easy setup, lots of Google fonts and trendy icons, FAQ section for adding frequently asked questions and provide the website readers with the most requested answers, contact form to let your clients get in touch with you in the quickest way. However, it is possible to disable the default contact form and add some other form composed of your prioritized fields to be filled in.
Blog section is also available with this premium WordPress theme for all the fresh and productive information, news, updates, etc for product and service promotion or for any other reason. You can write product reviews or service description to bring in new clients and customers needing that particular product, service or consulting. The SEO-optimization of your site will also greatly benefit from your blog posts and content, so that search engines will determine the nature and categorization of your entire website.
Balanced between functional abilities and structural peculiarities, Kraft has been checked for its total responsiveness and cross mobile, device and tablet compatibility as well. It means that along with the presentable and smoothly navigable desktop version of the website additional mobile – optimized version of it is also out there to fit any mobile or device standards and screen requirements. Your elements, images and other content will adjust accordingly when the new browser with specific resolution is used to reach the website.
Altogether, the advanced web and mobile – browsing capabilities of Kraft together with the overall theme intelligence will provide every single user of your web pages with flawlessly navigable, fast loading, easy to use, as well as optimal browsing and viewing experience. No manual adjusting or resizing is required from their site in order to access totally readable and conceivable content.
In order to achieve more popularity and contribute to your website conversion, you can exercise diverse social media-related techniques integrated within this premium WordPress theme. Your digital presence can be seamlessly linked to the most frequently used and crowded social media platforms to promote the public awareness of your company, brand or individual business. Include the basic social media buttons to your profile and let the people follow you on social environments as well, boost your traffic with the help of those social media channels and monetize your website to a possible extent.
Why do people want their themes to be premium WordPress theme?
There is a reason why people go for premium themes and customers looking to have a business website should always go for paid themes of WordPress because of a number of reasons which we are going to discuss below. Also one cannot rely really on a theme which you get for almost nothing compared to the service one can get on a premium one.
Updates: Updates are definitely the plus point of any paid theme. Thus people opt for it because with every client demanding different set of features the next update cycle includes several updates which are definitely worth the feature and the money you have paid for the theme. Thus update cycle is something people look for and is the main reason why people want to pay for a WP theme.
Security Checked: Security checking is one another feature which makes sense because for a theme where you pay nothing security check and tests and passes won't be made for that theme but here since its a paid one the developer puts all the efforts to have the code as secured as possible.
Support: Support is one main feature which is required for WordPress users of all skills. In case you are just starting you need your theme to be properly set up with demo which is the first barrier and this barrier is helped to be crossed by developers who provide good support. For someone with advanced skills they may need some complex questions answered which are again a boon for them when it comes to support of paid themes.
Advanced functionality: Advanced functionality like having post types or having advanced shortcodes to create columns or having layouts and page templates of various styles is only possible using a paid theme. Most of the themes which you get for no price don't provide such great features and functionality because they are offering it for free.
Plugin compatibility: Plugin compatibility is one of the key features when you are looking to have a scalable website. In future you might need to have an eCommerce site or you might want to use the theme to develop a school website so compatibility with sensei or similar tutorial or courseware plugin is necessary. Premium WordPress themes mostly are compatible with such types of plugins and give you extended functionality in terms of compatibility with freely available plugins on WordPress repository thus giving you freedom to add any type of functionality in near future.
SEO: SEO is one of the other reasons why we even have a website and with SEO friendly coding and compatibility with SEO plugin this becomes a great tool to have your website achieve greater success.
No Bloated codes: Bloatware and encrypted links aren't there in a paid premium WordPress theme because it isn't good for long run and causes conflicts with various scripts and plugins. Hence a developer of a paid theme will keep this in mind and try to have as much as lesser scripts and better coding standards being followed so as to help the theme serve lots of website user purposes.
People still prefer buying premium WordPress theme rather than focussing or checking out free ones. Simple reason being premium templates offer support and full features for any future use. Also one understands that premium ones are well maintained and kept on getting updates regularly whereas the free ones don't get updates that much.
Hence its better to go for premium ones rather than the free ones. Premium ones have definitely a lot of more functionality rather than the free ones and hence they are the ones preferred more by business users and businesses around the world.
Since premium means paid and for paid there has to be support and developers of the premium WordPress theme would provide you support and are obliged to do so otherwise one can ask for refund. Hence premium ones are more preferred.
Of course items that come with price tag will also provide you greater level of functionality like for example color picker for each and every element of the website whereby one can easily change the colors of the website to something unique as they want it as per their needs and requirements.
Additionally the paid ones get security audits done as well as are compatible with security plugins and hence one can easily have secured environment of working and follow the industry standards and modern technologies and tools and hence are more secured and better in working.
For the premium templates one can easily change the copyright and change it to self and also have child themes and hence one does not know what type of template you are using and it appears to be an unique one as per your needs and requirements.
Any template should have the page layouts properly working and hence if someone has the page layouts working fine then they can have full wide or with sidebar template.
One can also have the full wide layout set up with the help of page builder and can set up as per their choice the kind of fancier content that is needed. More than 100+ shortcodes have been added within the template however one can add more fancier content with the help of external plugins like gallery for gallery showcase or slider for slider showcase.
One may add events calendar plugin to have lists of events or events calendar.
One can have appointment bookings with the help of booking plugins and also with the help of donation plugins have donations for their website.
SEO also can be done with the help of meta tags and meta descriptions and can be useful for getting SEO results. Simple and easy to use even novice and beginner type of customers can understand the working of the template and can easily set up following the guide and step by step arrangements and then set up the website without any hassle or developer or designer intervention.
Support is very important and because of support many people and business prefer premium and paid themes rather than the others because in case some plugin is not compatible and is made aware to the developers since it is a paid theme they will check it quickly and revert back and resolve the issue.
Also they will provide you a list of other alternative plugin which might work better than the old one which you might be using.
Thus this becomes a win win situation for business. Also response times are better and some theme developers like us also are available on Chat and phone calls apart from Skype for emergency situations. Compatibility with Google mobile friendly test and page speed test and cache plugin compatibility means that the website is faster and is SEO friendly so that one can easily find your website online and can also browse through the website with ease.
Tags: design agency, creative agency, branding company, design studio, development company, marketing agency, marketing services, promotional services, interior design, digital studio, corporate, consultancy, information technology services, IT services, maintenance services, duty, office, group of people, firm, instrument, business, agent, representation, department, office, authority, corporation, government agency, service provider, IT service providers, repairing services
Change Log
Updated December 2023
Working With Latest WordPress Version
Updated Google fonts for GDPR and Other Country Privacy
Updated to work with PHP 8+
Updated to work with at least one page builder (Elementor, Gutenberg or SKT Builder)
Compatible with popular plugins of SEO, contact form and WooCommerce
Updated performance to work with popular cache plugins and Cloudflare