We have the best product catalog WordPress themes for you to make it possible to create unlimited product catalog and category packed, ecommerce marketplace and any commercial storefront website.
WordPress is a fantastic platform encouraging thousands of small, medium sized and major entrepreneurs and businessmen to go online with their products and services which are available for sale.
The Internet trading has been and is still gaining momentum particularly actively and the reasons for it are quite many. It allows you to save tons of time, financial and human resources on the maintenance of a physical store.
However, the digital competition is continually growing and purchasing power is reducing subsequently. In this connection, choosing a reliable and powerful platform enabling you to use all the promotion methods is a must if you want to succeed in the modern commercialized world.
Here are some of the most practical product catalog WordPress themes you can use for any ecommerce based website and install into it for tangible results.
From small stores to multi chain shopping environments, real estate and movable property listings to auto and vehicle online auction platforms, fashion stores and boutiques, everything can be presented and well marketed with any of these product catalog WordPress themes.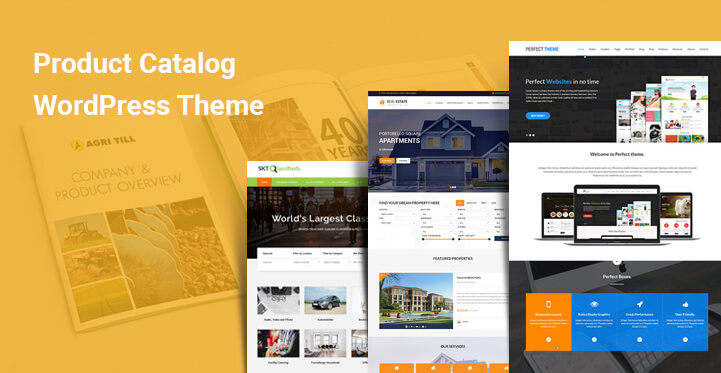 Behind every theme is a modern web coding and design philosophy making each of these eCommerce ready and product catalog WordPress themes a premium quality tool for you to try and test with your website.
Simplicity in usage yet fully customizable nature, feature richness and extensible framework with plugins are the qualities uniting all of them as well.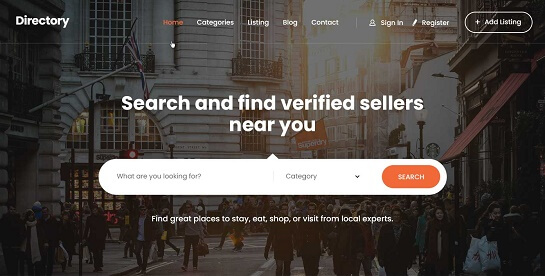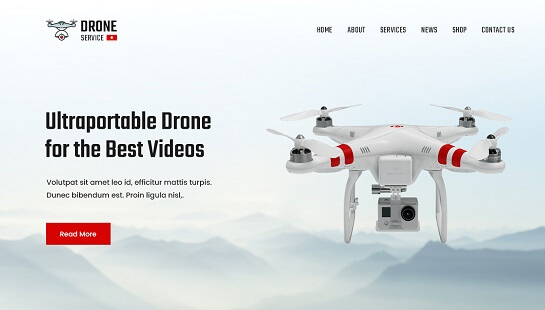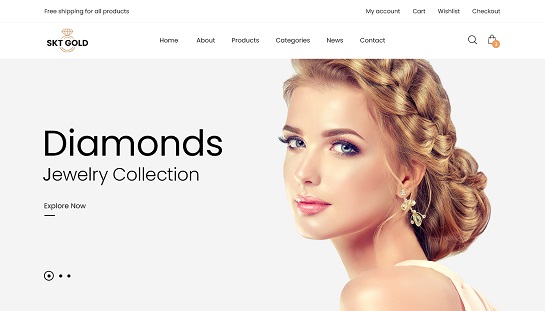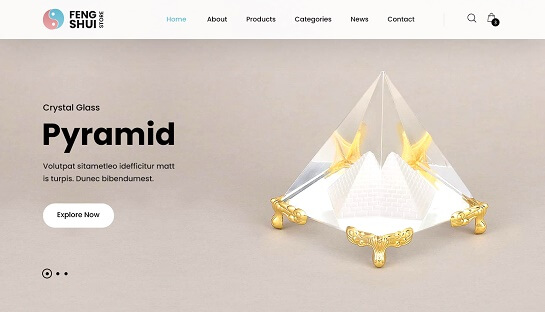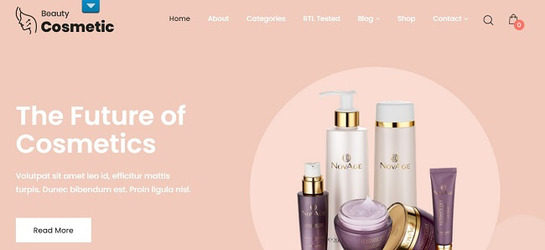 If you are in the hunt for the best WordPress themes which is capable of highlighting your business product then keep reading features of Ele Product Launch because it is the best product catalog WordPress themes available at SKT Themes.
It is a clean and beautiful looking template that comes with a lot of flexible options. The theme is supportive with Elementor and another top page builder to help you to achieve your dream website faster.
Even if you are totally new to creating a website then also you will find that the website creation task using Ele Product Launch has made simpler. This is the best suitable template to create the most flourishing eCommerce enterprise online.
As a consequence, the template is provided with the demo content that shows how your website looks if you want to focus on a single product.
Don't worry if you are looking to add more items because you can add unlimited products on the product page because of WooCommerce integration.
Trust is the most important metric among most people. If customers trust you they will definitely make a sale but if they don't feel you are not trustworthy they will never come to your website. Thus your online presence should be in such a way that people should trust in your business.
However, the layout of SKT Spa is created in such a way that it attracts more customers to your business.
The template is based on Elementor page builder so that it provides all benefits to you. However, the theme comes with so many options that helps you to import its demo in one click.
So if you are the owner of a store then you should definitively check the demo and feature of SKT Spa. You will find that the theme is provided with all those features that will save you time and money for implementing your dream functionality.
Some of the advanced features that are offered by SKT Spa are 1-year free support, comprehensive documentation, multilingual, translation ready, GPL ready, bug-free, clean code, header and footer option, and more.
Another best template for product showcase is Ele Store. Even if the demo looks different as per your vision or business requirements you can use the same template to create a website as per the look and feel you want.
This is possible because it comes with different elements that help you to personalize its design.
Ele Store is mainly specialized in wholesale storefronts, industrial equipment, product manufacturers, and more.
At present, the template is included with so many shortcodes, 4 different header and footer variations, lots of plugin integration, a one-click demo import option, easy installation, and complete access to the dashboard.
The main focus is given to the visual content to make your product sell and generate a lot of revenue. You will be able to showcase details on the product by adding a high-quality image, price tag, and small text on it.
We believe in customer satisfaction so we have prepared comprehensive documentation that you can use as a guideline for customization.
For additional help, you can take customer support and get connect with our specialized team via online forum, contact form, or live chat.
Jewellery is a highly efficient product catalog WordPress themes for small as well as large businesses. One should use this theme to combine their business product along with the blogging strategy.
This will allow you to get visible on top of the search engines as a search engines like the most useful and unique content.
The WordPress tools and plugins which are appropriate for your business are made fully compatible with the template to provide you an easy solution. Easily you will be able to change the typography, color, the logo of a website via the dashboard.
Elementor page builder and other well-known page editors are made supportive of this template to give you an overwhelming website customization experience.
One of the best product catalog WordPress themes is Ele Chocolate. It is developed by professional web developers and designers to provide you many flexible options.
Ele Chocolate is crafted with Elementor page builder which makes your websites perform faster and meets your needs. If you are totally new to WordPress then also you dont have to worry about website creation because this task is made very simple for beginners.
The main motto for Ele Chocolate was to offer an easy solution to business owners so that they can create eCommerce enterprise online seamlessly.
The theme comes with the demo page for a product where you can list your store products and make them available to people around the world.
To make your products available you can use Ele IceCream. Even if the demo of this template is looking different from the appearance you want, you can use different elements and customization options to match your vision.
At present, the theme is included with more than a 3-page demo, contact form, WooCommerce plugin, custom widgets, custom sidebars, shortcodes, 900+ google font options, etc. Thus, from the WordPress dashboard, you can access all these options directly.
All themes listed in this blog including Ele IceCream will provide customer satisfaction as it is prepared with documentation files. You can take complete control of the appearance of a catalog or a product page on the homepage or any other page.
Another modern product catalog WordPress themes is Organic. Which is actually developed to help various businesses to get an online storefront. The theme is perfectly optimized so that you can sell unlimited products online.
The theme is made supportive with Elementor and other top page editors so that you can reorganize your website content in a way you want. You can also add a membership plugin to your website to make your membership-based platform.
The highlighted features that are provided with this template are professional typography options, proper use of Google fonts to change the appearance of a text, a completely mobile responsive design so that it works great with any screen sizes, and more.
Natural Herbs is provided with lots of widgets, sidebar, shortcode to enhance user experience in minimum efforts. The header and other sections are structured in such a way that you can drive maximum user attention to your products. This template offers endless changes of optimizations.
A customer contact form is also added so that your customer can get connected to you whenever they seek help. This will help your customers to get in touch with you immediately.
Because the template works better with the eCommerce plugin you can add some more products using drag and drop page builder.
However, you can make use of 5 level dropdown menu to add detailed information about the product or your services. Blog feature can be used to start blogging on a topic you are most interested in.
The high-performance theme in this blog is Mobile App that can be used as a one-page design.
However, the demo can be used for offering services or products related to your business, eCommerce business, agency, personal, portfolio, etc. Because of Elementor, the design of your website can be modified as per your services and products.
The biggest advantage of using this template is that you dont need to understand the coding stuff nor you need to have basic technical expertise. Because of Elementor and other page builder support, you will be able to customize the look and feel of Mobile App seamlessly.
You will feel like the demo of the Mobile App is just perfect for the website related to product catalog niches. Actually, the demo is just created to promote a single product or service like maintenance services, mobile app, software, game, feature, etc.
The quickly growing WordPress template for catalog product websites is Wine Pro. The template is built with the most recommended page builder to deliver all your customization needs.
If you are looking to create a website without going from scratch then Wine Pro is the better option as it provides dozens of options for customization. The layout of this template is catered beautifully for offering a smooth designing experience.
The most important thing about this template is that it is fully compatible with the eCommerce plugin i.e. WooCommerce so that you can sell and promote your business products without facing any bugs or errors.
Beer and Pub is a product based website template that allows you to sell physical products such as hard drinks, cold drinks, food beverage, etc.
It is the most versatile theme as it comes with some options that allow you to sell digital products too such as food recipes, books, magazines, etc.
You even have an option to add different types of content such as videos, images, etc. This content can be added to the inner pages as well.
Other features provided by Beer and Pub are multilingual plugin, RTL ready, HD and retina ready, translation support, contact form option, call to action button, social media button, and more.
With so many customization tools you can even change typography, fonts, and colors too.
Beauty Cuts is the other most preferable template from the list of product catalog WordPress themes that helps you to offer services and sell products in the best possible way.
This theme will load all the content much faster. Speed is the most important aspect when it comes to the eCommerce website. The conversion rates will depend on how your website is performing well on search engines.
The theme is also compatible with major plugins to provide different functionalities to your website. However, it is cross browser-independent and works beautifully on different devices.
Beauty Cuts comes with a well-organized homepage that gives you an easy way to showcase your popular and featured products. You can even display the most used services.
SKT Food is based on page builder means without facing any problem you will be able to get an online store for your products the way you want.
Not only you can change the fonts and color of a theme but also you can customize the homepage to display the most popular products.
SKT Food was created by considering food businesses in mind but it can be used for establishments related to hotels, accommodation, motels, clubs, etc.
Because the theme provides full support to WooCommerce, personalized and most beautiful checkout pages can be created seamlessly that will help you to enhance the conversion rates.
The slider plugins are allowed to integrate to make your web pages more attractive and appealing.
Luxury Watch offers an easy setup and one-click demo import option to make your website creation task much handy in nature.
It has a very sleek design that can be used to promote an eCommerce store. Also, premium features are provided to take your offline business online.
The best thing is that the theme is supported with WooCommerce and an easy download plugin that allow your customers to download or buy products directly from the website.
You can choose colors from color pickers to make your website suitable for your brand. Luxury Watch is a pro version that comes with 900+ Google fonts, advanced typography, awesome font support, slider plugin integration, contact form7, custom widgets, shortcodes, and more.
Ele eBook is a product catalog WordPress themes  that helps you to present your digital items and make them available to the needy one. By integrating eCommerce plugin you can also start selling physical items too.
You can start customizing the look and feel of Ele eBook via drag and drop interface. You can make your online presence more attractive with the best combination of high resolution images and soothing colors. Thus, Ele ebook is the best template for building professional digital shop.
To improve the user experience the theme is made compatible with different devices and browsers. Thus they can use their mobile phones to get their choices product. This theme is best for small shops but can be used large shops too.
SKT Perfect is really perfect in everything. Whether you are a titan of ecommerce, or an owner of a modest local market, a founder of a go to shopping site for a global Internet based community or a just a talented individual trying to sell handmade products, you are welcome to check this multipurpose and e commerce optimized website builder.
In order for the potential buyer to find you and your offers, your website needs to be on the first pages of search results delivery.
Therefore, the authors of SKT Perfect have not forgotten about SEO optimization of the theme as well. Moreover, you are going to greatly benefit not only from SEO friendliness of the theme.
But also its mobile optimization, cross browser and plugin compatibility, admin friendly dashboard for customizing your content, web structure, services and products sections, etc.
Real Estate is the next efficient theme ready to host as many real estate and other products listings as you want. Offer infinite number of products and services for sale and rent with your pages and posts, set up the most inviting typography and color combinations, add several high quality on the homepage slider to showcase the best offers.
Moreover, you are free to switch to grid or list view of product listings whenever you want to match the overall objective and mission of your business.
Widget ready areas are also provided to represent additional content along with the main one with links to social media platforms, contact details and locality, popular posts and more.
Online stores and product catalog websites offer thousands of items and goods, but the end user will not buy anything if it takes him more than several seconds to find what he is looking for.
Therefore, Classified Ads has been well processed and structured to offer you the most compact solution for your boundless product listings and categorizations.
Apart from accurately laid out parts, sections and categories to guide your web guests, Classified Ads also comes with advanced search functionality to make it even easier for your guests to find the needed offer with quick search and filtering.
The theme is also ads friendly so that you can manage to have a complex solution to market your commercial business on the one hand, and to make revenue with affiliate links and advertisement banners on the other.
With Flower Shop you can effortlessly control the behavior of your site and manage the way it is delivered to your potential buyers and consumers.
It is one of the bright and visually engaging product catalog WordPress themes you can use for a commercial website of any size or kind like flower and floristic, toy and present stores, digital product selling environments and everything in between.
Yoast SEO and other popular SEO plugins are working fine with Flower Shop which means you can have better search positions with Flower Shop.
Car Rental is the next general purpose and commercial ready template you can use for absolutely any kind of online e commerce platform and take it to the next level of perfection.
Interaction both with target and international audience, strengthening of partnership ties, attracting new clients and customers, advertising goods and promoting services – all can be done with the help of Car Rental.
It is error free in operation based on customizer for making constant changes to the theme and previewing them, customization ready with shortcodes, colors, buttons, boxes and more, page builder and visual composer compatible for simplifying the process of web creation for you.
If you are looking for a compact and one page commercial solution for displaying your products and merchandise listings and categories with a beautiful landing page, SKT Landing Page is for you.
As one of the clear coded, HTML5 and CSS3 based, functionally powerful and visually pleasing product catalog WordPress themes, SKT Landing Page takes a leading role in advertising your profile through all the dynamic channels, such as search engines, social media networks, mobile Internet consuming community of web users and more.
It has also been checked with the majority of WordPress plugins developed to make your e commerce based environment more user and client centric with unlimited product listings and payment methods integrations, shopping carts available, etc.