If you are a writer and looking to sell your collections and book through the internet by website then Free selling books WordPress themes will look great and will perform extraordinarily in your website.
All the best eCommerce themes are been mentioned below that consist of 1 demo for each theme. If you have a doubt about the look an feel of the themes then just click on the demo button and view the website. You will surely love this website's features as well as functionality.
This theme is specially created to sell the books online. Different stores like online booksellers, Book Publishers and offline book clubs, newspaper readers, libraries, eBook related websites, writers, online journals, book authors, editors, different publishers, book hubs can create a website to grow their business online.
By taking fewer efforts the website can be created more appealing by visualization.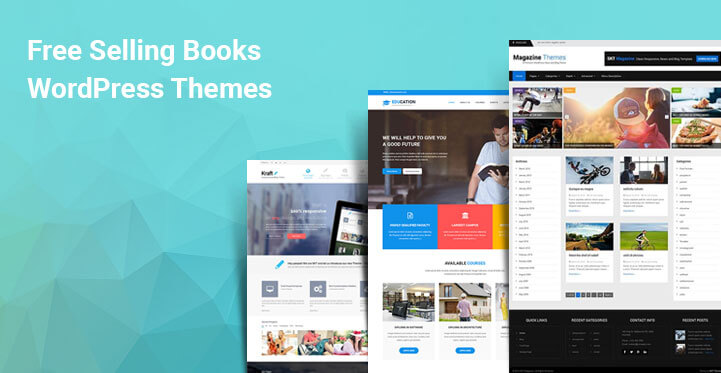 Please check the design and features of all free selling books WordPress themes
Why should you choose free selling books WordPress themes? If are planned to start your online book store then it is the right time to take your business online.
With the increase demand of books, Amazon and other big online stores lower the prices of books than market rate and selling online successfully.
If you are in the same boat with great market strategy then it should be come out clearly. Hence, choosing free selling books WordPress themes can change the image of your bookstore as well as help in taking your business to the next level.
You know that themes come with various options that build your site perfectly. They come with many features like SEO optimize plugins, SMO plugins, header, footer, blogs and many more that often helps in boosting user-experience.
There are many people who love to read books, novels and more collections, so just get started with the best free selling books WordPress themes.
Here we have listed down the free selling books WordPress themes that can suitable for your business needs. So, have a look.
Library Books Pro is top free selling books WordPress themes you can choose for your online bookstore website. This theme is powered by WooCommerce and premium features, which looks influential and attractive.
The designing of the model library can easily engage your customers. The header and footer layout options are available that provide a special plugin which easily turns your website as a powerful online book store. 
Furthermore, adding content to the homepage provides the best navigation experience to your customers. A library book pro is compatible with the premium WordPress theme.
Also, it includes the plugins like elementor, visual composer, and WPBakery that easily enhance your website experience. 
On the other hand, the theme includes compatible shortcodes that make it possible for you to use it anytime without any assistance of a developer.
The contact form event plugins, social sharing plugin, social media plugins and slider plugins are also the best kind of features involved in this theme.
The best about the theme is it includes step-by-step documentation which can help any user to set up the website easily.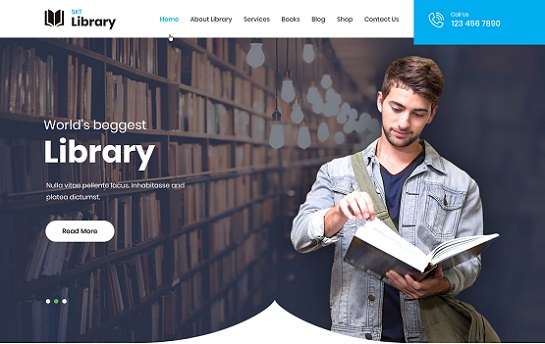 If you are in the hunt for a better solution to creating a website for bookstore then you should go with SKT Library. It is also a good option for authors and publishers to grow their bookstores and get the desired revenue.
You will have access to a readymade demo that is ready to set up right away. Each element works great and helps you to explore or reflect your business motto.
Every feature works great from every aspect, but if you need some more features on your website then it is possible to add it with so many customizable options.
You can easily handle the pages settings from the WordPress dashboard option. If you need some options to change inner pages then you will have the opportunity to change the inner pages with page builder option which does not require a technical knowledge at all.
Now a technical or non-technical person can build good looking and completely functional websites to take their business to the next level.
Free selling books WordPress themes Allows you to upload the logo of your choice, more slider option upto 5 that you can choose any of them, for easy convenient 2 page templates are provided.
In consequence customizer option you can view the changes done in real-time. Also, it supports multilingual functionality to translate the language in different words. Various shortcodes and widgets are obtainable and very easy to use.
The users can read a book, articles, blogs, stories, cartoon stories, etc via mobile phones, tablets, computers, and via TV also. Hence, the SKT launch is SEO and user-friendly too so that you can make a website straightforward.
If you're looking for a fast, responsive, and developer-friendly theme then don't miss out posterity.
This is specially created for the book store websites commentary marketing companies design agencies small businesses and other its startups.
Lots of people who find great success with this customize theme because it has SEO friendly features as well as the social media plugins which are easy to rank on Google. 
It comes up with modern and latest solutions especially the multi-purpose and seamless website that mostly we look into.
In terms of price, it is the most cost-effective theme including unconditional features and smooth coding. Hence, anyone can design its fully responsive website without any need of a developer. 
The demo content is also available and you can use as elementor page builder for creating effective landing pages for the more it includes contact form 7, portfolio, gallery, WooCommerce and other useful plugins that will take your business to the next level. 
The posterity theme can also help you to build a lot of book review models with WPML translation ready plugin. 
On the other hand, it is integrated with Google Maps, so the user can easily find your address and reach your place.
All, in short, this is vibrant in color options, multiple templates, professional in plugins, and multilingual to support different languages across the globe. It is a complete theme which you should try. 
SKT Software is yet another one of the best free selling books WordPress themes that can manage your website with powerful tools and features.
With this theme, you will get great kinds of features for creating a freelancer website, a professional blog, and bookseller website.
The theme is compatible with NextGen gallery plugin WooCommerce plugin and amazing fonts and Google icons which give your website an interesting look. 
SKT Software is fully optimized, responsive, and mobile-friendly theme that gives freedom to users to access your website without waiting for minutes.
You have an option to add your business logo, pictures, portfolios and other plugins easily. Hence, you can support your website like a professional. 
More than that, this is optimized with web speed and performance so it takes only seconds to load on the browser and devices.
With this, you will also get the testimonial plugin so you can share your customer experience to involve new customers in your business.
The other feature of this theme, it includes several icons, sidebar fonts and color options to create a website more effective. 
Spirited Lite is a highly responsive and free selling books WordPress themes which can take your online book store to the next level.
It includes default slider multilingual plugins for multiple website documentation, homepage, standard pages, and sidebars.
This usually increases the customer attention towards your business. It is a professional theme that can create high-quality content with the help of shortcodes.
Furthermore, these shortcodes can help you to create website content in a very nice way. It has all the bells and whistles to create a decent website.
More than that, the social media plugins and Search Engine Optimization features are just the best in creating your website more professional and best in the market. 
Moreover, with the help of the theme, you can add various plugins to make a website more appealing and fantastic for the users.
In the Digital era, it's time to get out of the simplicity and enjoy the modern features of a theme-which usually satisfy the customers.
Also, it includes WooCommerce integration and the various slider options that simply fit with any online bookstore. 
Exceptiona Lite is a beautiful free selling books WordPress themes available for your online bookstore. It is highly responsive and the best theme that can work on any type of devices and browsers.
Furthermore, it is mobile friendly and Google tested theme, so you won't find any issue while assessing the theme. It is compatible with ecommerce and WooCommerce platforms.
This is simple and easy to use. Also, it includes the default sidebar and slide bar, so that anyone can enjoy the great experience for your webs. 
The header and footer sections come with various variations, so you need to choose the best that displays your website in an effective Mode.
Some of the great features the Exceptiona Lite theme include such as animations, shortcodes plugins, fully compatible accounting software, coded with HTML5 and css3, Gallery, plugins like analytics, templates and many more. 
Flat Lite is a stop recommended free selling books WordPress themes by the famous theme builders SKT. Thus provide additional and useful features that easily help you to engage your audience with your content for a long time.
It includes free landing pages which are GPL licensed. The sidebar includes widgets and also provides you premium features which are enough for making a website engaging for customers. 
More than that, it has enough call to action buttons, common header and footer sections- which is compatible with the contact form plugin.
Additionally, it is compatible with SEO plugins as well as cache plugin, so you can find your website exclusively. 
The best part of this theme is retina ready and HD Reddy theme which comes up with flat and material design-which is highly approachable for the customers.
On the other hand, it includes complete documentation so anyone can create the website the way they want. This also consists of a Pro theme which has about 20 themes inside it.
Further, with the landing pages, you can create your app by eBook author or personal template as well. 
SKT design agency is yet another best theme you can choose for your online book store and multipurpose websites. This is a Google tested theme that can easily be used on any device and browsers.
Furthermore, the documentation is completely available for customers who do not know how to install and create a website. This also includes the standard pages like 404, search, and Archives. 
The theme is loaded with premium plugins Such as WooCommerce, contact form, SEO, and NextGen gallery. This is also compatible with the latest version of WordPress.
SKT design agency can help you to extend the functionality of the theme very easily because it involves the complete documentation for your assistance.
Further, the theme has a sidebar and is completely free that give quick access to users to find you on multiple channels.
You can easily change the footer and Twitter sections as well. This is a complete website theme that you can customize as per your choice.
SKT pathway is a multipurpose WordPress theme used for any kinds of businesses especially the online book store, designing agency, digital marketing companies, and many more.
This comes with default content that is loaded with great fonts and icons, so you can easily set up the website by customizing the content. On the other hand, it includes standard pages like 404 and achieves. 
This is readily supported by several plugins along with contact form and WooCommerce. Hence, the site becomes useful for everyone. 
This is coded with HTML5 and css3 means it does not create any issue with the latest version of WordPress. Further, the homepage is user-friendly and comes with various theme options which you will notice itself by using its trial version. 
If you want to start an education channel online nothing is better than to choose an online coach theme. It is responsive and Google friendly.  Further, it is GPL license and can be used for both commercial and personal projects. 
Moreover, online coach includes translation Ready, multilingual ready and sidebar widgets friendly features that usually improve your website appearance and make your customers fully engaged with your content.
Additionally, this is completely documented and gives 24/7 customer support, so you do not find any issue while accessing the website.
This is tested and shortcodes plugin themes which make it easier for you to set up aside and enjoy the online business. 
SKT White is also the best free selling books WordPress themes you can choose hassle-free. The theme includes a beautiful slider, a supersized slider which is highly responsive. Also comes with default gallery, lightbox, and content.
This is fully responsive with 5 slides ability on the top. The standard pages are also included, 24/7 customer support, WooCommerce and contact form 7 plugin which makes the User experience simply great.
The theme is based on a very modern approach and the gradient designs are used as a retina-ready theme. This is visually attractive and usually focuses on the content and images.
The theme can be used for a type of industry or a multi-purpose template that can take your business to the next level. The best about the theme is it is easy to use and includes optional panels in the backend.
Free selling books WordPress themes are very moderate to use. Your website can get started by performing some clicks through a mouse. It provides the free installation facility to set up the theme in just 3 minutes.
Magazine, journal publications, press release, newsletters, daily occurrence, news website's or blogs should have a website created by SKT Magazine theme.
The main focus has been given on words by which users can pretend their thoughts and point of view. the website flow will be excellent as different fonts are made available. More than 800 Google fonts are provided but in the premium version.
Users will not oppose using a call to action feature as the user will able to make a call within a seconds by just clicking on the phone number mentioned, call will get connected easily. by clicking on social media buttons, the social media pages will get opened directly.
Plus searching features have been included to enhance the user experience.
To make a website content perceptible, icons can be added in the header section by displaying some fascinating symbols.
NextGen Gallery plugin is used to display the images in good looking layouts. Also, some different gallery plugins are compatible with every page layouts.
This theme is basically an educational purpose website that has unique but foremost features.
A page builder is supported that helps to create a website more professional and best looking.
Education Lite comes under the bookstores theme because a teacher can upload their own created notes to this theme and students will able to easily download.
If off-campus students willing to access the same notes then they can pay some fixed amount to get the teacher's personal notes.
Different payment options are released to make payment easy buying and selling process easy and convenient.
To make smooth communication, you can also add a chat box plugin that helps chat with students, employees, teachers, other sections. Also, you can sell your notes in different languages as this theme supports multilingual features.
Shudh Lite is primarily designed for professional users to create a website in a more professional way.
Professional business not just related to technical firms but also educational, small startups, books store and other small scale based businesses can start creating website.
Shudh lite is one of the Free selling books WordPress themes is available at free of cost with the features like 5 levels drop-down list, easy backend, customizer option, live preview, documentation, separate page, 2 page templates option.
5 slider option, color friendly, widget friendly, modern design structure, logo upload option, call to action button, all device compatible, fast loading speed, SEO friendly, SMO friendly, and different shortcodes available.
SKT Start-up Lite is originated for a small startup business to explore more knowledge via a small website.
Sometimes a small thing tells us a huge meaning and sometimes a huge thing gives us less meaning. The same strategy has been applied via creating an SKT Start-up lite.
By using this startup theme you can sell any product and services more professionally. It is your choice if you want to sell only one product or more. Woocommerce plugins can be integrated at free of cost.
You can show your own creativity, written books, articles, thoughts, poems, etc. You can sell your hobbies and can convert your hobbies to the way of your income.
SKT Complete is extremely customizable. You can give any facelift by adding or deleting any kind of element, image, section, portion, videos, content, etc.
A facelift can be done to create a website related to consultancy, designing, bookselling, repair, HR consultancy, IT solution builder, financial, and devices.
To make all this happen and functional you can add some plugin at free of cost and start creating a website for Book Publishers. Plugins will help to extend the features and functionality of the website.
Making changes through the backend is very much easy as live customizer is supported by SKT Complete. Changes can be notified in real-time.
Elastic means stretchable, and flexible. Hence the SKT Elastic theme is a very lightweight that can be handled by any user to give a new face, to create a different business website.
If you don't like the design and look of this theme you can just makeover this theme by doing some change through a backend. Backend is easy to use and understand. Non-technical people can also handle this theme very easily.
By considering all these thoughts and possibilities this theme is created by using WordPress codex theme review standards. However, the theme is splendid and incredible in behavior.
FAQ's 
Q1- How can I use the books selling WordPress themes? 
If you would like to get started with any free selling books WordPress themes for your website. So, first, you have to log in to WordPress and you will reach the dashboard.
Then you need to select the appearance screen then themes. Here you have to click on add a new button and find the theme you need to install.
Choose the theme and click on the install button. It will take couple of minutes to install and apply on your website.  Now, you can customize the theme as per your choice. 
Q2- Which books selling WordPress themes are intended to be used for multipurpose sites?  
There are many free selling books WordPress themes that can be used for multipurpose sites such as: 
SKT Pathway 
SKT White 
SKT Design Agency
SKT Software
Posterity 
Q3- Which books selling WordPress themes are mobile friendly? 
The books selling mobile-friendly themes are as follows:
SKT Software 
Posterity
Exceptiona Lite
Flat Lite
Online coach