SKT Magazine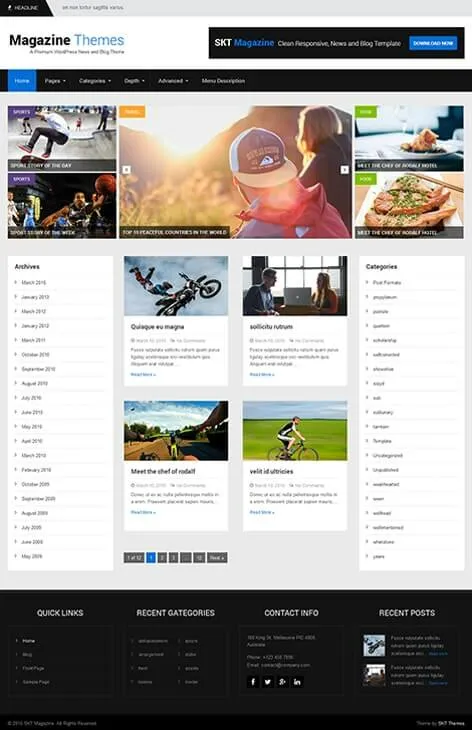 Free
Demo
360+ Themes for $69
Comparison
Free Theme
Less homepage sections
No inner pages
No Support
No Typography Options
No Icon Options
No Header Layouts
No footer Layouts
Less plugins compatible
Less updates
Less flexibility
More Time for Website Build
Features of free magazine WordPress theme
Free magazine WordPress Theme available without any info being asked
Responsive and is Google mobile friendly
Cross browser and cross device as well as cross platform like Windows and Mac and Android and iOS compatible
Compatible with Nextgen Gallery and lot of other portfolio plugins
Compatible with WooCommerce for online shop
Compatible with various social media plugins
Compatible with social sharing plugins
Comments plugin like Facebook comments and Disqus also tested with this theme
Coded with WordPress codex standards
Theme authenticity checker and theme check plugin passed
Coded with HTML5 and CSS3
Shortcodes plugin compatible for content variations within blog posts
Sidebar widgetized for holding ads as well as different widgets
Footer social media integrated
Simple plug and play theme with very little set up needed
No HTML knowledge required to handle this theme
Color scheme change possible as per user choice
Compatible with latest version of WordPress
SKT Magazine as the name suggests is a free magazine WordPress theme which is responsive and has been checked for cross browser support and cross device support. Also the theme passes Google mobile friendly test.
This theme has been coded as per WordPress codex standards and theme authenticity checked as well as theme check plugin passed.
The top area allows for categories to be selected using customizer and the most recent posts show up.
This area is very easy and simple to use. Sidebars and widgetized and one can have either categories or archives or recent comments widgets show up in the sidebars easily and effectively.
The main area shows the recent posts in twin grid view like style which looks good. The sidebars and the header area can be used for ads and ad widgets can be displayed. This free magazine WordPress theme is plug and play and can be used readily without much needed to do in set up.
The footer shows menu as well as recent categories and social icons. This theme is also social media friendly and also compatible with social media sharing plugins.
This theme is also compatible with a lot of gallery plugins as well as portfolio plugins for showcasing galleries.
Since this is a complete theme search, 404 and other category and archives pages are also set up properly.
Use a social media icon plugin to display your social media properly on the sidebar so that people know your followers and also can link your site to different social media platforms.
Comment plugins like Facebook comments or disqus have also been tested with this theme so that these plugins are compatible with this theme.
This template has been coded very easy and the homepage can be set up exactly as shown in the picture with just selection of category to load the posts from respective areas.
So all one has to do is post news and blog with featured image and the template will do its part on its own.
Setting of this theme can be done using no staff altogether. Simple and easy to manage and maintain one can vouch for the usefulness of this template.
This is really a nice template which allows anyone to have ad friendly website. Ads can be posted in the long sidebar along with important items so that one does not necessary get bothered by the ads being presented.
One can also have advertisement in the middle of posts and other areas like footer so that they don't bother the users while reading and yet gives the site owner desired revenue as well.
The trend of magazines is very popular from the earlier days. In earlier days, people used to read magazines of various kinds like fitness magazines, recipes magazines, beauty tips, entertainment, and many others. In some magazines, you can find a variety of trending news. Reading magazines is one of the best ways of getting a notion about the world and nation. It also inflates general knowledge to an extent. Some people have a hobby of reading magazines. Just imagine, reading a magazine with a cup of coffee or tea. Isn't it intriguing? Nowadays, the trend of reading magazine has changed. Yes, people read magazines but now the medium has tweaked. Now, people prefer to read magazines via an online medium.
In this fast-paced modern lifestyle, no one has much time to wait for the magazine to arrive at their doorstep. People read magazine depends on their daily schedule that is whenever they get spare time. In the cozy corner of the home reading magazine in mobile or laptop, this has become a trend these days. If you are also a publisher of a magazine then you can also start an online magazine publication. In order to keep attached both categories of people that is who like traditional approach and those who prefer online medium, you can keep on publishing in both medium.
If you are in a quest of balletic theme for designing your online magazine website then you are in the right place. Free magazine WordPress theme is one of the topnotch themes which fulfills all your expectations from your highly standardized website at highest possible level. Enter into the world of online publishing and representing breaking news, interviews of successful entrepreneurs, vital discoveries and events across the globe with the perfect content classification and showcase them to your readers. All this is possible by designing your magazine website with this amazing theme. And, one of the most crucial aspect about this theme is it is available to you just without investing any money. You need not pay anything and you are getting this full feature-rich theme. You can design your splendid magazine website without hiring any professional designers.
Free magazine WordPress theme provides you compatibility with wider array of plugins in order to make you available with a fully featured and functional website. Among them are a plethora of plugins. Social plugins like Facebook and Disqus comments will allow you to share your content to a wider population. Page builder plugins like Gutenberg, Elementor, Divi and others will let you design your pages with a fancy and stylized format. SEO plugins like Yoast and All in One will made your website available with higher search rankings. You will have a fully equipped website with the fulfillment of all the current trends and features. Coded cling to standards framed by the WordPress community that is all the WordPress codex theme review standards have been followed.
Based on sound HTML and CSS3 coding thus provides you with a more engrossing and professional magazine website. Despite of its simple and user-friendly design, it does not lack in outer structure and inner features. SEO optimized coding has been done so you will have good search results. Integration of social media is just like 'icing on the cake'. By designing your online magazine website you can reach to a larger array of people. Free magazine WordPress theme is just impeccable no matter you judge it from any of its aspects. This is graphically stable, visually eye-grabbing, resilient and simple, and the list is limitless. Design your website with this theme and get ready to see your publishing company as a benchmark to other companies.
Also Included with free magazine WordPress theme
Theme Files Theme files are included in the zip you get when purchased
SupportYou can email us for support of this theme
Tags: periodical, journal, store, newspaper, publication, cartridge, warehouse, clip, newsletter, review, weekly, paper, storehouse, gazette, depot, monthly, arsenal, quarterly, book, organ, repository, ammunition dump, storeroom, armory, powder magazine, storage, daily, bulletin, journals, serial, stockroom, mall, annual, periodicals, supermarket, cache, brochure, tinderbox, market, department store, digest, pamphlet, revue, weekly paper, storage room, loader, blockhouse, booklet, weekly magazine, glossy, news magazine, tank, cassette, zine, per week, hopper, trade magazine, publications, journal issue, professional journal, magazine subscription, weekly newspaper, canister, evening paper, diary, tome, volume, weekly publication, newsprint, fortnightly, circular, repertory, deposit, newsmagazine, review journal, report, newsweekly, broadsheet, tabloid, news, shipper, charging, receptacle, comb over, bimonthly, biweekly, supplement, opus, exercise book, manual, daily paper, press, ephemeris, leaflet, publishing house, pool, resist, bulletins, reserve, feeder, consignor, catalog, title, longshoreman, feed store, revisited in, log, mini-mart, weekly journal, daybook, every week, mouthpiece, country store, organs, dock, comb, semiweekly, stock room, slick, vault, lumber room, glossy magazine, magazine, magazine publisher, pocket comb, newspapers, store front, combing, professional magazine, magazine rack, newspaper headline, paper, logbook, bandoleer, skycap, reviews, buttery, once a week, compendium, economist, novel, workweek
Change Log
Updated October 2023
Working With Latest WordPress Version
Updated Google fonts