SKT Start-up Lite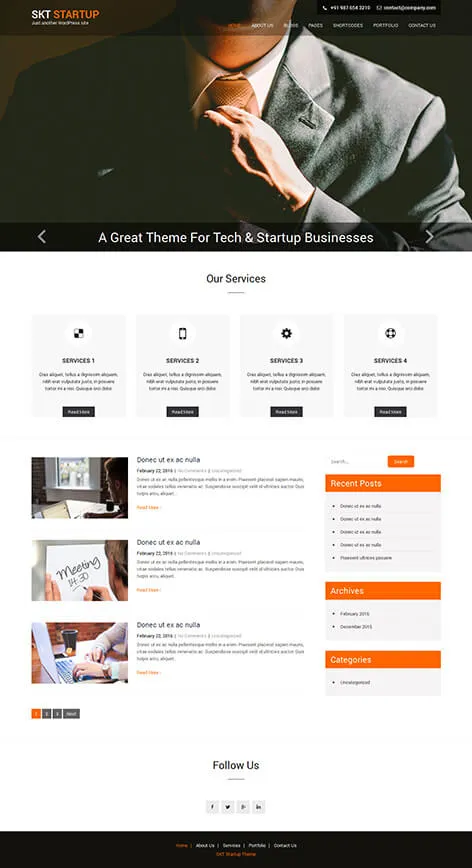 Free
Demo
360+ Themes for $69
Comparison
Free Theme
Less homepage sections
No inner pages
No Support
No Typography Options
No Icon Options
No Header Layouts
No footer Layouts
Less plugins compatible
Less updates
Less flexibility
More Time for Website Build
Features of free Startup WordPress Theme
Faster loading theme and SEO friendly
Color changing theme
Logo upload option available
Built upon Customizer
Latest WordPress standards maintained
5 level deep drop downs possible
Multilingual and compatible with language plugins
Easy to translate with PO file available
Responsive and Google mobile friendly
Several portfolio plugin compatible
Several slider plugin compatible including video sliders
WooCommerce compatible for shop
Call to action implemented
Free startup WordPress theme with default slider
Contact form 7 and Ninja form compatible
HTML5 and CSS3 coded
Color changes possible to links and buttons
Shortcode plugin compatible
Social sharing plugins as well tested
Blog friendly and has 404 and other standard pages like archives etc
GPL hence can be used for both commercial and personal projects
Images and other CSS and JS files are also GPL compatible
Google fonts used
SKT Startup is a free startup WordPress theme which has been designed and coded to suit startups of any type of business. Since this is a free startup WordPress theme it has been coded and designed as a multiconcept and multipurpose WordPress theme.
This Multiconcept theme allows easy change of image all through out the website and also allows easy change of text everywhere.
Also the theme has been coded with latest WordPress codex standards and hence built upon Customizer.
Since it is built upon customizer one can easily change the details as they like it and watch the changes go live even before saving. This saves a lot of time going back and forth.
Since free themes have a lot of lesser functionality as against paid or premium themes we decided to give this one a lot of plugin compatibility which will ensure that this theme can be used to create a great website for any startup with budget.
Just like startups have budget crunch this theme suits them perfectly.
It is compatible with WooCommerce and hence eCommerce or online digital shop can be easily added.
It is also compatible with Contact form 7 and Ninja forms so that one can easily add a lot of forms.
Call to action is taken care of and has email and contact form and phone number on the top.
Social icons plugins are also compatible with this theme.
Free Startup WordPress theme is responsive and mobile friendly and tested on several hand held devices including tablets.
Multilingual theme it is also translation ready and ready to be used with 20+ languages with PO file available readily.
Startup are always crunched on budget and do not have the desired money for everything and hence this capital crunch leads them to having a cost effective solution for everything they desire.
Here our template tries to offer you the best free startup WordPress theme and that is available for free for any startups to use this template and create their website in no time without having any HTML or CSS or website designing knowledge.
Documentation is also available and there are several ways one can easily have what they desire for using this template.
Since this template for startups is also compatible with several plugins adding a functionality is very easy and effective.
One can have the best responsive website and since 5 level drop down menus are supported one can have as many pages as they desire for and can create a large website in no time.
So getting your next startup website up you should seriously think about using this one.
One can benefit by this template's use due to scalability, flexibility as well as since this is based on WordPress CMS and can be modified easily without any issues or problems.
Simple and easy to use based on Customizer one can make changes in real time in the backend as they happen.
Based on the theme check plugin and coding standards this is a secured coding and developed solution for having a startup website up and running in no time.
Enterprise is defined as the act of spawning, innovating and setting up a business, taking financial risks and expecting profits. The enterprise in a company form offers a product, a process or service for sale or hires professionals or individuals, contributing to a community's overall economic development.
Entrepreneurship is known for the high risks incorporated in launching a startup. The crucial fact is people often experience failures along their path to success, and some businesses have to close, due to a paucity of fund, sales decisions, or a dearth of demand in the market. That's why entrepreneurship is mostly considered as something precarious and out of the comfort zone. Enterprise takes fortitude to make one's dreams come true and see possibilities, solutions and opportunities for the future where others see only complications.
So for those business lunatic people who want to start up their business, we have designed this amazing free startup WordPress theme. In this highly tech-savvy environment and digital world it becomes essential to build your online presence. Yes, you are providing excellent services and good quality products. But, have you ever think that is it enough? No, it is not. With the advent of new technologies people also prone to do online search. In your online website you can showcase all your products and services in a structured format.
If you are stepping forward to design your website then you are in the right place. You need not meander in the quest for an alluring and high-quality theme in which all the contemporary features are incorporated which are prerequisite for all modern websites. And, not only this, you will have this theme free of cost. Means you do not have to invest anything in designing your website. You need not hire professional website designers and pay them a high amount.
Free startup WordPress theme is coded and powered with all the current and contemporary features set by the WordPress community. You will have a highly professional and enthralling startup website as the theme is coded and stylized with HTML and CSS3. Having all your services and products categorized in a compact structure will not escape your visitors from your palatial website. They can make a choice which services they want and can contact you without any hassle.
Coding has been done cling to various SEO standards so you will have good search results. SEO tasks are one of the vital aspects of any modern website. As online marketplace is also a creaky competitive world with many features. You have to impress your visitors in a jiffy or we can say within seconds. You can also make use of SEO plugins in order to have higher search rankings.
One of the most important facets for any business website is transactions. Slowly and eventually when your business grows you have to manage it more effectively. And, finance is one of the crucial aspects of a business. Keeping this in mind we have designed this theme WooCommerce plugin congenial. So, you can carry all the e-commerce transactions from your website itself. Then you need not worry about security and efficacy of your online transactions. You can also accept payment from your clients.
This theme is just an extensive package with all the prerequisite features incorporated. SEO optimized coding, SMO affable, contact form compatible, and many more. Except all this features it is user-friendly as well and much resilient enough to fulfill all your purposes adequately. Free startup WordPress theme is a topnotch concoction of contemporary features and engrossing visuals. Try this awe-inspiring theme and take your startup business to new heights.
Also Included with free StartUp WordPress theme
Theme Files Theme files are included in the zip you get when purchased
SupportYou can email us for support of this theme
Tags: startup, business, new company, beginning, beginners, new comers, easy, initial, single page, starting, young company, young enterprise, firm, enterprise, new enterprise, new venture, firm, new company, new business, corporation, company, emerging company, new undertakings
Change Log
Updated September 2023
Working With Latest WordPress Version
Updated Google fonts