Exceptiona Lite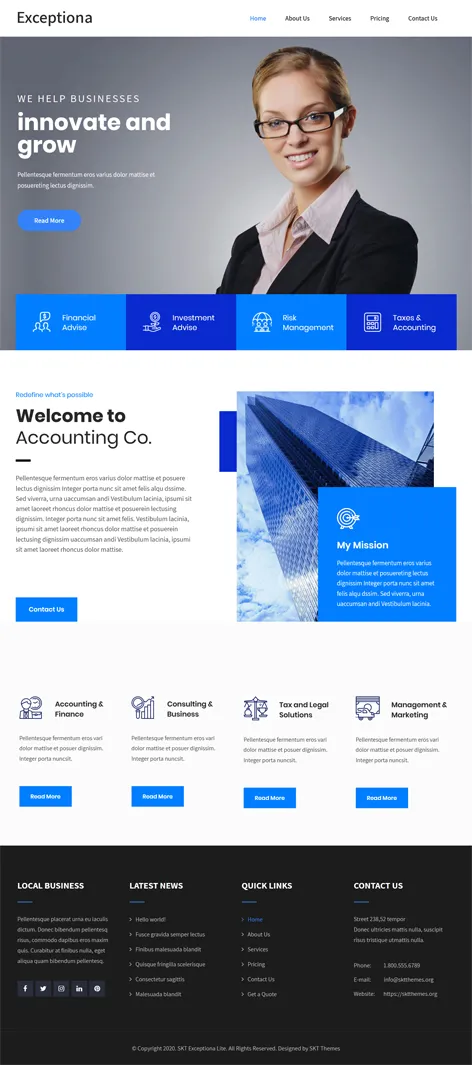 Free
Demo
360+ Themes for $69
Comparison
Free Theme
Less homepage sections
No inner pages
No Support
No Typography Options
No Icon Options
No Header Layouts
No footer Layouts
Less plugins compatible
Less updates
Less flexibility
More Time for Website Build
Features of free Accounting firm WordPress theme
Free Accounting Firm WordPress theme is fully GPL and completely useable for commercial and personal projects
It is responsive and hence can be used for any type of devices like mobile and tablets as well
Mobile friendly and Google mobile friendly test passed and cross browser compatible as well
Compatible with contact form plugins like contact form 7 and ninja forms among others to have proper appointments taken using those forms
Compatible with eCommerce
Gallery, events and other types of popular plugins like analytics etc also compatible with this template
Coded as per codex standards
Simple and easy to use customizer based backend where everything can be managed easily
Watch your changes as they keep on happening using the Customizer based backend
Compatible with job board plugins in order for accounting firms to hire new talent
Default sidebar template provided with right sidebar so that one can have a great
Stable and robust backend and tested with theme check plugin and exploit scanner as well
Complete documentation provided and pro version has several features
For more templates and inner page variations go for the paid version
Header and footer variations as well as header and footer widget friendly provided in the pro version
Sidebar fully widget friendly and can hold any number of widgets as well
Page builder plugin compatible and any type of page builders can be used
Properly services have been described and given with a default slider as well with more slider options in paid version
Animations and other shortcode plugins fully compatible with this free accounting firm WordPress theme
Coded on top of latest HTML5 and CSS3 using modern tools and techniques
Free Accounting Firm WordPress Theme explained
Legal tax consultation is required in each and every country and every country has different rules and regulations to conduct a business. Each business or enterprise no matter how much the size of it is require such consultation from accounting firms.
If your firm is bigger then you go for audit and audit reports are to be submitted with the required income tax authorities and other authorities hence businesses prefer getting it done from accounting firms.
Our free accounting firm WordPress theme caters to those accounting firms which require a basic website as their business is already established and all they need is the requisite of a basic website where their information can be placed up online and people can go and collect those required information.
Contact us and other details is what people mostly search for in these companies and hence they require these info to be properly showcased and easy navigation buttons to reach the required pages.
This is what is perfectly satisfied in this template as well.
A company requires profit to survive and properly work and hence to maximize profit and to minimize payment of taxes we require audit firms and accounting firms to do audit of the firm and to consult with the company and the firm and tell them how they can save taxes by purchasing tax saving bonds and other ways.
Even though nowadays most of the things are managed online and many people mostly can do things online but two decades ago this wasn't possible and hence to manage all the files and taxations people required accounting firms then than now more than ever.
Even though for legal and financial consultations as well as financial advises as well as during loans, mergers and acquisitions financial accounting firms are the best way to go about the whole affair and hence that is the most necessary part of any business.
Any business cannot survive without lawyer, and accountant because they form the part of core team and since they are expensive hence companies prefer to have their audit done from accounting firms.
Important features that should be present in any free accounting firm WordPress theme
1. Fast Loading: Fast loading is a requirement and an essential and important one nowadays for any website in general because any website owner would not want their visitors to keep on waiting for their turn. Hence fast loading free accounting firm WordPress theme would mean that the website for the accounting firm is faster and they can browser various pages quickly and efficiently.
2. Call to actions: Call to actions are important because any business needs to be contacted back by its customers to avail their services. Hence any business needs to properly showcase its call to actions like contact form, phone number, email and as well as location with map as well. This free accounting WordPress theme provides an ultimate solution to call to action like phone number, email, sidebar contact form and contact page with form plugins etc.
3. Mobile responsive: Mobile responsive again a required aspect because 90% of the users nowadays search using mobile and smart phones as well as hand held devices hence the website should be mobile compatible and responsive.
4. SEO friendly: SEO friendly for having local search engine rankings so that someone can find the nearest accounting firm website and contact them.
5. Proper description of services: Properly described services and all of the services described showcases all the capabilities and expertise of the accounting firm.
Get yourself more professionally created free WP themes for creating better and more websites.
Also Included with every free Accounting Firm WordPress theme
Theme Files Theme files are included in the zip you get when purchased
SupportYou can email us for support of this theme
Tags: comptroller, controller, accounting, accountancy, certified public, accountant, bean counter, accounts, clerk, accounts department, cashier, chartered accountant, accountability, bookkeeping, business analyst, psychiatrist, public accountant, accountable, auditors, accountants, books, records, tax advisor, controllers, paymaster, trustee, business manager, auditor, chartered accountancy, financial, banker, clerk, banker, treasurer, counting house, cost accountant, business consultant, archivist, recorder, accounter, countable, ledger, paymasters, accounting firm, account executive, holding accountable, journalist, stenographer, manager, tax professional, self-accounting, tax expert, accountant general, financier, accounting officer, cost-accounting, held accountable, contador, officer, mathematician, account manager, tax attorney, inspector
Change Log
Updated September 2023
Working With Latest WordPress Version
Updated Google fonts