For ages, machinery has been a brilliant sector of investment. Be it hardware or software machinery, the scales of profit are brilliant here. The only thing you will need to keep in mind is to keep your business out of monotony. You can do this by creating a commercial website.
If you want to run a machinery site, the theme you use for it should be highly professional looking, coming with neat detailing and extra precision. Its technicality should be high as well.
Here are the 11 most detailed and professional-looking machinery WordPress themes for your commercial site: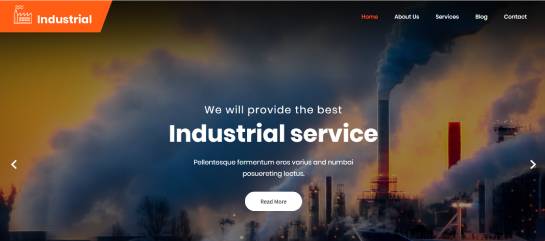 Are you willing to create a website for your industrial business? If yes, it can undoubtedly be a great initiative.
Opening an industrial business requires a lot of hard work and effort to keep up with the demands of the customers.
Sometimes, your business might suffer losses due to a lack of communication with the customers. It can be solved by creating a professional website.
Use the SKT Industrial theme to make your site look highly professional and unique. As one of the best machinery WordPress themes, it is packed with useful features and is suitable for any industrial-related website.
You will get uncountable options of Google fonts, background images, and color schemes to choose from. Also, it is compatible with the WooCommerce builder plugin. Hence, the financial transactions on your website will become much easier. As it is a widget-friendly theme, you can make good use of it to highlight various information on your page.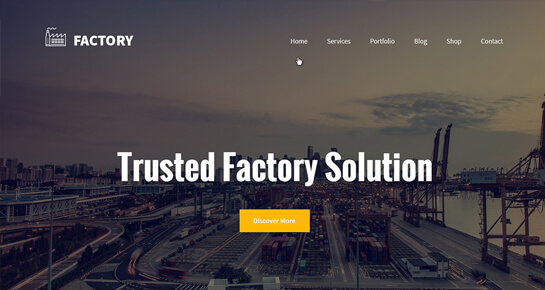 Are you interested in starting an industrial business or a factory? Starting from small entrepreneurs to big businessmen, everyone is investing here nowadays.
Opening an industrial business is not easy, as it will require a lot of hard work and labor to flourish.
One of the most efficient ways to publicize your business is by creating a commercial site. Nowadays, most people are available on the web. Hence, it would be easier for the customers to spot your business.
However, you will need an appropriate theme to go with your factory webpage. You can use the Factory Pro theme. It is best suited for factories, automobile industries, oil and gas companies, etc.
It is completely SEO-friendly and compatible with multiple SEO plugins, such as YOAST SEO. It is SMO-friendly as well. Besides, it works perfectly fine on any device regardless of its resolution. Hence, you will be able to operate it on any device of your choice.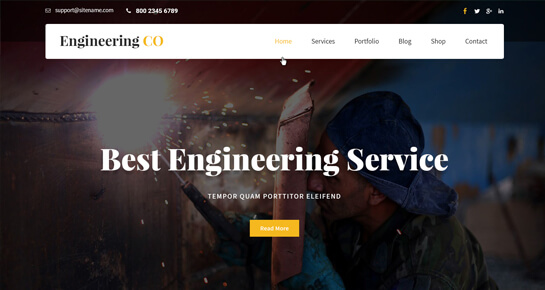 If you are involved with real estate, architectural companies, or something similar, you can use the Engineering Pro theme best.
If you want to make your business highly established and prosperous, you will need a lot of potential customers.
The best way to acquire customers is by giving your brand an online presence. It can be done by building a website for it.
Being one of the best machinery WordPress themes, with Engineering Pro, you will be able to draw great online attention from customers all around the globe. The audience will be easily able to connect with your site.
It is compatible with the WooCommerce builder plugin. Hence, making financial transactions with it will be incredibly seamless. It is a widget-friendly theme. Also, the widgets are completely customizable.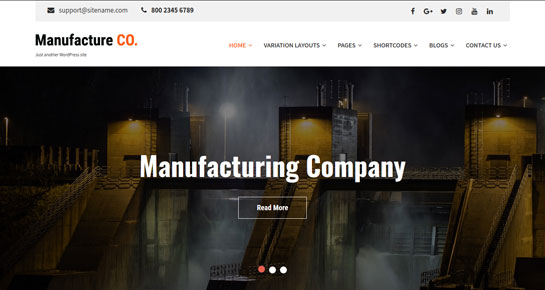 Various manufacturing businesses such as chemical, factory, catalog, industrial, manufacturer, supplier, textile, trading, equipment, logistics, etc., can resort to creating a professional website to reach out to customers more efficiently.
To make your website look incredibly professional, it is necessary to use a theme that is greatly appropriate for your site. If you don't choose wisely, your manufacturing business may suffer negative consequences.
A manufacturing theme should be highly detailed and comprehensive to resonate accurately with the customers.
If you want to use the best option for your machinery-based manufacturing unit, pick Manufacturing Pro. It comes packed with useful features to make your website successful in no time.
It is a Gutenberg-optimized theme and comes integrated with various shortcodes. SKT Page Builder, WooCommerce, Essential Grid, MailChimp, etc., are all compatible with it. Also, it comes integrated with POT and MO files. Manufacturing Pro is a multi-resolution theme; hence, it works brilliantly on any device regardless of its resolution.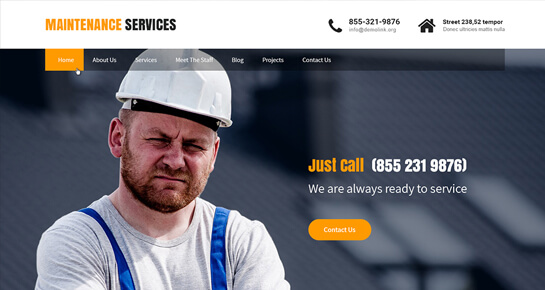 If you are willing to start a business related to maintenance services, you will need constant communication with your customers.
If you want to expand your maintenance service business, you can open a webpage for it.
Any maintenance service website, such as electrical agency, home services, plumbing services, remodeling contractors, etc., will need a prim and proper WordPress theme to make your website highly recognizable.
Are you confused about which theme to pick? Maintenance Services Pro will be the most reliable option to go for.
As it is cross-device tested, it works equally flawlessly on all devices. Be it a laptop, PC, or tablet; it is compatible with all of them. Also, it is completely mobile-friendly; hence, you can easily operate it from your mobile phone.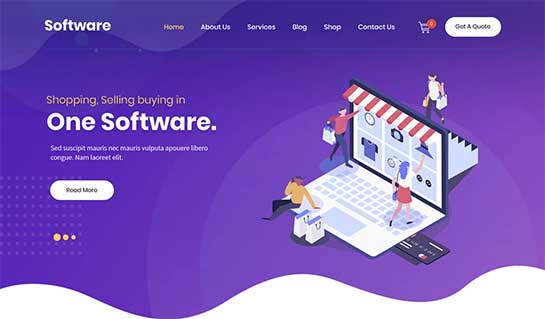 Are you associated with the software industry? Why don't you elaborate on your brand with the help of a website?
Using a website, you can convey the services and objectives of your company effortlessly.
However, a software website should be neat and organized without any extra detail. It should not comprise unnecessary designs as it can be highly distractive.
SKT Software Pro is one of the most popular themes to pick for any software-related website.
It is very easy to use this theme and can be managed in the blink of an eye. As it is highly customizable, you can easily make necessary changes to it. The homepage of this theme is highly appealing and sophisticated-looking.
In recent times, robots have been acquiring significant positions in every industry due to their increased usefulness. Manual labor is being replaced by the working of robots.
Be it a technical industry or private sector business, machines have induced the functioning of product manufacturing, automated construction, labor, etc.
Are you willing to invest in a business related to robotics and automation systems? It can prove to be a great business initiative. With the increased use of robots, it has a great scope of profit margin.
You can give your business a completely new definition by creating a commercial site for it. For that, you must choose one of the most reliable machinery WordPress themes that displays your robotics-based services explicitly. And what better choice can be than SKT Robotics?
It is an Elementor-based theme; hence, it is incredibly easy to customize. It comes with a highly friendly user interface and documentation. Also, you will get several options of Google fonts, background images, and colors to pick from.
Are you a photographer trying to expand your business services? You can make use of drone photography for increased effectiveness of your photography.
Creating a website for your photography business will help you gain a lot of publicity and customers who can make your brand prosper greatly.
After you create a webpage, the next thing you will need to do is to pick the most appropriate theme for your commercial site. While there are numerous options available, you will need to select the best one cautiously.
SKT Drone is the most potential option to go for. It is perfectly compatible with various commercial websites such as Aerial photography, wedding drone videography, UAV business, pilot training, personal photography, and Aerial Videography.
As it is a widget-friendly theme, you can use all the widgets to display important information related to your business. Besides, all the widgets provided are completely customizable. It is integrated with various popular SEO plugins as well. Hence, your webpage will acquire a good ranking in the Google search engine.
Are you interested in starting a hi-tech business such as electronic devices, automotive, aeronautics, etc.?
As people nowadays are not devoid of options, it will be a tough time for you to establish your business if you don't put in the appropriate efforts.
A brilliant technique for making your hi-tech company reach out to potential customers is by creating a website for it. A website is an open platform where people can freely browse and explore the services offered by it.
The best theme for your website will be none other than High Tech. It comes with all the latest features and functions that can make your site highly popular and favorable among customers.
It comes with a highly appealing and detailed homepage. The services section is incredibly beneficial for displaying all the services offered by your site. Also, it comes with the feature of free installation.
Solar power plays a major role in providing electricity to the rural section of society at a cheaper cost.
However, not only the rural people but the urban society is also opting to install solar panels in their households for electricity generation.
Hence, as people are becoming aware of the advantages associated with solar power, businessmen are also looking forward to investing in or setting up solar power plants.
You can readily do that if you are willing to start a solar power plant or a solar power-related company.
To make your company prosper quickly, develop a website for publicity. Creating a website will draw audiences from different corners of the world. The SKT Solar Power is one of the most appropriate machinery WordPress themes to showcase your solar-based machinery products.
It comes with a very attractive and detailed outlook. As it is SEO-optimized, your webpage will achieve a good position in Google's search engine. Also, it never lags and is swiftly paced. People don't prefer websites that load slowly; hence, it will be the appropriate decision to use it.
Are you a web developer looking for the ideal theme for your website? It is undoubtedly difficult to pick the best theme due to the availability of uncountable options.
While multiple options for technical themes are available on the web, if you want to make your infotech website look incredibly appealing, you need to choose the best one.
You can use SKT Infotech for your website. The professional outlook of the theme will make your audience highly resonate with your site.
SKT Infotech can greatly benefit web designers, developers, architects, service providers, and other similar websites.
It is compatible with the latest version of WordPress and comes with multiple pre-built page layouts. It is e-commerce-friendly and RTL-compliant. Also, you can make good use of the widgets provided by it by displaying various functions and services of your site.
Conclusion
These were some of the best machinery WordPress themes that you can ever pick for your machinery or technical site. As it is evident that such a site requires a lot of precision and accuracy of detailing, you will need an equally reliable theme to work with.
No wonder you will find more than thousands of options on the web; picking the one perfect for your webpage will never be easy. However, to achieve the best results for your business, use these 11 efficient WordPress themes coming with numerous features and functions.