Shudh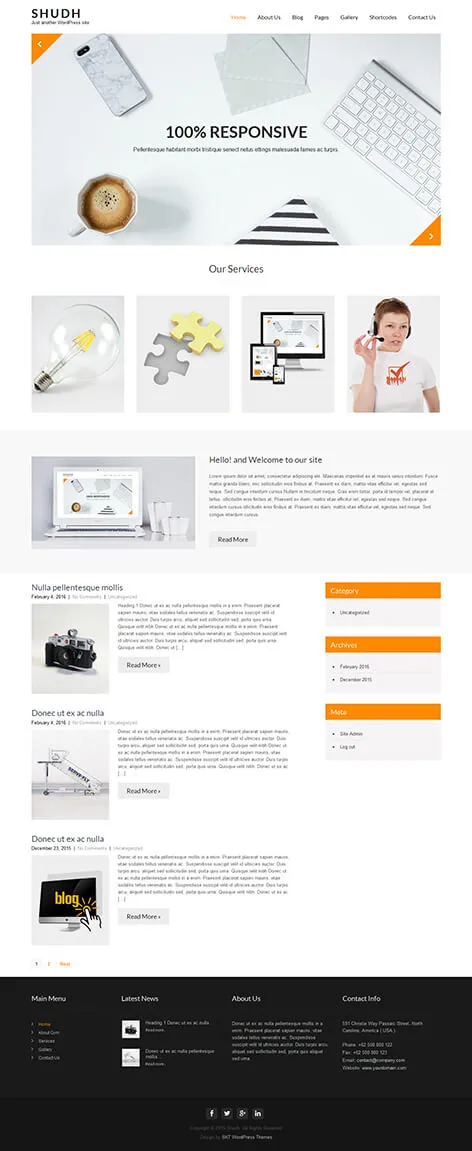 Free
Demo
360+ Themes for $69
Comparison
Free Theme
Less homepage sections
No inner pages
No Support
No Typography Options
No Icon Options
No Header Layouts
No footer Layouts
Less plugins compatible
Less updates
Less flexibility
More Time for Website Build
Features of free minimal WordPress theme
Simple and free minimalist WordPress theme
Compatible with Custom CSS plugins for easy change to colors
Link and button color aspects can be changed easily
Sidebar fully widget friendly for easily adding whatever you want
Compatible with recommended page builder for building pages and posts
Compatible with social media plugins
Compatible with gallery plugins like NextGen gallery
Easy to use and built upon Customizer
Customizer ensures it is compatible with backwards as well as future WordPress releases
Fully GPL so can be used for commercial and personal projects
Use any fonts etc by using plugins which are compatible with it
Easily add slideshows as the theme is compatible with various sliders
Add details easily into the website by selecting pages via Customizer
Fancy default homepage with slider
Blog compatible
Standard pages like search, 404, archives, category and comments template are coded
5 levels drop down menu
SEO plugins compatible
Cache plugins tested and found compatible
Coded with HTML5 and CSS3 standards
Theme test and security passed
Shudh is a free minimal WordPress theme which has been designed and created to satisfy users who need a lot of white space and free space in their website. This is suitable for people who want to focus more on their information on their websites rather than on the design aspects of the website.
It is also suitable for people who have a lot of colorful images on their website and hence want a white based website for more focus on the images.
Shudh is a completely free GPL based minimal WordPress theme which has a default slider on the top to showcase the important services or products of the website or about the website in a few slides.
Has a 4 featured block area which can be used to showcase main features, services or why us or aspects about the website.
Another welcome area to explain about the website and its services and then a regular blog area.
Sidebar is completely widget friendly and one can add any type of widget in the sidebar.
This theme is based on Customizer and can be used to easily change color aspects of the theme.
In free minimal WordPress theme one would want most is the compatibility with different plugins so that one can add flexibility and scalability into the website at any point of time.
Hence compatibility with various types of plugins have been done.
WooCommerce compatibility ensures that this theme can be used ready for eCommerce or shop type of a website.
Compatibility with various sliders ensure that the theme can be used for various slideshow within pages or posts.
Compatibility with various gallery plugins will ensure portfolio set up is easy and natural.
Not just that this theme is compatible with recommended page builder for easy layout building and having your content the way you want it.
This free minimal WordPress theme not just ensures minimalist and great styling but also has a lot of flexibility and scalability which prove to be worthy for a try.
Minimalism is said to be quite a popular word in web design. Even though minimalist designs sells quite well, there are quite a few who knows as to why a minimalist website is effective at making the visitors stay and prefer it to others.
Minimalist designs are such that which tries to achieve more with the less and in the case of a webpage, it means to leave out all of the extra elements thus allowing more of the white space. It is only when the page remains uncluttered, that the content seems to gain a new meaning and gets to the attention of the visitor. Do know that the use of white space brings in more space for creativity in designing your page thus making it unforgettable.
Even though the minimalist designs uses a limited amount of elements, the website can look modern and trendy, clean and fresh and it all depends on how the colors, typography and the layouts are chosen.
One of the best free minimal WordPress themes is the SKT Shudh theme. This free minimal WordPress theme is one of the light as well as fresh-faced, stunning and uncluttered and a very polished responsive free minimal WordPress theme.
This free minimal WordPress theme is said to be a unique combination of technological proficiency combined with an efficient codebase with absolutely no coding to be required on your part. This free minimal WordPress theme being composed tastefully and beautifully comes embedded with unique templates and layouts that are not aesthetically clean and seamless.
This free minimal WordPress theme is packed with shortcodes that not only adds to the capabilities of the site with minimal hassles, but they also manage for vast possibilities for configuration. There are over a dozen number of premium plugins that you can use to power your site.
Apart from that, there are many styles of headers and footers that you can choose from.
This theme is best suited for those professionals who are looking to show off their portfolio online. Let's just say that the templates and layouts of this theme have a distinct feel and look on its own and you are never going to go wrong with this theme.
With this theme, you can virtually create your space and through which you can reach your potential customers, no matter what your business deals in. Your website will also look visually appealing and is bound to have excellent functionality that no doubt, will strip the competitors out of your way.
The free minimal WordPress themes can be used on any website, and the right news is that this trend is here to stay. Even though this trend has been around forever, but it is only recently it has become more famous due to material design and flat design's success.
Minimalistic design is here to stay and will continue to do so by inspiring all the future designers to create a minimalistic look on their website, no matter what it is created for – business, portfolio, blog, magazine or others.
Also Included with free Minimal WordPress theme
Theme Files Theme files are included in the zip you get when purchased
SupportYou can email us for support of this theme
Tags: neat, fair, easy, simple, one page, fresh, tidy, purify, minimum functionality, minimalist, good, straight forward, wholesome, good looking, trendy
Change Log
Updated December 2023
Working With Latest WordPress Version
Updated Google fonts for GDPR and Other Country Privacy
Updated to work with PHP 8+
Updated to work with at least one page builder (Elementor, Gutenberg or SKT Builder)
Compatible with popular plugins of SEO, contact form and WooCommerce
Updated performance to work with popular cache plugins and Cloudflare