Walking into a vegetarian restaurant is like stepping into a vibrant oasis of flavors and creativity. The atmosphere is warm and inviting, with soothing earth tones and natural elements that create a sense of calmness.
The menu is a delightful mix of innovative and classic dishes, all of which are made with the freshest and finest ingredients. From crunchy salads bursting with colorful vegetables to hearty grain bowls filled with protein-packed legumes, there is a dish to suit every palate.
The chefs in a vegetarian restaurant are true culinary artists, skillfully crafting dishes that not only nourish the body but also delight the senses. The dishes are beautifully presented, with a careful attention to detail that makes them almost too gorgeous to eat.
Whether you are a committed vegetarian or simply looking to explore the world of plant-based cuisine, a vegetarian restaurant is a haven for food lovers seeking wholesome and delicious meals.
When it comes to marketing your restaurant or café, Vegetarian Restaurant or eatery, recipe or chef, bakery or bakeshop, cafeteria or gastro, club or waffle house, food ordering or delivery, concession or pizza equipment and supplies or even homemade food business, Vegetarian Restaurant WordPress themes are what will make your efforts and time justified.
Designed and coded with all the major and minor requirements of food and drink industry and business in the themes' developers' mind, these Vegetarian Restaurant WordPress themes can proudly represent a niche specific website or blog of any nature, from business to personal, from local to international, from entertaining to informative.
The overpopulated digital platform has opened up dozens of new avenues for food and drink marketers to approach more clients and customers with a less expensive and more productive environment than previously used traditional media channels.
One of such contemporary avenues you can use in order to reach out to more leads and sales has to start with your own personalized website or blog.
With each of these Vegetarian Restaurant WordPress themes, you will not let financial means get in your way of the creation of a fantastic virtual presence of your Vegetarian Restaurant or any other food centric business you are engaged in.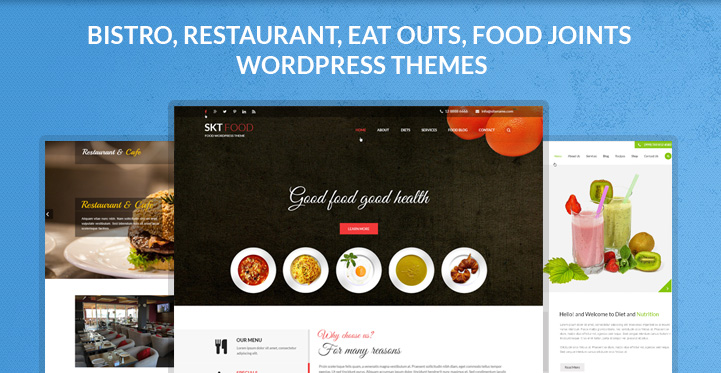 They are all cost effective yet efficient and reliable in terms of functionality. Thus, the final choice is yours!
Vegetarian Restaurant WordPress Themes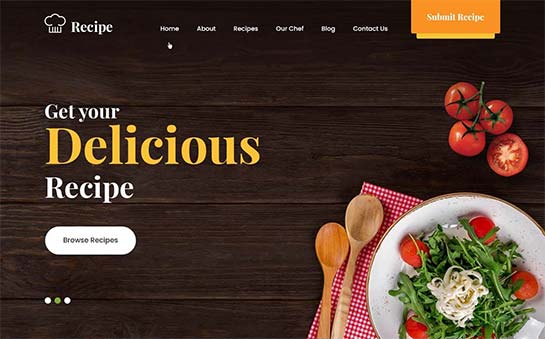 Enjoy the unique taste and visual appearance, functionally cutting edge framework and immensity in customization all combined in Recipe.
It is one of the latest Vegetarian Restaurant WordPress themes launched by SKT Themes that follows all the major digital and web development trends.
As such, it comes with HTML5 based coding making your site clear and legible in case of both desktop and mobile accesses, preloaded controls and elements to manage every single part and aspect of your site, plugin support whenever needed, etc.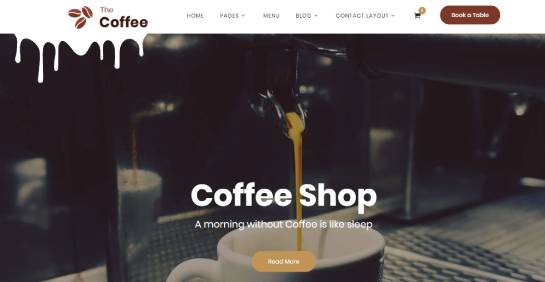 Coffee Shop is the next visually captivating and modernly touched template you can give your preference to when it comes to presenting your coffee or food related business from the most attractive angle.
Get your site up and running with Coffee Shop that is practical and intuitive in usage with Live Customizer technique for you to tweak the theme's admin panel for changes and modifications and check their consequences.
Boosting your reputation with accurate and awe inspiring web content and imagery hosted by Ele IceCream will bring more and more people to your door.
Your website with this responsive and cross mobile and browser checked template will be the culmination of your hard work and striving in reality with respectful online profile that will be search engine friendly and will be shown up to all your prospective customers and clients.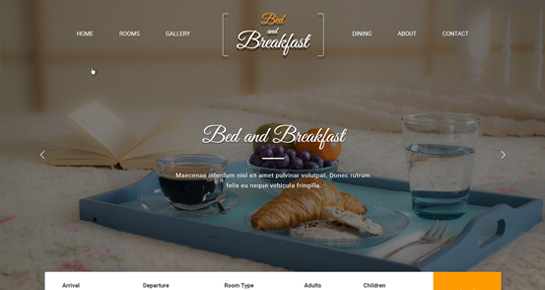 Any kind of bed and breakfast or food service industry can find its best exposure with one of the dependable and interactive templates called Bed and Breakfast.
Customers don't see what is there behind the curtains, but are receptive to what is demonstrated in the forefront.
Therefore, Bed and Breakfast is armed with customizer from behind the scenes for your customization options directed to the improvement and perfection of your site's face to be serviceable for your audience.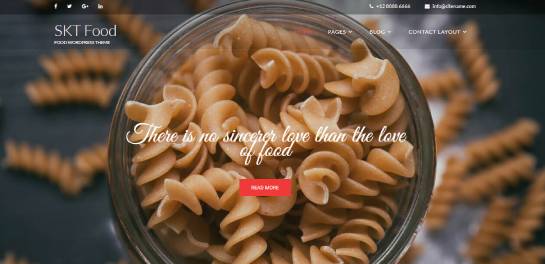 Which characteristics are there making SKT Food one of the most demanded and actively installed recipe WordPress themes?
Well, they are many, from smart and serious framework to easy to redesign appearance and structure, preloaded shortcodes to replace complex coding workload, call to actions integration to guide your site users, plugin compatibility and much more.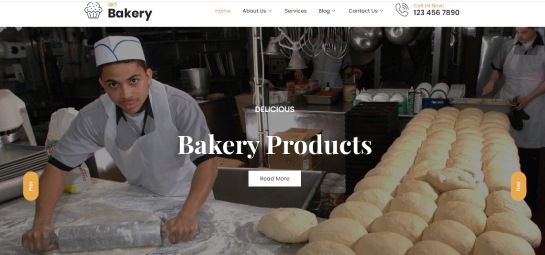 Get into the most challenging digital platform with an almighty We Bake. There is no edge to what you can do with this lovely and elegant, clean and crisp, excellent in navigation and responsiveness template.
Add and remove whatever needed, change structure and menu, edit widget areas, integrate online storefront, set Google friendly typography, showcase your staff in team section, provide your clients with testimonials area to leave their reviews and be accessible around the clock with We Bake.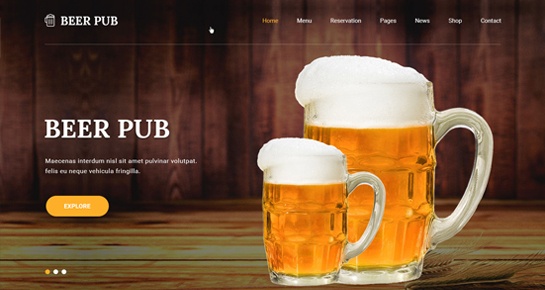 The first step towards a strong and results driven virtual presence for your beer or pub, recipe or culinary website can be done with Beer and Pub.
Make sure to explore all the potential of this pro template and turn to the professional technical support when feeling confused. Add recipes with high quality photos, use header, footer and sidebar areas for contact info, logo, social media and recent post links, etc.
Another recommendation to be found among the best recipe WordPress themes is Ele Chocolate.
Packed with HD and retina ready graphics, Perfect Food boasts mobile friendly and plugin compatible layout, user friendly navigation and quick loading, modern design, SMO and other touches to complement to your sites search engine rankings.
Building a client oriented website and keeping it up to date with constant modifications and adjustments can be easy with Restro.
While ready to look good and legible on all mobile and other portable devices, Restro offers first aid tools for visual and textual content integration.
Thus, you are going to find neatly deployed content zones of your articles and publications, as well as homepage slider for your best images and photos to sway on the homepage.
Hotel Booking is a multipurpose drag and drop Vegetarian Restaurant WordPress theme based website builder which requires nothing but your creativity to stand out from the crowd.
With this shortcodes ready and menu plugin compatible template, you are going to enjoy your position as a website admin while working with the most advanced WP customizer and a handy toolkit with practical web solutions.
Wine Pro is welcoming and warm, trendy and brilliantly resourceful Vegetarian Restaurant WordPress theme based template building ecosystem that perfectly understands the needs and expectations of your site visitors and surfers.
Therefore, it is reliable in coding, speedy in performance and rational in loading time, mobile optimized for mobile and device accesses and translation ready for supporting multilingual content.
If you are running a vegetarian restaurant, or a eatery, then you know better than most as to how picky customers can be, when it comes to food. The fact of the matter is that a large proportion of customers prefer vegetarian food over non vegetarian food for a variety of reasons.
And while you can always advertise in the local paper or even get a few fliers printed, you'll find that the digital media works much more effectively as it enable you to get the word out there to hundreds of thousands of prospective leads.
This is why it is important for you to check out our vegetarian restaurant WordPress themes, and set up a website at the earliest.
Some of the vegetarian restaurant WordPress themes are premium but they come with professional layouts, attractive designs and fast loading pages along with built-in templates.
More importantly, these themes have all been developed for this specific niche which is why you need to select one from the lot and get it set up and running real soon. Here are a few additional reasons as to why you would want to get this installed asap.
Outreach: With the right theme in place, you can now market your niche services and target the desired demographic and get the word out there. You can utilize multiple marketing channels including guest blogs as well as paying for online ads and get the word out.

Essentially, you would be reaching out to hundreds of thousands of prospective customers rather than limiting yourself to just a select few. Makes more sense to widen your reach, right?

Plugins: Thes themes are compatible with third party plugins and you can utilize the same to set up a payment gateway on your site and even allow your customers to check out your drop down menu, place orders and pay for the same using the payment gateway.

You would be improving their user experience and at the same time, gain new customers. If you do not offer delivery services, then your customers can use your website to book their tables or even retain your services for catering to a special event.

Responsive: It is important that you choose a theme that has been tested for responsiveness and whether it is mobile friendly or not.

The good news is that all our themes have been tested and have been found to be 100% responsive. So your users should not face any issues when trying to access your website through other devices such as smart phone without any loss of functionality.
These are some of the reasons as to why you would want to use one of these themes and setup your website at the earliest. Just make sure that any image or media files that you post online have been professionally shot.
You would want to make a good impression and that's why it is essential that you use high resolution images since a bad one can well turn a potential customer away.