In the abundance of innumerable dark free WordPress themes in the present factual situation, dark free WordPress themes occupy their fitting place.
It's a well known fact, that the black color is associated with elegancy and royalty, and although every single person filters colors according to his or her associations, black undoubtedly has an impact on everyone to some extent, irrespective of the fact, whether people realize it, or not.
Apart from visual impact of the black, the selection of a WordPress free themes with overall dark interface may increase your website recognition and gain loyal army of visitors, as it is mostly perceived as strong, serious and powerful, subsequently, the atmosphere in which black color or any other dark shade appears to be dominant, will be such as well.
Thus, stunning dark or black design of a dark free WordPress theme together with sufficient functional opportunities of the latter, will obviously be a perfect alternative offer for the potential website creation.
Taking into consideration the aforementioned advantages, that the existence of black color or other dark shade in them may give, in the present article we are going to uncover top 10 free dark WordPress themes, characterizing them in terms of their useful features and options, as well as emphasizing all other strong points they offer to the client.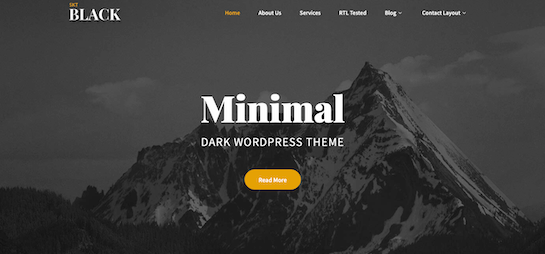 Here is SKT Black dark free WordPress theme in all its splendor and majesty. The effective design and compelling interface of this black-based all-inclusive theme with orange traces here and there, together with the rightly provided website content, gives your website professional and serious looking appearance and incites the ordinary visitor to turn to permanent visitor of the given website.
Apart from the reliable design, this free black theme offers also high functionality and cuts the theme user's efforts to the minimum.
SKT Black comes with a nice slider, allowing you to select the most outstanding 5 visual images to present the face of your website, about us, our team, blog and other sections and blocks on the homepage and functions well with Contact Form 7, WooCommerce, latest version of WordPress and with all major browsers.
Some of its feature includes:
Responsive and is mobile and tablet friendly
Compatible with all major browsers
SEO and SMO ready theme
Comes with default parallax slider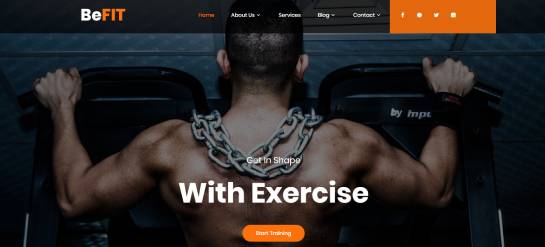 One more free black WordPress theme with black-orange classical combination, revealing the attracting power of the theme, is BeFit.
As this theme is designed and developed primarily to cover fitness, gym, yoga, personal trainer and other health related topics, the dominance of dark shades across the theme is perfectly justified.
Just as the previous SKT Black theme, this one also suggests presentable slider, where one can add up to 5 images. BeFit also offers different blocks on the homepage, which can be edited and presented appropriately.
This simple and SEO friendly theme is optimized to support Contact Form 7, Nextgen gallery, WooCommerce and WordPress latest version.
Some of its feature includes:
Built upon simple to use Customizer API
Animated blocks on the homepage which look really good
Contains default slider where you can add upto 5 images
Integrated with Google font for good look and feel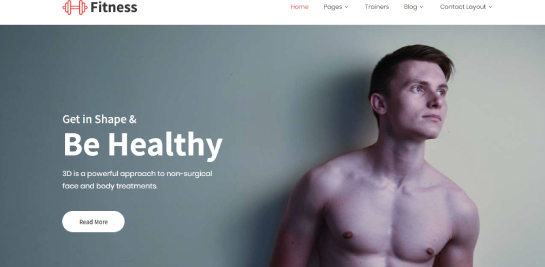 Fitness lite is another dark designed WordPress theme for free. Being created mailny for fitness, health and body-building activities, this responsive and Google mobile friendly theme suggests a professional and motivating platform, which will appeal most of its visitors.
Slider with the functionality of adding up to 5 slides can display the most influential images conforming to the website purposes and objectives. The overall theme is very easy to edit and customize without deep technical know how.
Some of its feature includes:
Change colors and hover effects easily
Slider comes with 5 slides
Fully documented theme
Can be used for other purposes as well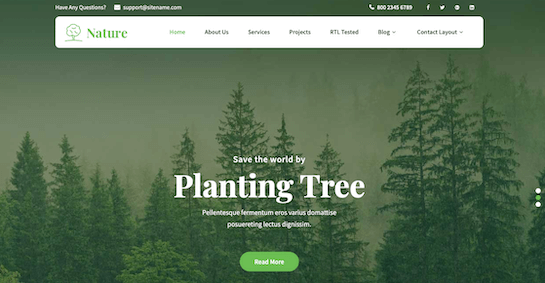 Here is a visually stunning and convenient responsive dark WordPress theme, designed mainly for nature-focused topics.
The combination of dark color with different shades of yellow and green makes the interface of Nature One fresh and beautiful.
This multipurpose theme is also praised for its great functionality and customization. The theme comprises 5 slides, different easy to use sections on the homepage, sidebar, full width and blog templates, standard pages and options and shows compatibility with WordPress latest version.
Some of its feature includes:
5 slides and transition effects controllable
Home Page easy to set up with sections and easy to manage
3 types of Page templates
Dropdown level upto 5
Panorama deservedly occupies its special place in our list of dark free WordPress themes.
This responsive theme is not only visually appealing with the availability of 5 controllable slides, but also functionally flexible, requiring minimum time and work from the user.
This all-inclusive theme includes multiple level dropdown, standard pages, social media integration and supports SEO friendly coding and all major WordPress plugins.
Some of its feature includes:
Easy to use no brainer theme options
Default footer also set up with location and social media icons
Easy to use Theme options
Search and 404 page also available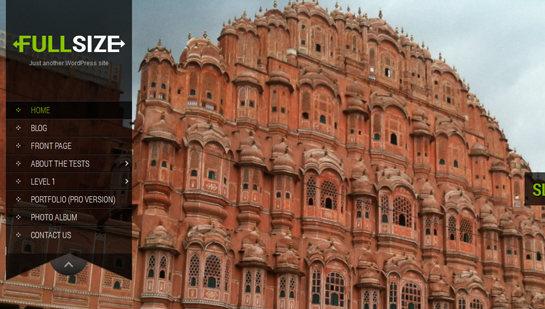 SKT Full Width is a flexible, multipurpose and reliable dark free WordPress theme, which can be used as a ground for a wide range of different websites.
This popular theme suggests full width controllable backgrounds per each page, customizable sidebar, blog section, which can be easily managed and filled with the required information, images, portfolio, etc.
This SEO friendly theme also allures the client with its easy to use and manage structure.
Some of its feature includes:
SEO Friendly coding
Coded with WordPress Theme Unit Test Review Standards
Blog section has possibility to add photo as well as videos
Easily change backgrounds of any page including home page
Another strongly advisable theme, especially for photo bloggers, photographers and photo enthusiasts altogether, is Photo World.
This attractive dark free WordPress theme can be designed and afterwards undergo certain alterations at any time, with the support of homepage manageable sliders, full width page template and available blog page.
Photo World also conforms to SEO and SMO, WooCommerce and Contact Form 7 standards.
Some of its feature includes:
SEO friendly and SMO integrated
SEO Compatibility checked
Add more gallery plugins to add more element to your theme
Easy to use shortcodes available from within theme options
Another visually attractive and exquisite dark WordPress theme for free, which didn't escape our notice, is I Am One.
This nice one page theme comes with expressive slider on the top, different useful and applicable sections on the homepage, like about us, statistics, gallery; social media integration, standard pages and functions well with most popular plugins.
All in all, this responsive free theme can be used to cover any kind of personal or corporate topics in the most effective way.
Some of its feature includes:
Comes with beautiful Parallax Slider
A beautiful gallery to suit your needs
Standard pages like 404 and search and blog available
Compatible with latest version of WordPress
One more graphically appealing dark WordPress theme for free is Bakery lite. In case you are searching a reliable framework for your website in relation to bakery, restaurant, café, or any other food or drink, Bakery lite can be counted as one of the best options.
This responsive, elegant and fast theme comes with the available 5 slide to be added to the default slider, popular social media and Google font integration and shows compatibility with WooCommerce and latest version of WordPress.
Some of its feature includes:
Integrated with WordPress customizer
Use of fancy Google fonts
Can change colors or hover and link
Checked and tested with WooCommerce for Ecommerce
Without any doubt, SKT Coffee should be highlighted in our present article. Here is a perfect dark free WordPress theme for coffee enthusiasts, producers and representatives, restaurant, cafe and other relevant places.
It seems, that the outstanding design of the theme with dark shades can convey the aroma of the coffee or whet the appetite for some delicious food, which will attract each single visitor of the website.
SKT Coffee comes with default slider, with the available 3 slides, customizer, social media icons, available blog area, specialty section on the homepage and not only.
This responsive dark free theme goes well with SEO plugins, WooCommerce, Nextgen Gallery and Google mobile versions.
Some of its feature includes:
Passes Google mobile friendly test
Also passed Google page speed test
Integrated with social media icons
Nextgen Gallery compatible
The way the online world for a website is progressing is fascinating. From a time of just a website now there is no dearth of the online presence of websites.
Every small business owner feels the need for the online presence and the numbers of quality blogs have also increased.
The main reason for this growing need and popularity is because of two things:- the easy access to internet and the support system for web creation.
The process of website creation which used to take days and sometimes a month can now be completed in a day. The access to internet which was limited to a few in the population is now available to the larger crowd.
The changes have made the support system also be up on its toes. The most popular support system which is WordPress has never made compromises.
It has always been responsive to the market changes and has created something of value to the users. The increasing demands were catered too by the increase in the number of support provided.
This has made the platform the most preferred one on the topic. The free dark WordPress themes are one such great example of what the platform has been doing.
The free dark WordPress themes consist of great features and high visual appeal. It is known that every website has a special requirement when it comes to themes and layouts.
The theme in question is created which is suitable for many websites and provide support to the ones which are looking for higher functionality and better visual appeal.
It is a known fact that the color black is associated with sophistication and royalty. There are many website owners who have a special need when it comes to website color but the color black has no doubt attracted all of them.
It is a source of quality and thought. It has an impact on the onlookers even when they realize it or not and hence the WordPress platforms has website suitable for various niche designed with the base color as black.
The free dark WordPress themes have the capacity to transform an ordinary looking website to something great in no time.
The themes are loaded with features and thus the users do not have to think about the functionality.
It is not that the users will be making any adjustments as they always have the option of adding plug-ins to their website when they feel that any of the functionalities which are required by them are not available to them.
The plug-ins can be chosen from a huge range of WordPress plugins or can be third-party and they will work fine with the theme.
The stunning free dark WordPress themes are large in numbers and that sometimes creates confusion. The users should not worry as they can easily pick and choose from the top 10 rated themes available with them.
When the free dark WordPress themes are combined with the content of high-quality and suitable media content then the website enjoys the status of an elegant website.
The online and digital world is expanding at a fast rate. It is fascinating to see the progress that it has made over the time.
There was a time when the online websites for business was a premium thing but now there are innumerable blogs, simple informative pages and a large range of websites that are available. Even the small business owners now wish to own a website that will increase their customers.
There are many reasons for the growing increase of the websites. Most important of them all is the increasing use of the internet.
The increase internet users have shifted the dependence on the websites. This has lead to the increasing need of the support platforms that can help these users create suitable websites.
There was a time when the creation of a website was a long-term project. It had to be outsourced and would take months for the website to launch with many meeting taking place in between.
Changes are being made in all direction and thus the support structure has also undergone a huge change. The platform that offers themes has increased. The use of free dark WordPress theme is now available for non-technical users as well.
WordPress started as a blogging platform but realized that the market is slowly shifting to websites or a combination. The business websites these days have their blog pages which are linked to the webpages.
This has made them invest in various different types of website themes. This is clear that different business niche requires very specific theme yet there are some themes which are fully loaded that can be used across different niches.
The free dark WordPress theme is one such sophisticated theme that is suitable for many websites. It is loaded with features that make it stand apart from the rest of the list.
It is a responsive theme which works fine with different device and browsers. Think about it with the increasing users of smartphones and higher connectivity with the internet the websites should have a mobile-friendly version.
The theme is thus tested to be 100% responsive to these devices so that there is no break in the connectivity.
The theme is made in black which is the biggest USP. Black has always been associated with elegance and sophistication and so is the theme. It gives your website an element which will make it stand apart in the crowd.
The users are requested to add quality content and use the rest of the colors which complement the whole look then only there will be the desired outcome.
WordPress has not compromised on the functionalities and thus the themes are loaded with all the features that you may require. If there is anything missing then you can always add plug-ins.
The platform is compatible with third-party plug-ins and of course, offers its own wide range of plug-ins. The choice between these themes sometimes creates a lot of confusion.
If you are looking for the best amongst the rest then you can choose from the top 10 such website themes which are carefully selected for you.