Fitness Lite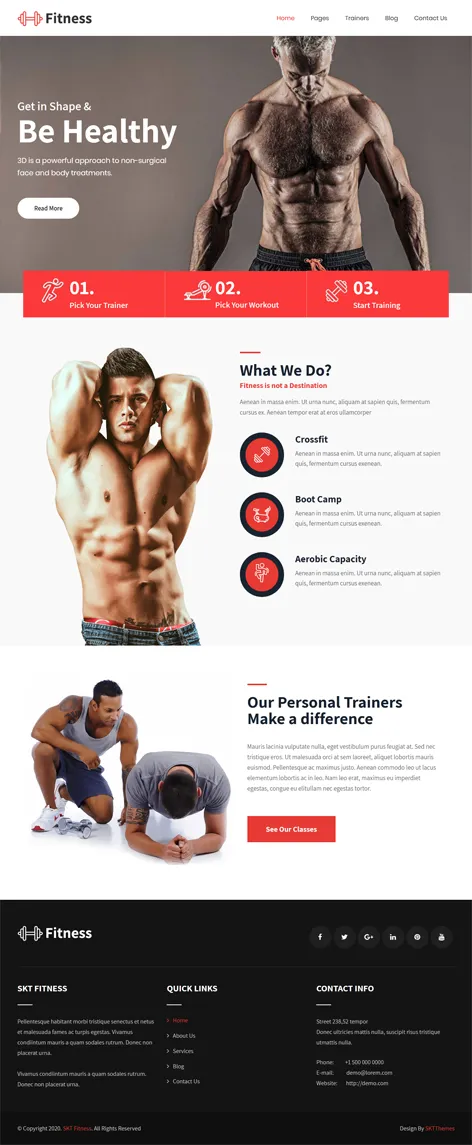 Free
Demo
360+ Themes for $69
Comparison
Free Theme
Less homepage sections
No inner pages
No Support
No Typography Options
No Icon Options
No Header Layouts
No footer Layouts
Less plugins compatible
Less updates
Less flexibility
More Time for Website Build
Features for free fitness WordPress theme
Fitness lite is a free fitness WordPress theme
Change colors and hover effects easily
It is responsive and Google mobile friendly
Built on the default Customizer API which comes with WordPress install
Homepage boxes and set up is easy and comes default after loading the theme
Slider comes with 5 slides
Compatible with a large number of plugins like gallery, team, contact form 7 and WooCommerce for E-commerce purposes as well as pricing table for gym pricing
Free fitness WordPress theme has social icons, menu, customizable
Fully documented theme
Can be used for other purposes as well
Sidebar fully widget friendly
Proper call to actions included in slider, sidebar and footer
Transparent menu and with 5 levels of drop down
Change the color as per your choice however more color scheme changes given in pro version
Textual logo given
Pricing table plugins compatible and events calendar plugin compatible
Compatible with latest version of WordPress
Coded with HTML5 & CSS3
Fitness Lite is a free fitness WordPress theme which has lots of options and features. First of all it is a fully responsive and mobile friendly theme which passes the Google mobile friendly test.
It is compatible with all devices as well as browsers.
Our free fitness WordPress theme also has been built on a very light Customizer API which means you can do changes and also simultaneously check the changes happen in real time.
It is a light weight API and comes default with WordPress installation.
Simple and easy to set up homepage sets itself up with default content. Easy to manage the homepage boxes content as well as the slider.
The slider has 5 slides and more slides are available in Pro version.
Fitness lite is a free fitness WordPress theme which is compatible with a large number of plugins namely all the gallery plugins which can be used for showcasing gym or fitness trainer photos, team member plugins, contact form 7 for appointments and contact form as well as social media and sharing plugins.
Comes with default blog and default page template. More options available in Pro version of the theme.
Sidebar is widget friendly as well as can hold any number of widgets.
Also call to actions are properly included in the form of slider button as well as in form of footer with location and social icons given.
Also compatible with translation plugins and SEO plugins for SEO friendly website.
And can be used for any type of business website or personal website purposes as well.
Simple and easy to manage and has been built on top of customizer which gives live preview while making changes from backend itself so no back and forth while doing changes.
Also Included with every free fitness WordPress theme
Theme Files Theme files are included in the zip you download
Support You will get support via email for this theme
Documentation Easy to use documentation link given inside theme
The whole world is now becoming really conscious about their health. It is important given there are so many health issues prevailing. The business which deals in providing support to the ones who are looking for a healthier life must have a very effective website.
The free fitness WordPress theme is a great choice when it comes to creating a website that has all the required functionalities. WordPress has been a blogging platform but it has been time ahead in creating the elements which are useful for the users. The whole idea of staying ahead in the process has evolved the platform which today is the most popular and preferred one for many technical and non-technical users.
The free fitness WordPress theme is a highly cost-effective way of creating a website which is because it is free to download. One can install the theme and build the website in just a day. If they wish to add many functionalities to the same then they must add plug-ins.
The theme is compatible with the WordPress plug-ins but also supports the use of the third-party plug-ins. The non-technical users who are thinking of the cost of building a website with all the functions they need must think about the simple use of the theme which is free and creating a website which is just for them.
The free fitness WordPress theme is highly flexible this means that the users can create the website as they wish. It comes with a sidebar which is widget friendly. There are sliders and footers in the theme. The home page has boxes and layout for specific content placing. There is a color pallet that the users can use and create a beautiful and attractive website. They can make changes to the theme to make it visually appealing.
The fitness world would require a lot of support from the media files, the themes thus allows easy inclusion of the videos which can motivate the visitors. The pictures which are included can be used to deliver the message in an impactful yet simple way. The users of the theme can include many plug-ins which improve the functionality like Forms, E-commerce etc. The maps plug-ins will be great to help the visitors locate the place in the locality.
The free fitness WordPress theme understands the importance of social media and thus has icons right on the main page. This makes advertising much easier. These social icons allow simple sharing and connecting. You can include a call to action here so that the visitors act immediately without wasting any time.
There is a huge documentation which comes with the theme. The non-technical users can consult this whenever they feel that they are stuck at some place. There are also online communities which can help them with many of the issues as there are experts and the communities are really active.
The free fitness WordPress theme makes the website creation a simple task. The health and fitness centers have many new ideas which they must share with the larger audience.
Due to the responsiveness of free fitness WordPress theme, it is very easy for people to use your website in any kind of device like mobile, laptop, desktop or tablet. As this feature is included so that you can reach to a large customer base. Mobile is a hand-held device and has been preferred by most of the people these days to do browsing or any of the internet related tasks.
Compatibility with various browsers will be an added advantage as some of the people prefer to do browsing with a specific browser with which they are comfortable. Just imagine if that is the browser with which your site is not compatible then they cannot even find your website. So, the theme designed to work well with different browsers like Opera, Firefox, Chrome, Safari and other well-known browsers.
Anyone prefer to design a website for their company, organization or for self-business as they want to increase their popularity, to spawn more revenue and also to provide convenience to their customers. If SEO tasks have been taken great care of while designing a website then your website can easily make a place in the Google top search rankings.
Its compatibility with WooCommerce plugin make this theme ready to be used to design any business website. As any e-commerce related activities can be done effectively and with greater ease. All transactions can be taken care of by the WooCommerce, once you designed a website you need not worry about commerce-related activities due to compatibility of this with WooCommerce plugin.
Since it is designed with HTML and CSS3, therefore, provides a delegate look and feel to your website. Designed with using modern technologies yet simple and easy to use and maintain. Animated effects provide a stylish view.
If one searches for your website and if the response of your website is slow means if website loads very slow then the user will get discouraged and it may be a possibility that they will bounce off to your competitor's site. So, it is expected by any user that your website loading speed will be faster. For this purpose, you can incorporate various cache plugins as all that will work fine with this theme.
Blog section has been designed with two sidebar options and one full-width option. All three are designed in such a way that no matter which one will you select each of them will provide an ultimate look to your website. In blog section one can update news, events, blogs, posts and this, in turn, attract more traffic to your website. A search box is also being designed to make things effortless for visitors.
If one wants to make their website more secure and prevent malicious attacks then this can be achieved easily by installing security plugins. One need not worry about the compatibility as free fitness WordPress theme works well with these plugins. This way you can tighten security in an optimal way.
By referring to the "Client testimonial" section it becomes easy to manually check traffic on your website and you can also tweak your website if it is required based on reviews of the clients.
Every section has been designed very gracefully and neatly. It makes easy for a user to use the website and to keep the interest of the visitors on your website. As a result, they will be hook-up with your website for a long time.
A large number of shortcodes are included and many more can be incorporated by using the shortcode plugin if you want to add more functionality to your website.
Tags: health, fitness, coach, well-being, good physical condition, healthiness, fitness, physical fitness, haleness, good trim, good shape, fine fettle, good kilter, robustness, strength, vigour, soundness, discipline, yoga, meditation, reiki, healing, weight loss, pilates, stretching, relaxation, workout, mental, gymnasium, theater, action, arena, gymnastics, exercise, health club, fitness room, health spa, work out, weight room, working out, sports hall, welfare centre, fitness club, wellness area, workout room, spa, high school, sport club, athletic club, fitness studio, health farm, establishment, gym membership, junior high, sports club, health-care centre, exercise room, training room, fitness suite, health centre, beauty center, my gym, country club, fite, gym class, medical clinic, med centre, free clinic, medical facilities, dispensary, health posts, healing center, health care facility, medical station, health care establishment, health establishment, medical establishment, centre de santé, medical centres, medical, hospital, polyclinic, healthcare facilities, treatment centre, medical institutions, health care institution, health units
Change Log
Updated October 2023
Working With Latest WordPress Version
Updated Google fonts