Best Small Business WordPress Themes listed here 2022
Small businesses need best small business WordPress themes to make their website online and to grab more attention and visitors.
Online medium is important nowadays because we everyone searches online for their nearby businesses, check their reviews and past experiences and then call them to get a quote.
So before even a visit happens from any of the customer you get a call for pricing just by checking your business online.
That is only possible using small business WordPress themes because they have better SEO and are capable of handling local business listings nicely.
Here is a list of some 30+ best small business WordPress themes listed for your review and those are better in every aspect to satisfy the requirements of any small business.
The best compilation of small business WordPress themes for all startups, small and medium – sized businesses to find a fundamental for their websites and be way ahead of the game.
Everything about your business from the conformability of your physical store to the quality of your customer support and presentable digital profile is a part of a great business experience.
As for the online existence, it is a vital piece of each and every single business plan taking into the consideration the power of communicating with clients and customers electronically, as well as the gauge clearly showing the trends of your growth in the relevant marketplace.
With this in mind, we have sorted out some of the top – quality small business WordPress themes to get an idea of the boundless working potential of each.
Each of the below – proposed templates is ready not only to compensate its purchaser for investing his financial means and time, but also reward the latter for the initiative he took in creating his website based on this or that theme.
Using those templates will also reduce and even eliminate the need of hiring experts to deal with the customization and management of your future website, since all of them are coded to be totally digestible for everyone with pretty little or no coding experience at all.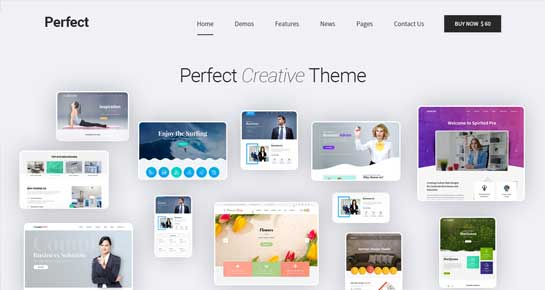 SKT Perfect is perfect for any business. It is a great looking small business WordPress theme and has all the features a small business should need like proper call to action and management of social icons.
It is the best theme provided by SKT Themes and has more than 15 templates within itself and more than 70 to be added in near future.
It is a multipurpose business theme which can be used for any kind of business. All the other types of business are depicted by use of independent templates which can be used to have any type of business like beauty salon, fitness, medical, charity, pizza, golf club etc.
It has many salient features but we will discuss all the common salient features at the very end of this article.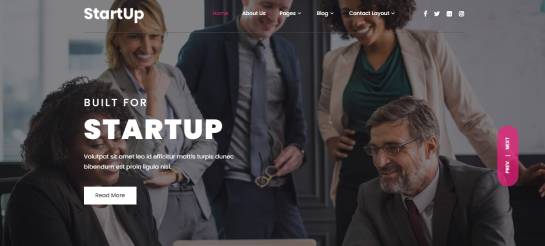 StartUp Pro is a startup WordPress theme suitable for small business and can be easily converted to any type of startup business website.
It has proper lead generation contact form and other call to actions and social icons for interacting with your clients on your social network.
Fully features with all the latest tools required to make any startup business successful this small business WordPress theme does have all the necessary requisites of being a great template for them.
Seriously worked – out and aesthetically polished, elegant and businesslike, StartUp Pro is one of the top – rated small business WordPress themes of SKT production to act as a springboard for your upcoming success in the digital realm.
This simple and smart, yet advanced and inherently powerful template comes with all of the styling and functionality, however, you are the master of your online profile with tons of opportunities to change and adapt itself to your business style and brand awareness.
The admin panel of the theme is the place where you can get a bird's view of what can be done to this or that part of the website or what look and feel it may communicate to its visitors.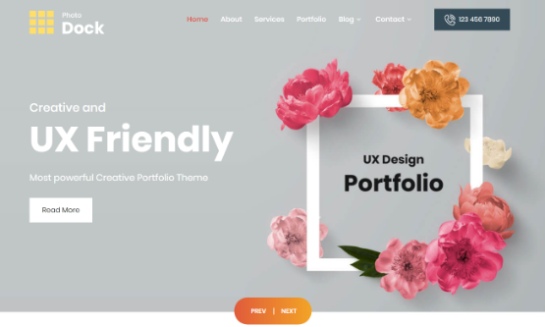 The next dependable and zealous, user and customer – optimized template at your fingertips to expand the field of influence of your small business is Photodock.
Getting enough traffic to your posts and pages will not be a bit of mystery with this template, as every part and portion of it has been in under the constant surveillance of the authors of Photodock to make it a product of a near – perfection level.
Thus, from total responsive and cross mobile web design to translation and multilingual ready nature, from the homepage slider availability for the best images to preloaded gallery, shortcodes and team member section, impeccable navigation levels and plugin compatibility, everything has been minutely taken care of.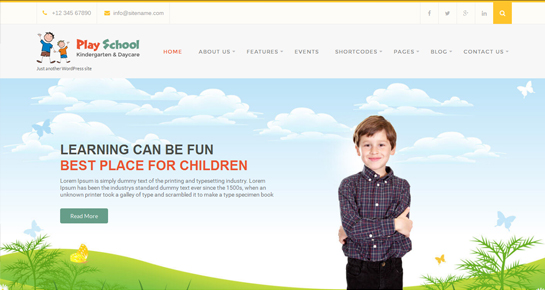 Play School is another piece of hard proof that fantastic achievement can be recorded with minimum costs.
This wonderfully fresh and entertaining, technologically refined and totally accomplished representative in our collection of the best small business WordPress themes is comprehensive and complete in every aspect so that you will never feel clueless of how to deal with it and create a business website with reduced expenses, but improved efficiency and tangible results coming down the pike star.
The theme comes bundled with multipurpose nature, but it is specifically suitable for kids and education – related topics to gain more popularity and fame across the digital environment with the help of SEO – optimization of the theme, WooCommerce and LMS plugin compatibility, modern and classy appearance with flat design style touches, multilingual – friendliness, etc.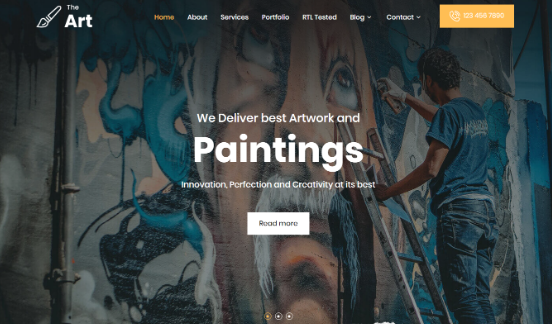 An imposing number of customers are inclined to meet businesses in the virtual reality long before they venture through the business doors.
With this in mind, The Art pretends to be an unbeatable starting point for all the artists, portfolio owners, freelancers, designers, photographers, as well as other private entrepreneurs or small business owners to make the most of their online profiles and present their works, items, services or portfolio in the most effectual fashion.
Based on modern customizer for the website admin to tweak the theme's options, controls, color wheels, visualization and much more, this strongly advisable template features colorful and bright look with well – designed graphical solutions, lots of shortcodes for easy inner procedures, as well as HTML5 and CCS3 coding for blameless performance both in desktop and mobile version.
Wine Pro is not hesitant to showcase your newly – started or small business of any type in a sophisticated way to increase the number of your potential customers.
Your competitive website based on Wine Pro will be ready to undertake any changes and alterations for better results and extensive operational framework to be one of the beneficial promotional activates you target certain groups of audience in an effort to boost your earning, as well as increase your business influence in the respective industry.
Wine Pro has been developed in such a way that it intuitively understands your needs and is ready to act accordingly.
Hence, with this template you will be the only one to decide color combinations, content categorization and publication in theme sections and areas, images to be showcased on the slider, translate the web content into other languages, etc.
Transform your business website into whatever you want with Build as another trustworthy sample among small business WordPress themes to grab your visitors' attention and trust.
Any kind of activity, including industry, construction, service provision and more can be fully revealed with this exceptional template armed with totally user – friendly layout, responsive coding at its core to look stunning irrespective of the mobile or device used.
Social media optimization for integrating social media environment into your business strategy, company and project sections to present yourself from a professional standpoint, as well as to show off your successful projects of the past, blog section for news, interviews, press releases and other updates and yet much more to come with this template.
Dual screen approach this theme has a lot of marketing skills when it comes to showcasing any small business. Also since this appears like a one pager theme it does justify the importance of small business and acts like a landing page for any of the small business WordPress themes based website where the purpose is to have information about the business.
SKT Architect Pro is basically an architectural design agency website however we can use it for multiple purposes or for multiple types of websites. It satisfies the need for someone who is looking to have a nice visual and attractive website filled with images.
Services are depicted in the form of images and they appear really nice and chic. Architect pro is another small business WordPress theme which has been created to have a great impact on your visitors so that they easily get convinced and connect with you for more business.
Landing Page surely focusses as per the name that is on the landing page which has a nice slider on the top with call to action like phone number and a quick contact form.
It is easy to depict and tell about your services on the landing page and get quick information from people who need or are interested in your business services and thereby get more sales and leads from the website.
The main purpose of SKT Landing page is to grab more sales and leads. Thus this type of template will suit most users who want a site to get maximum sales or leads.
Flat Pro is a great website template for small businesses as they can get this one of the small business WordPress themes to create any type of website they can imagine for.
Also it follows the latest design trend of flat business style which means no gradient element is present in this theme and thus one can easily vouch for the cross browser friendliness of the theme as well as cross device compatibility.
SKT Lens Pro as has been shown in the four slides can be really used for any type of services or business website use and has a real visual approach with a full wide slider on the homepage.
It has nice menu on the left with a widget underneath the menu to have phone number and social icons for call to action on the sidebar.
Since the sidebar is fixed one can easily get the call to actions listed on the sidebar for easy visibility.
Gravida is a corporate WordPress theme and gives a real corporate look and feel and thus is best suited for all sorts of small business WordPress websites.
It has a great homepage which can be set up easily using sections of the customizer and while doing any changes one can check the changes happening in real time. Slider is replaceable and can be changed to anything you like. Loads of other features just like other themes.
Simple as the name suggests is a simple WordPress theme for small business and since is very simple and easy to use can be used for any startups or novice business users who want a website but don't have a big budget and prefer to do everything on their own.
Simple simplifies the user experience with a simple slider, services section, header with menu items and call to action. Simple way to have a background in the website and other easy to use shortcodes.
Condimentum is a really clean and premium style WordPress theme suitable for small businesses. Has a great display of icons and relevant text to showcase services and about us nicely on the homepage.
Really clean with lots of white space on the site. Team members are done nicely and differently than what you have seen in other themes.
Client testimonials are also refreshed from different design look and feel. A true multipurpose template this has all the qualities of a nice template suitable for all kinds of small businesses.
Shudh Pro is a white minimalistic styled small business WordPress theme which has a great slider on the top and great visually attractive elements which follow thereafter.
On top of white this template has all the buttons and other elements in nice colorful approach so that they look good.
As the name suggests it is suitable for any industrial or production company type of a website where any production related services, careers, about us and management can be showcased nicely.
Secondary menu has call to action for having a phone number and email address for quick contact for your company info for anyone who is interested in your services.
Exceptiona is an accounting WordPress theme for small businesses where users can use it for any type of financial related or corporate type of business use.
The template looks professional with a nice transparent background and a 980 grid used for the entire site so that it gives the look for an old company website which is good in terms of business.
Blue gives the professional look and feel for the entire template on top of white. A big large button to get appointment is given on the top header.
Design Agency Pro is a great clean and classic styled fully wide and one among small business WordPress themes suitable for any type of small and medium businesses.
Design agency pro has been created to suit creative and design agencies and apart from that advertising and other company or agencies who need a great website, need professional approach and look and feel and yet have their info displayed in the most nicest manner. With typography control one can have the type of fancy fonts they need on this theme similar to others.
Welder is a welding company theme but with yellow look and feel which of course can be changed as it has a great color picker tool one needs to see that this type of template suits any small business WordPress website and has the bells and whistles to cater to the requirements of those businesses.
Construction, concrete and manufacturing businesses who are just starting or are in small level can certainly make use of such a small business template.
Has on top location and email address nicely mentioned. Slider is full and projects are showcased really nicely which is one of the main attractions of this theme.
Clean and looks really nice and apart from that the main USP of this premium small business WordPress theme is that it has icons to describe menu items on the top which looks really awesome and unique.
Naturo is clean and minimal and is suitable for bare minimal websites who need just content and info showcased and do not need a fancy website any day to describe their business or about themselves.
It is a one page WordPress theme for small business which has a great animation effect on the homepage and lots of other features just like others which give it a boost to get it considered for any type of business. Contact us and other features are in built.
Suitable for all businesses and photography business as well. Full color changing so make it look just like you want it to be. Black and yellow although look classy and with animated sections this steals an eye from the visitor and makes an impact for any small business.
Slider is the main USP of this color changing one of the small business WordPress themes. It has a great transparent option which can be changed as well as colors can be changed. Fully responsive this theme is surely going to grab some eyeballs for any small business website.
SKT Biz Pro is a business theme which again has color changing options but looks nice in a grid or boxed format. Can be changed to full wide layout too and has all the professional tools for making it work for any type of business website.
Handyman Pro is a handyman WordPress theme which suits all handyman services and can be described as the best service industry theme for handyman which has all tools to grab attention of your customers and does the job for handyman service providers.
Icons and other common modern design trends as well as great look and feel and responsive approach make it worth this list.
IT Consultant is for a consulting business template where any motivational speaker can use this template for their own personal website purpose or any consultant can also use this template for their consulting business which can be IT, Finance etc.
Simple responsive small business WordPress theme which is very simple in approach of both front end and backend.
All of the small business WordPress themes listed above have some common salient features like having font based icons and social icons integrated. Coding as per codex standards and great look and feel with color changing and font based on Google fonts.
All updated themes and tested with latest version of WordPress. Plugins compatibility and tested with most popular plugins so that functions can be extended at the click of a button.