Gravida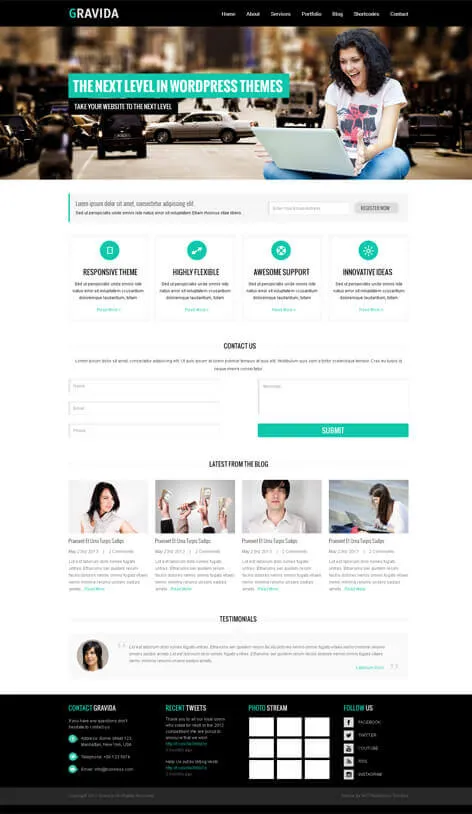 For

$39
Demo
360+ Themes for $69

Features of corporate WordPress theme
Gravida is a corporate WordPress theme and is responsive
Built upon Customizer one can do changes live
3 types of header variations and 4 types of Footer variations possible
Full color changing theme with color picker options given
Ready to use in built shortcodes and functionality
In built filterable gallery and carousels
In built testimonials
In built contact form
Header banner in inner pages can be replaced by iframe, video, HTML
Multilingual and translation ready
WooCommerce compatible for shop and eCommerce
Events calendar compatible
Tested for RTL languages as well
Tested with various page builders
Tested with several sliders
Compatible with shortcodes plugin for additional shortcodes and content blocks
Optimized for speed
Consists of 600+ Google fonts and hence you can change fonts everywhere on the theme
Lots of shortcodes to suit each and every requirement of yours
SEO friendly and SMO friendly for social media integration
Captcha contact form for spam protection
Unlimited versions of home page possible
Video and image portfolio
Blog section for news, press releases, tips etc.
Home page slider with 12 transition effects
Compatible with latest version of WordPress
Coded with HTML5 & CSS3
Gravida our latest WordPress theme is a corporate WordPress theme. It has a full width slider which may showcase skills, portfolio and what the company does in short.
Since it is the most important area of the site is has been designed nicely. It is powered by a slider which is responsive and has 12 transition effects.
Then appears the 4 column boxes which define the major services of the company or may hold other info as the company thinks of.
Home version 2 and home version 1 differ with the contact form included for call to action in home version 2.
The footer is extended with tweets, flickr feed, follow us social icons for social media integration and contact info mentioned.
Services section displays each service in a nice column format with read more links to describe the service much better as corporate WordPress theme normally requires.
Portfolio section displays a video, and image gallery which may showcase several videos and images and can be divided or bifurcated in various categories as one may suit.
Blog section is standard WordPress blog for news, tips and press release.
100+ shortcodes included with this theme which come handy in showcasing content as one may suit.
Contact Us area displays a contact form which comes within this theme. Captcha added to contact form for spam protection.
Also Included with every corporate WordPress theme
Theme Files Theme files are included in the zip you get when purchased
PSD Design Files Includes PSD format file so that in case you need any design changes first in order to modify the theme you can do so
Sample Content Homepage content gets loaded default and rest of the content pages can be easily set up using documentation
Support You will get login for our support forum and our email id and skype ID after purchase of a theme
Free Installation You will get free installation if you request us to install the theme on your server with demo content
Advantages of Gravida Corporate WordPress Theme
Running a high quality, accurately crafted and developed corporate or business website seems to be one of the most applicable online marketing strategies at present for the majority of companies, organizations, agencies and firms, having ambitions, goals and objectives in the relevant field and foreseeing better outlooks for the future.
They exercise this tool successfully to expand their company and brand presence, increase their visibility and accessibility for more people and transforming their visitors into their potential customers. Dealing with a business world directly and indirectly enforces you to take a really prudent care of your compatible and decent presentation in the online market, as today it is used as the main source of information and intelligence, and having your comprehensive presentation of your business and business-related activities will indescribably will speak and act in your favour.
As modern website deems to be a compulsory platform for the manifestation of a corporate and businesses of any kind, size and direction offering results-driven services and exceptional customer support, dozens of corporate WordPress themes have been projected and elaborated to respond to all the wants and demands of contemporary business websites, that is to say, within the period of their processing all the standards and criteria, which the modern reliable website should correspond to, have been satisfied.
One of the most critical ones among them is responsive web design, guarantying compatibility with all screen resolutions, be it a phone, tablet, kindle or any other device. In this article we want to draw your attention to one of the preferable and professional corporate themes of WordPress development, having in its foundation responsive template to provide an optimal and precise viewing and interaction experience across a wide range of devices – easy exposition and navigation with a minimum of resizing.
In conjunction with the cross device and mobile functionality and compatibility, this WordPress template strikes the eye with its tempting and expressive, modern and elegant appearance design with dominant white space with additional black and turquoise colours, giving the theme highly professional look and feel.
Furthermore, the proposed theme has in its basis Customizer and provides you with unlimited feature and style customization and control possibilities, including theme settings, colour scheme and much more and a preview of the undertaken changes in real time. Colour picker option of the theme provides a quicker and easier way to choose a colour, changing the active colour to your favourite one, thus, resulting in your preferable final product matching your set objectives and goals.
Gravida corporate theme of WordPress production has been successfully tested for its total user-friendliness, granting the latter all the easy and affordable ways to make his intentions regarding the website overall structure and design come true. Irrespective of the fact, whether you have any relation to web development or not, with the support of this awesome theme you are going to be a top master of it. Utilize diverse shortcodes available at your command and make the required operational modifications and adjustments within the theme and achieve the target functionality.
Another expressive tool within this business layout to be constantly used for greater visual impact on the website visitor, stressing the advantages and benefits of your online presentation over many others, including your solutions, services or products, is its full width beautiful slider spanning the whole width of the homepage. The slider is also praised for its full responsiveness ensuring exceptional look, as well as its 12 alteration effects under your control and command.
This all-purpose and adaptable corporate theme is loaded with 2 different home versions, one of theme including contact form for controlling diverse contact or feedback forms, adding or deleting the relevant fields, making them required, etc, header and footer areas with respective 3 and 4 diverse possible variants to choose from and insert the needed sections, recent tweets, recent posts, social media icons for linking the website to relevant networks, such as Facebook, Twitter, Google plus, Linkedin, as well as your contact details.
Gravida corporate WP theme has been specifically designed and developed to meet Social Media Optimization standards to use a wide range of social media platforms and outlets to generate publicity and increase the public awareness and recognition of your company, organization, agency or whatever it is, which can give rise to new clients, new business partners, and eventually new business possibilities and perspectives.
The corporate WordPress theme also shows Search Engine Optimization-friendliness for enhancing the visibility of the website to be accessible to more people all around the globe. Apart from being SEO and SMO friendly, this theme appears to function excellently while operating with diverse practical plugins.
The list of compatible plugins incorporates WooCommerce plugin, making Gravida online shop and e-commerce ready layout, event calendar for highlighting and sharing your upcoming events, several multilingual plugins for translating the website into the most necessary languages and thus consolidating stronger contact and intercourse with international customers.
Finally, whether you are a start-up company or have been engaged in the relevant business field for many years and have venerable reputation, you can make the most of Gravida corporate theme thanks to its outstandingly adaptable website creating solution and all inclusive theme package of applicable and convenient, practical and time-saving shortcodes, testimonials, more than 650 Google fonts integration, other features, elements and options in addition.
This incredibly resourceful and flexible, remarkably feature-rich and stunningly user-friendly expedient product will certainly turn your website into one the most powerful and profitable points of your ongoing business activity. This multipurpose and innovative HTML5 and CSS3 based WordPress template of corporate nature with unlimited inner possibilities will not cause any inconveniences to you or your website visitor through its versatility and super capacity for adjustments and adaptations.
By relying on Gravida as a solid and stable basis, your business presentation in the digital world will live up and even exceed all your expectations in connection with your business popularity growth and expansion, making you really competitive and booming at the cost of minimum time, financial means and resources spent.
Gravida Corporate WordPress Theme has been designed to satisfy all the corporate users with its charming and extensible features which give them an option to have great websites in no time.
It allows them to have full color choices of their own as the theme is based on color picker.
It is based on customizer so no reason of conflict with the WordPress core can ever be possible.
Also this responsive corporate WordPress theme has all the features of browser compatibility, mobile compatibility.
It is accustomed to plugins like accelerated mobile pages and SEO plugins.
Since it is multilingual compatible one might use plugins like qTranslate X.
Several inner header and footer layouts are possible making it desirable for every kind of corporate website.
Colors settings, typography settings using Google fonts and cyrillic and latin sub sets give this theme an upper edge when it comes to languages.
Also RTL compatible and sliders compatibility ensure that any type of slideshow is possible using this theme.
For self reliance we have given over 100+ shortcodes along with this corporate WordPress theme which give it at par confidence.
Also the corporate WordPress theme is compatible with several plugins like eCommerce, contact form and other types of plugins which make it scalable and flexible to hold any type of website information and data.
Use this corporate WordPress theme to have your next corporate website and get the benefits.
Fast loading theme built upon customizer can be your next theme for your next website.
Related Themes:
Other Corporate WordPress themes
Tags: complete, easy, responsive, simple, startup, business, new company, beginning, beginners, new comers, easy, initial, single page, starting, young company, young enterprise, firm, enterprise, new enterprise, new venture, firm, new company, new business, corporation, IT sector, SEO services, company, emerging company, new undertakings, bureau, firm, department, corporation, government agency, branch, federal agency, banking, banking sector, bank, influencers, service, institution, work, avenue, job, commission, duty, organization, individual person, office, authority, startup, small startup, setup, office, action, agents, ministry, aid, office, mediation, establishment, inauguration, college, business, place, seminary, premises, shop,
Change Log
Updated October 2023
Working With Latest WordPress Version
Updated Google fonts