The seafood business is an industry that revolves around the procurement, processing, and distribution of various types of seafood. It is a highly lucrative and diverse sector, catering to the ever-increasing demand for high-quality seafood products worldwide.
Seafood businesses often specialize in sourcing different types of seafood, such as fish, shrimp, crab, lobster, and oysters, from both wild-caught and aquaculture sources. These businesses play a crucial role in ensuring the availability of fresh seafood to consumers, whether it be through local markets, seafood restaurants, or online platforms.
In addition to sourcing, seafood businesses also focus on maintaining the quality and safety of their products throughout the supply chain. With advancements in technology and increased consumer awareness, the seafood business has witnessed a shift towards sustainable practices, including responsible fishing and environmentally friendly aquaculture.
This has further encouraged the growth of eco-conscious seafood businesses that prioritize the long-term health of our oceans and marine life. Ultimately, the seafood business plays a vital role in feeding a growing population and satisfying the taste buds of seafood enthusiasts worldwide.
Centuries have passed but still, food remains amongst the most loved aspects of everyday life. Seafood and restaurants serving it have received an unimaginable response from the food lovers across the world.
Therefore when you are in a restaurant, trading, or serving business of coastal food, it is important to have a digital presence.
In this read, we have compiled interesting concepts and designs to cater to the needs of all your purposes including blogging. Building a website for a café or restaurant is always a little tricky.
But, with the following list of Seafood WordPress themes, your task will be simpler and quicker. Choose the best for your venture and ensure that your investment pays for itself.
Seafood WordPress Themes Fishing Company & Seafood Restaurants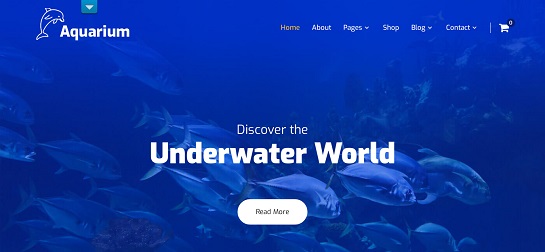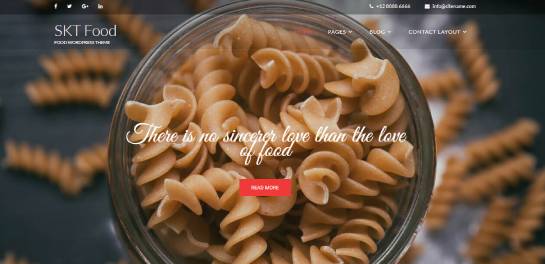 This is an innovative theme with the potential to improvise every aspect of your site. You can enhance every page and customize all elements without worrying about the coding part.
It includes prebuilt content elements and templates which are perfect to highlight all sections of the food industry. The personalization of each segment can be made as desired to ensure that it reflects your brand identity.
Plugins ensure that you have a free hand in managing and controlling all the other features necessary for governing your website. It is responsive and adaptive to all kinds of browsers, screens, and devices. You will never face any issues related to compatibility or resizing.
Option for managing the layout and style is limitless to help you remain creative. Skin variations can be added as and when required.
In addition to all these, you also get WooCommerce compatibility for ease of doing online business. You can conveniently install contact forms, calendars, and event plugins to facilitate customers with online bookings.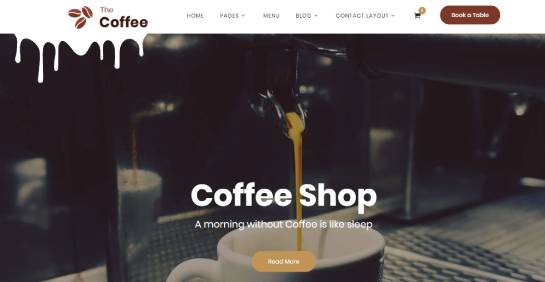 Coffee Shop is amongst the widely preferred options in Seafood WordPress themes. This is a minimalistic theme with powerful features to digitalize your café or restaurant.
It has been created with the purpose of hosting all the small and big cafes for the attraction of tourists and localities.
You can conveniently upload optimized pictures of food dishes, menu, ambiance, and the view from the café. Another best part is that social media integration is compatible and simple.
This means that you can connect and attract an audience from across the globe through social media. If required a facility to create separate login accounts for guests and staff can also be developed.
Customization is flawless and so is the modification part. Existing templates can be directly used and modified as per your standards and target audience.
If that does not suit you then you can always customize one for your restaurant. It is SEO-friendly and is compatible with screen size and devices of all kinds.
This is an organic restaurant based theme developed with the sole aim of catering to the food industry. It is crafted with a powerful and flexible framework to ensure supreme performance. It has a stunning design and a restaurant-specific layout to fulfill all your needs.
It is retina ready and adjusts flexibly in different screen sizes and browsers. Installation and customization are well documented, quick, and convenient.
It offers integration with the powerful WooCommerce to ensure that you have the freedom to set up an online business. Page Builder helps in the modification process and also in creating new segments as required.
Photo galleries can be established with optimized images to ensure that you can feature all your specials. In case you require a blog the same can be managed and updated regularly.
Interactive visual animations and smooth scrolling are amongst it's talked about features. The coding is as per WordPress standards and is SEO-friendly.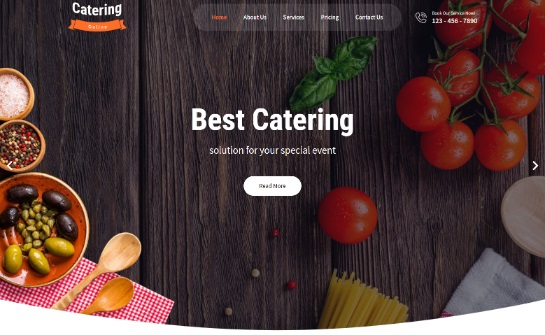 Next in the list of Seafood WordPress themes is Catering that gives you a subtle layout and design. It is designed with a focus on healthy, easy to prepare, and delicious tasting seafood in catering.
The layout is quite modern and suits all screen sizes without a hitch. You can easily categorize the dishes and types of cuisine that you serve by adding or removing pages.
Sliders are present by default and help in keeping the audience informed about everything new. It is a fully responsive and feature-rich theme that offers dynamic functionality. All the default segments are carefully crafted so that you do not have to invest more time in modifications.
It is compatible with all kinds of plugins so that you never remain on the back seat for any features. Customizer helps in managing and controlling all aspects of the site.
Google fonts are an add-on that can be utilized for aesthetically appealing typography. Social media and contact forms can be integrated as per need.
The Bistro is one of the widely used Seafood WordPress themes. It comes with an elegant, clean, and attractive design that catches the user's eye at first sight. Irrespective of any cuisine that you serve this theme can make it look delectable and healthy.
All your brilliant photographs will be displayed perfectly in all devices and browsers. The time-consuming process of template-building can be reduced by using fantastic default templates.
You can manage reservations, food specials, menu, staff information, and brand image in an impactful manner. If required new templates and sections can be quickly created to reflect the brand uniqueness.
It is powered by WooCommerce so that you can conveniently create an eCommerce platform for your niche. Sliders, widgets, translation-ready, and multilingual functionality are some of its core features.
The header and footer can be modified as per the design and layout. It is SEO-friendly and has a significantly faster loading speed. Take orders online and create a dynamic engagement with your users with Bistro.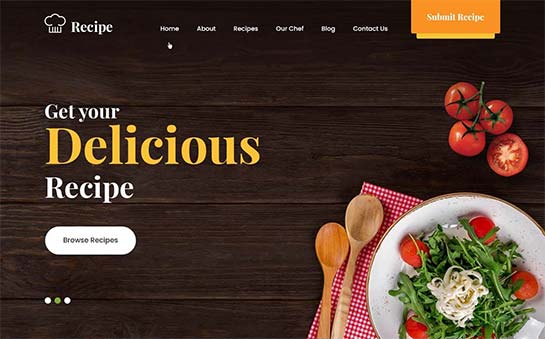 The seafood WordPress themes list will remain incomplete without including Recipe. It sticks out miles ahead from its competitors in aesthetics, performance, and reliability. You can take the plunge right off and design a dynamic and vibrant website with it.
You are assured of higher search engine rankings based on your content as it is optimized for SEO.
The default layout, design, and segmentation is a result of carefully worked out research on the target audience. Not only that you can easily establish a simple or advanced online store for selling your products and recipes. Modification and customization in all segments are straightforward and swift.
Custom-made elements and translation features ensure that you get an edge over your competitors. Conveniently include textual, visual, and other types of content without worrying about compatibility.
You also get access to comprehensive documentation to help you in the setup process and a one year support from the developers. There is no turning back with Recipe for achieving a spectacular digital presence.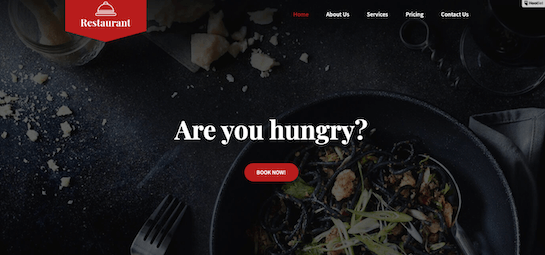 Ele Restaurant holds a significant prospect in the list of seafood WordPress themes. The first thing you can do is to explore all its clean, professional, and apt templates that can be used directly.
Making your look website look integrative and engaging for users will not be a lengthy process by using the prebuilt templates. You can invest more time in creating engaging content and uploading stunning photographs for attracting organic traffic.
The segments and layout are responsive and it is optimized for SEO along with WooCommerce integration. Hence, you do not have to make trouble for any of these features.
If at all you find something missing it is highly compatible with all kinds of plugins. User-interface and navigation have been kept simple but professional to charm your customers.
With the help of a page builder, you can create a design that stands out for a seafood restaurant. Publishing testimonials and activating comments on pictures/blogs is also easily possible.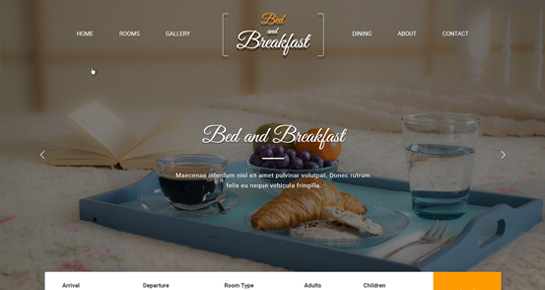 Who doesn't like to have their food in bed on a weekend? Such leisure in life is craved by millions which makes it an experience-based industry for food lovers.
Hence for attracting users on the kinds of experience that your restaurant, café, or food outlet offers, this is the best theme. Its aesthetically appealing design and elegant features make it include in the list of seafood WordPress themes.
It is not straightforward, cut, and dry like the usual layouts. Instead, it is effective, compatible, and engaging. Depending upon your sector of products or services you can mold the context of layouts and design easily.
WooCommerce compatibility is an add-on to facilitate the customers from around the globe with your ready-to-eat products. The true image and value of your firm can be captured by dynamic menus. The visitors are welcomed in the right aura and atmosphere which makes them visit your place.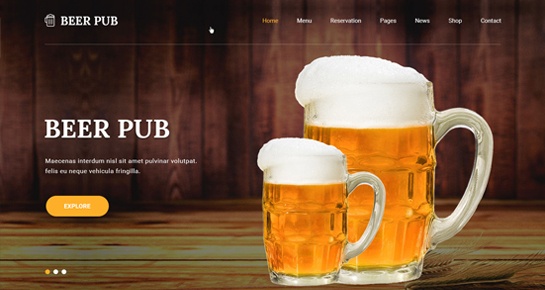 Seafood, view, and beer are a perfect combination that everyone is looking for on a weekend. Beer and Pub is an exclusive theme to represent your bistro, café, restaurant, or outlet in the digital world.
You can easily use the default provided sections or create new ones as required. If you want to segregate, cuisine, beverages, desserts, and specials, then that can also be managed quickly.
Blogs can be activated and used to feature your popular days, dishes, and occasions. Recipes for some delicious and mouth licking food will attract traffic on your site. It has been developed by keeping in mind the SEO and SMO so that functionality is never affected.
You can also add an interactive search bar so that users can easily find dishes. You also get the facility of establishing an online store as it is compatible with WooCommerce. Stunning Instagram and Facebook feed along with other social handles can be integrated.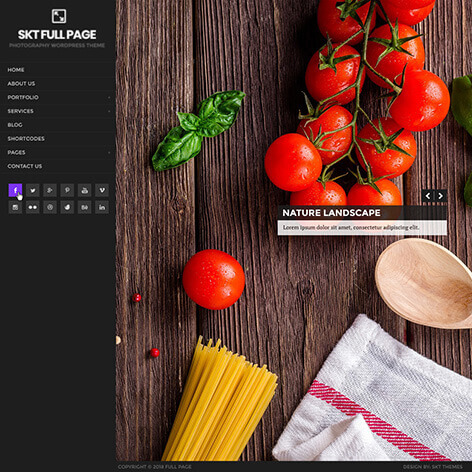 This is a widely used multipurpose theme that has made its place in the best seafood WordPress themes. You can easily develop a single page or multiple page modern websites that lulls your customers into strong desires.
This will make the interaction process dynamic and fun. The layout adjusts awesomely and it is responsive from the ground. It is clean, minimalistic, and fits perfectly in all kinds of screens, devices, and browsers.
Creative layouts and modifications in colors, fonts, and styles are completely under your control. Creating galleries and adding pictures without worrying about optimization has never been easier.
Prebuilt templates that are effective and attractive help the novice users in quickly starting the development process. It will save you a lot of time and give you space to learn.
This helps you in gradually upgrading your website. Easy to set up a blog and promote your brand as you get access to comprehensive documentation.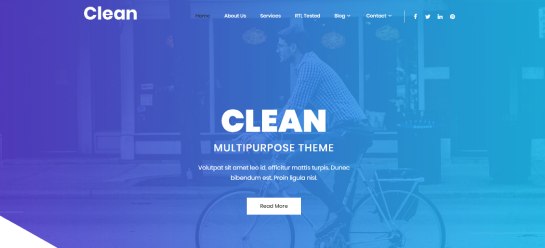 Clean Pro is one of the most professional and elegant Seafood WordPress themes. It is a huge task to find a theme that is up to date and offers ready-to-use solutions in templates, features, and other sections.
With less design or coding skills, this is a perfect choice that you can make to digitally represent your seafood outlet or restaurant. It is optimized for mobile and SEO which plays a crucial role in website ranking.
Plugin compatibility is at its best with inbuilt support for WooCommerce integration. You can update the site easily whenever you promote or organize an event.
Blogs can help you in reaching out to the audience from different cities and regions. All pictures of the place, food, and ambiance can be well-displayed by adding it to a gallery. Events and calendars will help you in taking appointments and bookings from guests in advance.
Customization can be made to ensure that your specialty and special hours are easily noticed by the customers.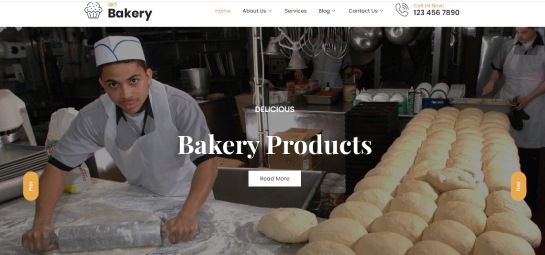 The last in the list of Seafood WordPress themes is We Bake. This has been initially designed to promote all food items related to baking and desserts.
But, it is well-equipped with all the functions and features to make an impactful and effective website for seafood lovers.
You can choose the prebuilt templates and make minor modifications or use the page builder to create completely new ones. Modification in other aspects like colors, background, fonts, styles, and segments can be easily made.
You can easily showcase your offering and even sell them online as it is compatible with WooCommerce. It is mobile-friendly and you can translate it into a native language so that regional customers can be easily attracted. Navigation is flawless and documentation is provided to help you out with the installation process.