The present times demands self-reliance when it comes to developing a website for your business, art, or creation.
In the technologically sound world, the internet fraternity is at your rescue so that you can easily develop a website. The need for the moment is to choose from the right modern WordPress themes that can make your site look unique.
WordPress has been amongst the most significant platforms for this and therefore there are hundreds of options across you.
Hence, we have sorted some of the most interesting, power-packed, and flexible options for use. This will not only help you in selecting the best but also in making your mark felt in the digital space.
When it comes to giving your website or business a very intuitive look, nothing performs better than a theme. A theme has a more significant impact in deciding how your website is going to work.
Moreover, the theme you choose should have a good web design and attractive enough that it can enhance your user experience.
Though the market is filled with a massive number of WordPress themes, it is pretty daunting to find out the ideal one which is going to be suitable for you.
However, here are some of the modern WordPress themes that can be the ultimate good choice for your website. Have a look:
Creative & Modern WordPress Themes 2021
Are you looking for a very responsive theme for your website facilitating home theatre-related services and for selling electronic items like a soundbar, speaker, television, etc.?
Then one of these modern WordPress themes is nicely-created for you. Home Theatre theme comes with browser compatibility for the platforms like iOS Safari, Firefox, Opera Mini, Chrome, and many more.
This theme contains a multi-page template, and at the same time, it can be used for the single-page template. Isn't it great? Moreover, for the footer area, there are 4 different sections. This way, it contains a bundle of features.
Here is something for you:
Highly responsive design to deal with enormous traffic
Theme customizer options for customizing website
SEO optimized theme that boosts the traffic of your website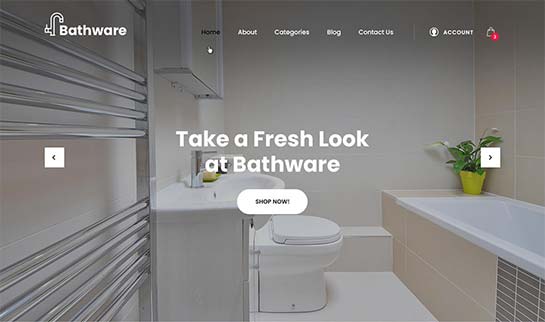 For your bathroom fittings, bathroom store, or other Bathware related businesses, the Bathware Theme by SKT is simply the best one.
This theme lets you easily create your website with the perfect look and features. There is not any need to know the basics of HTML coding, which makes it great for anyone.
With this theme, products are straightforward to sell as it comes integrated with WooCommerce. You can add a logo of your company to give your business identity.
Here are some more features it offers:
It comes integrated with google maps.
Completely SEO optimized
Supported with 1000+ Google fonts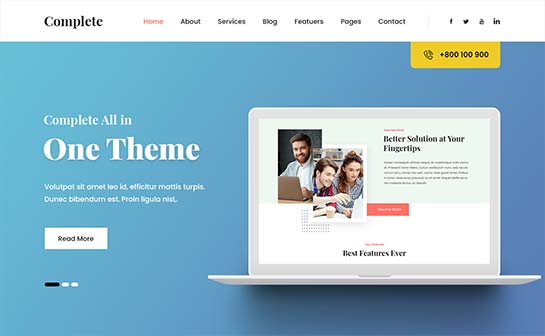 The Complete Pro is complete in every aspect. It is an entire color-changing theme that lets you pick colors from a huge option.
Moreover, the theme is fully font-friendly with more than 1300+ google fonts integration. What makes it more interesting is, it includes slider features with animation and pauses timing.
It includes a built-upon customizer that lets you make changes and also shows you the live preview. There are multiple inner pages with headers and banners. Moreover, it includes multiple headers and footer layout choices. It is multilingual ready with Polylang and GTranslate compatible.
Here are some more exciting features:
Third party plugin compatibility
This theme is very responsive for all devices and all browsers.
Tested for RTL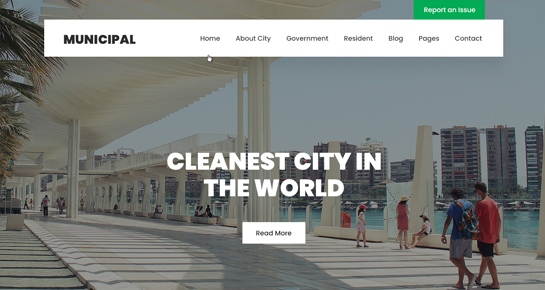 SKT Municipality is created as a city government WordPress theme that is very easy to use for municipal corporations, city guides, social contractors, governmental organizations, etc.
This template is ready to help the organizations which are looking for a very professional online presence easily.
It is designed to work compatible with the Gutenberg editor. WPBakery, Brizy, etc. You can also create unique portfolios along with this theme. The gallery section lets you add various photos to make your website have a very nice and professional look.
Here are the features it offers:
It lets you create blogs.
This theme supports Google Map.
This theme includes 4 various footer widgets.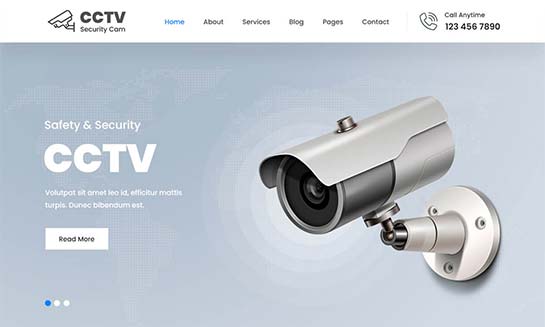 CCTV cameras are a very clean and robust website theme that is ready to use. This template is created to help any business related to CCTV services and security installment supplies and services.
It is easy to use with just one click for the demo content. There is no need for any advanced programming knowledge as it is straightforward to use.
There are various plugins supported with this theme to expand your eCommerce business. CCTV theme includes shortcodes, sidebars, custom widgets, etc., that let you create a very professional design for your homepage.
Here are the features it includes:
It is compatible with WooCommerce.
The theme is very responsive and mobile-friendly
It is free from image copyright.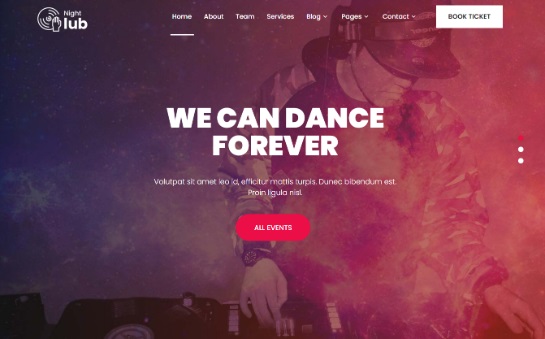 Are you looking for modern WordPress themes to grow and expand your Night club business website more? Then the SKT Night Club theme is just created for you.
This theme comes with its glossy and stylish layout, which lets you have a beautiful website appearance. Moreover, the template is handy for organizing music clubs, parties, night clubs, DJ, trance parties, and many more.
This theme lets you upload HD images to the slider, which makes your header section more attractive. Also, there are places for adding images that are user-engaging.
The theme works completely fine with SEO plugins like RankMath and All in one SEO Pack, which lets you grow faster and get better traffic.
Here are the features it offers:
This theme comes with top page builders.
It is multilingual-friendly.
The installation process is straightforward.
For your lingerie, undergarments, feminine nightclothes, innerwear, nightgown, and many other business websites, SKT Lingerie Pro is simply the most flexible and versatile one.
SKT Lingerie Pro is innovative in look and features. It includes a drag and drop interface for the fully widgetized designs.
This theme is integrated with the latest WordPress version. Also, it is free from image copyright. The WordPress codex coding standard is maintained while creating this theme.
Moreover, it meets all the hosting requirements. There are plenty of layouts available, which lets you customize this theme the way you want. Also, works well with Cache plugins like WP Fastest Cache.
Here are the features it includes:
This theme goes well compatible with security plugins.
It is supported with social sharing plugins.
Are you thinking of starting your website for painting? House decoration and other home decor and painting services with modern WordPress themes?
Then the Painting theme is just the right one for you. Also, this theme applies to multiple industries, which makes it a multipurpose theme.
It comes with complete documentation. There is one-year support which is provided from the state you purchase it. It is compatible with SMO plugins.
The inner header is straightforward to customize to make your business more attractive. There are pages like 404, search, archive, and categories for making your website easy to navigate.
Here are the features it includes:
Easy to add analytics, gallery, slideshow, events, etc.
It is coded as per the codex theme review standard.
The Finance theme by SKT is a multipurpose and multi-industry theme template that is very intuitive and responsive. This template comes with its sitewide layout, which is boxed and variable properly. The header area comes with more than 4 layout types for easy customization.
The widget-friendly theme is nicely suitable for WordPress websites. The sidebar layout comes for both pages and blogs with a variety of widgets. It integrates with more than 1300+ Google fonts which makes it highly intuitive for your purpose.
Here are the features it offers:
This theme is RTL capable.
SEO friendly
Coded with HTML5 and CSS3 for CSS3 animations
For your hair salon website, this Beauty Cuts website theme is simply the great one as one of the best modern WordPress themes. It is very responsive.
The one-page template is very good for simple and local business websites. Also, this theme is made for beginners.
This theme offers free installation, which also comes with demo content and a complete setup for your ease of work.
There is an easy team area for displaying the team area. Also, it includes a pictorial area for showcasing the various skills through images. Goes suitable for other must-have WordPress plugins.
Here are the features it offers:
Woocommerce compatible
SEO friendly
For your food, recipe, chef restaurant, food blog, and other food and recipe-related websites, Recipe theme is just the ideal one. It is compatible with some best WordPress recipe plugins. There is an animated homepage that lets you add great recipes with a simple demo.
The theme goes integrated with more than 1300+ Google fonts. Also, it is compatible with multiple languages and multilingual plugins. POT file is provided with a theme that is easy to use for translating the strings or the templates.
Here are the exciting features it contains:
Easy to add external shortcodes
SEO friendly
Includes 4 header and footer layouts
The Air Conditioner theme is a highly responsive one that lets you create websites for AC product selling, service, and HVAC repairing center.
This theme is retina-ready and comes as a cross-browser-compatible one. The template is specially created for offering cooking, HVAC, and heating services.
This multilingual theme also supports WPML and TranslatePress etc. While making the theme, SKT has maintained the WordPress coding standards. It is developed with an Elementor page builder.
Here are the features it offers:
It is compatible with gallery plugins.
Supports Yoast SEO, One SEO, and RankMaths
Includes POT file for theme translation
For your art-related WordPress website, The Art theme by SKT is simply the great one. It is very responsive and completely google mobile friendly.
There are several header variations for different header layouts. It is developed using an Elementor page builder.
This theme includes various post blocks, which let you create a beautiful and informative website.
It is multilingual ready with qTranslate X. Your website has a lovely look. 6 sliders are tested to make this theme more intuitive.
Here are the features it offers: several unique flip boxes give
It comes with brilliant SEO compatibility.
Cross-browser compatible
Coded with HTML5 and CSS3
The SKT Appliances Pro is simply an excellent WordPress template that is based on Elementor, which makes it highly responsive. This theme is suitable for all your appliances-related business services and shops.
The theme goes compatible with multiple devices, which makes it great as one of the modern WordPress themes.
For any kind of additional question and answer, the theme offers an online forum that helps you in every possible way. The products that you upload on this website are going to look attractive and valuable.
Here are the features it provides:
Created with maintaining the WordPress coding standards
5+ sliders are tested for the template
Supportive template with RTL languages
Is your business based on online shopping of fashion items? Then Shopzee can be the ideal theme for you to create a very responsive eCommerce WordPress theme.
It is tested for both the cross devices and for another handheld device compatibility. Also, it is cross-browser compatible.
The theme comes translation-ready with the POT file, which is included with the qTranslate X plugin.
It supports the WooCommerce cart abandonment plugin to abandonment track sales, which lets you work with it properly for growing your eCommerce business. This theme uses near about 100 shortcodes which makes it highly intuitive.
Here are the features it includes:
It is widget-friendly with sidebars, a footer, and a header.
It is tested with other slider and gallery plugins.
It is also tested with SEO plugins for an SEO boost.
This Photodock theme works with its responsive portfolio, which makes it much attractive as one of the modern WordPress themes. It is translation-ready and multilingual ready for creating a personal portfolio website.
For any of your model portfolios, corporate portfolio, and photographer, this theme is simply great.
This theme is highly performed with various galleries, shortcodes or contact forms, etc. Moreover, it is compatible with the page builders like Elementor and Divi for building inner page layouts.
Therefore, it also includes the header layout and further layout option for easy designing and customizing your website.
Here are the features it includes:
Includes 580+ font based social icons
It is security tested with theme codex standards.
This theme is RTL tested
Ele Attorney is a flexible, responsive, and versatile theme developed exclusively for use by lawyers and law firms. The landing page and other sections can be customized as required without any limitations.
Moreover, the pre-built templates also perfectly meet the standards of a reliable law firm and can be used straight away.
It has built-in options to adjust the design and layout so that without any technical knowledge you can manage easily. All coding standards are adopted and it is optimized for search engines.
The one-click installation feature helps in installing plugins or themes with demo content. High-quality image pack, high-quality resolution, and compatibleness with all devices and browsers are the best rewards. Particularly for legal firms, the practice area page has been integrated by default.
Corporate, multinational organizations and large scale industries often face difficulty in finding a reliable and responsive theme. SKT Corp Pro is one of the finest modern WordPress themes in the industry today.
It has the potential to live up to the expectation in terms of performance, features, tools, facilities, and aesthetics. It is developed keeping in mind the client base and interactions of corporate.
Hence, you will only need minor modifications before launching it. It is completely open to customization and all elements can be modified as required to attain the desired output.
Features like translation-ready, multilingual, SEO-friendly, WooCommerce support, Google Fonts, Social Media Icon Packs, and others add to its charm. Even the slider support has peculiar features like transition effects, timing, and interval.
Looking to features your collection, art, pictures, or unique? Museum Pro is an ideal match to feature art galleries, creations, and personal collections with a modern touch.
Some lucrative technicalities include easy loading of fancy block content on posts and pages both. You have an option to choose the desired overall layout and templates from the default provided.
Creating a customized one with the help of a page builder is a simple process to create the desired HD-ready templates.
It also includes blog layouts in case you require to launch one on the site. It is WooCommerce friendly hence establishing an online store is a vertical you can focus on.
There is an in-built contact form and if required external plugins for forms and other features can be added.
The SKT Guns is amongst the modern WordPress themes for NGOs and institutions that are intending to represent war veterans. Not only war veterans but everything related to the navy, air force, and army can be included here.
If you want to use it for this purpose then the default layout is nicely arranged. Google Fonts and special characters are incorporated to ensure that they can be given the desired feel.
The overall structure is simple, navigation is effective, and necessary assistance is provided during installation with the documentation.
There are hundreds of plugins that are compatible with it and can be used to extend the functionality. It is completely secure and multilingual.
Black and White is a soothing, classic, and professional theme for your WordPress website. The default styling is kept minimal to ensure that with a clean look you can enjoy the best facilities.
All the colors can be modified irrespective of the segment and elements. It is compatible with special characters, RTL, and WooCommerce.
It is Google mobile-friendly and ensures that supreme performance is reflected irrespective of the screen size and device.
Special attention has been provided for ensuring that it is SEO and SMO ready. This ensures better rankings, faster loading speed, and minimized website crash.
It is not bounded for access only on specific browsers as it comes with a flat design approach. Necessary arrangements are provided to set up a blog with your preferred layout.
WoodCraft is one of the best modern WordPress themes for establishing a furniture store online. It is responsive and fits perfectly with all kinds of devices, screens, and browsers.
It offers compatibility for plugins related to social media, events, gallery, contact forms, testimonials, etc.
In addition to that, you also get full WooCommerce support and can easily integrate 150+ payment gateways. This helps in booming your online presence to your customers as they can directly shop from the site.
It is well-documented, lightweight, and comes with fast loading speed. You can choose to opt for a boxed or full wide layout along with making other modifications. All templates are SEO-friendly and support cache plugins like LiteSpeed Cache plugin.
For any social, political, or personal cause establishing a movement is necessary. In today's technology governed world, it can be done with the help of websites.
Activism Pro is one such theme with a modern approach and required facilities to feature causes online. This can ensure that a large number of audiences can understand and support it.
Many custom widgets are integrated into it and the necessary provision for accepting donation like SKT Donation plugin is also supported.
You can add or remove segments and pages as per your choice. Activism Pro optimized for supreme performance and are retina-ready. Drag and drop page builder makes the entire process easy and effective for all kinds of users.
This multipurpose theme makes it to the compilation of modern WordPress themes. For creators, artists, business firms, and any other niche SKT Perfect can provide whatever is required.
The entire editing process will be easier, fun, and convenient. Pre-installed templates and 100+ integrated shortcodes will add extensive functions for making the user-interface simpler.
It has been tested on various handheld devices and mobile phones for compatibility. WooCommerce support is offered for conveniently setting up an online store and all required arrangements are present for establishing a blog.
The design approach is kept to material and flat. Customizer helps in providing a live preview of the changes made which is backend based. Some exclusive facilities also include image and video possibilities in the background.
SKT Elements Pro is an inevitable part of the modern WordPress themes list. Any website irrespective of the niche or sector can be developed using it.
The entire process is easy and quick, and, you do not require any knowledge of coding for the same. SKT Elements Pro includes a bundle of HD-ready templates that can be selected as per the need.
Since its launch, it has evolved providing an explicit customer experience that has made it highly productive.
Some noted peculiarities include translation-ready, mobile-friendly, ample shortcodes, color picker, font based social icons, and WooCommerce support. Even if you design the template yourself it will feature perfectly in all browsers, devices, and screen sizes.
SKT Guten Pro is a flexible, nimble, and creative theme for developing the new generation WordPress website. SKT Guten Pro is has been developed with all-inclusive features to offer a complete solution for all levels of creative website development.
Consider the unique needs of the users it has been tested with a range of plugins for compatibility. Hence, you never have to worry about its technicality and performance. For your convenience tons of advanced customization options are integrated.
Multilingual and translation-ready features come up as a perfect match with all the retina-ready templates.
Comprehensive documentation is provided so that even the smallest issues can be resolved easily. It is remarkably responsive with a user-friendly interface and sorted site navigation.
Astrologer is amongst the popular modern WordPress themes for astrologers, tarot readers, palmists, and cosmic. It caters to all the requirements and demands relating to tools, design, layout, features, etc.
Astrology has been evolving with evidence of scientific relations and people across the world are interested in it.
This theme will help you in coming up with a feature-rich website for terrific customer experience. Astrologer theme has the potential to render seamlessly across a vast set of screens, devices, and browsers.
The default settings are suitable to launch a ready to go website with minor modifications. All required pages, charts, and predictions can be easily screened and managed.
Sliders on the homepage can be modified every day to attract new users and redirect them to the new content.
My Dog is next in the compilation of modern WordPress themes. This is a dynamic theme and can be used for a variety of niches. You can develop an online dog store, animal support NGO site, pet blogs, etc. with this.
The overall layout, design, and elements have been developed with a focus on dogs. All the provided templates can be directly used by you as they are retina-ready. The overall aesthetics are superb with marvelous background shades and color combinations.
My Dog is easy to set up an online store for dog food, toys, etc. thanks to the full compatibility with WooCommerce. Also Charitable – Donation plugin can be included. The entire theme is well documented and consists of detailed information on the working of shortcodes and homepage.
BeFit Pro is an exclusive theme developed for all fitness freaks and gym enthusiasts. If you are a personal trainer, own a gym, or deal with the fitness industry then BeFit Pro is for you.
Colors of all elements across all segments can be changed and animations can be set up for any columns. BeFit Pro is 100% responsive, flexible, and fits perfectly on all devices.
Your training and exercise shots can be captured and highlighted through a gallery. It comes with Google Fonts and shortcodes integration. WooCommerce compatibility helps in generating online revenue for fitness-related products.
Sidebar and footer are widget friendly while the contact information can be displayed perfectly. Customizers and page builders are at your rescue for modification and customization tasks.
There are limited modern WordPress themes for all the architects across the web and this is one of them. SKT Architect Pro can be used for any domain and is multipurpose.
The homepage is equipped with beautiful parallax backgrounds. PO file is made available by default so that the translations can be quick.
The homepage of SKT Architect Pro has the potential to handle 20+ sections and the color picker helps in modifying colors of all elements. It is equipped with 1300+ Google fonts and the entire installation process is documented.
It is tested with cache plugins, SEO based plugins, and multilingual plugins. It has been made sure the too many external scripts are not used for obtaining a supreme performance.
Wine Pro is an exclusive and unique creation for developing a WordPress website related to wine yards. Such niche-specific themes are limited in numbers and this makes it the most special.
The overall layout of Wine Pro is primarily focused on white color with sparkling images of wine and the process of winemaking. It has SEO friendly coding and is compatible with NextGen gallery plugins.
It includes 8+ pages and an additional area for setting up a blog. Slider, contact form, and the gallery are incorporated by default.
Fonts, colors, and layouts can be managed and advanced users have access to custom CSS box.
HR Management is a multipurpose theme is last in the list of modern coolest WordPress themes. Corporate and business websites can conveniently mold it according to their requirements without big efforts.
HR Management renders fantastically in old browsers as well due to its flat style of design. It comes with integrated shortcodes that are easy to use and well documented. Complex content can be set up with ease due to the freedom of creating customized templates.
For users intending to choose the sidebar layout, separate templates are provided. Blog and online stores can be launched on the same website.
You can choose to translate it as and when required as it translation ready and multilingual. It is SEO-friendly and all external plugins can be easily added to boost the features.
Conclusion:
The above-mentioned modern WordPress themes are simply great with their functionalities and charm. Moreover, each of the themes comes at very affordable pricing, which saves your bucks and lets you create a great website in no time.