WordPress (WP) is a CMS platform of choice for numerous eCommerce businesses. It is hailed for being quite user-friendly, powerful, and versatile out of the box.
Be that as it may, various plugins do help us enhance its basic features and functions. The only problem here is that choosing the right tool is not easy. There are so many worth considering and an ocean of those that are not worth your while.
Simply put, WordPress Plugins for an eCommerce are not created equal and they vary in terms of features (shipping, inventory management, etc.), support, payment gateway integration, pricing, and scaling options.
They are also tailored to different kinds of products, design styles, and business sizes. All in all, there are a lot of moving parts to grasp and weigh.
But, do not fret. We have compiled a list of plugins that dominate the current WordPress Plugins for an eCommerce landscape and promise superior outcomes.
WooCommerce is the undisputed leader when it comes to sheer market share. It is estimated that this plugin powers between 30% and 42% of all online stores.
Such figures suggest that it is several times more popular than main competitors, Magento and Shopify. So, what is that great about this plugin? Well, first off, it supports both physical and digital goods. What is more, it is possible to sell affiliate and external products should you wish it so.
The list of features is long and includes complete inventory management, various payment and shipping options, as well as extensive support and documentation.
There are numerous plugins, extensions, and themes that bring new features to the mix. They open up additional opportunities for conversions, design/layout tweaks, and business growth. It is also worth mentioning that WooCommerce has a lively and large community of developers behind it.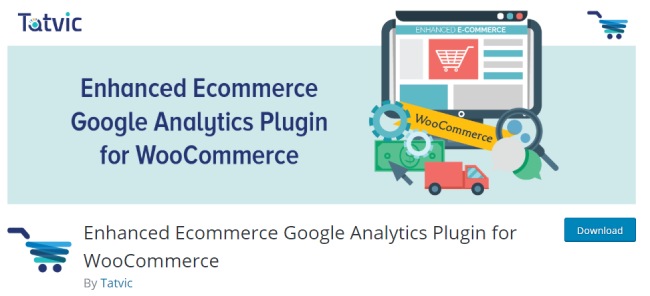 Next on our list, we feature Enhanced Ecommerce Google Analytics Plugin for WooCommerce, one of the most popular specialized WordPress Plugins for an eCommerce out there. You can use it to build a store from the ground up and fill it with digital and physical product offers.
What you get is essentially a basic package with main shopping cart features and without too many bells and whistles. Then again, those who posses CSS and HTML skills can customize it down to tiny details.
Beyond that, there is a wide array of payment gateways supported, as well as must-have features like invoice printing, catalog management, and membership site functions.
Do not get confused by the fact that this plugin can be downloaded for free. Its features need to be purchased and also, you might want to ponder "Gold Version" for extra customization options.
Although it lags behind WooCommerce in terms of usage rates, Shopify is a fast-growing tool that gives you a lot of bang for your buck.
In strictly technical terms, it is not actually a plugin, but an all-in-one eCommerce solution. One big advantage it has is user-friendliness: it handles all the technical details (shipping, payment, taxes…) without you having to lift a finger.
And just like WooCommerce, it offers support for digital and physical goods and a complete inventory management.
One difference is the shipping system, which streamlines the whole fulfillment process. On top of that, there is a direct integration with major providers and effortless implementation of social features such as Twitter Buy and Facebook Store.
At last, Shopify boasts a 24/7 support. Yes, you can hire top eCommerce web development companies to make everything run smoothly and you should. Nevertheless, it is nice to count on good support.
If you are selling membership-based digital products, membership plans, and pay-per-view content, then MemberPress is a no-brainer for you.
Namely, you can utilize it to build varying membership options nice and easy. Not only that, but you are in full control of the access, using the plugin to set clear access rules, permissions, and content restrictions.
There are a slew of integration options, including WooCommerce and third-party options. You can completely transform and customize your website for maximum conversions. Even beginners should have an easy time setting MemberPress up.
One thing to be aware of, though, is that payment options are restricted to PayPal, Stripe, and Authorize.net. Also, there is only a yearly pricing plan available.

Staying in touch with your customers at all times is paramount. WPForms enables you to do that. To be more precise, it provides people with a quick way to contact you (via an intuitive contact form).
Therefore, as a retailer, you can take advantage of drag & drop functionality to flesh out the order, shipment, contact, payment, email subscription, and other forms. Integrating them into your store is a real breeze as well.
Most actions can be performed with a few clicks, regardless of your niche, know-how, and traffic volume. You could say that WPForms is the opposite of a bloated and bug-ridden plugin: there is no learning curve and guesswork to speak of.
And those who still crave for more have the option to upgrade to Pro version. In our opinion, it is more than worth it, as it involves advanced customization options.
Finally, we have a great plugin for creating and fine-tuning key areas of eCommerce websites. Ecwid is an incredibly simple plugin and hosting solution, even for complete novices. It is designed for adding any kind and shape of a storefront to an existing website.
It comes with essential features like real-time shipping integration and catalogs of products. Nothing important is missing really.
One standout feature is certainly the checkout process. I especially like how there is plenty of white space and a progress bar at the bottom.
Therefore, customers know exactly what is happening and are able to see how close to completion they are. The list of good news wraps up with one amazing fact: Ecwid supports more than 40 payment gateways and 45 languages.

WP is a sound choice for any digital store, largely thanks to the booming ecosystem of WordPress Plugins for an eCommerce around it.
To find the right one, however, you cannot act on a whim. Instead, take your time pondering different aspects such as payments, shipping, and inventory management.
Factor in the type of product you mean to seek and features you would like to run on your storefront. You cannot expect one plugin to have it all, but it must contain your non-negotiables.
Furthermore, seek products that give you power and flexibility, tools that can be implemented hassle-free. We have narrowed things down, but feel free to explore more by all means.
Selecting an ideal solution will allow you to focus on what matters the most: converting customers, growing your business, and boosting your revenue.