Round up of best WordPress recipe plugins for food and chef websites
WordPress as extremely powerful and popular website creation and publishing system has become an integral part of the online presentation of any phenomenon, as well as one of the basic marketing steps in the majority of online undertakings.
Therefore, an unlimited number of food or chef – based websites, along with thousands of websites with other working and ideological nature, prefer to have their basis on the WordPress community and enjoy the user – friendly and very adaptable functional platform each WordPress relevant theme may bring forward.
As far as chefs, chief – cookers or food – enthusiasts are concerned, they mostly give their preference to the WordPress tools in the face of food – related themes and food, recipe, ingredients – based WordPress plugins.
As by the application of the above – mentioned elements they are able to establish and customize their website or blog by having a minimum level of understanding and experience with the essentials of WordPress.
And, although any theme may be transferred to a recipe online display option, in most cases the application of some useful WordPress recipe plugins greatly enhances the website performance and provides its accurately arranged overall look.
Here are 8 of the best recipe and food – based plugins for you to render lots of recipes and food formulas to your enthusiast readers or clients. Also checkout of best design recipe WordPress themes.
WP Ultimate Recipe is a perfect tool to exercise on you food WordPress website to showcase and share your recipes.
This clean and precise, well – structured and extensively – worked out plugin comes ready with lots of useful plugin settings, options and elements to display SEO – optimized recipes on some relevant website.
With the free version of this one of the WordPress Recipe plugins you will be able to add several recipes to posts and pages, arrange all the needed information to be presented accurately, add delicious photos along with any recipe, change the recipe colors, etc.
Premium version is also available on the market. Anyway, both versions are totally responsive and highly versatile in usage.
WP Recipe Maker is something you will appreciate to the great extent, as this WordPress recipe plugin corresponds to all the basic points and controls you need to have at your disposal in order to organize the process of your recipes customization, preview and their final display on your food – oriented website.
This high – quality plugin will grant you with lots of possibilities to add multiple recipes at ones, add links and images to the recipes, integrates guest post feature for the website guests to add their posts without being logged, Google Recipe View – optimized form and many other dynamic choices.
Another super easy to install, activate and configure plugin, which has been minutely advanced to meet all the requirements, elements and operational peculiarities anyone will ever require for running an exceptional food, recipe, cuisine, culinary courses, chef or other suchlike website or blog.
The framework of this intuitive plugin is entirely user – friendly, exempting the user or the website admin from the obligation of practicing diverse complicated codings.
You may enter the recipes and format them accordingly to match your website design and style. Recipe Card Blocks by WPZOOM is also SEO and Google Recipe View – friendly.
Recipe Maker For Your Food Blog from Zip Recipes also deserves its place in the list of the best recipe – centered plugins, which are easily compatible with any WordPress powered online web page or blog.
By having this refined and polished tool at your disposition the whole process of adding recipe content, customizing it in the best way, as well as printing it in the most precise way will run without any flaws or defects.
As a result, you'll have smooth personalization of your food or chef website or blog. Yum button is integrated into the plugin to let the readers save the recipes to Yummly box. Moreover, each saved recipe contains your website link to come back whenever needed.
If you are looking for an outstanding food – based WordPress plugin, which will be armed with utmost functionality, cutting edge performance, feature – rich package inclusion on the one hand, and simplicity, adaptability and neatly designed administration panel on the other hand, Blossom Recipe Maker pretends to realize all your expectations.
The plugin is developed to be easily accessible and manageable by the website users and readers, so that they will be able to save the presented recipes, formulas or ingredients, add them into shopping lists or the relevant inbuilt calendar or undertake other actions within the website or blog area.
Cooked – Recipe Plugin is esteemed to be super easy to set up and exercise food and chef plugin corresponding to the requirements set by any website of WordPress origin, Whether you are a chef, chief – cooker or some other food specialist dealing with diverse food – centric facts,.
You will be satisfied with the potential of this unique theme, letting you add and publish your popular recipes on your website just by few clicks.
Cooked – Recipe Plugin knows definitely how to markup the embedded recipe displays to be highly structured and predictable, thus make them recognizable by search engines.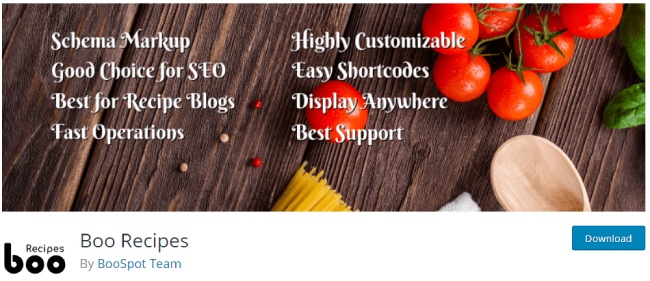 Built in precise and accurate layout and displaying very easy to use structural characterization, Boo Recipes is also among the most user – friendly and lightweight recipe WordPress plugin available at present.
With the help of this simple tool, you may add several recipes on a page, create recipe ingredients list, recipe description and notes, as well as choose the most eye – catching and appetizing photos of the target recipe content to ensure the strong visual influence on the website visitors or blog readers.
Delicious Recipes is a plugin with a highly readable design and numerous functional elements. This theme can give your visitors an excellent user experience, and it allows you to build your recipes easily.
This plugin is Schema-friendly and can allow your recipes to be displayed on search engines in eye-catching ways. There is support for videos, image galleries, and lightbox, which makes for an engaging read.
Delicious Recipes plugin is super convenient and easy to use with features like recipe search with advanced filters, a quick print button, servings-adjusted ingredients, nutritional facts box, and star ratings. These features allow your visitors to find the right recipe and use them easily.
WP Easy Recipe comes integrated with easy to install and run foundation, which incorporated anything which is required to deal with a large amount of recipe content loaded while delivering an exclusive functionality and performance.
The recipes can be inserted with relevant categories and tags, as well as the required shortcodes can be used for adding recipe image responsive slider or "Recipe Of The Day" and "Ten Best Recipes"
WordPress which started as a blogging platform is known to have improved on the features that they provide its users.
The platform has been well aware of the demands of the market and hence made efforts to ensure that its users always get what they want in terms of website support.
It is because of this reason that they are able to cover such huge market area and deliver quality support to its premium as well as regular users.
It is a powerful source to create websites and there is no area of business or otherwise which is left untouched.
The users who are thinking about having a great online presence in the market of the food industry are thus attracted to WordPress and they find the support quite effective.
The user-friendly approach and the multiple plug-ins is the main reasons why there are so many of them who can create such great website.
You might be thinking of creating a blogging platform for sharing recipes or sell ingredients you will have support with all of them.
The number of websites which are available online that are from the same industry are using these platform for creating an impact and connecting with the right audience.
There are many themes which when combined with the best recipe wordpress plugin brings out great results. The whole idea is to connect with the users who will benefit from the information provided.
The bloggers and food enthusiast wants to provide something new each time they are sharing something. They take special care of the demands and the season. They would want to combine the needs with what they offer so that they have happy users.
The use of the best recipe WordPress plugin will ensure that the users of the theme will enjoy the working. These plug-ins are easy to use and come with great and suitable features.
They are compatible with all themes which WordPress offers under the food category and otherwise. They are also great sources of adding functionality to the websites.
They are highly responsive as they work on various different devices. The best recipe WordPress plugin is tested by experts to ensure that they do not break the continuity.
The browsers which are available are tested with these plug-ins so that along with all the devices they run on all browsers. The final visitors of the website might be using any of these browsers or devices and hence the compatibility is a must.
If you are thinking about creating a great webpage then you must think about adding the plug-ins to provide ease to the visitors.
The great recipe will also turn out best when the readers are able to use it in a step-by-step manner. Allow your latest recipe to be posted on the top along with a many numbers of posts that can add to the list.
Using the admin board these plug-in can be installed at the user's ease and can be deactivated or deleted when not in use. Thus they are very useful for the food enthusiasts.