A unique collection of the best chef WordPress themes for chief cookers and chefs, restaurant and café owners, creative individuals who love cooking and sharing their talents with others, as well as any food and drink related business owners you want to allure their prospective clients and diners.
As a cook or chef you will always find yourself in a busy situation creating tasty and drool inducing dishes and would like to share them with people.
And whether you want to run a personal blog to include your unique meals and cooking or culinary recipes or create a professional website for your eatery, bar or restaurant, café or coffee house, our chef WordPress themes are for you.
A smoothly usable and navigable cooking or chef, restaurant or pizzeria website is of paramount importance when it comes to increasing your client base and inviting more and more people to try your delicious meals and offers.
Your food related website is not just your virtual pamphlet. It needs to generate a unique style and appearance combined with powerful functional base so that your web users will feel comfortable when accessing your site vie their mobiles and PCs or making orders online.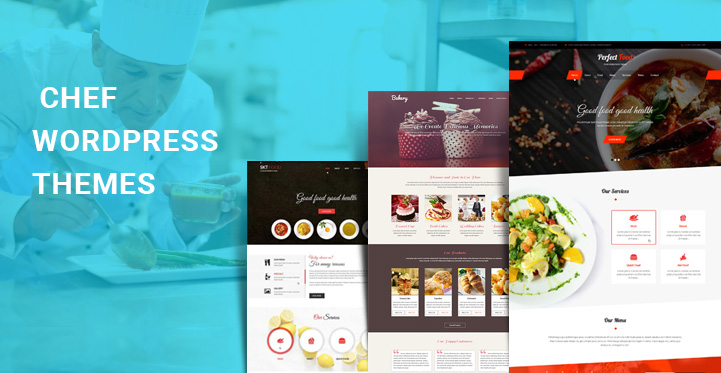 In this spectrum, all our chef WordPress themes comprised in this article share all the above mentioned qualities and traits to make your profile fully adaptive and informative with different menus and menu items, opening hours and other contact details, fantastic photos of your food based business and more.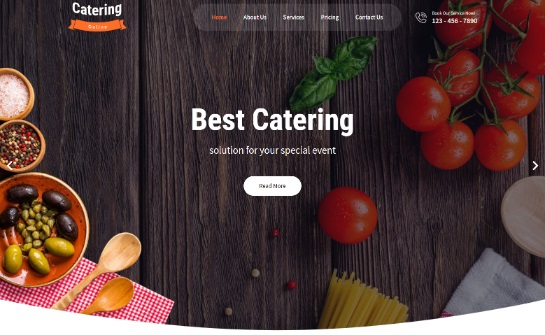 Catering is one of the modern and creative, wonderfully pliable and colorful chef WordPress themes custom built to satisfy the needs of every single chef and recipe, cooking or food delivery, restaurant and other food centric websites online.
Customization ready layout of this responsive and cross mobile compliant, error free and premium quality website builder is what makes Catering fully manageable at your hand.
It means that you can apply any changes or modifications to the theme to make your own preferences noticeable throughout your profile with the right colors and color combinations, fonts and their styles, sizes and colors, preloaded shortcodes and more.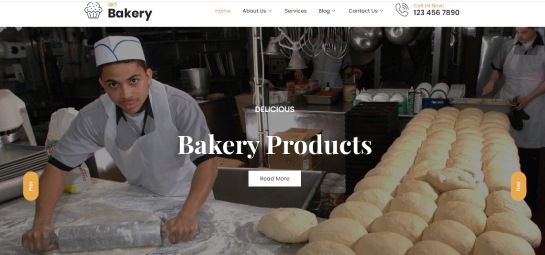 We Bake is the next food and drink centric, bakery and meat shop, cook and recipe WordPress template for the purchase of which you are not going to sacrifice all your money or time.
Instead, you are going to pay almost next to nothing for the theme but get complete access to a plethora of useful features and controls.
Elegant look and face of the theme is critical to alluring your first time web viewers and displaying the most appetizing images of your food based creations and compositions. In this relation, you can either use the default slider of the theme with slide controls and animation effects or can replace it with any other compatible slider.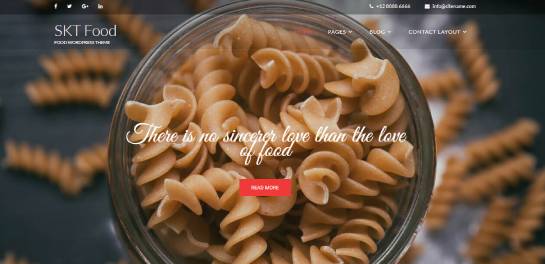 Meet one of the seriously developed yet simple in usage, polished and fully sophisticated chef WordPress themes ready for multiple manifestations online.
All in all, SKT Food will grant you with the core functionality which is more than enough to demonstrate your culinary or cooking business from a positive angle.
However, you are free as in freedom to test and try different practical plugins for more traffic and client engagement, user comfort and saved time.
From shortcodes plugins to give you access to more pieces of codes to SEO plugins for more SEO optimized performance of your site, from recipe plugins to commercial ones, all are compatible with SKT Food.
With a nice looking "hero" image on the homepage, shortcodes based performance with tons of customization options, user and admin friendly coding and more, Ele Chocolate will be the most affordable chef website building tool you can find in the current repository of food and chef WordPress themes.
With Ele Chocolate it is easier than you think to build and control a website your clients and pizzeria lovers can navigate and use, look through your menu and book tables. With nicely arranged theme sections and contents zones you will have a splendid area of usage to deploy your web content, from business profile and menu to contact details and images.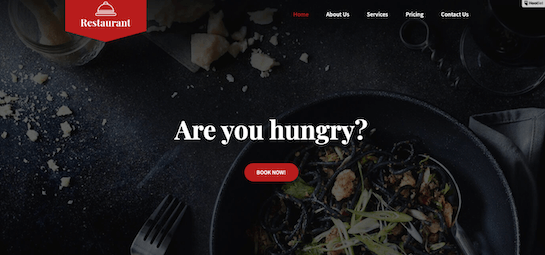 Elegant and superbly worked out, Ele Restaurant will provide you with a fully controllable way to create the image of your culinary or cooking business, restaurant or wine house, as well as any other relevant business catering to food industry.
You can never go wrong with this affordable and pocket friendly template that offers you a wealth of useful features and controls that many of other premium templates lack.
It comes with totally responsive layout for pixel perfect mobile user experience, expansive functionality with plugins and shortcodes, gallery plugin compatibility for more effective image and photo categorization, multiple page and blog controls, etc.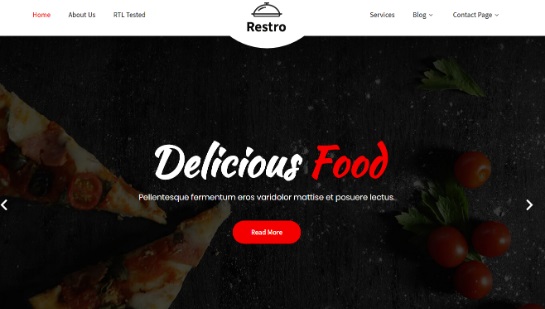 Whether you are specialized in creating beautiful and tasty dishes or your restaurant has cozy atmosphere and awe inspiring décor you want to show off your potential clients, Restro is what will do the job in the shortest time.
The homepage slides depicting the aesthetic part of your restaurant or eatery, dishes and meals is the most productive way of highlighting what is great about your food business. Gallery area can also host as many beautiful images and photos as you would like to share with your diners.
Clearly coded and functionally saturated, Restro is also 100 % responsive with useful documentation and full support coming along the theme.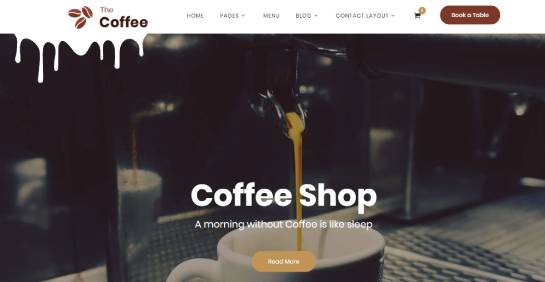 Keep all your clients and customers, eaters and diners, prospects and leads updated and informed about your coffee shop or store, restaurant or brewery, café and bar with the help of Coffee Shop.
With this template there is hardly a shortage of every essential web component you might need in order to be presentable and discoverable online.
Responsiveness and mobile friendliness, pre enabled customization options with colors, fonts and page or post controls are the integral parts of Coffee Shop.
Although food is one of the necessary elements to sustain human life it can also be used to promote cultural diversity. You may be a chef or cook and like to cook and innovate different food dishes and at the same time want to share with people.
Or maybe you run a restaurant that offers top of the line dishes that no other competitor can. But for any of the above-mentioned business, you need a platform to showcase your qualities and to reach as many numbers of people to outstanding your competitors.
But, how do you attract customers that do not commute through your restaurant's location or haven't tasted your innovative dishes?
Well, the answer is simple. You need a perfect looking, search optimized and mobile friendly website. Nowadays with the help of WordPress, website developing is a no-brainer at all.
Chef WordPress themes will help you to build your website in no time with increased functionalities and perfect looking with as many customizations you want so that no customers are left in a corner.
With the cutting-edge security and optimization of chef WordPress themes, you can develop your website so perfectly that it will enhance the user experience of your visitors without any glitch that will hamper your image.
Nowadays nobody likes to read boring texts and moreover, your business is all about how your dishes look and tastes. For that maybe, you could welcome your viewers by displaying high-quality pictures of your recent dish innovation in the form of a slider right on the homepage. This will keep the users hooked to your website for more and more content.
With the help of Chef WordPress themes, you can customize the colour and background of the website to give a touch of sophistication.
Reaching a larger number of audience and showcasing your dishes is all about SEO(search engine optimization) which chef WordPress themes will do perfectly for you.
With the introduction of WordPress plugins, this is considered to be the most powerful platform to develop and maintain websites.
Suppose, your audience needs to locate your shop and for that particular job there is a map plugin included in these chef WordPress themes. You can offer your visitors to know about dishes too by letting them download the recipes in PDF format.
This can be achieved by a plugin known as PDF viewer. If you are a food blogger or maybe a restaurant owner, you will always want people to talk about your dishes and your services. So, you must consider the social media plugin which will allow users to share the content of your websites on various social network platforms.
This will pull back customers from various corners to your website and your market base will grow bigger and bigger day by day.
You may also consider selling various food items on your website or making them available for the customers to order food from your website. For this, the WooCommerce plugin will be of great choice.
Chef WordPress themes have security features built in its core ensuring the highest level of security possible for your website ensuring no data loss or stolen.
With the increase in mobile users, one must consider developing a website that is mobile friendly and highly flexible and this is where chef WordPress themes stand out.
These themes are highly responsive and adjust perfectly to any screen size without compromising the look performance of the web pages.
So if you are looking at the future with a firm business proposal, then growing your business into super success is very much possible with chef WordPress themes.