Do you want to give your visitors the best experience on your website? Are you looking for making your website creative and eye-catching? If so, you must check out our full background WordPress themes collection that not only build the fantastic display of your business but also satisfies the user experience.
With keeping professionals in mind, below we have gathered the best full background WordPress themes that are currently available to give you a unique, responsive and natural look to your website. So, what are you waiting for? Give a look at the themes and choose one that fits your business.
Different languages can be displayed with the help of Cyrillic and Latin sub-sets along with multilingual plugins friendly with qTranslate X and Polylang compatible recipes.
You can change the font and the surrounding of the theme and also simple to use. More? It can add external shortcuts with the help of the plugins to get more viewers. Try it now!
Full Background WordPress Themes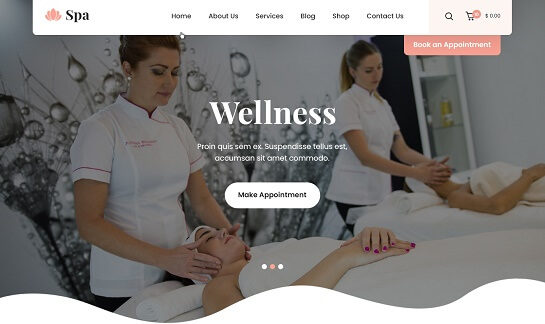 SKT Spa is a modern yet amazing full background WordPress theme that is ideally suited for professional agencies, salons, parlours, and more. It provides you lot of stunning layouts that are perfect to showcase the imagery designs and your company's profile that can be easily trusted by visitors.
Besides, the site has a nice homepage design that truly delights your visitor. It comes with complete documentation so one can easily build the site on their own.
The theme is highly modern and includes plenty of flexible features that are good to create an incredible portfolio of your business. The best of this it is tested and highly responsive to accomplish your and your user's need.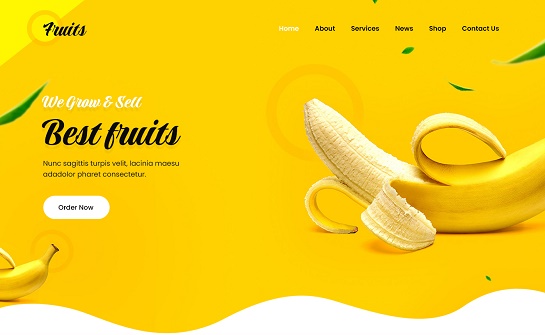 An SKT Fruit is truly the best full background WordPress theme for your fruit selling business. This has lovely animation effects and mesmerizing designs that simply give your visitors the best user experience.
SKT fruits incorporated all the typography to the right amount of white spaces and enough gallery options with animation effect.
It is integrated with WooCommerce that making your online selling easy. Furthermore, it comprises various plugins such as SEO, SMO and more to give away the best output to users.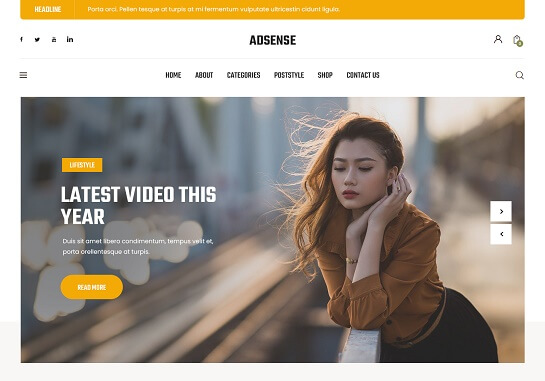 SKT Adsense is a full background WordPress theme that gives you a stunning theme for your business, so you can generate maximum profits. This kind of theme lets you put emphasis on content and image thus users get their value.
It is ideally suited for professional business owners such as photographers, bloggers, and agencies. If you belong to the artistry world this is perfect to display and get the best use of it.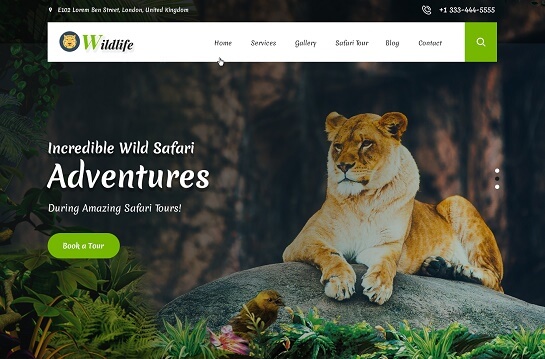 SKT WildLife Pro is the best theme that makes your photography, blogging or related business to the top. Basically, this theme adds worth to your stunning business portfolio.
It incorporates dozens of potential layouts options such as menus, gallery grids, a full-screen video that suits your standards that make it easy to access and give pleasure to use.
Besides, there are certain unique benefits that are especially best for professionals. This theme lets you get the best internet coverage and stands out from the crowd.
This sleek and professional full background WordPress theme is highly customizable and perfect for extreme sports who want to offer sports activity or more. This is an impressive website that gives worth to you and your users.
It includes a collection of various fonts, icons, and colours so you can customize the site accordingly. In addition, it comprises vivid gallery options that complement your content and enable the various features that suit your work.
On top of that, it includes intuitive media and elegant navigational tools that can be good to go with your business. Moreover, it has a protected gallery that makes it an ideal choice to display your work impressively.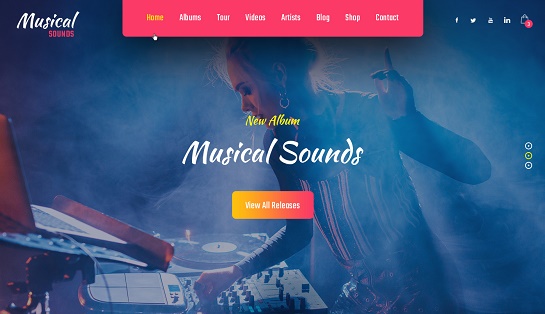 A Musical Sound is one of the best flexible, modern, and powerful WordPress themes that come with all sets of tools and features.
It is a multi-purpose theme that can be accessible to musical companies, artists, and more. Furthermore, it is a 100% responsive and cross-browser compatible theme that gives you the best user experience.
Besides that, it is coded with HTML5 and CSS3 that are easy to showcase your content to everyone. The gallery and plugins are highly compatible with the theme. Thus, you can easily incorporate it into your business to get the most out of it.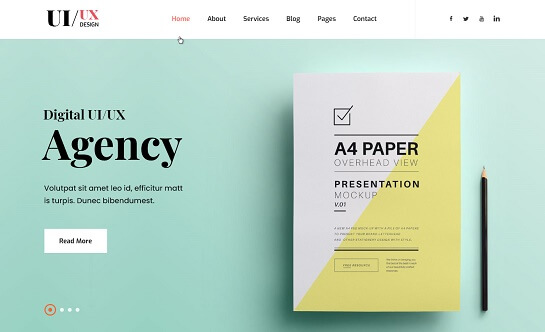 SKT UI UX is beautiful and the best full background WordPress theme. It is highly professional and easy to use with drag and drop features.
With this one can easily customize the layouts and craft entirely the new ones. Moreover, slider revolution and layer slider are the best that allow you get the hassle-free output.
When it comes to user-experience, SKT UI UX ranked over the top as it gives end-user experience and enhance the capability that will allow your visitors to get engaged them in your website.
The best of this it has various customize options that allow you get the best results. Choose SKT UI UX and get the world in your hands.
SKT Robotics is one of the best full-screen WordPress themes that ensure you to get the long-lasting results. This theme will spark the interest of users into your website and you will enjoy the vast benefits.
This WordPress theme allows you to build professional website that can be easily handled with mobile and desktop. More? It includes impressive designs with creative layouts that offer you smooth performance.
SKT Robotics includes galleries, modules, headers, footers, and more options that give you best user experience. Another benefit of this theme is it will make your web handy.
If you are looking for a top-quality full background WordPress theme which is ideal for your business, user-friendly, and charming then SKT Amusement Park is the best to catch up. Whether you want to create a website from scratch or you are professional, the ultimate aim of the theme is running your business successfully.
This is why SKT Amusement Park is best as it comprises all the benefits your business need. This would help you get the most out of business by attracting more visitors, building business portfolio, blogs and more.
From the expert point of view, it is pro-level best WordPress theme you can't ignore. So, try it now!
SKT Flooring is one of the best full-background WordPress themes on the market that you should check. This enables the user to build the user-friendly website without any issue. It also has stunning features that promises to enhance the level of experience for the site owner.
When you install the theme, the documentation is there to support your query if any. Moreover, with this theme you will get full-functional page in couple of minutes.
In addition, this WordPress theme will help you enjoy the best results as in 98% page speed grade. Try your hands in SKT Flooring and see the magic.
If you want to open a website that is related to movies, directors, films, or related to cinematic then SKT Moviemaker is the best choice you got. This full background WordPress theme can be applied to wedding films, festivals cinematography, and other options that will make your website look attractive and crisp.
With better and related themes at your side, you can be able to gather more audience on the internet. Also, the SKT Moviemaker is cross-browser compatible which means the users can watch any videos on movies on any web browsers they are using on any device. Also, you can add the information of the team easily.
GB Renovation is the best full background WordPress theme for the home improvement website which is suitable for website that offers renovation, building, and construction companies. This theme provides cool color which gives a possible attraction and impression to the users.
The users can easily find GB Renovation as it is SEO optimized and the inner pages of the GB renovation WordPress theme are compatible and editable with the help of other page builders like WPBakery, Elementor, Divi, and others.
The GB Renovation theme is footer, header, and widget friendly that means on a single page, you can get different options that save the time of the viewers.
Looking forward to opening a tattoo website for your studio? Well, with a modish and unique tattoo style body and font, the SKT Tattoo WordPress theme is one of the best choices for your website.
You can make different pages using this template and with each page, you can add the share option to promote your website on larger platforms.
The SKT Tattoo WordPress theme offers great and unique designs with lots of typography options that include different fonts and pictures so that it can attract more users to the website. You can add the location of your tattoo parlor on your website with the help of this theme.
School Uniform WordPress theme offers the best way to present the school uniform and other clothing accessories on your website.
The same template can be used in other clothing websites too as it supports the latest software version so that the customer can get a better experience.
There is a cool customization option that helps you customize the website's page and theme accordingly and you can use different sections to provide different information under one page.
The school uniform WordPress theme supports retina-ready features which include using vibrant and cool colors along with sharp and innovative font sizes and types.
Do you want to experience the underground scenario on your website? SKT Aquarium is the full background WordPress theme that can be used by aquarium owners for their website, decoration fish dealers, aquarium service providers, etc.
You can add any content to the theme including animation, text, audio, and video. Also, with the you will get shortcodes that will help you get more features on the website without touching the line of coding such as contact forms, progress bars, image sliders, and many more.
This theme is suitable for those who are opening their florist shops. It comes with an SKT page builder that makes the page easy to use and manage. The theme is responsive and passed the Google mobile-friendly test which means it can be available in different resolutions on different devices.
Just like flowers have different colours and shades, you can also change the template and colour of the theme and customized it according to your will to make your website look innovative.
There are retina-ready templates that have been tested in HD resolutions, and 4 varieties of footer and header are provided.
Well, who doesn't like to visit the website of Nightclub on weekends? That's why every nightclub owner should go for the SKT Nightclub WordPress theme so that they can make their website attractive for the viewers and give all the necessary information under limited space.
With this, you can add different images that promote your nightclub along with different colors shades and font types as per your nightclub's atmosphere and theme. Apart from nightclubs, these templates work perfectly for cafés, restaurants, bakeries, and other outlets.
Moreover, you can customize the widget to get more social media interaction, and also, it is SEO optimized.
Blendit is a responsive page WordPress theme and each element of this theme is controlled by the backend only. It comes with an option of translating different languages and is ready to translate different languages as well as RTL compatible.
This theme offers a blog section in which you can share or write up your blogs to attract the viewers along with the latest press releases, news, and promotional ones. The Blendit theme is coded with HTML5 and CSS3 and is also compatible with the best version of WordPress.
Blendit theme is best for any kind of business and personal site that offers blogs and news updates on their website.
Handing a food blogging website? The recipe WordPress theme is a multipurpose theme that is compatible with plugins and you can create an animated homepage too for a great demo about your recipe or cooked food.
It's been tested for cross browsers like Firefox, chrome, edge, Opera, and other web browsers along with the cross device which includes Android, iOS, Chromium, Mac, Windows, and many more.