Millions of non-English websites around the globe use WordPress. And that's the best part of the platform that enables you to create a dynamic website in any language that you intend to.
But unfortunately, there is no in-built feature that allows one to create a multilingual website. To conveniently add such content on your site there are powerful translation plugins available.
For your ready reference, we have compiled some of the best and most popular WordPress free translation plugins in this read. You can select the best that suits the need of your site and attract your target audience at the end of this article.
It is one of its kind multilingual plugins to translate every aspect of your website. The core feature of this program is said to be translation which is directly possible from the front-end. During the translations, the language can be easily switched and a live preview can be tracked in a simple manner.
Without changing the interface it allows you to translate content, plugins, theme, and even meta-data. It is also perfect for manual translations. It is possible for users to translate content without any access to the admin area. Even if you need SEO-friendly URLs this program can create it for you.
Related Post:How to Use and Install TranslatePress to Translate Your WordPress Site
This is the next plugin in the list of WordPress free translation plugins. It uses Google Power to translate sites into multilingual languages.
The plugin specifically uses Google Translate automation translation services. It can hide Google Top frame after translation and also the suggestion of better translation popup.
It comes with a mouseover effect and is integrated with Google Analytics. It can effectively translate the website on the fly, posts & pages, categories & tags, menu & widgets, and themes & plugins. It also offers RTL support and comes with auto-switch language based on the user preference in the browser.
Maintaining the bilingual/multilingual plugin has become easy with this program. This is a one of kind software which does not automatically translate text. Instead, it works upon the one that you have selected and gives you the output.
It works on the selected page builders that can extend supreme performance. The major lapse that you can face is that you will lose translations if you uninstall it. It does not support multisite.
You can choose combinations of language names and even country flags to add one or more languages as required. Languages can be switched at the front-end without any complications.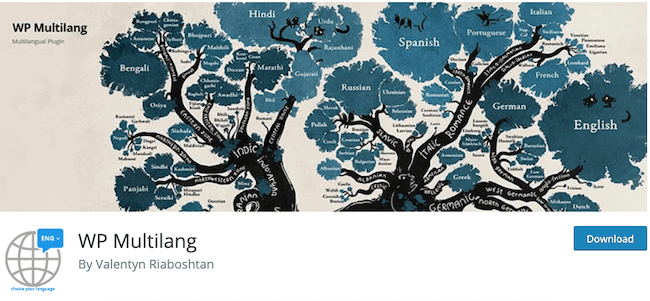 This is one of the popular WordPress free translation plugins because translation for post types, taxonomies, and others can be done. It is absolutely free and the operations are carried out at PHP. It supports multisite and WordPress in the sub-folder. For the dynamic application of settings, it comes with various filters.
Duplication is avoided for posts, widgets, menu, and terms. A custom locale for HTML can be easily set. With the capability manage option, each user can add new languages as required. JSON can be used for the management of settings. It is also compatible with other plugins like WooCommerce, TablePress, Meta Slider, Better Search, and others.
This program is widely used around the globe to create bilingual and multilingual sites. All you have to do is write the posts, contents, pages, and create categories as usual. After finishing it select the language of your choice and the rest is managed by the program.
RTL language scripts are supported and one can use as many languages as required. Al default widgets along with RSS feeds and sticky posts are supported. In the navigation menu or in the widget a customizable language switcher is provided. It is used widely across the globe with more than 1000 users rating it a five star.
Developed by OnTheGoSystems this is next on the list of WordPress free translation plugins. It works with a multi-site and single-site both. Users have the option to run the child blog and the main site in multiple languages. Even guest blogs can choose their desired language.
Even if you or the audience is viewing the user profiles then execution of required language is possible. It has 6000+ installations in the present day and regularly releases an update to patch with the problems. It can be used free of cost and supports WordPress version 3.9 or higher.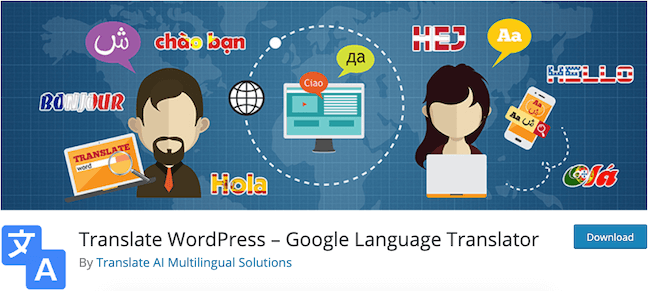 Since 2008 this is amongst the leading website translation service provider and is also known as GTranslate. It offers free Google automatic machine translation facilities along with the integration of Google Analytics. It has a floating language selector and offers the Right to left script support.
Flags according to the selected translation can be used. Even the WooCommerce shop can be translated. The basic version comes for free while it also offers a paid version with advanced features.
It has ten million+ active installations as of now. It works on WordPress version 2.9 or higher and frequently releases updates to resolve peculiar functionality issues.
Related Post:Translation Ready WordPress Themes for Making Multilingual Websites
With this program, your website is empowered for translation in 100+ languages. It comes with inline help for the convenience of the audience and admin.
The program has simple settings and easy setup. It can be used as a shortcode and also a widget. It has zero impact on the page loading speed. To transfer configurations it comes with import/export feature.
It is undoubtedly rated as the best and is one of the easiest programs to use. It provides a one-stop dashboard to make necessary modifications in the translations.
Outsourcing to professional translators is also possible for certain complex content. It does not require any coding and the desired content is translated within minutes. It has 30000+ installations and is works on WordPress version 4.5 or higher.
The last in the list of WordPress free translation plugins is this impactful and lightweight plugin. It comes with 80+ preinstalled languages. It makes manual translation of the entire website content an easy task.
A switcher can also be added whenever required. Open graph meta tags can be translated. It also releases regular updates to fix functionality issues.
This plugin is a manual translation system but different from other translation plugin.
When you install it and install other language the main language is displayed until a translation is done , this mean you can translate some of your blog post one after one and display when do you like using the switching button publishing.
There are an extra plugin for elementor too Falang for Elementor Lite and Falang For Elementor.
With this plugin you can translate the widget directly in each widget, the easier way to make a translation.
Main features: Easy setup, Supports all languages supported by WordPress (RTL and LTR), When you add a language in Falang, WP language packages are automatically downloaded and updated, Easy to use: Translate Posts, Pages, Menus, Categories from the plugin or linked from the WP interface, Translate Posts and Terms permalinks, Translate additional plugins like WooCommerce, Yoast SEO, etc.