Today, consumers all around the world are looking to reduce their ecological footprint. That is why they buy products that do not disrupt the environment.
Organic farming is growing rapidly, and if you integrate it with e-commerce, the chances of success are even higher. All you need is the best fruits and vegetables WordPress themes.
The themes listed have the necessary components to perform exceptionally well! Which theme out of the following is best suited for your organic store? That is a decision only you can make!
Organic farming is one such practice that promotes ecological balance while still securing food supplies for people. Many environment-conscious people now buy their groceries online and want to ensure that their products make a minimum impact on the ecosystem.
If you are a farmer struggling to get a fair price for your product at retail, then you can set up your store using the best fruits and vegetables WordPress themes.
Opening up your organic store with WordPress can be scary, but if you pick the right theme, things can become easy. You must check a few top-quality themes before opening your online grocery store.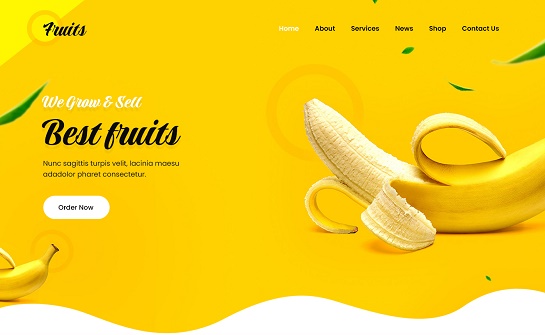 This theme has a mellow look that will excite customers to buy their favourite fruits from your online store. You can highlight which fruits you are providing in the product category setting so customers can directly click on the desired product category and move forward with the purchase.
This saves your customers time and improves their experience. Customers do not have to browse your entire site to check available products. Now you can push your top-performing fruits under the bestselling products section of the website.
When it comes to your online fruit shop, the sky is the limit. You can cater to the customer's needs without any brick-and-mortar costs. Before adding the products for sale online, you can do market research to set a competitive price.
You can always change your price immediately when you sell your fruits online. You can write blog posts about life on your farm that intrigue your readers. This will form a communal connection and improve brand value. Next time when a customer is thinking of fruits, they will think of your store.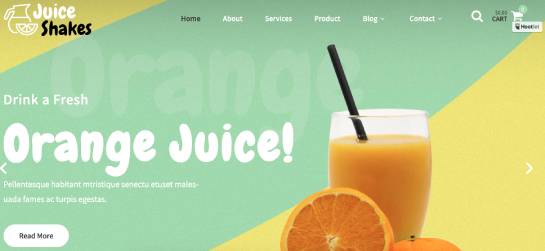 Take one step forward in the juice shop business by setting up your online store with the help of this theme. This theme helps you highlight why your brand is different visually. Everyone has the desire to include lots of fruits in their diet.
Juice and Shakes include all the health benefits of fruits while being slightly more delicious. Variety is important; with this template's help, you can openly list your menu.
If customers find what they want, they can move forward; if they do not, better luck next time. This saves customers time and improves their experience.
When your customers are done drinking the juice, they can also leave their feedback with the help of the feedback form, which is located in the footer. Out of all the fruits and vegetables WordPress themes, this one will help you dominate the commercial juice space.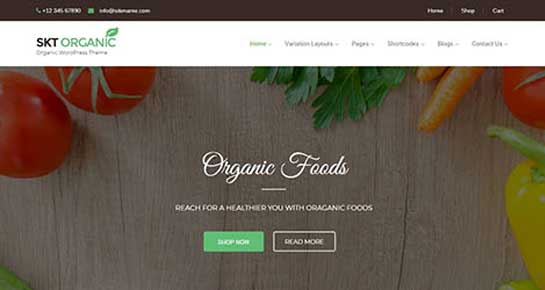 The Organic theme comes with a sense of sophistication and is designed to make the lives of business executives easy. It is technically designed with organic foods in mind but can be customized to match the needs of any industry.
The landing page in this theme is a visual treat for visitors. Organic products are rich in minerals and vitamins, so their demand has increased. This template helps organic food producers set up their online shops.
You can easily add products once you integrate WooCommerce with your website. Once you have had your first customers, you need a platform to publish positive reviews. That is why this theme is compatible with testimonials plugins.
The Farming theme has all the features necessary to create an organic foods website. Today, pesticides are used in farming which negatively impacts people's health. If people wish to start eating more natural food, they must rely on organic foods.
This theme helps organic farmers run their stores and sell their products. Organic farmers already have a unique selling proposition, but all they need is a powerful theme.
As a farmer, your main responsibility will be in food cultivation, and your secondary responsibility as a business person would be to manage the online store. That is why they made sure this theme is extremely easy to manage; even newbies can make changes easily.
The design is user-friendly and paints a clear picture of the organic foods store. The theme promotes being close to nature and eating healthy natural food. The fruits and vegetables WordPress themes get users excited to begin shopping.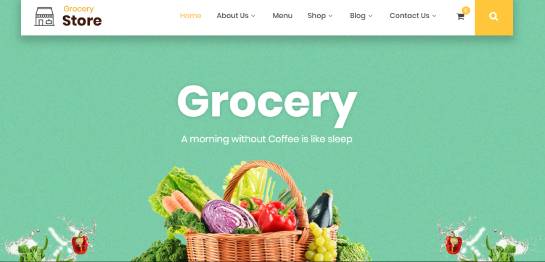 This theme has the warm and friendly look of an online grocery store. It is well composed with all the needed elements to run a successful online grocery store. Customers can check the type of groceries they can buy in the offerings section of the template.
When you have a few satisfied customers, it is best to flaunt their reviews. You can do the same by making use of the testimonial plugin. New customers are more likely to trust your business after reading those testimonials.
Most importantly, you can highlight the crucial products in the marketplace with a shop more button. With this theme, you get a separate discount segment so that customers can bag the best deals on groceries.
With time people have understood the importance of herbs, and now there is a huge market for them. If you wish to sell beneficial herbs online, use this theme. It has green primary colors, which give your site a farm-fresh look.
In the middle of this template, there is a call to action which you can use to get people to your products. There are a lot of fruits and vegetables WordPress themes available, but if you sell herbs, this is perfect for your business.
SKT Herbal Pro is an elegant website theme that can be the face of your online Ayurveda store. You will be able to display the benefits of choosing your products, and just after that, there will be a call to action that will lead visitors to the products.
It fits perfectly for the Ayurveda business but can also fit in with other medical niches. If you want to sell CBD-based products online, then you can use this theme. Adding this theme to your website will make it responsive and mobile phone friendly.
The personal consultation feature is also available in this theme. You can use this theme to sell services such as yoga lessons too. In the footer, there is the newsletter bar and social icons.
Full Page Pro theme provides the viewer with full-page imagery, and the options are left to be discovered on the sidebar. This theme describes the website vividly and lets the user wander.
You can use it to create portfolios, food blogs, photography websites, and more. If you want to focus on visually displaying the key aspects, this is the right theme for you.
This theme is retina-ready and HD ready. Your website will look fabulous if you design it using this theme.
SKT Sushi is designed for restaurant owners who provide Japanese delicacies like sushi. Your customers will be able to make online reservations with the help of this theme.
You can display how lovely your food really is with the help of images and videos. If you have started a restaurant business, then SKT Sushi is a great theme to use.
This theme exudes a positive influence on your health. If you use this theme on your website, then site visitors will want to take positive action for their bodies.
How will they do that exactly? By buying healthy food products that you are selling. If you want to sell something, you must first evoke a desire for it. This theme does that, which is why it is one of the best fruits and vegetables WordPress themes.
SKT Gardening is a responsive gardening and landscaping WordPress theme. To claim services from you, the users need to see friendly faces who deliver the results.
That is why with this theme, you can add the name and images of your team members. You can also highlight projects that you have completed in the past with images. In the footer, there is a call to action.
There is a lot of potential in the medical marijuana market in the USA. Marijuana has proved itself effective when it comes to being used as a medicine. That is why many businesses sell the same for medicinal purposes.
This theme has a lot of space where it can be explained how marijuana medically helps human beings. Then after that, you can speculate about buying the products but if you still have doubts, read customer testimonials in the footer.
This theme has the perfect balance of stunning graphics and elegantly written fonts. You can easily showcase the different kinds of flowers your shop provides with the help of this theme. You will have to highlight the different categories of flowers you have.
Today many people prefer sending flowers to their loved ones through online vendors. It is a growing business, but you must use the most efficient theme.
Flower Shop has features such as retina-ready, appointment plugin, booking plugin, popup plugin, RTL ready, HD ready, etc. Combining these features ensures the success of your flower delivery business.