To sell your products and services well, you must present them to potential consumers in an alluring manner. The appearance of the website through which a particular service or a product is being offered may sometimes become a deciding factor in marking its online presence and overall consumer base.
With the newly emerging trend of taking businesses and popular ideas online, there has been an equivalent surge in demand for better and highly optimized themes for websites catering to a variety of businesses and ideas.
Read this article till the end to know more about the foundation WordPress themes available in the market.
Do you want to bring a change in society by giving your ideas and mottos a tangible structure in the shape of a Non-Governmental Organisation (NGO)? Or you've already done that, and now you're just looking for better ways to increase and streamline your online presence?
Try the GB Charity theme, which is compatible with the latest PHP and WordPress versions, and align it with the greatness of your cause.
NGO websites need professional appearances to resonate with the seriousness of the work they perform for society. GB Charity is one of the most sought-after foundation WordPress themes curated especially for NGOs.
Let us examine some of its important features:
It is a highly optimized theme resulting in high-speed performance.
It is coded as per all the WordPress and SEO standards.
It hardly takes 3 minutes to install this theme.
The "Donate Now" button makes it easier for your visitors to donate to your cause.
The donors get the option to donate on a weekly or monthly basis.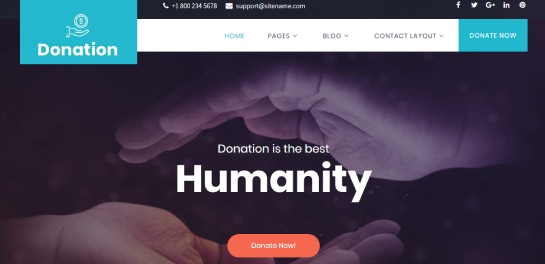 In this era, charity begins on the website. Donation is one of the many foundation WordPress themes that are designed specially to make your donation drives smoother and hassle-free.
Using this theme, various donation plugins can be easily integrated into your websites. With widgets, a friendly sidebar, and easy customization, it turns out to be an excellent theme for organizations looking for donations.
Mentioned below are some of its key features:
The recommended plugins and templates make it a complete website solution.
You don't need to hire anyone externally as it is easy to install and use.
It has more than 800 Google fonts.
Both images and videos can be placed on the inner banner.
The templates provided with this theme support multiple languages.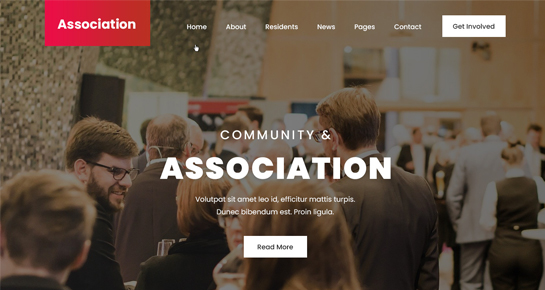 SKT Association is a part of the foundation WordPress themes meant for community group and association websites. Every association has the primary requirement of organizing its people on a single platform.
Using this theme, you can effectively manage your events, meetings, and conferences from any part of this world. You will get the option to display a gallery of pictures and videos related to your association, depicting your association's field of interest.
Below are some of its key features:
You don't need any technical expertise to use its backend dashboard.
It is a highly responsive theme with a flexible and modular layout.
It has a widget-friendly header area.
It supports custom fonts and custom background images.
It is multilingual friendly and supports translation plugins.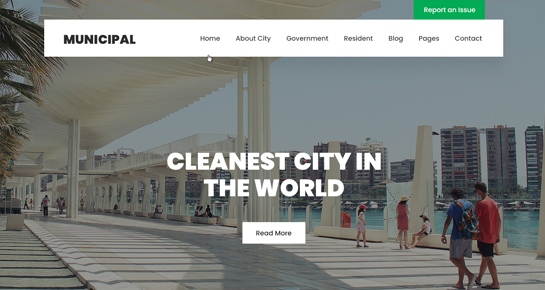 Municipalities are the backbones of cities. They do a lot of work to keep the cities in order. However, most municipalities have their online presence limited to their social media pages.
Just like other foundation WordPress themes, SKT Municipality comes with RTL support and has been curated specially for the municipalities so that they can have their own personal space to showcase all their good works with utmost customizability. Creating a website is an easy task but managing and maintaining a website takes a lot of effort.
This theme simplifies the managing part owing to its special features that are mentioned below:
The gallery section allows you to display your work through pictures and videos.
It comes with Google Map support.
Both weather and local time widgets are available.
It has a mobile-friendly design.
1-year theme update with 1-year free customer support.
SKT Trust Pro, as the name suggests, has been developed to cater to the thematic needs of NGOs, charities, donations, and other similar websites. It is fully compatible with donation plugins that are available for free with this theme.
Call to action buttons can be placed all over the website. It is compatible with event calendar plugins to help the visitors keep track of all the upcoming events, particularly fundraising events.
It is also compatible with WooCommerce, Ninja form, and other important plugins.
Some key features have been mentioned below:
It has cross-device and cross-browser support.
The color and fonts of all the elements are customizable.
No limit on the number of causes that can be listed for donation.
Special bars can be added to illustrate the total amount of money raised.
It is compatible with portfolio plugins.
If you are an activist with an aim to bring a beneficial change in society, all you need is a strong will and a good website. Activism Pro is the best WordPress theme you can install on your website to enhance your social media presence. An activist needs a lot of support from the masses to achieve his or her goals.
It comes with support for PHP 5.6 and higher. Moreover, this is a cent percent GPL theme, ready to be localized. Activism Pro has been developed, keeping in mind the practical requirements of an activist.
Apart from the allegiance to your cause, all you need is basic computer knowledge to customize this theme as per your requirements.
It offers the following features:
It is compatible with WordPress 4.5 or higher.
It is built using the most powerful page builder.
It is possible to change the size of the layouts.
Parallax sections are available for the homepage.
It has easy-to-use and highly customizable shortcodes.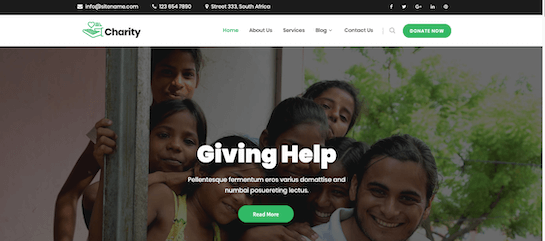 The old saying regarding charity can be rephrased as per the latest technological developments and trends, "Charity begins at home pages of the websites."
Compatible with SKT Donation Plugin, SKT Charity Pro is an important option to explore if you want to aid the people visiting your website in doing charity to support the causes you wholeheartedly support.
With HTML5 and CSS3 compatibility, SKT Charity Pro is a highly responsive theme that can seamlessly cater to your charity-related websites.
Let us have a much closer look at the features this theme offers:
Compatible with plugins like contact form 7
It comes with 8+ page templates.
It is integrated with 580+ icons pack
The process of setting up content has been streamlined with 100+ compatible shortcodes.
It is compatible with qTranslate X.
If fundraising is art, then the fundraiser theme is one of the many paint strokes drawn using the color palette of foundation WordPress themes. Fundraising can either be done offline or online.
However, in the current era, it is advisable to do it online. While aiming to raise funds online, the Fundraiser theme is a worthy addition to your website.
With SMO plugin compatibility, it is a convenient and effective theme to help you increase the overall efficacy of your fundraising events. Tested for compatibility and smoothness on all the popular internet browsers.
It is adorned with a lot of important features, as mentioned below:
Codex theme review standards have been maintained while coding this theme.
Its compatibility with LOCO translate or PO Edit allows anyone to translate the website strings to any desired language.
The homepage has been made attractive by the addition of CSS3 animation.
Provides utmost security to all your eCommerce transactions.
Compatible with high-resolution devices.
In this increasingly narcissistic world, there are only a few rare people and organizations aiming and working to provide care and support the people in need.
Whether you aim at providing care and support to children, senior citizens, refugees, poor people, or to all of them, the Caregiving theme is one of the many foundation WordPress themes that you can install on your caregiving website.
It is retina-ready and comes with Jetpack support to enhance the overall efficiency of your caregiving website. Try this theme and make your caregiving work known to the masses.
Do have a glance at some of the important features mentioned below:
Compatible with backup plugins.
PSD on-demand feature.
HD ready theme
Compatible with the appointment plugin.
4 variations in the header layout are available
The Holy Church theme is an important addition to all the foundation WordPress themes available. Most churches usually do not own websites, but this fact cannot sideline the benefits of having a website to manage all your religious affairs with ease and effectiveness.
If you are already running a website or planning to set up a website to manage all your religious affairs online, then the Holy Church theme can help add more flair to your website.
This theme is compatible with Pop-up plugins and has been optimized for better speed. This SMO-friendly theme can help you increase your Church's online presence.
Some of the special features of this theme has been mentioned below:
PSD design files are included for you to make the desired changes to your theme.
The navigation menu supports more than 5 level dropdowns.
It is compatible with Event plugins.
It is compatible with Polylang and qTranslate X.
The slide can support 10 slides.
Spirituality has all the powers to revamp the thought processes of an individual mind. If you are already running a website to guide people towards spirituality, this SKT Blessing is one of the foundation WordPress themes that you can install on your website.
The readability of the theme coupled with its minimalist design offers a soothing experience to the visitors and as well as provides a better operational experience to the website managers.
With the donation plugins, you can allow your followers to donate to you with ease. This theme is compatible with testimonials plugins. Its compatibility with WP Hosting and Backup plugins makes it an exceptional choice.
Some of its important features have been mentioned below:
Comes with 1-year unlimited support.
It has 5 predefined pages.
It is compatible with booking plugins.
Post variation is allowed.
Colors can be set as per your likings.
Websites can help people understand Islam better. Islamic websites can help spread awareness about various aspects of Islam. Websites can be used to create awareness regarding the Quran, Zakat, Hajj, Prayer, Salah, Halal Food, Umran, and many other aspects of Islam.
For these purposes, the SKT Mosque theme can play a major role in simplifying and exemplifying the above-mentioned motives.
SKT Mosque is compatible with multiple plugins to give you complete control over the contents posted on the website. It enhanced website management as it incorporates the best coding standards along with Jetpack support.
Let us have a look at some of its features:
CDN support available
Email and support forum available.
Search engine friendly.
Comprehensive documentation.
Optimized for mobile phones
Are you a pet lover? Well! Who isn't! If you already own a pet care website, why not compliment it with the Pet Care theme to enhance the functionalities of your website?
Whether you are running a website for pet adoption or you're providing other services related to pets, the Pet Care theme can work out to be the best theme for your website.
It is SEO-friendly and comes with an inbuilt cache plugin for faster loading. This page builder-friendly theme can provide you maximum flexibility when it comes to its customizability.
Some important features have been mentioned below:
Unlimited Websites/Domains
Elementor Page builder is available.
Sticky Menu
Compatible with the latest version of WordPress.
Megamenu.
Conclusion
In this digital era, how websites have been developed, optimized, and customized plays an important role in deciding whether a website is worth visiting or not.
Brands, businesses, and organizations lose out on their potential consumers and donors if their websites are not properly organized as per their particular niches.
Therefore, one must give a high degree of attention to the themes of their websites. The theme of the website must resonate with the niches of the services and products being offered to the consumers.
The above-mentioned foundation WordPress themes can definitely cater to a large variety of website owners belonging to different domains.