We have released an exciting and an unbelievable offer for clients to have a great value of over 300+ themes for just $99.
Our WordPress Themes Pack is worth the money because we provide worth over $6000+ themes for just $99.
Yearly package is for 1 year of support and if someone needs support for more than a year can continue to subscribe the themes yearly package.
It is thus an optional subscription for WordPress Themes pack.
Some of the salient features of our WordPress Themes Package
Nice creations in terms of design look and feel and are purely unique in their approach of design
Material design and flat design approach has been used which are current modern design trends
Flat designs would mean they would have backwards compatibility with several old browsers
100% responsive and tested with several hand held devices as well as various desktop platforms with varying resolutions as well as varying OS platforms
Have been tested for Retina Ready and HD readiness as well
Focusses on increasing the level of functionality and hence includes several 100 shortcodes in built
Apart from in built shortcodes uses shortcodes plugins which adds another level of shortcodes for use
Several plugins have been tested to increase functionality in terms of contact forms, event calendars, galleries, sliders and others like WooCommerce for online shop etc
All themes of the WordPress themes pack are capable of SEO friendliness and compatible with SEO plugins
All of them are compatible with latest and popular cache plugins and have been tested with several plugins for the same
Have been tested under several different environments like litespeed server, apache server with varnish, apache with NGINX etc. and maria DB and MySQL
Have been tested for coding standards of WordPress codex and follows them regularly
Security check has been done and has been tested for exploit scanner as well for exploit free scripts use
Minimal scripts have been used so that the themes are fast loading and lightweight
Themes are integrated with Google fonts which are close to 800 in number and several fonts are available for you to nicely create any type of typographic website
Fonts also include cyrillic and latin text so that one can easily add any type of text
Translation ready themes with PO file available and tested with qTranslate X for multilingual. Recent ones like Perfect theme happen to work with any type of multilingual plugin
One can use any type of page builder to build any type of internal page layouts
Content for the homepage loads itself up easily for any of the theme you install
Several page templates and blog templates available for all themes
Fully documented. Several videos available to start with and also respective themes and templates have their own step by step text documentation available
Simple and effective in terms of use and reduces the learning curve by a lot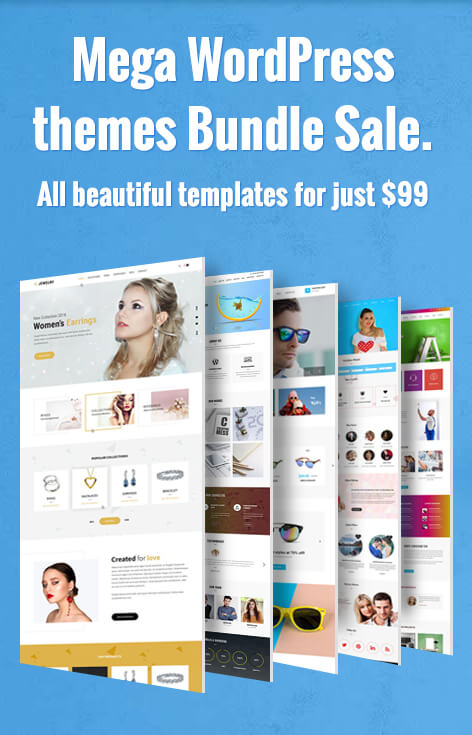 We have one of the best WordPress Themes Pack and the best part is that they can be easily manipulated and customized as per your needs and requirements.
Each and every theme and template has been carefully created to have a separate identity for your website and your industry.
Although each theme has been created for a specific industry but they have been created such dynamic that they can be used as multipurpose or multi concept WordPress theme.
Our themes are GPL friendly and hence one of the best part about these themes is that you do not have to pay for licenses separately for each of the website you build using these themes making them a one time charge for lifetime.
Thus GPL powered WordPress themes pack are more in demand as you do not have domain limitations and licensing problems.
Also these themes have several salient features which are unique and different from their competitors and hence make them attractive to the market.
Always we treat multiple plugins based WordPress themes as high but here we have presented themes which are stable on their own and have compatibility with several plugins thus reducing the amount of bulk codes that we place into each of these themes and also reducing the time.
Thus these fast loading WordPress themes are effective part of our WordPress themes pack.
WordPress themes package are mostly targeted for companies and developers because they keep on creating new websites for their clients and hence these themes and templates need to be stable and user friendly so that the learning curve is less and they can start quickly creating newer websites in short amount of time.
They can also create unique designs and creations from these WordPress themes pack templates and hence these templates have to be flexible accordingly.
Also clients need to be adding more and more functionality in future like events calendar, a gallery, an online shop or some other contact form for job board.
Hence these templates have to be flexible enough to be able to adjust to and be able to add any functionality via plugin or just by using internal shortcode.
Thus WordPress themes pack should not just prove to be good in terms of look and feel and designs but also have to be great in terms of scalability and flexibility.