This time we offer you to check the list of the most productive flooring WordPress themes for wood flooring, paving, carpets cleaning and repair, HVAC and cleaning, ceramic tile and stones, interior design and renovation websites and services online.
Whatever the nature of your business is, it's more than reasonable to use the new digital era's opportunities for yielding more profit, more customers, better brand recognition, etc.
From customers to private and public businesses to cities, financial organizations and governments, each and every physical or legal entity can make the most of today's digital platforms.
As for the carpets and flooring industry, it posts one of the fastest growths in the relevant market, driven by the great demand for relevant services in residential and office areas.
All in all, the home improvement and modeling, styling and cleaning service providers and companies successfully operate in the global networking area thus outranking those competitors who have underestimated the true value of online presence.
Given the incalculable advantages the business website or blog can have for your flooring business, we have selected some of the top rated flooring WordPress themes to take your relevant business to the next level of performance and client engagement.
All of the flooring WordPress themes are trustworthy and reliable ready to provide the error free operation of your website from the very start.
Choose any of them and get your profile listed at the top of search engines, showcase all your services and offers in a nice looking fashion and justify the little investment you are doing initially.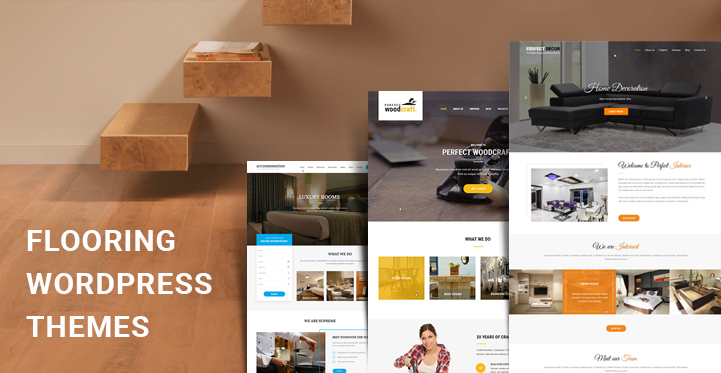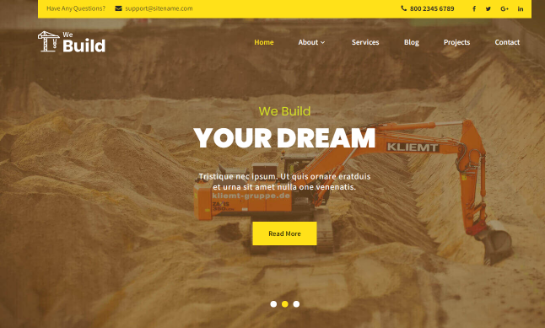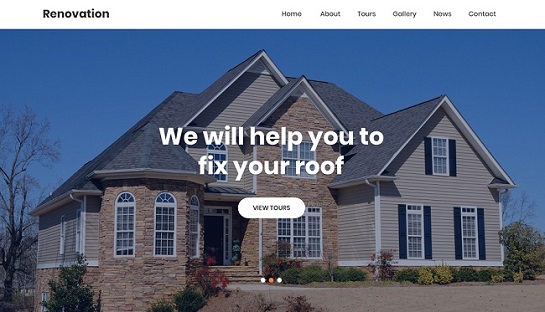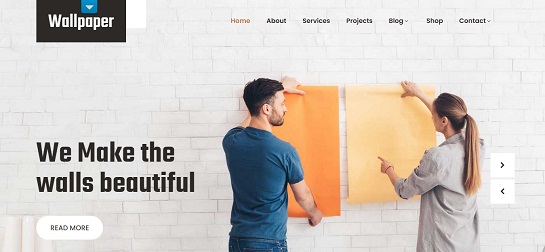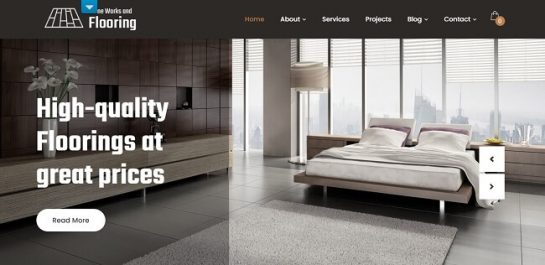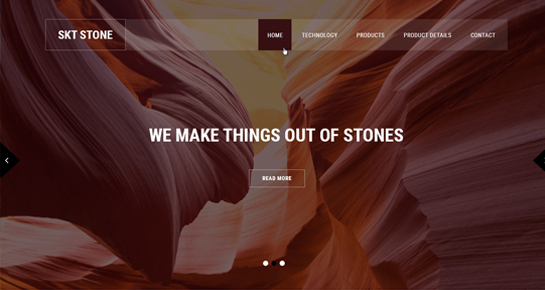 Whether you are going to offer complex building and renovation solutions, interior and exterior design, wood furniture and flooring services, cleaning or air conditioning services or something else, SKT Stone Pro is the wisest spot to get started.
As one of the elegant and modernly designed flooring WordPress themes, SKT Stone Pro is custom built to generate more prospects, leads and opportunities both for present and for future, since this template is totally future scalable.
Its HTML5 and CSS3 based coding with responsive touches and HD readiness will keep your profile highly adaptive in relation to future devices and gadgets which will require a different approach to how your website content is located on them.
This template is also wonderfully SEO optimized to give you a headstart in your search engine rankings, as well as shortcodes based for organizing your work more efficiently with 0 coding experience.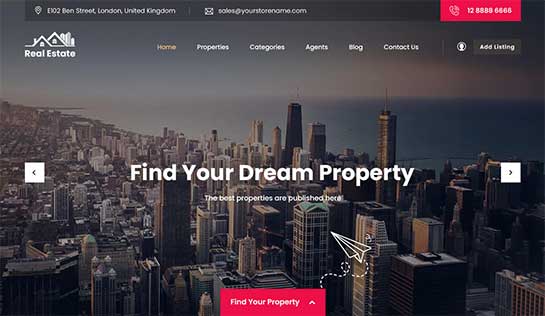 Real Estate is clearly coded and multifunctional template among flooring WordPress themes ready to tailor to the needs of a myriad of businesses and manifestations online, from rental and hosting services to flooring and woodcraft ones.
Full color changing is possible with this template to bring the best color combinations to your posts and pages, as well as homepage slider is loaded to be showcased with the most attractive pieces of your visual content, portfolio, beautiful projects and more.
More than 800 Google based fonts are at your disposal for picking the best type matching the overall design and philosophy of your site. Anyway, all of them are ready to bring the aesthetics of modern typography to your website.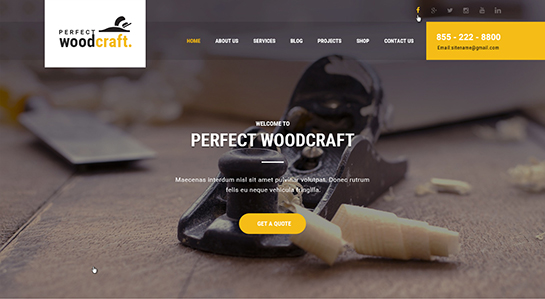 WoodCraft is among the most beneficial wood and furniture, carpets and flooring WordPress themes for furniture manufacturers and store owners, repair services, woodworkers and flooring service providers.
Turn your information into actions via the preloaded content areas, boxes and zones and let your potential client find the relevant piece of content without any hassle around.
Choose the unique typeface stressing your site's potential with the help of the web ready fonts package you have at your leisure.
The true beauty of WoodCraft lies in the fact that this template is simple and lightweight in usage, but extremely functional and competent when it comes to customization and management to generate the form you need.
The theme is well optimized for working well with dozens of plugins such as cache, commercial, translation, social media, slider and other ones.
You had the bravery and commitment to start your flooring business. Now it is high time to take care of its proper presentation for a wider audience, including international one as well.
In this spectrum, Furnish is one of the best choices you can do and pave your path to higher results.
Naturally, your business needs to be visible in search rankings in order to bring new traffic and new clients to your site.
In this relation, you don't need to rely on paid search services and spend your hard earned money on them. This template is SEO friendly enough when paired with relevant SEO plugins to take your site to the sport it deserves.
If you are searching for professionally and serious looking website template to make a strong impact on your potential clients, look no further than Painting.
This theme is ready made to cover multiple industrial and renovation topics and niches, flooring and wood related businesses, building and projecting services, interior designers and private contractors, etc.
With Painting your business website will be faster and more responsive when viewed on different portable devices since the mobile friendliness of it is well taken care of.
From gallery section to prove your talents via images to testimonials sections for the client's recommendations and positive feedbacks, Painting is well prepared for productive operation online.
Smart and secure, Handyman is the last product included in our collection of flooring WordPress themes that will go well with anything you desire, from commercial website and online trade to flooring service provision and handymen profiles.
Contact form with captcha can form a part of your profile thus enabling your clients to easily address their questions and inquiries to you. About us section is perfect for displaying your working profile, expertise and more.
Fully supported and well documented, Handyman shares a nice looking slider on the top of the homepage that is fully controllable with animation, pause time, etc.
The main reason behind any website creation is to generate higher traffic and convert them into prospective customers. The flooring business is no different and requires a highly efficient website with relevant features to turn it profitable.
Gone are the days when people would want to actually go ahead and check the material and pricing by themselves before actually getting the product home?
Online selling has become the thing; if they do not purchase something it is true that they actually make research online. This is where any business should creep in and make a connection with the customer.
The best way to do that is with the help of a website which not just talks about the product but also helps the customers about the various products and services in the market. This can easily be done with quality content blogs.
Talking about creating a website it is easy to it with Flooring WordPress Themes. These themes are created by professionals who have made all efforts to include as many relevant features a required.
If there is anything which is missing it can be included in by adding plug-ins. The designs of the website can be chosen as per the preference but what the business should not compromise on is the features.
The Flooring WordPress Themes should have the following features to make your website valuable for your visitors and customers.
Easy Navigation: Visitors would like to know what all products are available along with the ease to get the information about them quickly. Navigation through the website should be done in a manner that it allows every visitor to quickly reach what they have been looking for.
This is possible with a simple and effective layout and access to relevant buttons. The contact information and quotes should also be right in front to actually put everything out there which might be needed.
Call to action: You must motivate the visitors to take immediate action. This could be related to subscribing for the email list or taking their contact information.
Call to action could be related to the area they live in so that they can be served better or their preference for the flooring they are looking for.
There should ideally a get help button on the home page so that the visitors do not have to make many efforts locating that and they can immediately send out the query. Call to action could be anything relevant to the business.
Blog: This is a must to make a connection with the visitors, blogging allow you to create a space in the visitor's mind of being an industry leader. Blogs create a platform where information about the type of flooring, their pros, and cons etc should be created.
It is true that every customer does research before they actually go on and make a purchase. When this is done blogs creates a great platform to tap these customers where the website links can be inserted.
The features that you wish to include on the website could be ample and thus it is best that they are looked at a preference.