Discussing all WordPress cache plugins available in the market.
WordPress platform, in the diversity of its forms, is a powerful, developer and user directed, multifunctional and extensively feature rich sample of open source at work.
Exactly for those enumerated propositions and suggestions WordPress cache plugins are chosen by millions of people, as well as commercial and non-commercial communities as a powerful and suitable channel for any type of online performance.
Nevertheless, even with its huge working potential, functional exclusiveness and conformability as a content management system, WordPress supported websites and blogs, just like any other online activity platform, are not insured against low running.
Performance flaws and drawbacks, which in their turn may irritate the website visitors and hamper their smooth online experience.
Under such circumstances, you will be faced with low traffic, reduction of searching ranks and many other problems coming along the bad efficiency of your website.
To insure yourself against those undesirable occurrences, you need to apply to cache plugins for help in order to prevent your website from the possible deficiencies or to regain its fastness.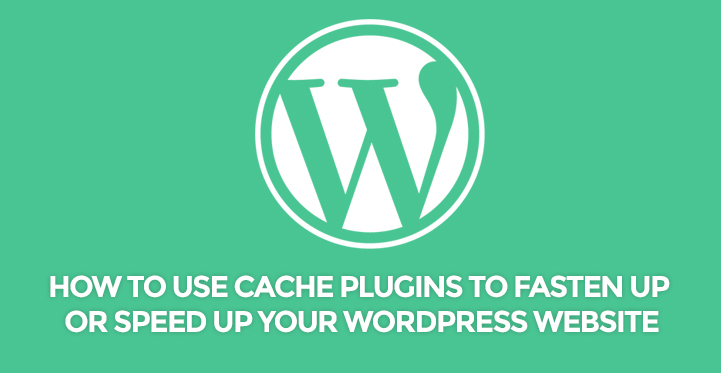 In this case what is expected from you is to identify your criteria of good caching solution, particularly fitting your needs, review the proposed WordPress cache plugins available on the marketplace and their advantages over other relevant products.
Select the best one and let is fasten up your website performance and provide quick loading for all website users by saving actively generated HTML files and reusing them from the cache, that is to say, from the previously generated data.
We have picked up 5 WordPress compatible caching plugins to act as a reference guides for you and provide you with the most effective website speed up solution.
1. WP Fastest Cache
WP Fastest Cache will work smoothly on your WordPress template for lots of reasons. It brings about and easy way to add caching and fasten up the website. This lightweight plugin really works very fast, allowing you to organize and manage everything just with few clicks.
It comes with .htacces file. automatic modification and a wide range of functional peculiarities, among them Mod Rewrite method inclusion within the plugin, all cache files deletion after post or page publication.
Lots of admin possibilities to delete cached files, as well as CSS and JC files from the options page, block cache from certain page or post with the help of shortcode inclusion, make cache option running for mobiles and other devices or disabling it.
Enable cache functioning for logged in users or disable it. You can also test Minify HTML and Minify CSS performances and other served potentials by getting this awesome WordPress cache plugins free version at first, then upgrading to the premium one.
2. W3 Total Cache
W3 Total Cache is a fast and simple WordPress caching plugin to provide your website relevant speed, which is of utmost importance in relation to website visitors' beneficial experience and search engines outlooks.
This well developed WordPress Performance Optimization layout puts forward a bunch of conveniently utilized ways to improve the website functional speed and performance.
This caching solution has been successfully selected and checked by more than one million commercial websites, thus you can rely on this plugin without having any doubt in its best qualities.
Some of the proposed dynamic benefits are more than 10 times website performance enhancement, browser caching availability, quick render of the pages, quick loading of the pages, about 80 percent bandwidth saving types by means of HTML, CSS, JavaScript compression.
W3 Total Cache is also compatible with content delivery network transparent backbone in charge of content delivery, minified or compressed caching of pages and post, caching of CSS and JavaScript, caching of categories, tags, comments, search results pages, objects, etc.
3. Cache Enabler
The next powerful and functionally saturated WordPress performance framework to speak in your website's favor is Cache Enabler, which will considerably speed up the website operation and improve conversion rates.
This fast and freely available WordPress caching system has all the potentials to undertake automated or manual cache clearing, create 2 cached files in HTML and gzipped, showcase the cache size in your control dashboard.
Minify HTML and JavaScript, provide multisites and custom post type support, display "304 Not Modified" HTTP error in the requested cases, support WebP when functioning with Optimus plugin, contribute to the responsive images and ensure super functionality with Autoptimize plugin for speeding up your website in the most effective way. Thus both of them become a deadly combination and fill up the WordPress cache plugins list.
4. LiteSpeed Cache
Make LiteSpeed Cache run as a basis of your website of WordPress origin and let it optimize your website performance and functionality in all the applicable simplest ways.
This user directed caching management tool will grant you with very easy install and running procedures just in few steps, as well as subsequent total control and configuration over it to make your website function as faster as is possible.
Namely, this caching mechanism in the name of LiteSpeed Cache is extremely easy to understand and implement in order to protect your website from lowered performance and other consequences resulting from it.
Upload LiteSpeed Cache, go to LiteSpeed Cache panel, activate it and afterwards activate caching from the relevant options. All the other settings will immediately be set automatically. Thus this one too makes way into WordPress cache plugins list.
5. WP Super Cache
This WordPress compatible cache engine will definitely improve the rapidity and swiftness of any target website. The minimum efforts and time will be required from your to unpack this awesome caching plugin into your WordPress site and configure it.
This product comes with super fastness in performance by creating the cache of static files and exceptional technical support available.
All these make your website extensively optimized for speed and super functionality with the help of exercised techniques, such as minification of HTLM, JavaScript and CSS or loading the website images only when the website user scrolls down the page.
All in all, this plugin integration into your website will for sure turn your website a fast loading one, which is quite desirable and appreciable in terms of user experience.