Are you searching for WordPress Themes For Business Website?
Today, we will look into the most powerful and online WordPress themes for any business category. These themes are well for startups and small medium-sized businesses.
Even though these professional business themes are not expensive, and provide you distressing features so you can come up with the business website without any stress.
The given beautiful WordPress themes are custom built and provide all the promising features you are looking for.
Furthermore, these WordPress Themes For Business Website a highly functional and provide you full loaded designs with amazing features.
This would help you to create websites that stand out from the crowd. So without further ado, let's have a look at the best themes.
The theme includes full documentation and a color-changing template as well as a slider by default. Similarly, this includes multiple layouts along with four types of header and footer layouts.
More than that, Finance theme includes additional plugins like compatibility with calendar, contact form, and gallery.
Plus, it includes social sharing plugins that are compatible with improving the traffic towards the business website.
If you are a financial consultant, financial advisor, mutual fund companies or Asset Management companies then Finance is one of the best WordPress themes For Business Websites.
Finance theme is highly responsive and being tested with a variety of different screen resolutions. On the other hand, the theme includes 900+ Google fonts and RTL-supported special characters.

Key Features:
It include Wpml, translate, and PolyLang plugin for different language support.
It includes a full wide layout and box layout for the whole website. Includes a nice dropdown menu.
It provides 10 sliders to choose from.
It provides various kinds of pages to search, blog, and others.
It provides SEO-friendly plugins to achieve top rankings.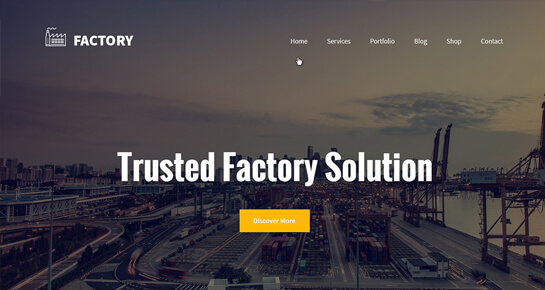 Factory Pro is yet another friendly, responsive, and supportive theme for the person who needs to create a website for or multipurpose businesses like construction, remodeling, and many more.
The theme has been created by SKT themes that keeping all things in mind and provides more facilities for day-to-day business operations. This theme is a multilingual-friendly and Wpml supportive theme.
Along with that, it is a multi-purpose modern business WordPress theme that can be used by any small to a large company. Around a hundred plus shortcodes have been provided in this theme.
Further, you will get one year of customer support, a list of plugins that are compatible with such as contact form 7, Ninja Forms, and SEO plugins. Similarly, it includes blog layouts that have been tested.
Key Features:
It provides 2000 font-based icons.
It includes two types of site layout one boxed and the other full wide.
This offers modern technology like HTML5 and css3.
It provides a drop-down navigation menu with 5 levels.
It includes a slider by default and animation control features.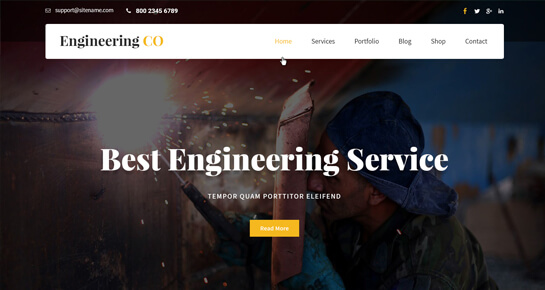 If you are an engineer and need to create a website that will showcase your facilities and Portfolio then Engineering Pro is the best theme you can choose for.
It is a clean easy to utilize and flexible WordPress theme in this template you will see the life changes from the back end of the side and make the changes with the live customizer.
Further, the theme includes more than 100 shortcodes that make it is easy to use. On the home page you will find responsive and cool features that take your business to the next level.
The banner area of the inner pages is also customizable, so it includes the project area with four separate columns in theme.
Engineering Pro is a WooCommerce compatible WordPress theme that is available on an online store and utilizes to sell your products and services. Another capability of this, there is great and completely editable.
It is a cross-browser-compatible theme that works for every browser and phone. The coding of this template has been done with the SEO standards, so you won't find any issue while working with it.
Key Features:
In the footer section, you can give the link to your pages and contact information.
This is the translation-ready theme.
It provides a color picker option that easily edits the theme color.
The homepage provides various capabilities, so you can show the portfolio to your customers.
It provides 24/7 customer support.
The theme is compatible with multilingual plugins that easily modify the custom type, menus, and others.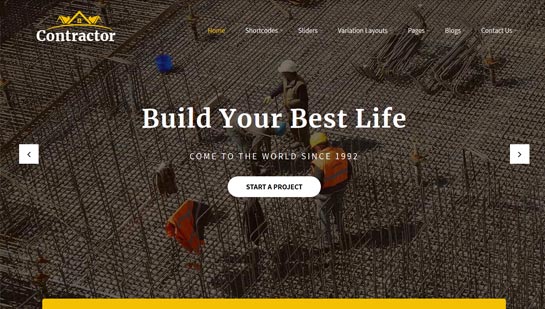 Contractor Pro is yet another best WordPress themes For Business Website. If your business is about construction, home decor, and interior it is going to work as a professional business website for you.
The theme includes social media plugins as well as Search Engine Optimization features that optimize the website and provide you great ranking along with site traffic.
Contractor Pro incorporates with Jetpack plugin and provides Google XML sitemap. On the other hand, it is retina ready, HD ready, and Google font's friendly theme.
The theme is coded with HTML5 and CSS3 that give you cool responsiveness to makes the theme easier to work for anyone.
The pages are highly compatible to each other. Another benefit you will receive its installation is free of cost and the smart sliders are highly compatible with display mode.
Key Features:
Provide Mail chimp for email services.
Compatible with antiviral gallery plugin.
Ninja forms are included
Incorporated with broken link checker, contact form, and different social media plugins.
Provide theme security from the automated attacks.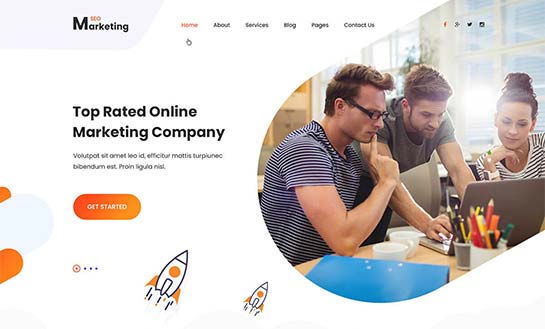 A Digital Agency is also the finest option you can choose as a WordPress theme for a business website.
Digital Agency theme can be highly advantageous for the websites related to Digital Services like design advertising, freelancing, SMM Google ads, and online advertising and provide unique elements and features for the customers.
Moreover, it provides you innovative builder, which is known as elementor page builder. This template includes some of the Great features that grab user's attention.
With just a single click, your work will be easier and import the demo data. It comes with an easy-to-use interface and customizes templates. Further, the contact form 7 and Ninja forms can be used easily.
You can decorate a website with pleasing animation effects. It the multilingual friendly and comes with the support of multilingual plugins.
Key Features:
Options are highly available with color change
The theme is HD and retina-ready high-resolution.
Easy to integrate with WooCommerce plugin.
Optimize to speed up the device for the blog content
Edit copyright footer easily available with site builder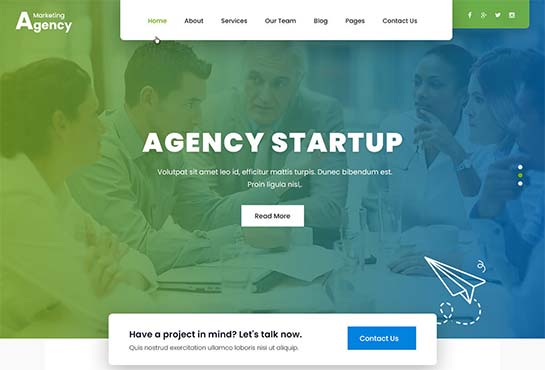 Marketing Agency is the best WordPress Themes For Business Website related to agency startups, IT companies, construction, and more. It includes five layout variations That Give an attractive look to both the header and footer sections.
If you are facing any difficulty with this startup website, you can contact customer support which is available 1 year for 24/7. The pages like 404, searches, categories, and standards are also designed.
The single post can be easily represented with various sidebar layouts. The theme has followed review standards. The tools like Google Analytics, Google Maps, slideshows, and others can be easily added for captivating.
Key Features:
It is integrated with various Google fonts which are over 800 plus.
It is based on a customizer.
It includes security plugins and is coded with the latest programming language.
It is designed to be compatible and friendly with each browser.
It is incorporated with slider plugins and multilingual-friendly plugins.
Shudh Pro is a highly responsive and Google-friendly yet supported theme for every browser and mobile. This includes portfolio sections and showcases your work that also compatible with various other gallery plugins.
It is integrated with font awesome icons along with more social icons that support your website on every channel.
Further, it includes special characters of various languages that can be easily recognized and good to work in a variety of languages.
It comes integrated with the slider and controls like animation composer time and speed. Other it includes full width and left and right start page. Also, it includes standard pages like 404.
Key Features:
This is the responsive and mobile-friendly theme
It comes with various sliders and control slide animation speed.
It provides you various functions to improve its functionality.
This includes the right amount of features that can increase website traffic.
SKT Start Up Pro is the best WordPress Themes For Business Website that are just starting up. It can be best for IT companies and Tech startups.
The theme is simple and elegant plus beautiful modern looking theme. It provides you cool features and responsive functions.
Further, the theme is integrated with easy-to-use theme options. It provides various plugins compatibility and can work as a slider and a quick contact form.
Also, it is a full color changing theme, translation ready, HD ready, retina-ready theme. It is suitable for any kind of business and multi-purpose, so you can start your business with this website, and you'll get the perfect response from your users.
Key Features:
It includes a number of the box with WooCommerce.
Latest versions will also allow you to change font images and text.
It provides you free installation
Provide NextGen gallery support.
It provides various content setups.
SKT Therapist Pro is a highly responsive and professional-looking WordPress theme used to create your attractive website related to counseling, therapist, and individual doctors.
This theme will be visible on both large and medium devices. It is made up of an elementor page builder that means it can be easy to load and fast for every.
Also, the theme includes color picker options for exchanging the theme color. This has used sliders master slider smart slider carousel slider, crelly, and more to work with the theme perfectly. On the other note, it is a fully compatible theme.
Key Features:
It includes gallery plugins
It translation-ready and best-supported theme with a different mega menu.
One can easily control the animated features
It includes customizing option for the inner pages.
If you are looking for a highly creative, responsive, and Google mobile friendly tested theme then design agency is one of the recommended themes by the experts. It is quick to load and tested with Speed.
The theme is compatible with WooCommerce plugin and other features like social icons, contact form, call to actions, and next-gen gallery.
Another feature you will find in this theme, it is compatible with major browsers, 650 Plus Google fonts, background, text colors, blogger and changeable layouts.
Furthermore, it includes 8-page templates and 5 dropdown levels that make the website look more attractive and engaging for the readers. In short, the theme comes with the complete package, so you can enjoy great advantages of the theme.
Key Features:
The theme can easily customize.
Configurable home page
Responsive and compatible with every cross-platform.
Integrated with open Google fonts and icons.
If you are looking for a theme that works best for the industrial and renovation then don't forget to try SKT Industrial WordPress theme for the business website.
It is coded with elementor page builder which makes the website faster and easy to load on any browser. It is full width layout option that includes many types of shortcodes.
This also includes column blogs and buttons. Also, this is easy to use interface and provides novice users. The theme is highly compatible with the layout option that includes many types of shortcodes.
Further, it is highly compatible with a lot of plugins like WooCommerce that allow you to create amazing results.
Key Features:
It includes a five-level dropdown menu.
It includes a setup of more than 5 minutes.
Provide widget-friendly header and footer, so that anything can be easily set up.
Empower posts for all types of industry and office.
The theme looks beautiful and well supported only when it is power-packed with an options panel. You should come back with customer support and supportive with the login slider, WooCommerce, and a contact form.
This is exactly an exceptional have. The theme includes proper call to action buttons, header and footer section, plugins with 580 plus awesome fonts and icons.
The contact us section with captcha is included for spam protection. Another benefit you will get the theme is well-matched with browser and each device even with the latest WordPress coding standard.
Key Features:
1-year unlimited customer support
available with customizer options
unlimited website Dominos register
elementor page builder theme
Jetpack latest WordPress version compatible support
Comes with a white label
Local Business WordPress theme for business website related to it start-ups, commercial website or any other. This theme is meant with an elementor page builder that can make the speed faster to load.
It is available at one click demo in import options, color change, in local business WordPress, simple action, and friendly layout options.
Local Business Pro is coded with the latest water standards full documentation and adjustable 5 compatibility mode. More, the theme includes default sliders to improve the website functionality.
Key Features:
It includes the sidebar page layouts.
Compatible with contact form 7.
consistent with shop and blog sharing plugins
friendly with Search Engine Optimization plugins
Design with a user-friendly approach
If you're looking for the best theme that gives your business a successful boost then Ele Agency is the best WordPress theme for the business website.
It provides online guidance for the 900+ Google Font icons and other tools using. It is now integrated with a shopping cart and provides you WooCommerce plugin functionality. The theme is also agreeable for improving the website functionality.
It is retina ready feature and a High Definition World recommended theme. Further, it includes social media-friendly plugins and SEO friendly nature, so that it is easily accessible for everyone.
Key Features:
It will provide different layout text and features.
The website has adapted the material flat design.
It is agreeable for improving multilingual functionality
It includes multiple types of content for the services and blogs.
Are you looking for a full-featured theme that performs in a single click?
By utilizing Ele Business theme you can corporate with business and boost up the website functionality. It is a modern and operational theme that makes the website more fascinating and exciting for usage.
The services included in the theme are highly authentic and made with modern based design. This incorporates user panel with multi-functional and activated as per the user's needs.
The features include a call to action buttons, colorful with options, and read more button link.
Key Features:
It can be performed easily and integrated with social media icons.
It increases the general functionality of the website.
Visual composer is agreeable
One year customer support is available
Theme quality is checked with every website standard and Google.
SKT Corp Pro is the best responsive WordPress theme you can choose from the list. It includes many page templates like a left sidebar, no sidebar, etc.
Moreover, it supports Forum and faster support. The theme is very lightweight and fast loading, which is cooperative with every browser and device.
Further, it includes blog layouts with sidebar interchangeable. The home page has several actions that include animated features. It includes 800 + Google fonts, Latin subsets, and four types of header, and two types of site layouts.
Key Features:
The theme includes a simple template
Provide modern technology of material and flat design.
It provides step-by-step guidance on each section.
It is an easy to theme option that offers a panel framework.
SKT Biz Pro is a powerful theme that can manage all of your content in a great way. It is a simplified way to get the entire demo and set up the final screen for your website. It is a fully responsive multi-purpose WordPress theme that includes easy theme options.
It allowed the colors to change and 5 to 6 types of page templates. On the other hand, it provides standard pages like 404, search, blog and many more.
The theme is highly compatible and comes with the latest WordPress version. Also, it has four types of layouts that include logo and navigation menu style as well.
Key Features:
This is a retina and HD-ready template.
It provides compatibility with popular plugins.
It is a highly check themes like Hebrew and Arabic.
If you want to create a website for the different sections like home decor, construction company manufacturing, and other industries then you should look for this highly professional WordPress theme for a business website. The theme can easily adjust with every device and browser.
It has been involved with both technical and non-technical features that can be easily run by anyone. The theme is easy to upgrade and understand. It includes different menus like home, contact, services and blogs.
More, the theme has multiple blocks tiles and flexible layout options. The one more feature is it is based on modern and functional design that increase the functionality of a website
Key Features:
Include different header and footer Styles
One Year free customer support
The theme comes with a functional design to increase the functionality of a website.
You can publish multiple blog styles.
If you want to get started with your consulting business whether it is therapists or financial solutions, business Consulting is a top recommended theme for the users.
While designing a website with this theme you will get great support from the customer support team and its features like Elementor, Gutenberg and other page builder plugins work pretty well with that.
It incorporates a quick call to action, shortcodes, and other features. Moreover, the flat structure website can be easily handled by anyone whether you are a non-technical person.
Key Features:
Support elementor page builder.
Jetpack Ready theme.
Available with Google Font and icons.
Include appointment plugins and backup plugins.
CoWorking is well defined multipurpose WordPress theme for the business website. It is easy and well maintained and can easily modify without any prior knowledge of HTML.
More, it includes easy templates so one can choose to have banner image and sliders. Also it has four types of layouts options that sync with any people, who want to get the best website appearance.
It includes inbuilt shortcodes for the various plugins like team members, contact form, testimonials and more. Further, its design approach is completely unique and come up with social media friendly and Search Engine Optimization plugins.
Key Features:
This is super fast and great theme.
Provide resources in ready and p o t file supportive features.
Incorporates social sharing plugins and multiple site layouts.
Forum for BB press is also compatible with the theme.