Street food is all about the experience. The sights, sounds, and smells of street food are what make it so enticing. For street food vendors, it's important to have a website that captures the essence of their culinary creations.
WordPress offers a variety of themes that are perfect for showcasing your street food. These themes give you the opportunity to show off your delicious food and reach a wider audience.
In this blog post, we'll share with you the top 16 street food WordPress themes that are perfect for showcasing your culinary delights. From bold designs to customizable features, these themes will help you create a website that truly captures the essence of your street food.
So, whether you're a food truck owner, a street food vendor, or a food blogger, these themes are sure to take your website to the next level.
This theme is well-suited for websites dealing with food in any capacity, including online pizza delivery services, pizza restaurants, fast food services, cafés, and restaurants.
The WordPress theme that you're using is an all-in-one solution for your website. This WordPress theme for pizza restaurants has been built with a great deal of attention to detail and perfection. Choose this route for the highest level of dependability.
There are no compatibility problems with different browsers while using the SKT Pizza theme. This profitable WordPress theme for food websites has support for more than one hundred different social networking platforms and their associated symbols. This WordPress theme is another example of a theme that loads quickly.
The GB Sandwich theme is an excellent option for the websites of eateries such as quick-service restaurants, bakeries, and other companies associated to the food industry.
It has a great degree of adaptability and vitality. HTML 5 is used for the coding of this fast-food WordPress theme. If you are a first-time user, selecting the GB Sandwich theme is the one that provides the most benefits. This concept of fast food is simple and straightforward to implement.
Due to the fact that it has been well documented, the GB Sandwich theme is quite simple to work with. The GB Sandwich theme features a homepage that is incredibly enticing and will help bring in clients.
The GB Sandwich theme offers a wide variety of color combinations to choose from. All of the colors that are available with this theme may be changed. The customization process for this WordPress theme is really simple.
Anyone who is in the Food & Restaurant sector may benefit from using the professional WordPress theme known as SKT Sushi since it meets their specific needs. The WordPress theme for sushi restaurants is incredibly responsive, and it provides good customization options.
Food bloggers, chefs, and other professionals working in the food sector are on the lookout for a theme to display their specialization and their menu, to mention just a few examples. Given the topic and the word "Sushi" linked with it, this is not surprising.
The theme is compatible with all of the WordPress plugins that are linked to food, including but not limited to WP Store Locator, Store Hours Manager for WooCommerce, WPPizza, Yummly Rich, Meal Planner, Recipe Hero, and Recipe Box.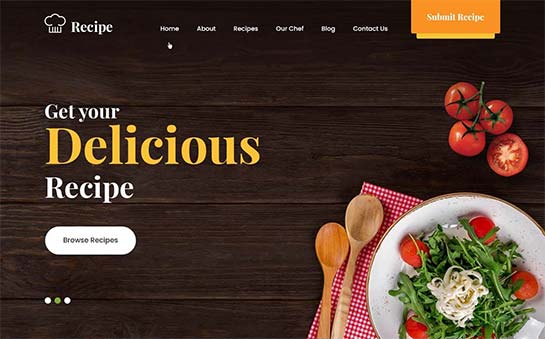 SKT Food is a food and recipes WordPress theme that has been developed to serve the food and recipes sector as well as chefs and other food bloggers. Its primary target audience is those individuals who write about food and recipes.
Blogging about food is a popular subgenre of blogging, and many women who stay at home choose to fill their blogs with different recipes they've created in their own kitchens.
Food bloggers definitely have a significant following, and a significant number of women have made writing about food a regular hobby of theirs. It has a nice appearance, is compatible with the recipe plugin, and can be used to display outstanding recipes on the blog as well as on the recipe list itself.
It includes coding for the Elementor page builder, a place for several recipes in the recipe area, and it is responsive and mobile friendly.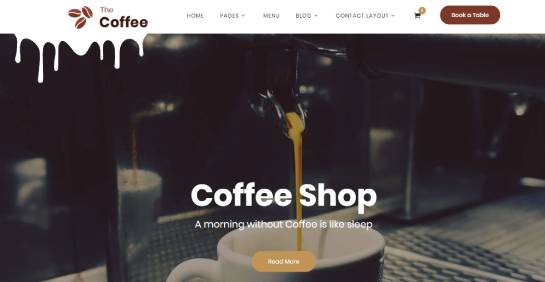 SKT Coffee is a free responsive WordPress theme that may be used for cafes, restaurants, hotels, food, recipes, nature, agricultural, business, charity, personal, and other corporate purposes. It was created by SKT Coffee, a company that specializes in creating WordPress themes.
It is a WordPress theme that is compatible with decent portfolio plugins in addition to being portfolio-ready and compatible. Additionally, it is compatible with WooCommerce so that you may have a better purchasing experience.
Its interoperability with other slider plugins as well as contact plugins has been tested to ensure that it provides an efficient call to action. Integration with social media and code that is favorable to search engines is also offered.
This Street Food WordPress Themes are perfect for owners of cafes and restaurants, as it allows them to beautifully present their menu items together with prices in an organized manner.
The Restro Cafe & Restaurant WordPress Theme is responsive, so it adjusts its layout to appear great on all different kinds of devices. The gallery section is used to showcase the many foods and delicacies that are available for purchase, as well as the ambiance and interior design of the restaurant or café.
This cross mobile and device supported café and restaurant WordPress website is equipped with all the shades of responsiveness and mobile friendliness, making it one of the most mobile-friendly websites out there. In terms of the responsive design style and its performance.
Weddings, corporate business gatherings, and banquets are the kinds of enterprises that would benefit greatly from using catering WordPress themes.
There is no other theme that can compete with this one as it offers a compelling and outstanding solution for catering and food ordering. Taking attention of the laws of search engine optimization and security is the way this subject is developed.
Through the use of a wide variety of customization options and plugins, one is able to demonstrate their presence in an original manner. The consumer has the ability to submit comments, like your content, and share it with their networks all with the touch of a button.
You might use Ele Chocolate for a chocolate souvenir shop, a food club, a bakery, a candy store, a chocolate company, or anything else related to chocolate. Additionally, the theme is adaptable for use in chocolate blogs as well as culinary blogs.
The theme may be used with the most recent release of WordPress without any issues. In addition, it is compatible with a large number of plugins, such as the contact form 7 and the security plugins.
W3C standards were used in the development of the free chocolate WordPress theme. These standards will assist your website in achieving a high-ranking on-search engines.
Using a template based on a restaurant is the most effective way to create a website for a food company that is both beautiful and pleasing to the eye. Because of this, the purpose of the WordPress theme for your food blog is to advertise your food brand.
With the WooCommerce plugin integration, this Ele Restaurant website template will deliver exceptional SEO performance. After the plugin for WooCommerce has been integrated, it will be able to have necessary widgets such as items with the highest ratings and the most recent reviews. The theme is capable of completing a variety of tasks, including the development of websites for various companies.
Imagine stepping into a pizza restaurant where the entire theme revolves around the concept of a pizza template. Using this theme, many page builders such as Elementor and Visual Composer were able to pass testing with flying colors.
It is compatible with recipe and menu plugins, allowing for a simple exhibition of menu items. One Pizza The WordPress theme is mobile-friendly and responsive, and it has a slider.
Section 1 will carry on to show all of the product slides. Google mobile users may access the theme easily. This theme comes with built-in support for WooCommerce right out of the box. It is equipped with typeface amazing icons, of which there are more than 580 in total.
Bake theme begins with a brief overview to either us or the business, and then moves on to highlight the distinctive offerings of either the bakery or the firm, which may range in number from four to eight.
Every one of these WordPress themes for bakeries and cakes is optimized for search engines like Google and was developed while maintaining proper structure and appropriate template name in mind.
In addition, they have been coded in such a way that the heading level h1 is reserved for the title, followed by h2 and h3. It is compatible with a variety of plugins and includes over one hundred shortcodes built right in.
SKT Cafe pro is a free responsive WordPress theme that may be used for cafes, restaurants, hotels, food, recipes, nature, agricultural, business, charity, personal, and other corporate purposes.
It was created by SKT Themes and is powered by WordPress. It is a WordPress theme that is compatible with decent portfolio plugins in addition to being portfolio-ready and compatible.
Additionally, it is compatible with WooCommerce so that you may have a better purchasing experience. Checks have been done to ensure compatibility with other slider plugins as well as contact plugins in order to provide an efficient call to action. Integration with social media and code that is favorable to search engines is also offered.
SKT Bakery Pro is a WordPress theme for online portfolios. The SKT Bakery WordPress theme is a responsive multipurpose WordPress theme that can be used for a variety of different industries and purposes.
Therefore, a picture gallery, portfolio, or any other kind of business, blogging, and so on are all possible. It provides the capability to alter the color of various links and components so that they correspond with the color of your company logo.
Additionally, the theme has a number of different blocks on the homepage, which makes it a comprehensive theme that allows for the addition of plugins.
Do you own a coffee shop, coffee house, or cafeteria under your own name? Or are you the proprietor of a fast-food joint or a restaurant? If you answered yes to any of those questions, then GB Coffee Blocks is the most suitable Coffee House WordPress theme for your company's requirements.
Sidebars that are exceptionally widget-friendly are included for your convenience in this theme. This WordPress theme is totally translation-friendly and supports a variety of languages.
Also, Street Food WordPress Themes comes with a color picker, and you have the ability to alter the color of almost every element that is included in this theme.
This theme offers you ample space to work with, and you may modify it in any manner that suits your needs. This Coffee House WordPress theme is compatible with the vast majority of the most popular page builders out there.
WordPress themes designed for bistros may be used for a wide variety of food and drink-related websites and blogs, restaurants and cafes, beaches and resorts, hotels and hostels, pizzerias and beerhouses, snack – bars and eateries, lunchrooms and taverns, and so on.
If choices that are simple to browse and functioning that is flawless are two things that are important to you, then you are at the proper position to significantly benefit from SKT bistro, which is prepared to make all of your expectations a reality.
SKT Food is the one to give the website admin with a bird's eye view directly from the theme backend for any sort of management intervention since it is responsive and mobile – friendly. Additionally, it comes with a preloaded shortcodes package.
SKT Food themes are ideal for use in the construction of websites for eateries and businesses associated to food and drink, such as restaurants, bistros, coffee shops, pizza parlors, and online food delivery services.
Designing a website may be done easily and effectively by almost anybody, even if they have very little or no prior experience. This theme has a quick loading time and is very lightweight. Seeing as how the theme comes along with thorough documentation that details the workings and configurations of each individual area.
This theme has been tested with a variety of page builder plugins, including Gutenberg, Elementor, Divi, Visual Composer, and Beaver, and it was determined to be compatible with all of them.